It's a story every South African can relate with. You sit down in front of your TV to watch all 80 minutes of a Springbok Rugby World Cup match when you get that Eskom se Push notification telling you that load shedding is about to cut the power off in 55 minutes. So you plug in all your mobile devices — phone, laptop, tablet — to ensure you can keep watching once the lights go off.
With load shedding seemingly getting worse before it gets better, many advertisers are in search of the best way to keep engaging with their customers — whether the lights are on or off.
Load shedding is emphasising the importance of South Africans' smallest screens
South Africans have always been at the forefront of mobile device usage. Mobile usage surpassed that of desktop in 2013 and has maintained the lion's share ever since.
We compared historical data from popular load shedding tracking app, Eskom se Push to our own internal data to see if power cuts impact how South Africans interact with Google's platforms. We had a look at load shedding severity per day alongside how people search and consume content across our platforms — including YouTube.
We found that, despite load shedding severity, the search growth trend continued to increase. Even on the darkest days, seventy-five percent of Search traffic in South Africa comes from mobile devices.1 It seems almost nothing can stop the world's most internet-addicted country from staying connected. In order to access the internet on their mobiles, South Africans use both wi-fi and mobile data,2 and 31% of them make sure to top up their mobile data 2-5 times a week.3

South Africans find ways to tune in to online video when the power's out
What we've come to understand during intense periods of load shedding is that marketing and media campaigns on TV may not be delivering the targeted frequency as planned, leading to lowered ratings.
Nielsen's Load Shedding dashboard chronicles the relationship between TV reach figures and load shedding severity. One key takeaway: the first quarter of 2023 shows a 15% decrease in watch hours for all day viewing and a 20% decrease in primetime watch hours compared to the same period in 2022.
But what about the effects of load shedding on online video consumption? Regardless of whether load shedding was severe, moderate, or inactive (more than 6, maximum of 6, and 0 hours of no power respectively), searches for content on YouTube remained largely similar — sometimes even peaking during severe load shedding.4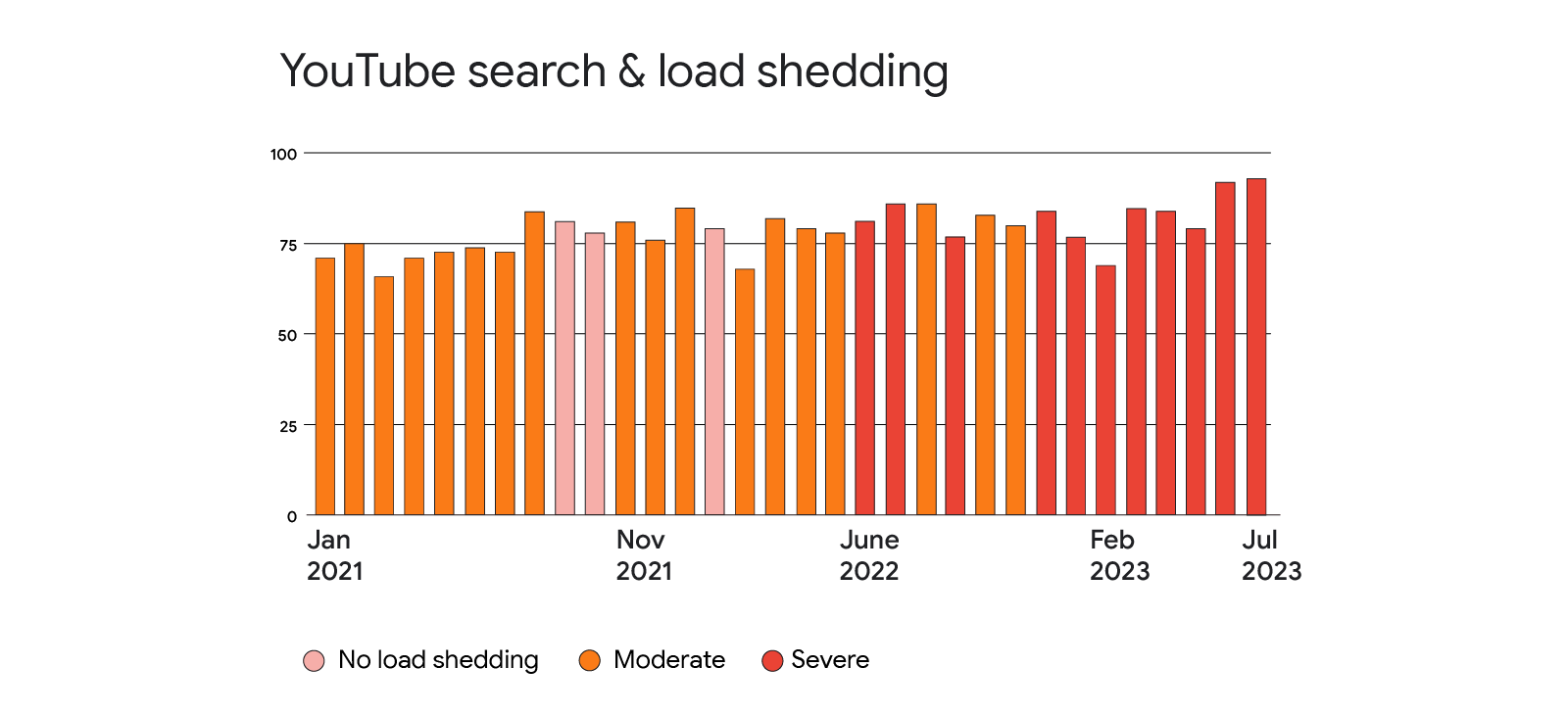 A recent Kantar study found that there was a 63% increase in online video during load shedding consumption compared to last year.5 This shows that people will find a way to keep watching content — even when faced with frequent outages.
Reaching South African viewers whether the lights are on or off
While load shedding is a unique challenge to deal with in South Africa, marketers are known for their unique ability to adapt to disruptions like this. And the good news is there are a number of ways to navigate this unprecedented situation.
Being visible wherever your customers are is non-negotiable, especially as they switch devices in response to load shedding. While it may be tempting to think of media channels in isolation, marketers should see their audiences as people consuming content across multiple platforms. Viewers are individuals who switch as the situation and opportunity dictates, whether it be TV or digital.
When load shedding impacts reach and frequency, YouTube makes for a good back-up generator.
Planning TV and digital together is your best shot of ensuring this. And when load shedding impacts reach and frequency, YouTube makes for a good back-up generator, cumulatively bolstering campaign ratings. While you continue to run your standard 30-second hero TV commercial, you can go deeper with customers on YouTube. You can experiment with a 6-second bumper ad that highlights one feature of your product. Then dig deeper into reasons to believe with an up to 3-minute skippable in-stream ad.
And should your customers ever leave their homes in the midst of load shedding, a digital-out-of-home campaign (DOOH) can also be effective. You can reach customers in public spaces, matching what they see on their phones to digital billboards, signage, and screens in business areas. Data-only telco Rain used DOOH and saw a 27% increase in incremental reach.
There has never been a more important time in South Africa to ensure you're reaching customers where they are. Fortunately, any marketer with the right set of tools can have their bases covered no matter the current levels of load shedding.