Pablo Pérez and Georgie Altman are both retail experts at Google. Here they share their latest research, which offers a glimpse into the future of retail. It outlines what retail growth could look like across different formats and markets over the next five years.
As a retailer, you've likely never led your business through a more tumultuous time. For many the focus has been on survival, though some retailers have seen huge growth as they responded to unprecedented demand in new and unexpected areas. And while the reality is that we may not have moved completely out of crisis mode yet, the time has come to think beyond the current context to get your business ready for recovery and growth.
Even before the coronavirus pandemic, we started to think about this question. We wanted to understand what the future of retail could look like across different markets in the next five years. To find out, we conducted a large, retail-focused project with Euromonitor, looking into physical retail, e-commerce, and marketplace sales across retail industries in 10 developed markets around the globe.
Importance of an integrated online and offline experience
Retailers with a strong digital offering will gain additional sales in the next five years.
Although the crisis accelerated digital adoption and online sales are growing, it's expected that most purchases will still be made offline by 2024 (78% versus 22% share online).1 However, it may be more helpful to think not just about which channels consumers will transact in, but which types of retailers they are choosing. The research shows that retailers with a strong digital offering will gain additional sales in the next five years, even if customers choose to buy in-store.2 This emphasises the importance of seamless and integrated retail experiences across online and offline.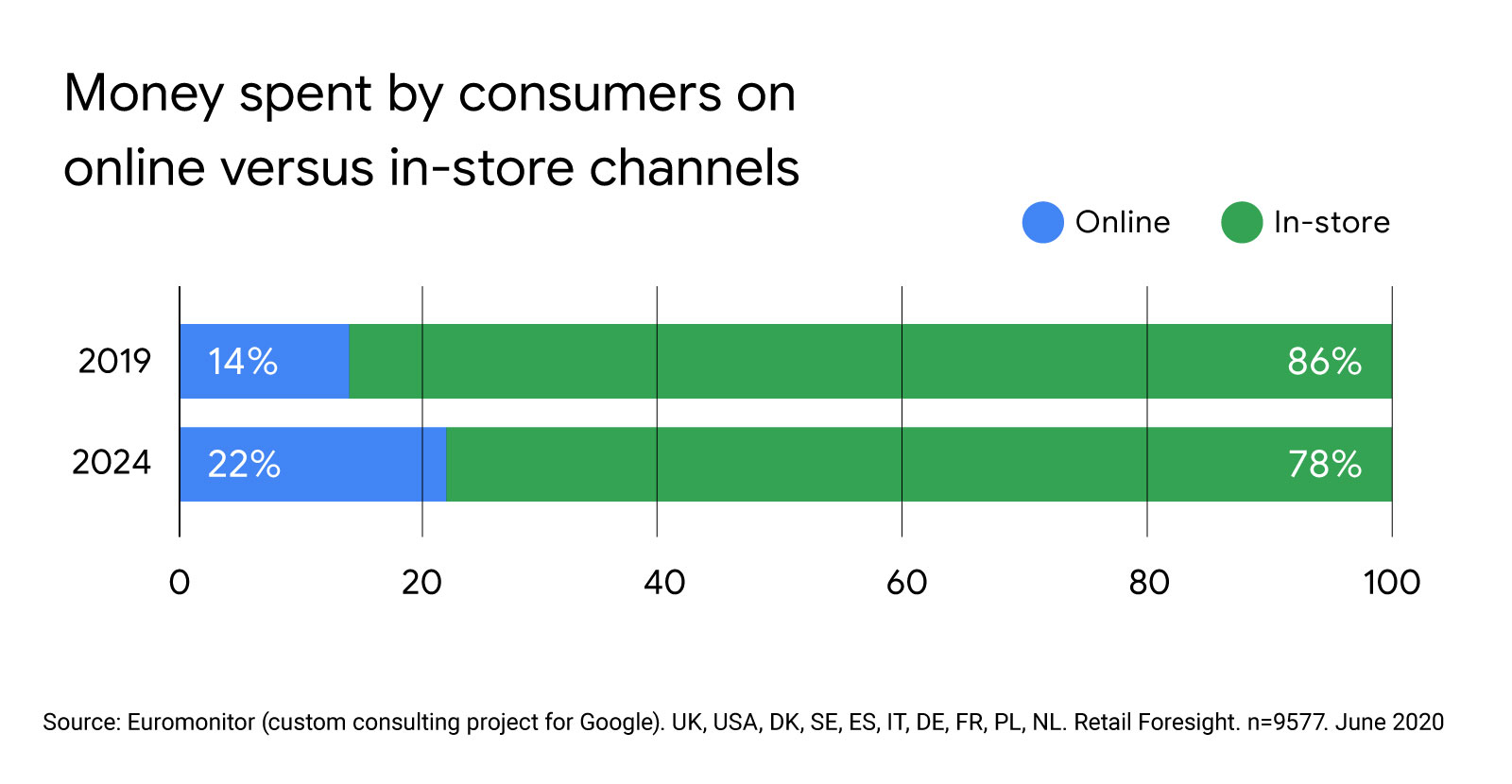 By 2024, 53% of retail revenue will go to retailers that have a digital offering as part of their business models.3 If stricter lockdown measures are extended or reinstated this could stretch to 56% as consumers continue to shop online instead of in-store.4 Digitally mature markets such as the U.K. and the U.S. will see two-thirds of revenue coming from retailers with digital channels. In France this will nearly double by 2024, the biggest increase we found in any market.5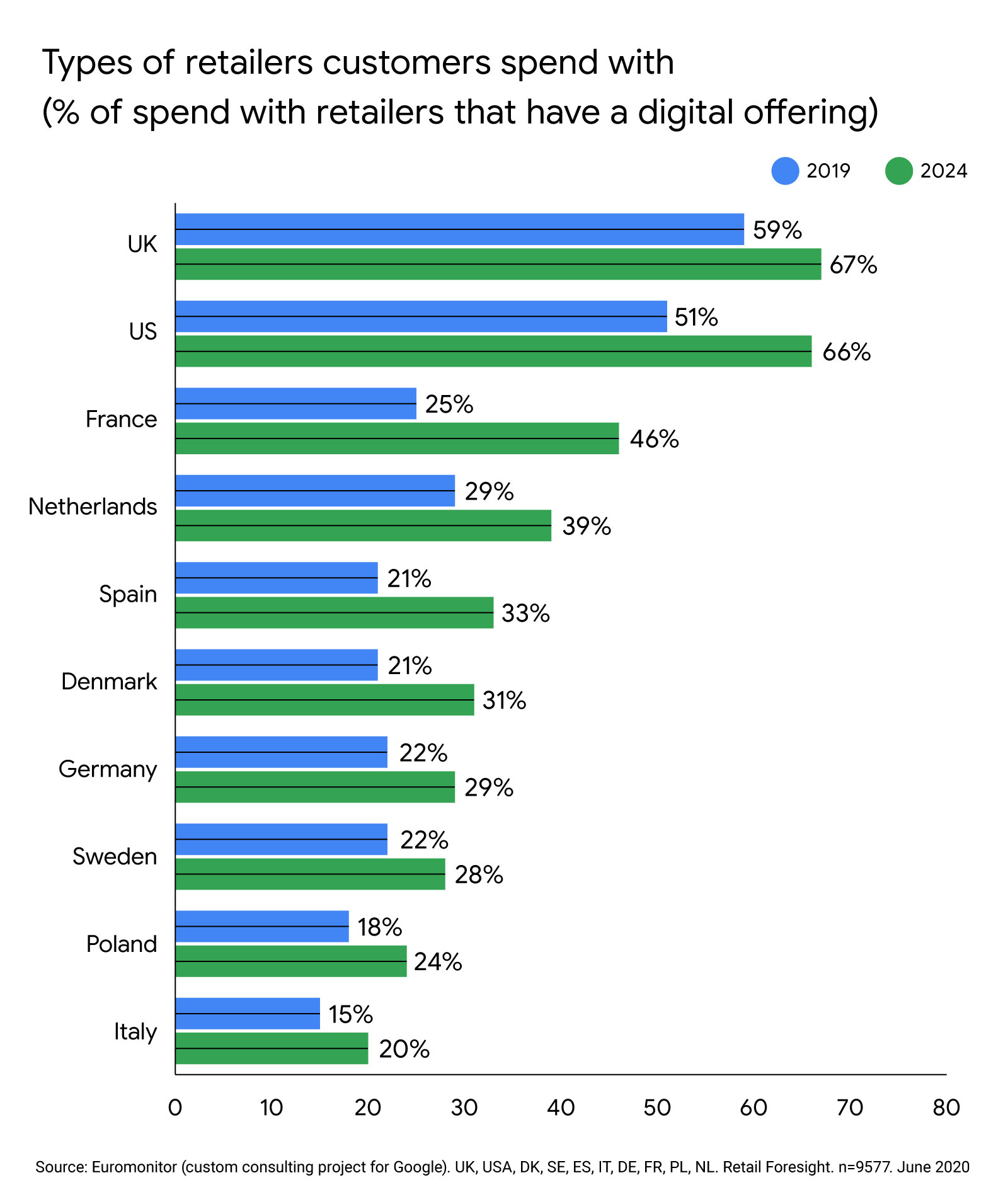 How could retail growth be redistributed in the long-term?
The retail ecosystem is diverse, so 'retailers with digital offerings' covers a very broad range of formats. This includes physical-heavy retailers (retailers with 5% to 35% of e-commerce sales) that have already started their digital transformation journey. It includes marketplace retailers that will continue to grow through multinationals and local players with greater market share over the next five years in most markets. And it also includes online pure play retailers that are increasingly diversifying their offerings to include stores and physical outlets.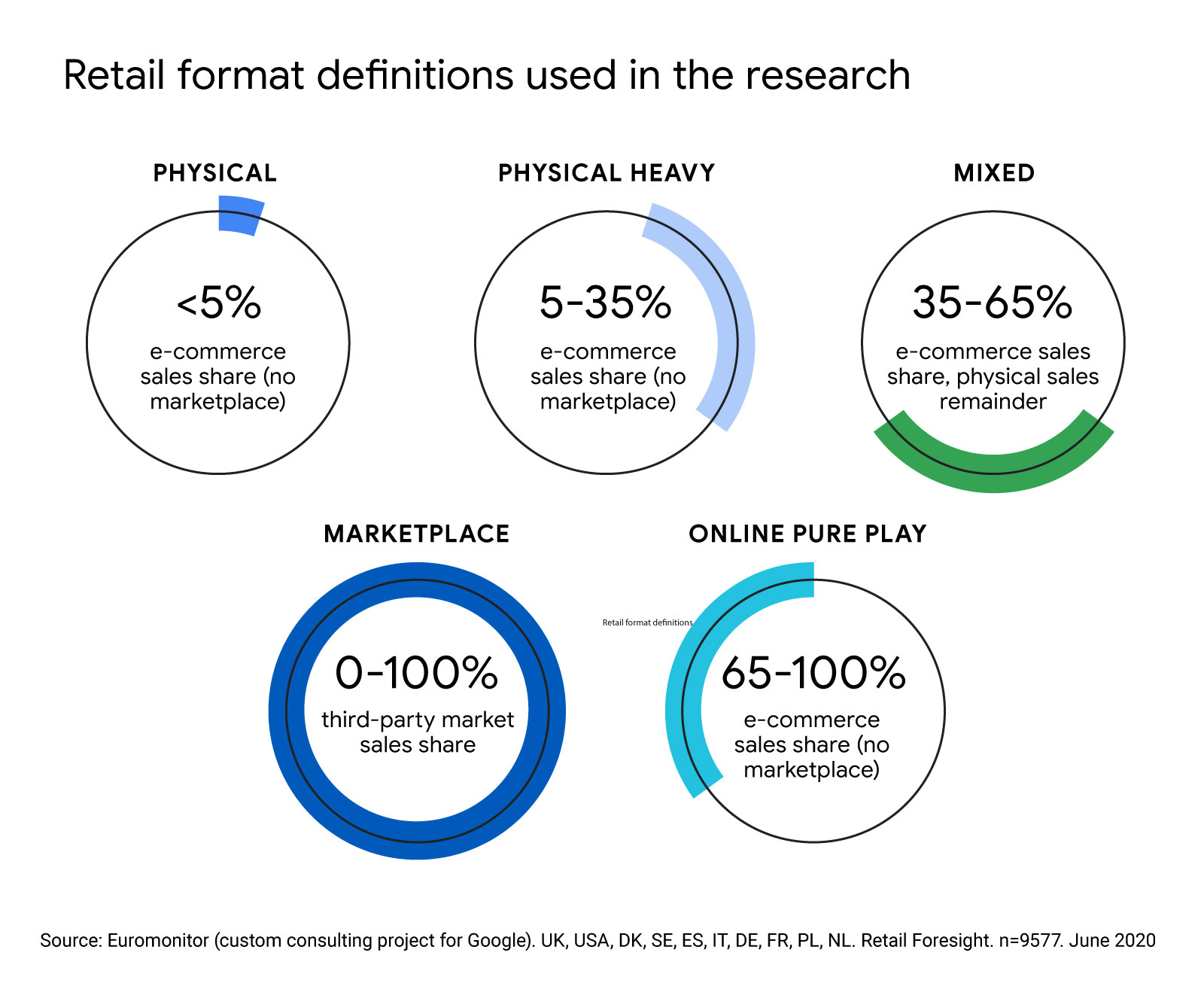 As a next step, we wanted to understand what could happen to growth across all of these formats. Would it affect market share, how might it be redistributed over a five-year period, and would it vary across different markets? As part of our research we projected the market share movement by retail format.6 Based on Euromonitor's modeling, here's what we expect to see:
Large contraction of physical-only retailers across all markets.
Share gains for physical-heavy retailers (retailers with 5% to 35% of e-commerce sales) in most markets.
Limited growth for online pure players across nearly all markets as they start to diversify their offerings, for example by opening stores.
Significant increase in market share for marketplaces across nearly all markets.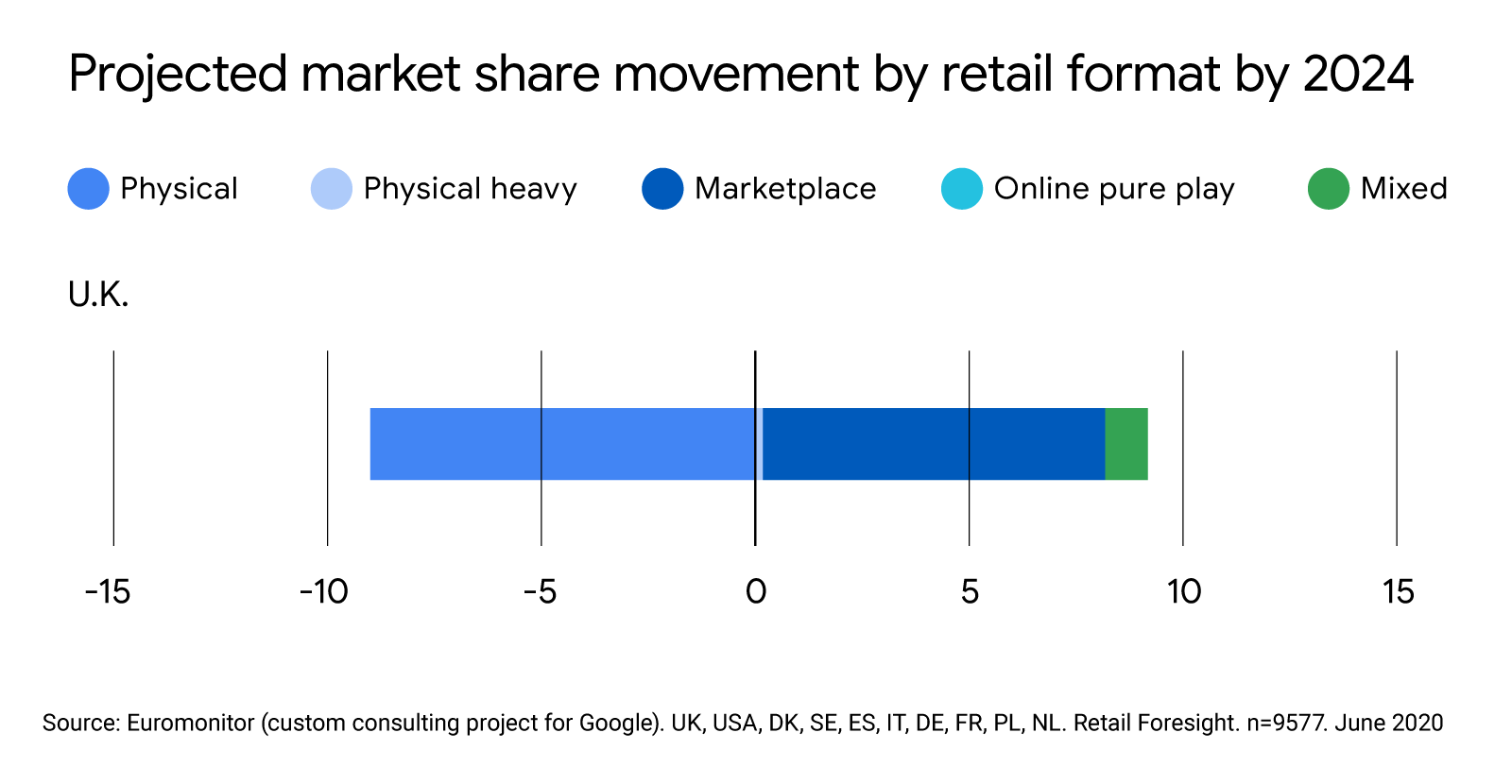 3 trends to inform your long-term strategy
Looking at how retailers can prepare for this shift in market share across retail formats, we've identified three key trends. These consumer behaviour insights can help you develop your marketing strategy to drive long-term success.
As consumers shop both online and in-store, multichannel (which includes physical-heavy and mixed retailers) and marketplace formats will drive 86% of the sales growth in the next five years.7
The pandemic has made consumers more fluid about whether they buy online or offline, with 73% describing themselves as channel agnostic (up from 65% before the crisis).8 Consumers will expect a more blended and seamless experience as they continue spending across both channels.
As purchase decision-making becomes more messy, consumers also expect to have helpful information to make their own decisions, including competitive pricing, recommendations delivered in moderation, and helpful personalisation.
Multichannel and marketplaces formats will drive 86% of sales growth in the next 5 years.
How to prepare for the future of retail
In the next five years, consumers will continue spending offline but as online spend continues to grow, retailers will need to bring together their digital and in-store experiences to make the biggest gains. Consumers will favour retailers with a digital offering, even if they go on to transact in store. As we have learned this year, the only constant is change and retailers must be ready for what will come next. Here are a few considerations to keep top of mind:
Consumers have an overwhelming amount of choice. Retailers should help consumers make empowered decisions by providing helpful information to make their own decisions. This will increasingly become a key differentiator.
The future of retail is not about an either/or when it comes to physical or online presence. Retailers will need to move on from focusing on where the transaction is happening and refocus on integrating online and offline experiences.
Retailers need to meet rising consumer expectations and deliver seamless experiences. This means there is no going back from investing in digital transformation.