Hundreds and thousands of articles about new "network" generations are published every year. While marketers studied the millennials under a microscope, centennials grew and became adults. The same focus on smartphones, the same round-the-clock social networks, the same openness to the world and self-confidence... or not?
In this article, we understand how the two titbits are similar, and how they differ. We also gathered a lot of facts that will be useful for brands to build effective relationships with generations Y and Z.
How to distinguish Z from Y
Generation Y – people born after 1981. They met adulthood already in the new millennium, and therefore they are often called millennials. This is the first generation deeply involved in digital technology. But they found the era before the spread of the Internet: their childhood passed mainly without smartphones and social networks.
Representatives of the Z generation from the millennials are separated by the fact that they were "born with a smartphone in their hands". Unlike Generation Y, digital technology has surrounded them since childhood, and the Internet is an integral part of their parents' lives.
From what years to start the countdown for generation Z, researchers have no consensus. The border varies from 1991 to 2001, depending on the level of technology development in different countries. Sociologists often choose the reference year 1995 – and if so, today the senior centennial is already 24 years old.
According to Bloomberg media company, representatives of generation Z make up one third of the world population and their solvency is growing. And by the degree of attractiveness for brands, the audience of centennials can now compete with millennials.
Y enjoy life, Z change the world
Opportunities and threats of the modern world have formed a different approach to life among generations Y and Z.
According to a study by FutureCast consulting agency, millennials follow the belief that they "live only once", so they try to get the most out of it. They want to enjoy life and are ready to take risks for the sake of vivid impressions. 77% prefer to experience a strong experience instead of acquiring the desired product.
Representatives of the Z generation are more practical, so 60% will choose a physical product, rather than a momentary impression (40%).
The younger generation has more ambitions : 60% of centennials and only 39% of millennials want to change the world for the better. Generation Z does not just dream, but believes that they can do it. They are technically savvy and accustomed to the availability of any information, therefore they believe that they deserve more than they have. Confident in themselves, they expect that others: brands, colleagues, subscribers, will take them seriously and help them achieve goals , for example, to open their own business. This is what 72% of centenials want.
Y travel and Z live without borders
Millennials travel more than any other generation. Expedia Media Solutions, an advertising agency, conducted a study and found that Generation Y representatives average 4.3 trips per year . This is 30% more than the Z generation.
Russian research also suggests that 33% of millennials include travel on their list of main interests , but this item has not been included in the top 10 hobbies of centrals.
Nevertheless, it is generation Z that can be called the first global generation . The Varkey Foundation polled 20,000 people in 20 countries and found out that centennials consider borders to be a relic of the past. Every day they "travel the world" using the Internet – and from childhood they observe the diversity of the world, cultures, religions in social networks, videos and surrounding reality.
According to the Pew Research Center, the racial and ethnic diversity of Generation Z is 10% higher than among millennials.
The centennials have a higher level of gender tolerance. 38% of Generation Z representatives in the United States believe that gender does not define a person – as it was before (Generation Y: 27%). Almost 60% are convinced that there should be more options in the world than "man" and "woman" (Generation Y: 50%).
New Y Technologies Become Z Daily Gadgets
A high degree of dependence on mobile devices characterises both generations and helps brands to promote their products.
53% of millennials admitted that they would rather give up their sense of smell than from modern technology. More than 80% sleep with their smartphones , 32% study social networks, including in the toilet.
For Generation Z, the numbers are no less impressive. According to Commscope, 100% of centrals check a smartphone at least 5 times per hour . Moreover, 7 out of 10 adult representatives of generation Z do this every 2 minutes.
What separates the generations is that the "technologies of the future", which hit the millennials, are already present for generation Z. 82% of centennials are sure that they are well versed in new technologies . Since childhood, they hear about augmented reality, AI assistants, unmanned vehicles, so it's harder to impress.
A survey by the British agency Voxburner showed that more than 71% of centennials and 58% of millennials are interested in virtual reality . According to CivicScience research company, 28% of representatives of generation Z are ready to buy VR glasses , and only 19% are of generation Y.
While Y is watching content, Z is creating it
Pew Research Center reports that YouTube is a key platform for the Z generation.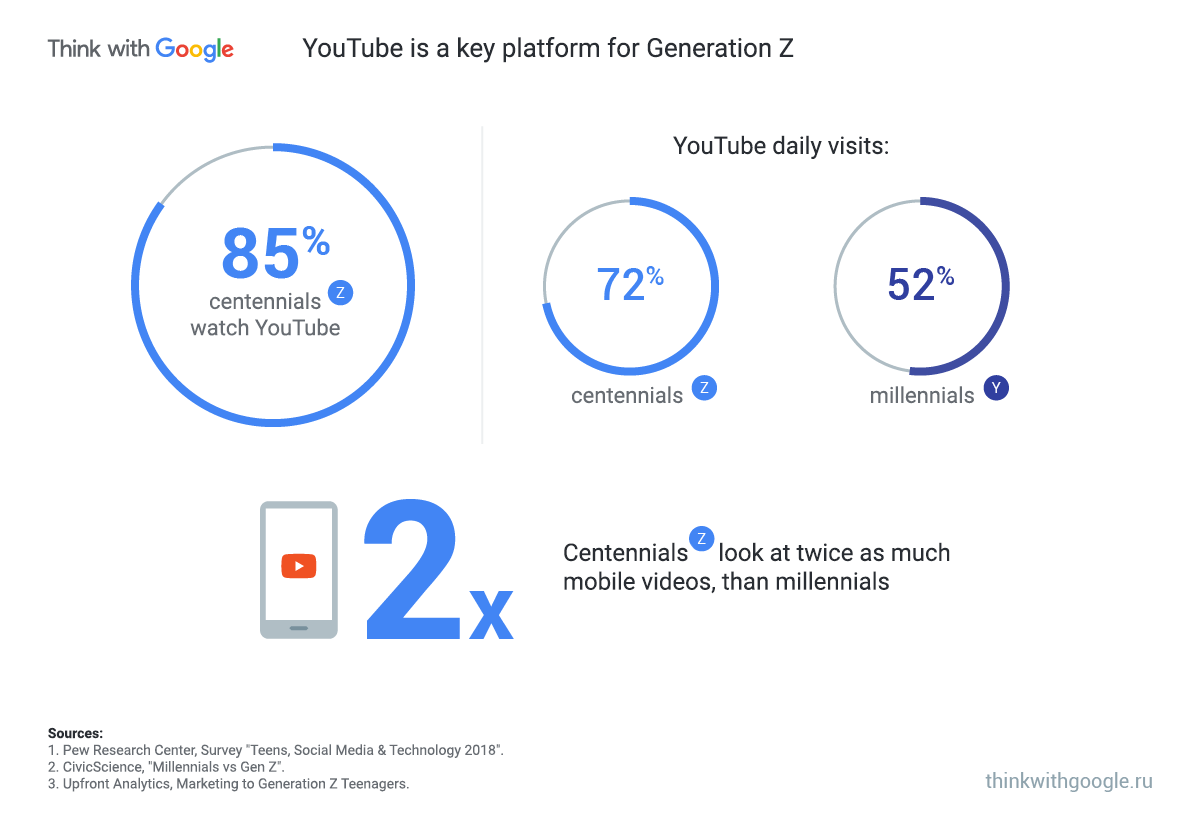 And even more than half of post-millennials create content ontheir own. According to a CommScope poll, the most attractive profession for Generation Z is the popular video blogger . 37% of respondents dream about a career on YouTube.
Only, unlike the creative generation Y, the centennials are accustomed to intuitive tools for solving creative tasks. It is more convenient for them to mount a video on a smartphone, and preferably with the click of a button.
This approach from Generation Z has contributed to the rapidly growing popularity of the TikTok app worldwide. The service for processing and sharing short mobile videos at the end of 2018 was ahead of Instagram and Facebook in terms of the number of downloads. Short vertical videos, challenge format, convenient video editing tools, masks, filters and free background tracks. All this perfectly coincided with the needs of the centennials.
But the main applications of the millennials, according to the comScope report, were Facebook, the Gmail email client and the Amazon shopping platform.
Y plan shopping, Z prefer spontaneity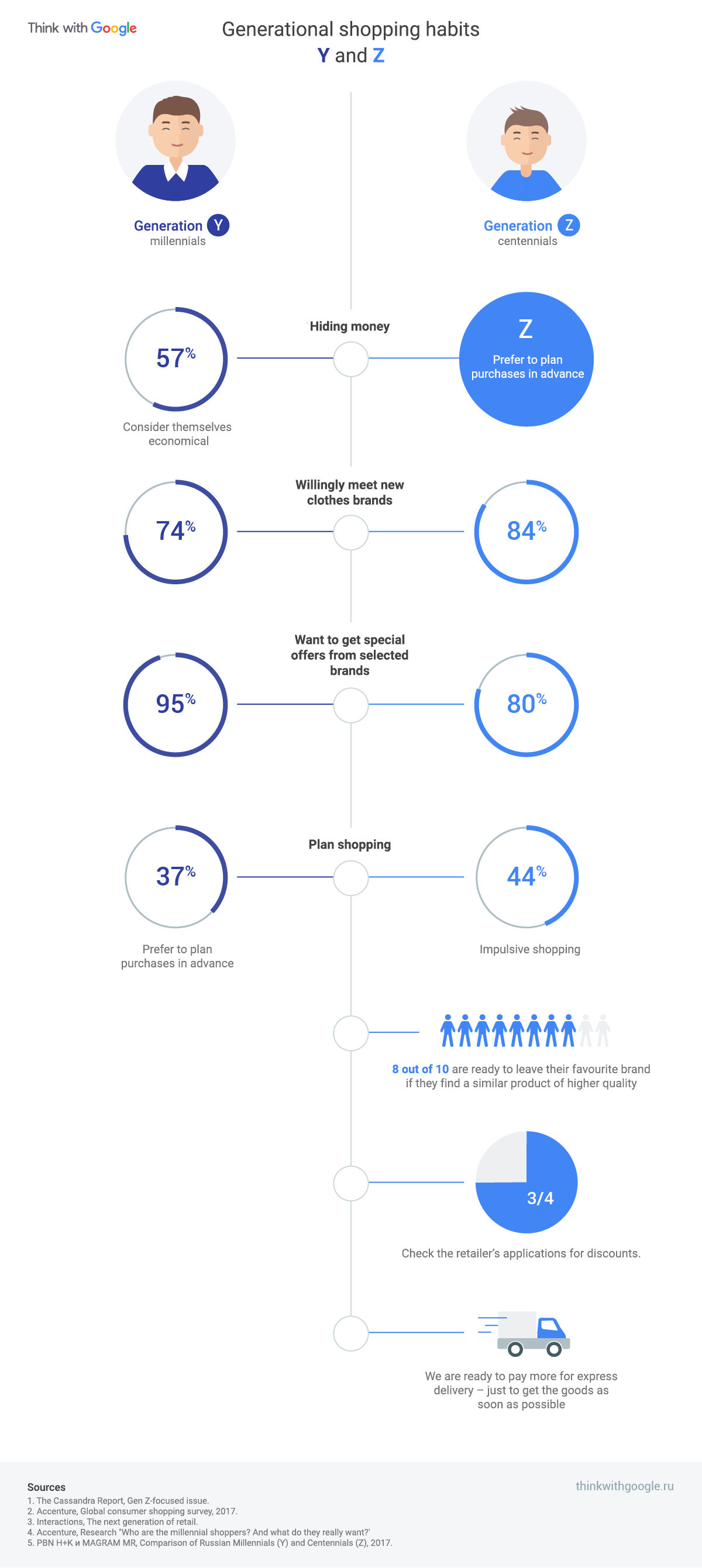 Z trusts celebrity, and Y trusts
In order to convey their messages to generations Y and Z, brands must be not only creative, but fast and honest.
Generation Z has a 25% lower attention span than their predecessors. Millennials are able to hold attention for 12 seconds, and centennials are only 8. Generation Z is easier to take information on faith. Centennials only double-check advertising messages , and this is less common than Generation Y (40%).
This does not mean that post-millennials are easier to persuade. A study by Brand House, a creative agency, showed that Generation Z has great intuition . When reading an advertising text or watching a video, young people immediately understand if the information in front of them is "fake" or irrelevant.
According to Deep Focus, millennials respond better to ads that create emotional contact (31% Y vs 20% Z), while celebrity ads are more attracted to celebrity ads (27% Z vs 20% Y). CivicScience also confirms that the recommendations of opinion leaders on social media have more impact on Generation Z (29%) than Generation Y (19%).
Millennials and centennials are very different. For high results, it is important for brands to understand this and shape their approach to each generation.
To sell the product to Y representatives, offer them a vibrant experience and help them enjoy life. Create an emotional touch, promise a loyalty programme and provide ongoing online support. Remember that millennials are often planned in advance, and your ads may be double-checked.
Turning to Generation Z, offer help in achieving personal goals. The centrals are sure that they know everything: about the world around, new technologies and the diversity of people. It is easier to interest them in a physical product, but the offer should be profitable, and the advertising message should be short and capacious. Attract opinion leaders and inspire impulsive shopping.
When reading international studies, remember that in different countries, cities (and even areas of the same megalopolis), the level of development and trends of generations can vary markedly. It is important to study your own customers, track their changes. And also remember that generations grow up quickly and new ones are born.