Looking back to March 2020, the world accelerated towards global lockdowns with Ramadan around the corner. This posed a unique challenge for regional marketers on how to respond to a digital Ramadan in lockdown, while remaining relevant and sensitive to changing consumer sentiments. The brand needed to quickly pivot their brand campaign for MENA's busiest ad season of the year.
Maggi, an international food manufacturer, seized this opportunity to reimagine their marketing messaging using real-time audience insights. Based on identifying all-new customer pain points related to the pandemic, Maggi cooked up a last-minute digital campaign in a matter of days — one that would typically take four to six months to build.
"We needed to stand out — and show sensitivity — at a time of panic faced by both the consumer and advertisers."
Data-driven culture
When revamping their Ramadan campaign, Maggi's primary marketing goals were to drive website traffic, convert offline customers into an online audience, and to stand out in a digitally-saturated landscape.
"Amid the rise of the pandemic, advertisers resorted to digital due to lock-downs and restrictions," said Maiada El Shahawy, Maggi's e-business MENA. ""We needed to stand out — and show sensitivity — at a time of panic faced by both the consumer and advertisers."
Identifying customer pain points
Maggi adopted a data-driven approach to understand consumer needs and meet business objectives. They began with pre-Ramadan campaign polls across multiple channels to define consumer needs. They identified new consumer pain points, including:
The inability to gather with large groups for Ramadan
Home cooking in place of visiting favourite restaurants to break fasts
Tackling complex, traditional recipes
Along with top searched-recipes and engaging directly with audiences through polls throughout Ramadan, Maggi's holistic look at data paved the way for relevant creative communication.
"If we just served random recipes, we wouldn't have been relevant," said El Shahawy. "We studied the landscape and understood what our audience was searching for, then provided the right products and services to answer their worries."
With the knowledge that people were staying home to cook smaller meals in place of dining out in groups, Maggi created empathetic and authentic content that fostered a sense of togetherness. In the end, the aim of the #CookTheDifference campaign was to show consumers ways to maintain the same Ramadan feeling in a very different world.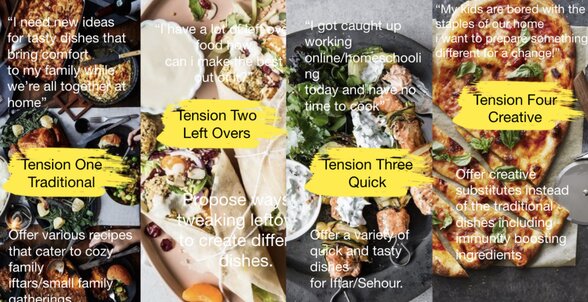 In weekly increments, they shared short visual assets under the overarching theme 'Cook Differently, But Together' in Ramadan 2020.
Innovative action
Maggi's key audiences were heavily consuming cooking videos on YouTube for inspiration during Ramadan in lockdown. The brand already owned a mix of formats, from pre-roll ads, and bumper ads, to Search ads to reach them. During this unique period, however, they wanted to take it to the next level.
Maggi was the first consumer packaged goods (CPG) brand to try visual Discovery campaigns at this scale in MENA and saw great results. A visual ad is placed in Google Search's Discovery page, where an algorithm curates a personalised feed based on audience interests. Through one, streamlined campaign, a brand can engage users who are open to new products or services. By pairing the new performance-based assets with Discovery, Maggi was able to drive 15% more traffic to their website with consumers spending 76% more time browsing content.
"We wanted to evolve and tap into performance-driven formats that not only reach the correct audience, but also drive website conversions," said Sima Chamma, Maggi's digital champion in MENA. "We started using Discovery campaigns during Ramadan for the first time, and given the exceptional results, we continued using it for other campaigns."
The strategy allowed them to activate the first-ever lower funnel campaign, with 22% lower bounce rates than all other digital campaigns running at the time. Engagement grew exponentially, more than doubling time spent per session. As a result, Maggi welcomed 16,000 conversions thanks to their readiness to test a new product – overachieving their conversion KPI by 39%.
"Discovery is now an instrumental format for performance driven campaigns for us," said El Shahawy. "Our next step is to experiment with different messages and creatives to understand what captures attention."
Most importantly, she says they plan to use it for different brands to see how it performs against those audience segments — starting with Purina.
Food for thought
Understanding consumer trends and pain points enables marketers to adjust the tone and communications in a dynamic environment — essential qualities for the biggest ad season of the year.
"We heard our consumers – and we adapted," concluded El Shahawy.
Key takeaways
Be relevant: Use Google trends and consumer surveys to keep a finger on the pulse of consumer sentiment.
Be consistent: Ensure the tone and messaging in your ads fits the cultural moment with authenticity.
Be bold: Consider new advertising strategies to engage a wider audience and measure performance to see what works – and what doesn't.