Our Ramadan 2021 viewing insights are in, and we have great news. Search interest increased for "ad" by more than 13X during last year's holy month in the Middle East and North Africa (MENA).1 On top of this, 75% of the top-watched YouTube videos in the United Arab Emirates (UAE), Saudi Arabia (KSA) and Egypt were ads.2 Any guesses as to what the three top-watched YouTube videos across these markets were? Yes, they were ads too.3 Which means consumers are actively seeking out brands during Ramadan, rather than the other way around.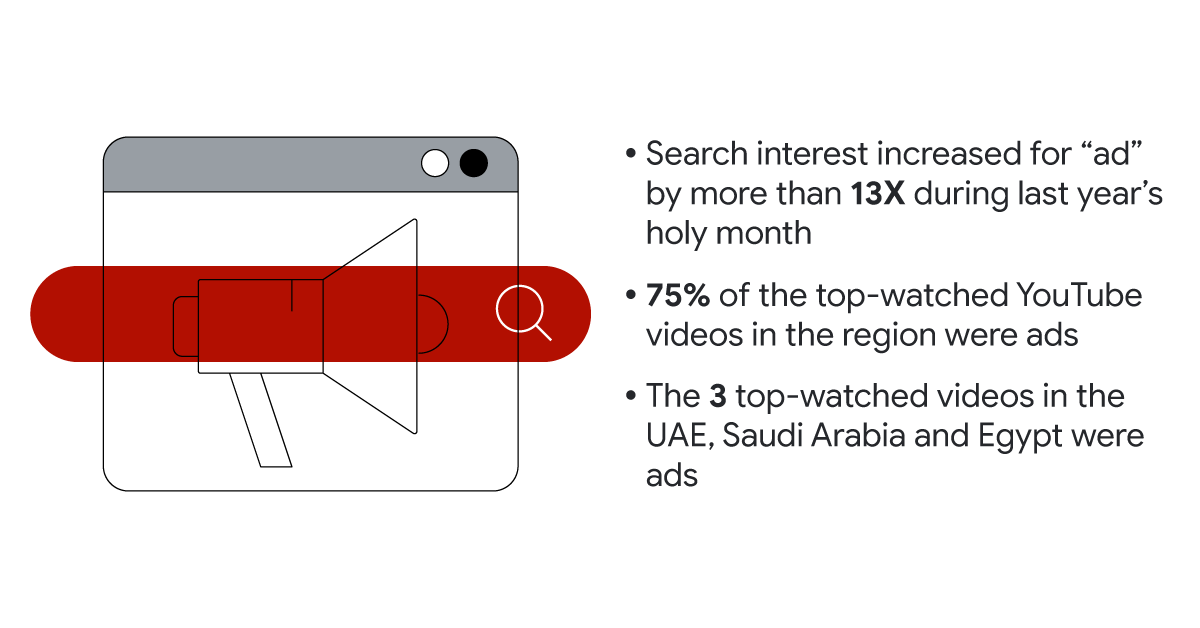 We manually analysed content from hundreds of Ramadan ads extracted from YouTube in the UAE, Saudi Arabia and Egypt last year. These three trends stood out:
1. Brands are increasingly turning to creators for authentic content
One quarter of MENA's top-watched content came from YouTube creators last year.4 While brands in the region are jumping on board to take advantage of creators' more authentic content, working with creators remains relatively untapped in MENA.5
The benefits of this type of partnership are clear though. Sixty-one per cent of YouTube subscribers say their views of a brand have been influenced by a creator.6 And six out of ten say they would follow the advice of a creator over a favourite TV or movie personality on what to buy.7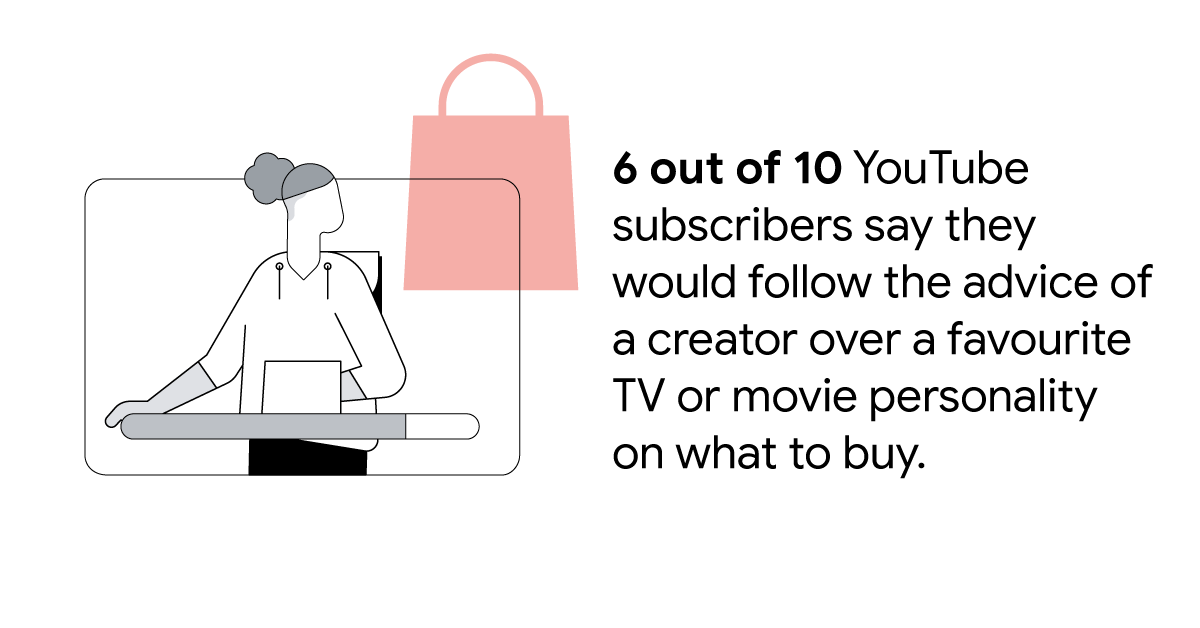 Last year during the holy month, Benefit Cosmetics partnered with YouTube creator Noor Stars. Noor shared her day-to-day make-up and beauty routine in a laid-back and relatable way that feels much less like a traditional ad, garnering over two million views. This more casual approach allowed Benefit Cosmetics to share its message in an authentic and engaging way, with its products seamlessly integrated into a video Noor would be filming anyway,
Key takeaways for marketers:
There are millions of creators on YouTube, all with different styles, personalities and audiences. That means there's no cookie-cutter approach when it comes to partnering with creators.
Consider your brand guidelines and the type of campaign to understand what works best for your brand. It's totally fine to mix and match based on objectives and the kinds of assets you're looking for from a partnership.
Work with creators from the inception phase of your idea so they can contribute from the beginning. This will help them more seamlessly integrate your brand into their content.
2. People want brands to showcase the good they're doing
We've seen a 20% YoY increase in search interest for "sustainability" in the UAE, Saudi Arabia and Egypt8, with video views around this topic also growing.9 During Ramadan last year, the number of ads featuring an element of social responsibility also rose.10 Saudi Telecom Company's (STC) ad — that features a futuristic look at how technology might work in harmony with our world — achieved nearly ten million views.
Two other major positive trends that we saw emerge in some markets during Ramadan last year centred around social causes and giving. This was evidenced by a 100% increase in search interest for "donations" and "charitable giving" in KSA during the holy month versus other months, for example.11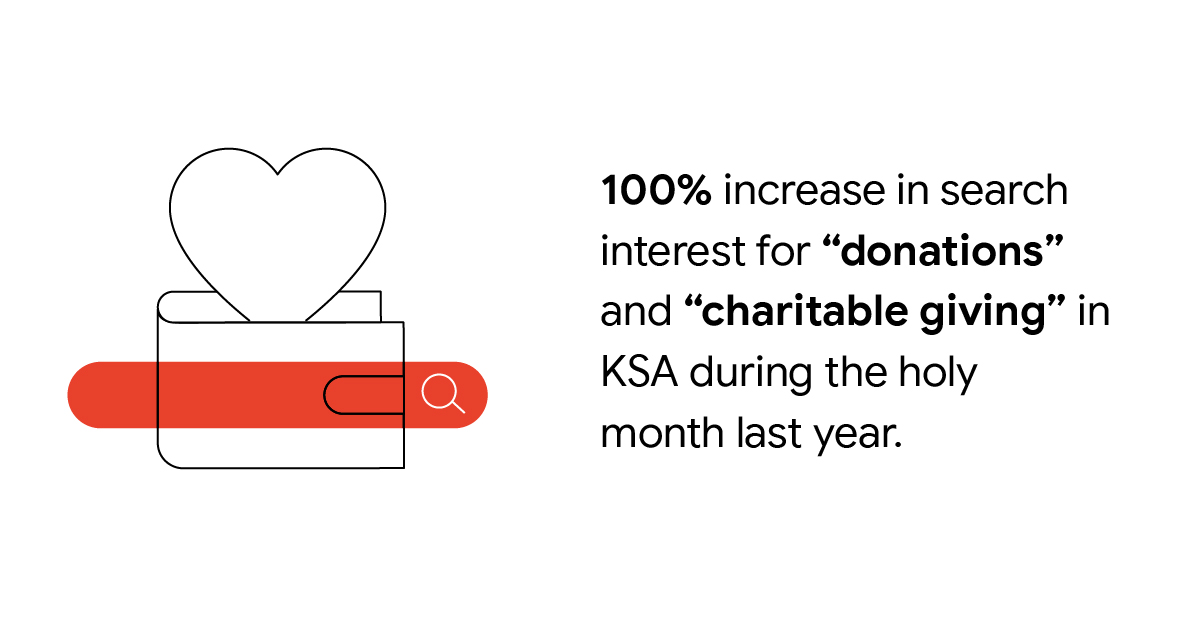 This Smiles UAE ad — that encouraged people to donate meals during Ramadan — saw over 2.5 million views. And this GMC ad — featuring Dubai-based humanitarian Ahmed Ali running two marathons in two days to encourage 'room for kindness' — achieved nearly 1 million views.
Key takeaways for marketers:
Showing consumers how they can practically solve problems through sustainability is more important than ever. A 2020 survey revealed that 82% of consumers say sustainability is more top-of-mind now than before COVID-19.12
Weave positive sustainability stories into your creative by featuring it as an existing, main element of your business rather than an add-on. If your focus is on innovation, for example, you could showcase how the future might look, or reveal practical solutions you're already working on.
No matter what type of creative you plan on sharing, emphasise the positive impact your brand is making in ways that are transparent and measurable to the consumer.
3. Audiences love a great story — with a side of nostalgia
Well-structured narratives are important to audiences in MENA. In fact a third of all top-watched ads in the UAE, Saudi Arabia and Egypt were built on great storytelling last year. Warm, fuzzy videos that took people on a sentimental trip down memory lane were particularly popular.13
This theatrical three-and-a-half-minute long Vodafone Egypt ad channels nostalgia beautifully, racking up an impressive 61 million views. It stars well-known Egyptian actress, singer and dancer Sherihan, who shares her life story through song and dance.
When it comes to video length during the holy month there's no one-size-fits-all approach. Short formats work well, but people are also willing to consume lengthier content. About 63% of all Ramadan ads last year were longer than one minute.14 This three-and-a-half-minute Tata Motors ad, for example — that tells the tale of two different segments of society unexpectedly coming together — saw nearly 43 million views.
Key takeaways for marketers:
The pace at which stories are told in ads varies from market to market. KSA and Egypt prefer upbeat and fast ads, while the UAE is split between fast and upbeat, and slow and relaxed.15
A multi-format strategy on video length will help you achieve a higher brand share of voice and increased watch time.
The ABCDs of effective creative on YouTube showcase the basic principles of making effective video ads. They cover everything from creative risks to look and feel, and getting inventive with calls to action (CTA). Ads that follow the ABCDs have been shown to yield a 30% lift in short-term sales likelihood.16