What comes to mind when you think of Ramadan? Most likely lanterns, hands held up in prayer, families breaking fast together and gatherings to watch a Fawazeer Ramadan show while drinking tea deep into the night. The truth is that the core of Ramadan, with its spirituality and sense of community, remains intact - but how we celebrate has changed.
For example, gatherings now likely include friends in Ramadan tents as much as they do family at home. Traditional desserts have taken on a modern twist with treats like Nutella knafeh, while colorful Ramadan fashion has become a staple of sartorial calendars.
These new insights are based on a fresh analysis of 13 billion searches on Google, YouTube, and Google Maps and 23 billion YouTube videos. Our team took it a step further and asked 1,500 people in the UAE about Ramadan and Eid through our Google Consumer Surveys.
It has shed light on the shift that has happened because consumers have changed: they're more empowered and digitally savvy than ever before — and this behavior stands out during Ramadan. With this in mind, planning for Ramadan 2020 is likely well under way with marketers across MENA.

Welcome to our Ramadan Series 2020!
Savvy consumers

Let's begin by addressing changing consumer habits. Consumers in MENA today are super-empowered and digitally advanced. This makes them more:
Curious: Consumers research more thoroughly for products and services before making a purchase, out of a desire for the best quality or deal. This behaviour is highlighted during Ramadan, when searches for 'best iftar' and 'best recipe' peak. During this season, apps for groceries and food are used the most-used.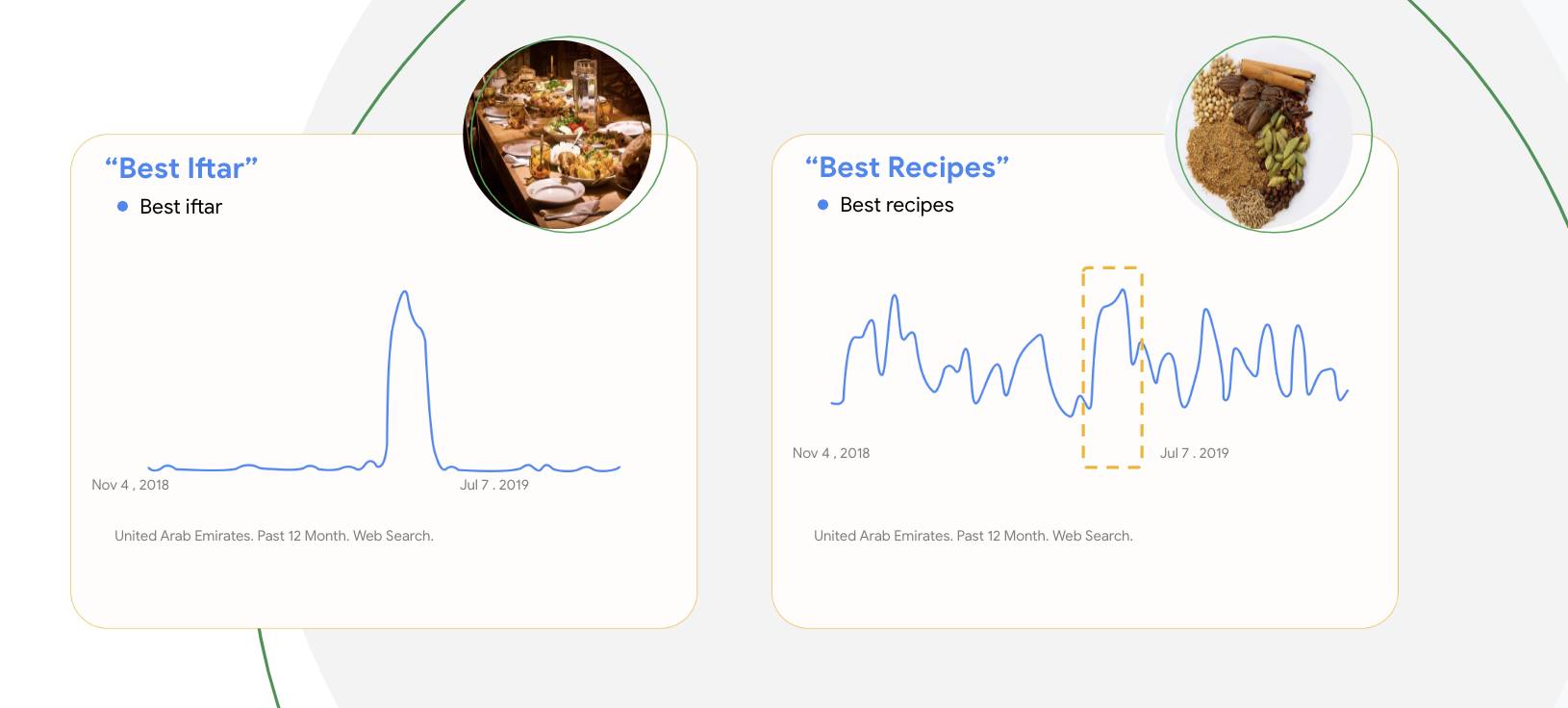 Impatient: Consumers for products and services that cater to specific needs are pronounced during Ramadan. To that end, we see a spike in searches with requests 'near me'. For example, searches for 'iftar buffet near me', 'mosque near me', and 'restaurant near me'.
Demanding: Consumers also search on demand to find shows to watch or restaurants to dine in near them when it suits their schedule. For example, searches for restaurants' opening hours won't happen in advance, but rather, when a consumer is ready to go out in the moment.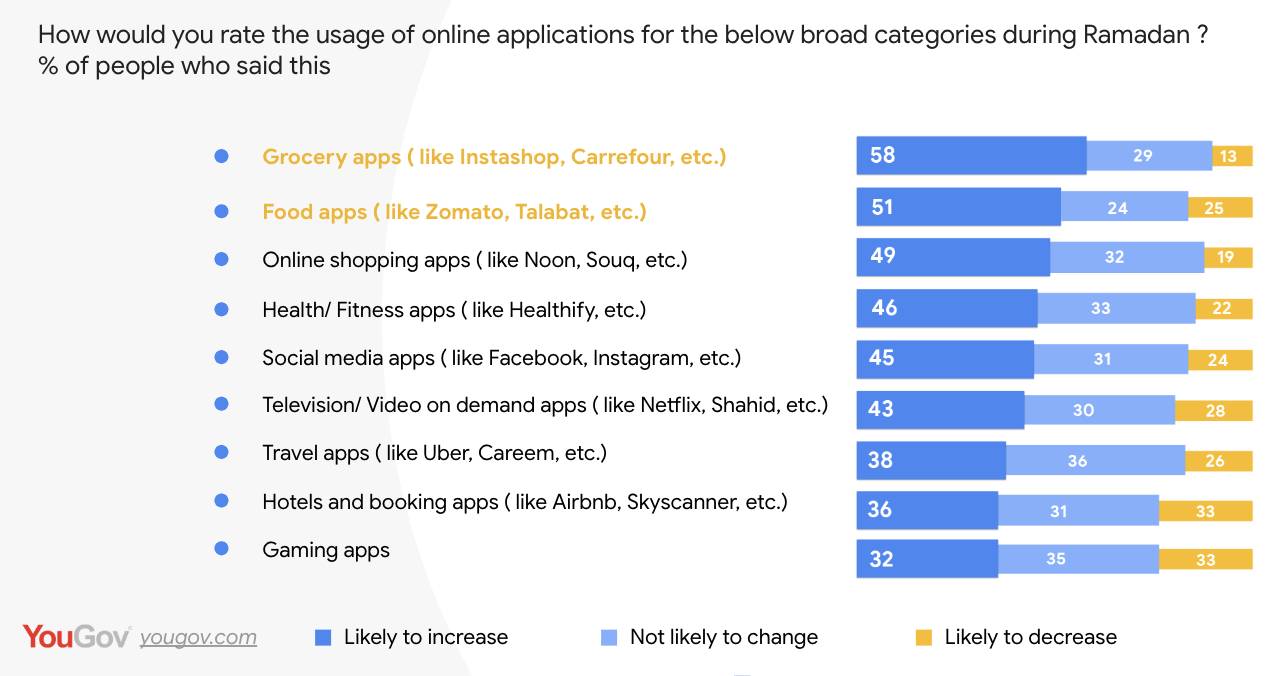 What does this mean for marketers?
Great expectations

These changes in consumer behaviour online translate into greater expectations from themselves and the brands they engage with. Consumers expect brands to innovate and accommodate their needs with fresh offerings, moving ads and frictionless online user experiences.
From people: Everyone strives to be a better person during Ramadan, which includes good deeds and valuing family ties. When we asked people which lifestyle they associate with most during Ramadan in our consumer survey, 'generous giver' was the top answer — above traveller, gamer, or foodie. Ramadan content in Arabic promoting good deeds and generosity also displays the highest engagement rates on YouTube during the season.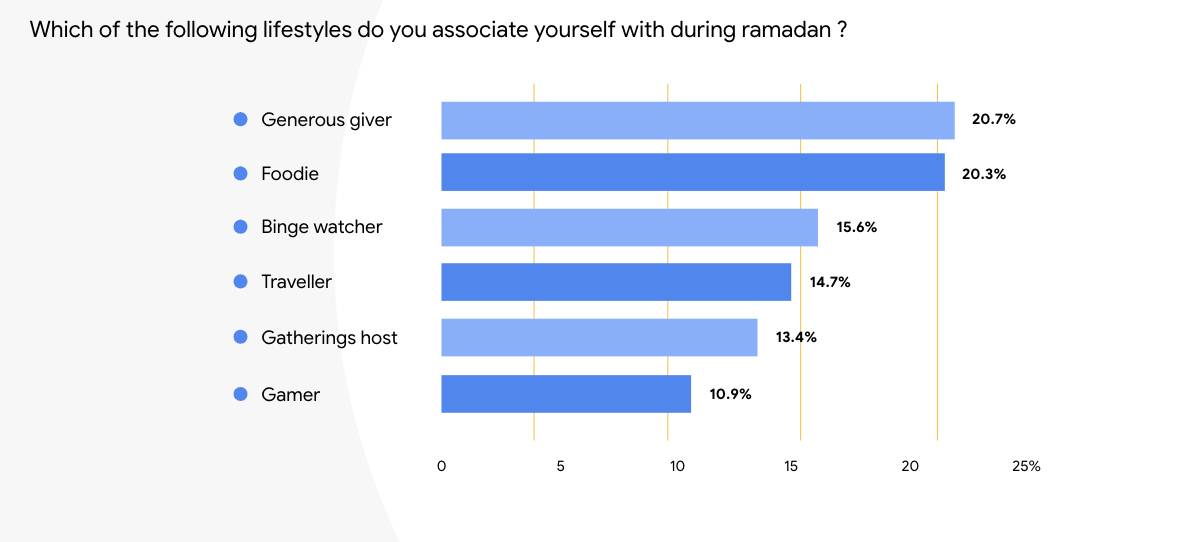 From brands: From opening hours to content to offers, there's a higher expectation for brands to accommodate the needs of consumers during this season. This is because consumer purchase behavior and spending habits change during the season. Research from YouGov shows that 53% spend more, 40% search for offers, and 49% of consumers prefer discounts during Ramadan. In fact, searches for Ramadan are as high as those for Black Friday, which is MENA's biggest online shopping moment. This means detailed information needs to be accurate and quick to load.
These heightened expectations mean that consumers experience Ramadan for longer than one month. Ramadan searches begin three weeks before the start of the season and can last for weeks after. There are free, online tools you can use to assist you in your planning throughout:
Google Trends is a tool based on searches performed by users in a specific country within a specific timeline. Using this tool, you can zoom in on your specific market and see how searches are evolving over time for a specific product/service or any area of interest to you. Comparing queries evolution is a very helpful feature; for example, you can plot "Sun Glasses" and compare it to "Sun Block" to see how both terms rise in popularity with a high correlation. This logic can be applied to any product and significant event. For example, the term "Iftar Buffet" spikes during Ramadan, rising sharply at the start and then plummeting towards the end of the month.
Google Analytics is a tool based on your website traffic. It reports and tracks all site traffic and includes a vast amount of insights into how users behave on your site, how they land on your site, and what do they do while there. These are crucial insights for any business. For example, an insight like 50% of users landing on your email registration form leaving that page within 5 seconds may encourage a redesign of that specific section of your site in order to improve results.
Our next installment of the Ramadan 2020 series delves into the four distinct phases of Ramadan - pre-Ramadan, the first two weeks, the final two weeks, ending with Eid — and how marketers can be attuned to consumer needs at different times. Stay tuned!