People in the Middle East and North Africa (MENA) celebrated a hybrid Ramadan last year. This was a shift from the previous year's almost entirely online celebrations. Families now prepare iftar at home and in-person, while also cooking with creators online. They physically stock up on essentials at the store, while also shopping for indulgent Eid gifts on their mobile devices.
While the way people now celebrate veers between real-world and digital, the core values of Ramadan — a month of spirituality, giving, and kindness — remain intact. On the first day of Ramadan last year alone, there were 17.5 million Quran live stream views on YouTube in MENA, largely due to certain markets facing restrictions around community prayers.1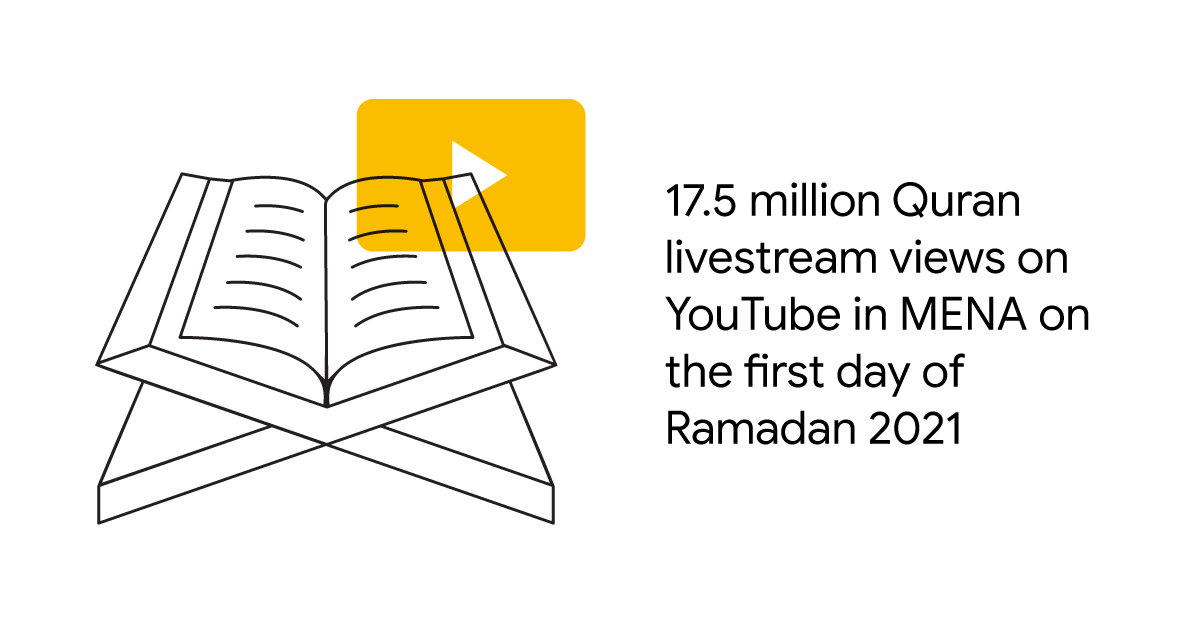 Last year's blended spiritual moment revealed four key trends, and fascinating new user behaviours, to inform your 2022 Ramadan campaign.
1. People are looking for a pick-me-up
Google Trends shows that searches around mental health increased at the start of Ramadan 2021 but, unlike the year before, they boasted a positive spin.2 We saw a 190% year-on-year increase in search interest for "psychological comfort" in the United Arab Emirates (UAE), with an increase in searches for comedic and feel-good content indicating optimism is rising and people are seeking a mood lift.3 Formats also saw a change, with a 167% increase in searches for "series" in Egypt, Saudi Arabia, and the UAE.4
Creators tapped into the need for mood-lifting content by acting out skits, playing pranks, and challenging subscribers and other creators on their channels. The Hot vs Cold Challenge by creator Shfa — a child star from the UAE with over 33 million subscribers — was one of the most popular, racking up an impressive 66 million views.
Brands jumped on the feel-good bandwagon too, with National Bank of Kuwait-Egypt's (NBKE) video reaching over four million views. The video encourages consumers to only ever borrow cash from the bank, humorously showcasing the pitfalls of accepting money from a friend or colleague.
And UAE airline Emirates warmed people's hearts through a collaboration with Dubai-based artists with disabilities. They showcased intricate meal boxes that 'people of determination', as they are known in the UAE, had designed especially for Ramadan:
Key takeaway for marketers: An increase in searches for comedic and feel-good content signals people's desire for a pick-me-up. This presents brands with an opportunity to offer uplifting content during Ramadan to bridge that gap, while reaping the rewards of showing up for users in peak moments of intent.
2. Shoppers are more price conscious
We already know that Ramadan is a key online retail moment, but 2021's insights reveal an interesting new shopping behaviour. Consumers' concerns about their financial futures shifted their buying focus to essentials, like groceries and self-care products. While they continued to make purchases during the holy month, many people spent less on impulse shopping, reevaluating their spending habits and becoming more conscious. As Ramadan is a key time for bargain hunting, it's important to make sure your deals are front and centre in your ads.
Insights show that 57% of consumers in the UAE, Saudi Arabia, and Egypt were more price-oriented over a six-month period leading up to Ramadan than they were the year before.5 And 66% of those shoppers said this was because they were focusing on saving money.6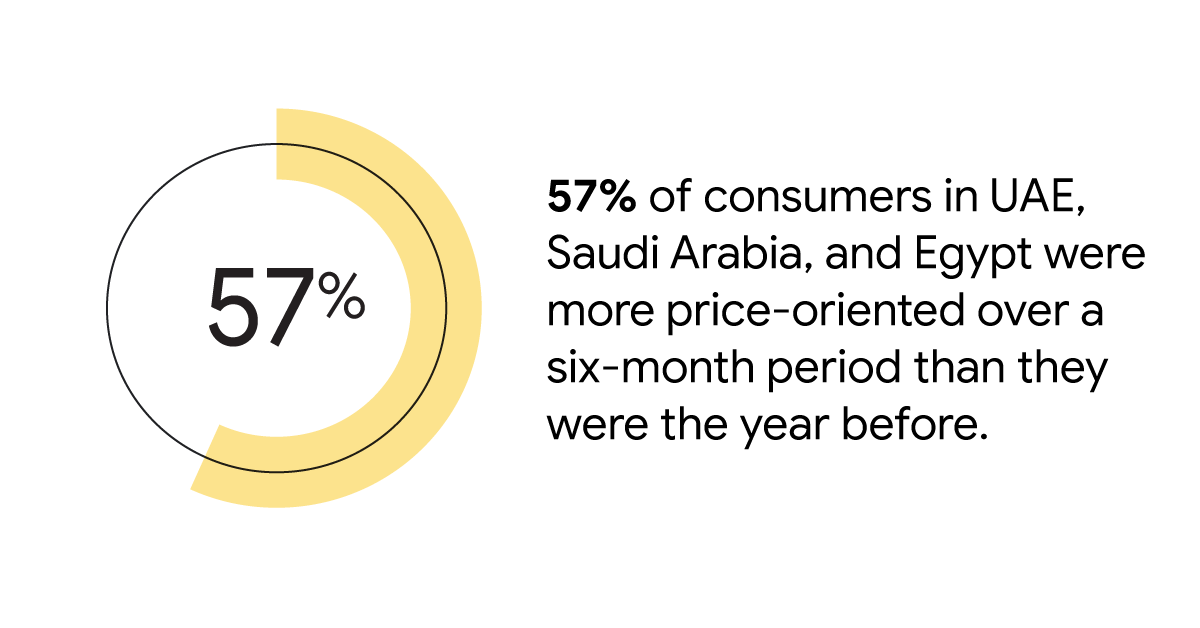 One aspect of shopping that didn't change last year was generosity around Eid.7 People wanted value for money, but treating themselves and their loved ones to special Eid gifts was important too. Audiences turned to creators like Shahd Naser and the Fouad Family for inspiration and recommendations on the best buys.
Key takeaway for marketers: It's important to be present as people search for inspiration when they're in the 'messy middle' of the purchasing journey. Many people turn to YouTube to find this shopping inspiration, so ensure your brand is represented there.
3. Communities are being shaped online
Even though people were able to meet face-to-face in some MENA markets last year, audiences and creators continued connecting online. Take the Anasala family, with five million subscribers. They posted a video about how they spent their Ramadan and reached over five million views. Salma's Kitchen, meanwhile, garnered over half a million views as she took her audience shopping. And Saudi-based creator Njoud partnered up with Swedish beauty-tech brand Foreo to drive awareness around the importance of goodwill in this #kindnesswithForeo video.
YouTube Shorts — a new short-form video format for which creators film catchy videos on only their mobile phones — were also popular. UAE-based creators Khalid and Salama Al Ameri used this format to connect with audiences through comedy, food, and entertainment.
Key takeaway for marketers: People seek community, comfort, and creativity in real life, and they want the same things from the videos they watch. Marketers who keep these trends in mind for their video and ad creative will grow with their audience and create a sense of connection.
4. Ramadan's core values remain
The holy month centres on spirituality, giving, and kindness, and we see this manifest through search. We saw a 100% increase in YouTube search interest for "donations" and "charitable giving" in Saudi Arabia during the four weeks of Ramadan in 2021 versus all other months of the year.8 For example, this heartwarming 30-minute video by Qalby Etmaan — a UAE-based social initiative that helps the underprivileged — reached over two million viewers.
Brands also built campaigns on this foundation of compassion, kindness, and charitable giving. Food company Almarai created a playful campaign about waste. They encouraged people to only take what they need during Ramadan and reached almost 40 million people:
Key takeaway for marketers: Audiences turn to digital to find ways of experiencing the still-missing elements of Ramadan. By identifying how your brand can help solve this challenge — through entertainment, inspiration, or ideas, for example — you can encourage people to look to your business for answers and help them find balance in today's 'new-normal'.