During Ramadan 2018, Google platforms captured 50 billion signals. That's six-and-a-half times the number of people that live on earth. By analysing specific data and trends from these interactions, we uncovered six key Ramadan audience personalities to better understand their reasons for engaging with specific content on YouTube in the Holy Month. So, who is watching videos online and what matters most to them?
YouTube Companion Effect
YouTube is a companion during Ramadan, a platform where viewers can watch what they want, whenever they want throughout the day. Let's dig a little deeper into the online behaviour of these viewers on YouTube during Ramadan in terms of what content they consume and how. At the end of the day, no matter what they're watching, the six key Ramadan audiences that we discovered during our analysis – the Dedicated Watchers, Devoted Fasters, Foodies, Groomers, Travellers, and Gifters and Shoppers – are looking to do four things:

1. Watch
People have more time to watch the content they love during the Holy Month. YouTube's mobility and cross-platform ability attract audiences at this time in particular because they have the whatever they like, whenever they like.
Creators are at the Heart of YouTube and the popularity of the platform during the Holy Month means a rise in popularity of creators, too. These mainstream creators reach audiences on a more authentic and deeper level and they range in producing content that ranges from comedy to spiritual and more, such as the beauty-focused YouTube series Helwet Ramadan by Make Up Forever.
Did you know that viewers actively search for ads during Ramadan? Audiences genuinely enjoy the music, spiritual connection and celebrity cameos that Ramadan ads are known for. It's no wonder that during  Ramadan, ads rule.
Searches for Ramadan Ads on YT (2017)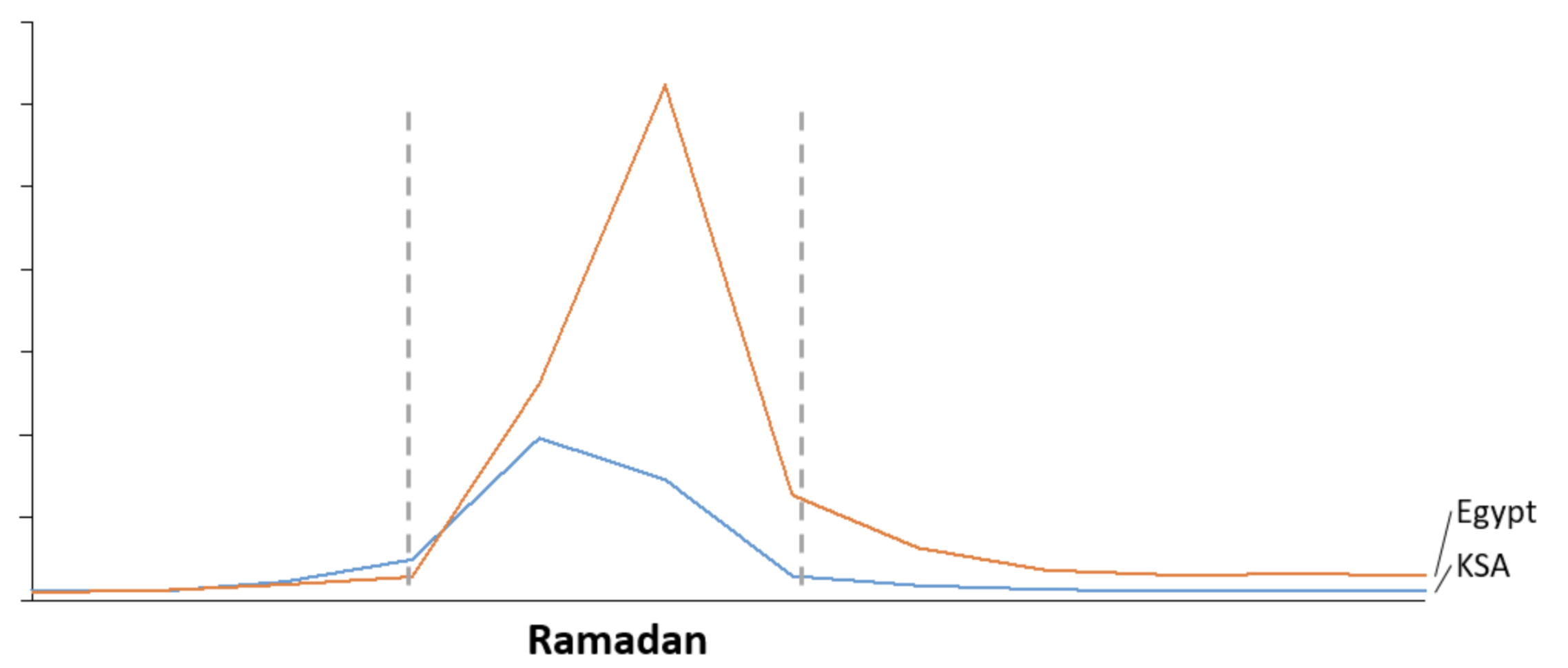 Audiences prefer watching ads with music and song, with many brands opting to have a celebrity perform a song or create an original melody, such as the 2017 Lantern Award winner Orange. It's all about that beat! These songs feature in playlists long after Ramadan is over, making it clear that these are much more than ads.
2. Learn
Google insights reveal that 83% of millennials believe they can find a YouTube video on anything they want to learn. It's no different during Ramadan. Beauty, makeup, grooming, and fashion are popular searches on the platform during the Holy Month, with a 75% growth in watch time of female-led content during Ramadan.
YouTube is also the preferred place to discover cooking ideas and recipes, with Ramadan audiences visiting the platform to discover traditional and nontraditional ideas for iftar and suhoor.

3. Play
Just because people are fasting doesn't mean they are not playing… football that is!
During Ramadan, people enjoy watching others playing games online, reviewing games, and watching videos of games. Sports views also peak, with game analyses and professional commentary videos by sports vloggers and TV presenters getting serious hits. In fact, in Egypt, Ramadan merges with football moments, with topics like Mohamed Salah or Liverpool receiving a 98% increase in views during Ramadan in Egypt, for example.
4. Explore
It's time for a trip! YouTube is a go-to platform for planning and searching purposes. From researching destinations to flight experiences, YouTube is a travel companion from the start to the end of a trip. In fact, air travel and hotel searches surge as travel planning for Eid takes place, making Eid the busiest search activity in the year second to New Years.
Ramadan is also a key moment for gifting, as seen in peaks in shopping related content and activity online. In Egypt alone, demand for discounts and promotions on specific categories grow between 40% and 76% during Ramadan last year.
Speak to Your Audience
By identifying your specific target audience(s) and generating key online behavioural insights, you are in a great position to build strong creatives and unlock an effective media plan. This will allow you to engage with your audience and drive return on investment.
After understanding your industry trends and working on your creative direction, locking in your audience is crucial to target the right group through your media campaign. Stay tuned for part 4 of our series on a strategic media plan to bring it all together!