Did you know that today's millennial generation is not only the largest and most educated in the history of the world, it's also the most researched and brand loyal? That's what our new research on YouTube's MENA audience has revealed. On top of that, millennials boast more spending power than any other generation. In 2018, global millennial spending power came in at a cool $2.5 trillion.
This is important because more than 60% of viewers in MENA are millennials, comprising YouTube's biggest Middle Eastern audience, second only to the US when it comes to watch time. In fact, Saudi Arabia alone is the biggest user of YouTube per capita worldwide.
These twenty- and thirty-something-year-old viewers aren't just passively watching videos, they're actively driving video content. MENA's millennials spend over three hours per day on online video, more than both messaging apps and games. Millennials are also twice as likely as their global counterparts to post content online, and show others how to do things online. In KSA and the UAE, 68% consume more video digitally than they do on TV, with 77% watching YouTube every day in Egypt. That's more than any other platform, even TV.
Spotlight on Millennials
Millennials are more than just a qualifier for an age group. Our detailed research has shown that when talking about the millennial audience in MENA, we're talking about married couples, parents, and a generally digitally savvy community.The millennial audience breakdown looks like this in the Middle East: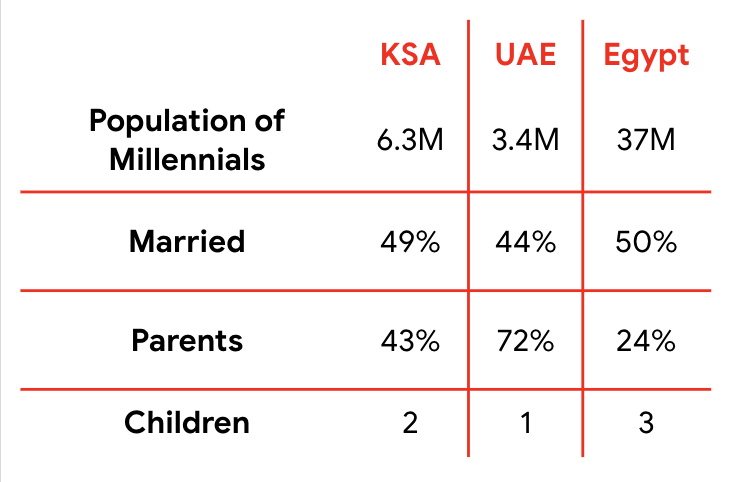 Millennials are also digital natives, being the first people to grow up with the Internet and digital media. Their impressive online and device usage reflects this. In the UAE and KSA, 97.7% are online daily and 97.8% are on smartphones. Meanwhile, 75% of Egyptian millennials are online and 70% are on smartphones. This means they are constantly connected, regularly turn to YouTube, and search for daily queries.
Let's delve into specifics and introduce you to real-deal millennials and what matters to them when watching online video content today: 
1. The Millennial Mothers and Fathers
Many Middle Eastern millennials are parents and YouTube videos play a starring role in their families' journeys. It's where parents ask questions about high fevers in the middle of the night. It's where kids watch Baby Shark on repeat. It's where mothers and fathers catch up with comedy at the end of a long day. Our research has shown that 61% of millennials consider family their #1 priority in KSA and the UAE, and 75% in Egypt.
YouTube's insights reveal that MENA families use the platform in a variety of ways:
YouTube is a Shared, Bonding Experience: Half of all mothers in the Middle East watch kids content on YouTube as a way to spend time with their little ones. In Egypt, 80% of parents watch YouTube daily - over 65% of them more than TV when it is in a snackable format.  The figures are higher in KSA and the UAE, with over 90% of moms watching YouTube with their kids on a daily basis.
YouTube is a teacher: Many millennial parents turn to YouTube to find parenting advice and inspiration. Our research shows that 77% of millennial moms trust YouTube as much as family and friends, with over 40% of dads in the region turning to the platform for guidance - such as Mmoshaya's skits with this 3 children.
YouTube is a Shopping Companion: From researching food to toys, YouTube is considered a place to turn to during the shopping journey to inspire and influence purchase decisions. Around 70% of millennial parents follow brands they are interested in on YouTube, which influences half of all UAE and KSA mothers before they purchase a product. In Egypt, over 80% of parents are influenced by ads before making a purchase.
2. The Millennial Seekers
Our data reveals that millennials actively seek out authenticity and care about the world they live in. Millennials' content consumption and creation is centred around reaching and connecting with relatable people rather than untouchable superstars.

Millennials are also interested in social impact and changes in society, actively participating in respectfully making a change. Maha AJ is a content creator advocate for change who has over 200,000 strong fans. Insights show that YouTube is the MENA millennial generation's preferred channel thanks to its core values that embrace an authenticity.
Despite the pressures of everyday life, Middle Eastern millennials have strong and positive values, with video being a key expression of this core identity. When it comes to their future, 74% feel positive in KSA and the UAE, and 72% in Egypt.
3. The Millennial Doers
Millennials like keeping busy. Active doers who want to learn and be better, millennials consume three key video streams focused on self-betterment. These include:
- Help-me-be-better content: Many millennials look to YouTube to learn practical life skills, from parking a car to playing music, with half of all viewers using the platform to learn or practice their musical talents. More than 80% of millennials across MENA believe they can find a YouTube video on anything they want to learn.
- Help-me-look better content: Millennials also care about how they look, valuing self-improvement tips and tricks across beauty, fitness and health. 86% of skincare shoppers in the UAE and KSA watch YouTube during their purchase journeys, and 1 in 2 state that YouTube introduced them to a brand that they had no idea about before.
4. The Millennial Entertainment Fans
Athletic State of Mind
Sports resonate deeply with millennial fans in Egypt, in particular. They enjoy making predictions and using multimedia content to share their love of football. This also includes the world of gaming, which is extremely popular with football fans. MrFifaSA is a great example of the rising popularity of a creator who delivers advice on football gaming strategy to his 1.1 million subscribers.

It's All About the Beat
Middle Eastern millennials also love their music. YouTube Music accounts for 40% of ALL music listening worldwide. That's more than all other streaming services combined. While the UAE prefers a mix of international, Arabic and Indian music, in KSA both nationals and Arab expats seek primarily Arabic music, with the most popular genres being Khaliji, Egyptian and Shaabi music. In Egypt, millennials love to watch music videos, with millennials updating Sha3by with Mahraganat.

Melody-loving millennials visit YouTube to listen actively and engage with music content by:

Watching music videos. 96% of music viewers use YouTube to 'watch' music videos (versus for listening only). This includes sing-along videos with lyrics and translations, which have grown increasingly popular.

Catching up with music culture beyond the songs. As one Saudi Millennial interviewee told us, "It's not just music: it's interviews, talk shows, performances at award ceremonies, concerts, live tours in different countries, collaborations with other stars, documentaries" and more.

Participating in the enrichment of YouTube's cultural archive through collaborations, covers and parodies. Artists no longer have to have one popular song on YouTube; they can have an entire ecosystem revolve around it.
Engaging Millennials
Our data proves that millennials are more powerful than we thought. Understanding their behavior allows us to add value to their lives. Consider having your brand speak to them using the content they enjoy. If it works for your brand, they're a great audience to target because of their purchasing power and size. It's time to embrace the fact that millennials are influencing change in myriad ways... one video at a time.