The holy month is a season dedicated to spiritual progress, a strong sense of community and discipline. For advertisers, Ramadan is also an extreme test of impact and connectedness. For brands looking to connect with the right audience at the right time, building a campaign with data-driven insights is a powerful strategy. This includes the strength of "observed" data that you can only get through analysis of search queries, as opposed to "declared" data that you might get through a survey. In this piece, we will share with you detailed insights from various industries based on search trends, including public tools such as Google Trends that anyone can use to generate key insights.
While last year's Ramadan series provided a guide for building a complete digital marketing campaign, this year's series will go further in depth at each stage. Part 1 will showcase the importance of data-driven insights with a focus on industry trends, followed by pieces on audience profiles, creative strategy and lastly media buying and performance. Stay tuned for our most insightful series yet! 
Spotlight on Industries
Which industries boom during Ramadan? With shorter working hours and a strong social component, online behavior changes during the holy season in line with the shift in everyday behavior. Contrary to common belief, several industries actually witness peaks in business during Ramadan. These nuances are felt from beauty to automotive to CPG, resulting in important takeaways for brands.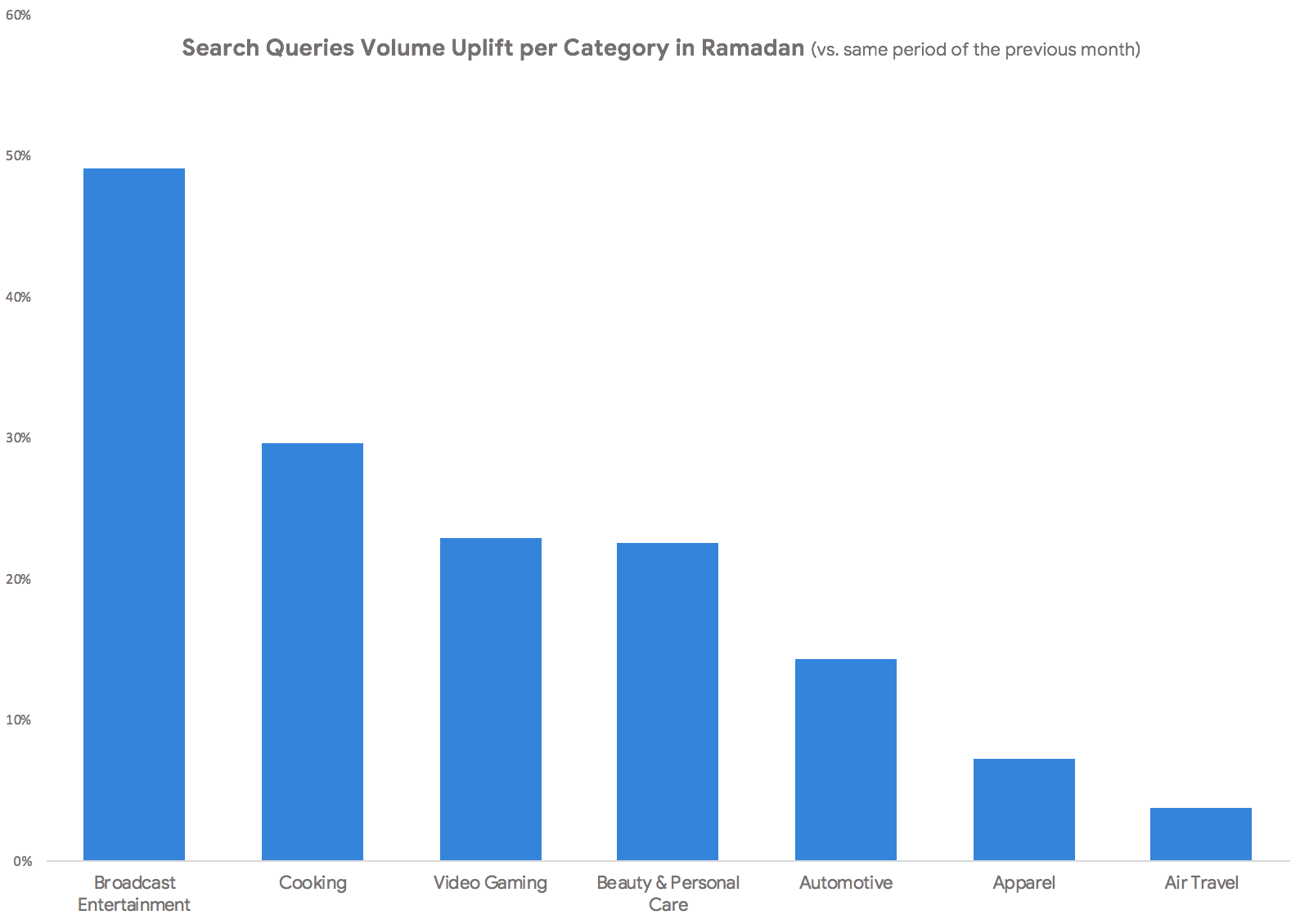 Why is this important?
1. It shows the need to be present online in Ramadan in the right way
It's important to be present during Ramadan in order to capture consumers' attention as they are search for a product or service you provide. Knowing details - down to the time, day of the week or frequently searched term - can pave the way for creative messaging and media buying plans for a strong campaign. This is crucial during Ramadan, the biggest advertising moment of the year in MENA.
For example, for those outside the industry, automotive sales are not typically associated with Ramadan, but analysis of online consumer behavior shows a peak in the last 2 weeks of Ramadan as people look for offers before they expire. It also indicates an intention to purchase as they search for both brands AND dealers.
Another unexpected area that peaks during Ramadan is the world of gaming. Gaming has become a very popular form of entertainment to pass time. Search trends show that users are interested in group-based games during Ramadan and that demand for gaming consoles and equipment increase in preparation for summer holiday that has coincided with Ramadan over the last few years.
Being aware of your industry peaks allows you to build effective strategies to connect with potential and existing customers.
2. Consider the topics people actively search for in order to inspire your creative messaging

You can use insights and trending topics to inspire creative messaging related to spikes during Ramadan. For example, Nutella cleverly used the fact that searches for traditional desserts like Knafeh peak during Ramadan to create a series around making Arabic, traditional Ramadan sweets using Nutella. Lurpak was also inspired by cooking search trends to inspire multiple recipe-based videos for the Ramadan season. Programmatic was then used to target women viewers on the top 5% channels on YouTube, enabling Lurpak to capture the high demand for cooking content and inspiration during this season to maximize reach for their web series.
The beauty industry also witnesses a boost during Ramadan, which comes as no surprise with the growing desire to have glowing skin, the right fragrance and tailored makeup for gatherings. These peaks have resulted in several brands opting for beauty-themed YouTube web series in Ramadan, including Maybelline's Makyaj wa Banat and Make Up Forever's all-star Helwet Ramadan campaign - both of which ranked among the top 10 most popular ads of 2018.
Analyzing search habits within your industry in a given season could inspire the creative approach and messaging to your campaign addressing topics that are of interest to consumers.
3. Take consumer interests into account when optimizing your media plan
Knowing what people like to watch gives you an indication to where they spend their time. It's no surprise that broadcast content peaks during Ramadan, however, knowing what genres, shows and actors people specifically search for and prefer can inspire your ad placement on YouTube and Google Display Network. In this case, broadcast search data show that it's not only original Arabic series that spike during Ramadan, but that people still heavily search for Turkish Dramas.
Another example could be apparel shopping sites that experience a peak in search queries 10 days before Eid as people comb the online world to be inspired and to purchase the latest Eid looks. This could help influence your targeting metrics, including Topics and Placements.
This is a key time to target - and re-target - consumers based on their interests. A successful example is L'Oreal's use of programmatic and precision advertising to reach audiences in the right way.  In terms of creative messaging, collaborating with a YouTube content creator, such as Esswara who has nearly 300 million views and has worked with several brands, can help you connect authentically to a target audience and boost engagement.
Up Next
Stay tuned for upcoming pieces on creative best practices, key audiences to target and media guidelines for Ramadan in the coming weeks. In the meantime, leverage tools at your fingertips, such as Google Trends to better understand demand for your industry, Google Analytics to analyze traffic patterns to your website and guides on targeting. As seen, each industry has its nuances and brands will benefit from detailed, individualized analyses to inform their campaigns during Ramadan. Happy planning!