Gaming in the Middle East and North Africa (MENA) is ballooning into a massive force that the marketing community should be paying attention to.
The number of gamers in the United Arab Emirates, Saudi Arabia, and Egypt reached over 65 million in 2021, with that number expected to grow to nearly 86 million in 2025. And the nearly $2 billion gaming revenue from these countries last year is also set to rise to over $3 billion in 2025, as new gamers press 'play' and seasoned gamers increase their spending.
Saudi Arabia, the United Arab Emirates (UAE), and Egypt stand out for their mobile-loving gaming audiences. Research shows that over 65% of the population in each of these countries love playing mobile games, spending more than four hours on their mobile devices each day.1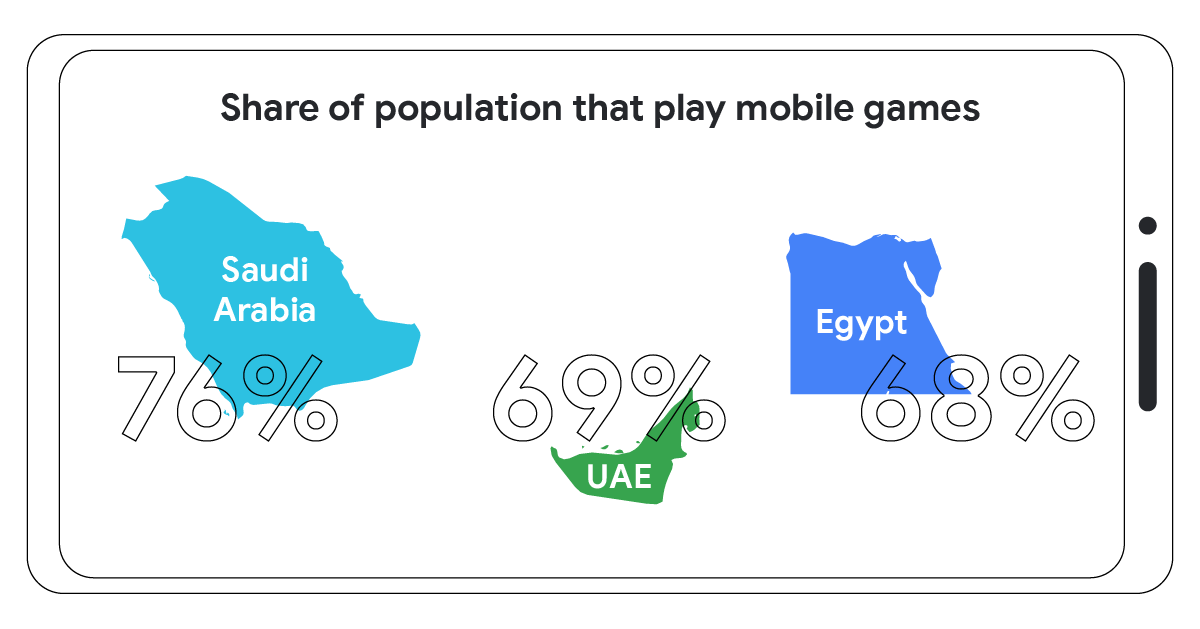 But people in MENA don't just enjoy playing games. The region's audiences also love to watch other gamers in action. Google data shows people in Egypt, the UAE, and Saudi Arabia watched more YouTube gaming videos than ever in 2021. In fact, the UAE and Saudi Arabia are among the top ten nations in the world when it comes to awareness and engagement on YouTube.2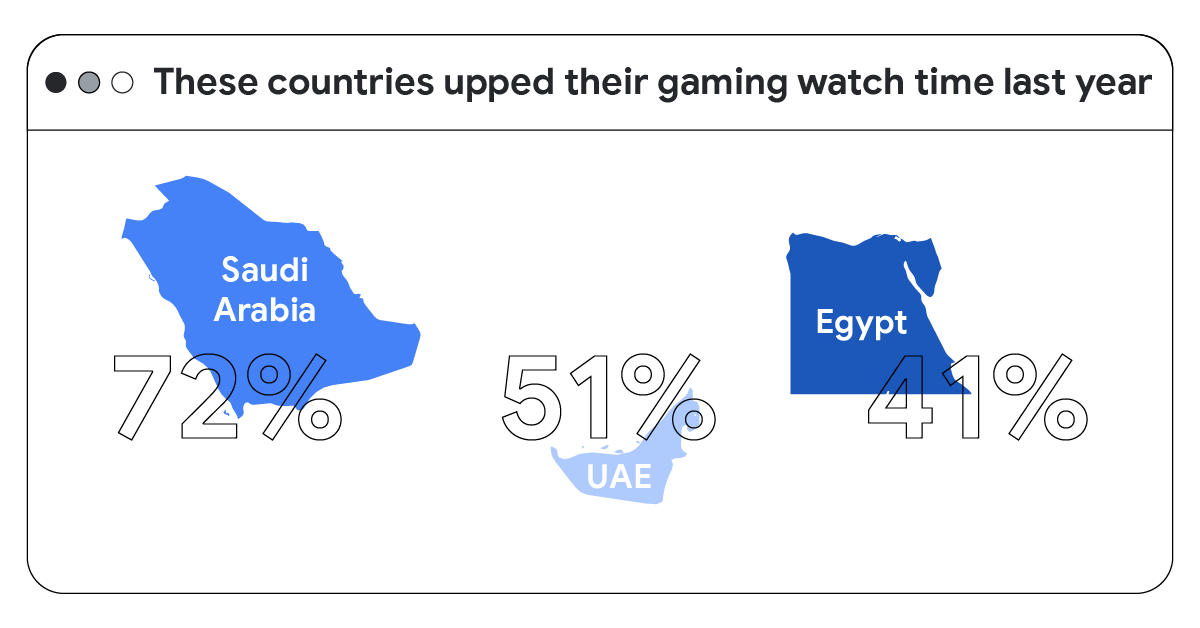 Past research tells us that MENA audiences turn to gaming for entertainment during Ramadan. So we know that opportunities for brands are ripe during the holy month. But for companies to truly connect with gaming fans during this time, they need to know who they're talking to. Our research suggests these two gaming audiences should be top of mind as you craft your Ramadan campaigns:
1. The community seekers
The gaming world is centred around a strong sense of connection and community, but this is taken to another level during Ramadan.
Picture this: Two Egyptian gaming creators, Solom and Boombo, meet on a day of fasting during Ramadan 2020. They prepare their iftar as they wait for the sun to set to tuck in. The catch is, this isn't happening in the real world; it's happening inside the game, Minecraft. And over two million people are watching.
Today Minecraft houses an entire gaming format just for Ramadan, called Ramadan Craft. Creators start daily Minecraft adventures in the holy month here, often exploring the in-game world alongside fans, like in this video by creator RedFox. And people love it. Uploads of Minecraft-related videos with the Arabic form of "Ramadan" in the title more than doubled in MENA's holy month last year compared to Ramadan 2020.3
Key opportunities for marketers:
While community seekers watch game-focused videos for feel-good entertainment during Ramadan, they also want to engage with content that aligns with their values and views. You can bring both into play by:
Building immersive creative that fosters a connected community. This gives people a chance to engage with not just your brand, but creators and audience members who share the same interests. Saudi Telecom Company's (STC) app Jawwy showcased creator content promoted as ads using a series of challenges between gamers. This particular series wasn't set in Ramadan, but it could still serve as inspiration for your campaign thanks to the way it cleverly merges creativity and community.
Never forget the power of straightforward storytelling to connect and engage. Elaborate trailers and teasers attract attention, but simple gameplay ads perform well too. This is particularly true on mobile. Take this 'you're not you when you're hungry' creative by chocolate bar brand Snickers Arabia. The ad — which reached over 7 million people — captured attention using animated video game-play footage, engaging audiences through simple but effective narrative.
2. The women warriors (and supporters)
Gaming isn't as male-dominated as it was once upon a time. Last year women represented more than one-third of gamers in MENA, with around 40% of this group above the age of 35.4
And women gaming creators are dialling up the competition on YouTube. Saudi Arabian-based creator Meshael MR has assembled more than 400,000 subscribers since joining the platform in 2019. She plays a variety of games, from Minecraft to Sims, Call of Duty to Fortnite, and Grand Theft Auto V, taking fans with her for the ride.
But it's mega-streamer Valkyrae who has elevated women gamer stardom to new heights. Since the American gamer signed an exclusive YouTube streaming contract in January last year, her subscriber base has jumped to 3.6 million.
Key opportunities for marketers:
Entertainment is important to fans watching women gamer content on YouTube. But they — along with the wider women gamer community — also want to connect with and learn from other female enthusiasts online. And safely. To hold the attention of this increasingly influential audience your brand needs to:
Reflect diversity in your content by including women in your creative. And engage by making the effort to understand real women-focused challenges. This gives your brand the opportunity to present authentic content, feature hot topics of discussion, and potentially offer solutions this audience might be seeking. It's also important to ensure your brand fosters a nurturing community that makes people feel safe. Research shows that 59% of women use either a non-gendered or male identity when playing games online to avoid conflict.
Mobile is queen in MENA's gaming world. In the UAE alone, 44% of women play mobile games.5 Designing your creative mobile-first will help ensure your ad reaches people in the format they prefer. You can add impact to your ad by localising it – and we don't just mean showcasing a local language. Consider featuring regional women gaming creators or celebrities in your creative. Cultural references and familiar settings from the real world or a specific gaming universe are other ways to make content more relatable.