Our desire for wardrobe expression is back. After two years of living in yoga leggings and sweatshirts, we're ready to express ourselves through fashion again.
A recent Google study — along with search trends — is shining a light on the shifting demand for clothing and accessories. These insights could fundamentally reshape how marketers plan their calendars and campaigns.
Rethinking seasonal demand
We canvassed the attitudes and opinions of 1,000 fashion consumers across the U.K. And 56% of them expressed that a wardrobe refresh would be the top reason to shop in the next 12 months.1
Spring offers the first natural opportunity this year to connect with consumers looking to update their wardrobes. There is pent-up demand after two years of lockdowns and cancelled holidays. And data suggests that, outside of Christmas, the change of seasons sees the highest volume of consumers in the market for apparel and accessories.2
Traditionally, spring has been less of a focus for the fashion industry in terms of marketing spend, but clearly there is demand available for those brands that show up and successfully engage with consumers. Search interest for seasonal items such as dresses and shorts typically rise in spring but demand is markedly higher this year.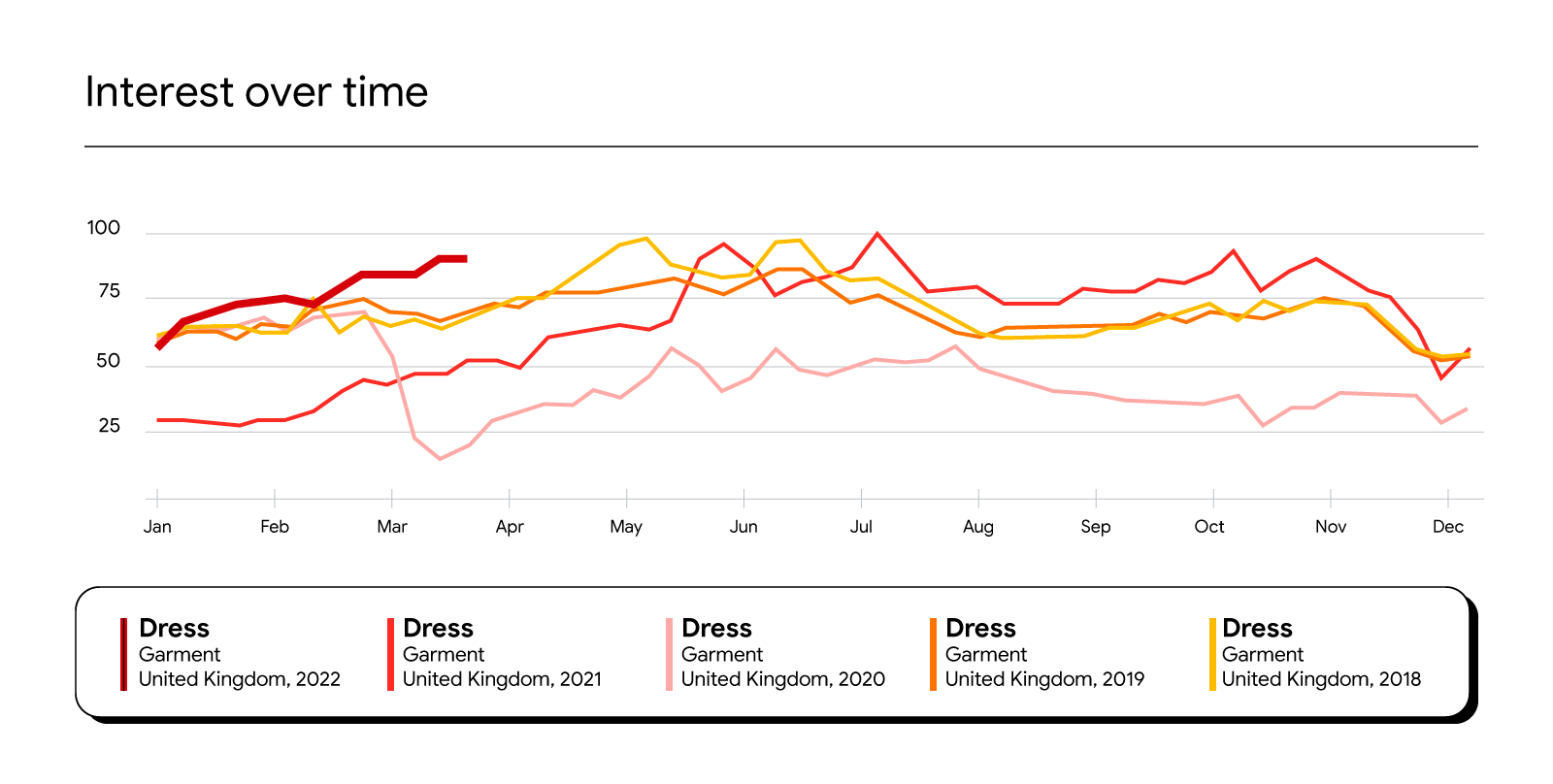 Here are four things marketers need to know to make the right impact and win business — starting with spring/summer.
1. An ongoing presence around key moments helps drive consideration
One of the most important factors for driving consumer consideration is attention. When we analysed brand health data of 71 U.K. fashion retailers, we found consumers who had heard from or seen an ad from a brand in the past two weeks were significantly more likely to consider buying from it.3
This indicates that being a well-known brand alone is not enough. Marketers need to ensure an ongoing presence around key moments, such as spring/summer, to connect with valuable consumers.
YouTube campaigns have high viewability and audibility, which we know increases the effectiveness of ads. There are 15 million "fashionistas" (people identified as having an affinity to fashion) active on the platform in the U.K.4 This combination of effectiveness and reach is important for an always on approach. It's why brands such as Littlewoods are so effectively utilising YouTube to turn engagement into sales.
2. Quality and price are top of mind for fashion shoppers
With the rising cost of living, fashion consumers this spring are unsurprisingly more sensitive to value than ever before.
Our study revealed an interesting tension, with both price and quality being selected by 73% of consumers when asked which factors were important to them in deciding which clothes brand to buy from.5 Thirty-three percent of shoppers also said sustainability and ethical manufacturing was important, rising to 55% among 18-24 year-olds.6
Marketers can help increase perceptions of quality and value by forming associations between their campaigns and relevant, popular content, such as through YouTube Lineups. Research shows that adverts around relevant content, for example a fashion and beauty lineup, increase perceptions of quality by up to 5 percentage points, while perceptions of value rises by up to 13 percentage points.7
85% of online consumers take a product-related action within 24 hours of discovering a product that meets their needs
3. Capturing seasonal intent is easier with automation
The upheaval of the past two years has changed fashion consumers' relationship with online for good. Channels such as Google Search and YouTube are now prime destinations for consumers to be inspired, compare options, and discover new products and brands.
A brand or product not being present in these moments of intent could be the difference between securing a sale or losing out to your competitors — 85% of online consumers take a product-related action within 24 hours of discovering a product that meets their needs.8 And 31% of shoppers would switch to another clothing brand, just because that brand showed up.9
Fashion marketers can harness Google's data signals and automated products, which use machine learning to help understand user intent, to reach their most valuable customers and drive conversions against on-site actions such as sales, visits, and leads.
Products such as Video Action Campaigns and Discovery campaigns allow you to reach relevant customers, including those who may not have you in mind, in high-attention places and drive conversions. These products can be complemented with new offerings such as Performance Max, which maximises your campaign's performance across the Google Ads network using automation to drive towards set conversion goals.
4. A shift in storytelling is key to cutting through with short form
Being in the right place at the right time is only one part of the picture in capturing shifting seasonal demand. By leaning into the content trends, fashion brands and retailers can better cut through this spring and beyond.
Right now, that means embracing short-form video. YouTube Shorts, the new bitesize addition to the platform, had accumulated more than 5 trillion views since its launch in September 2020.
Burberry used YouTube Shorts to give viewers a front-row seat to their Autumn/Winter 2022 collection event.
Brands that are not just using short-form platforms but are reimagining their storytelling and campaign aesthetic for the medium are winning viewer attention. They're creating standalone pieces of content, hooking in users with how-tos, and adopting the visual language preferred by viewers.
Every sector has been affected by rapidly changing consumer behaviours during the pandemic, but the impact on the fashion industry has been seismic. From shifting seasonal demand to an increased consumer desire for sustainability, fashion brands that are prepared to rethink old assumptions and ways of working will be in the best position to capture demand and ensure long-term growth.