By now, we are well aware that the world around us has changed dramatically. Google Trends have proven an important tool to understand these changes, shedding light on people's evolving lifestyles, behaviour and attitudes as the crisis unfolds, and are an important starting point for advertisers to plan, activate, and measure their advertising in response to this new environment.
Predicting which behaviours are transient, and which will endure long into the future, is the subject of much analysis and debate at the moment. Search activity is one of many helpful signals that can give us clues about evolving behaviour and consumer needs, as time passes. To help marketers understand what is happening now and the trends we've seen during lockdown ⁠— here are the five key areas in which we'll look at the macro shifts in consumer behaviour in Google Trends.

1. What people know
With retailers adapting to online models, schools and businesses closing, and daily government updates, people sought clear and accurate information from trusted sources. In March, along with searches for 'what time is boris on' there was a rise in searches like 'the population of new york' or 'jacinda ardern' as people tried to put the tragic global death rates into context, while also looking at how global leaders were handling the crisis.
People also looked for 'the quietest time to go shopping', in response to enforced queuing outside supermarkets. 'Delivery slot' searches still remain higher than pre-COVID levels, indicating the possibility that online shopping may remain a more widespread behaviour than before.
2. How people make a living
Announcements by Chancellor Rishi Sunak triggered related search queries about income and job security, such as 'what does furlough mean'. and the economic effects of the pandemic continued to show up in each new wave of job searches.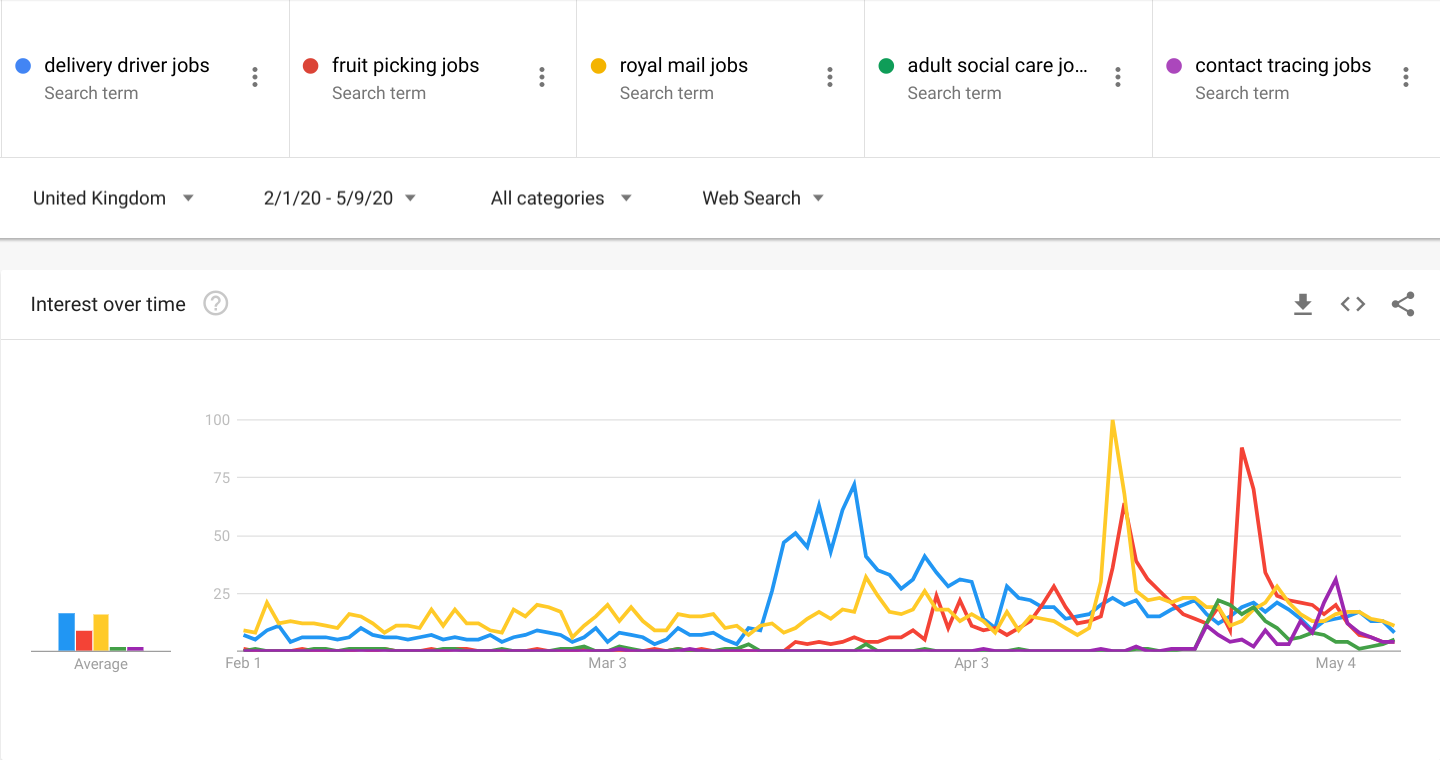 Yet, as lockdown eases, there has been an uptick in 'for sale' searches. For example, year on year searches 'for sale kent' have potentially increased due to the attractiveness to live in areas outside of London. Meanwhile, we've also seen a rise in 'boats for sale' as summer arrives, showing the likelihood of more domestic holidays.
3. What people are doing
The nation has collectively upskilled in the kitchen, as we've strived to recreate items from our favourite bakeries, cafes, and pubs. Searches for 'espresso martini', 'whipped coffee', 'yorkshire pudding' and 'how to make mcdonald's chicken nuggets' all spiked.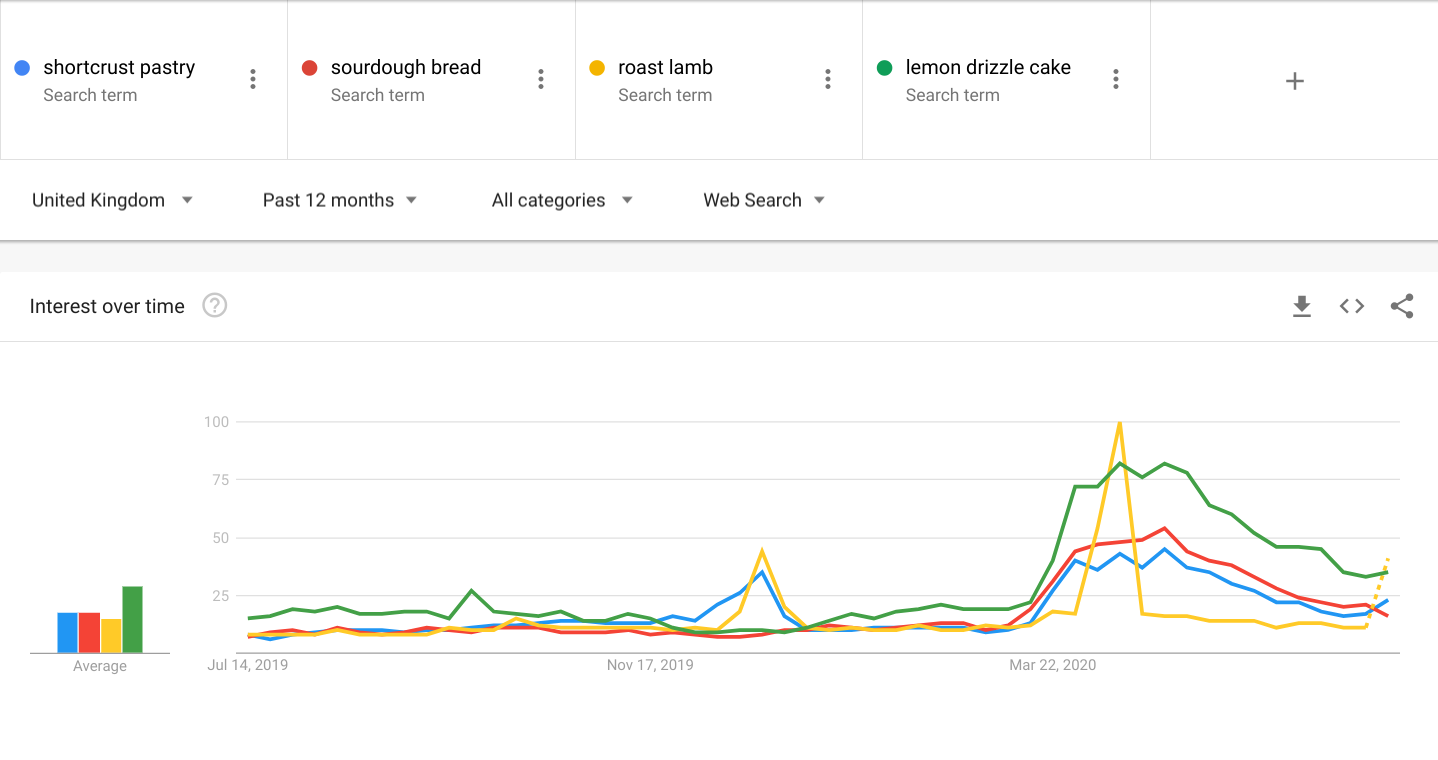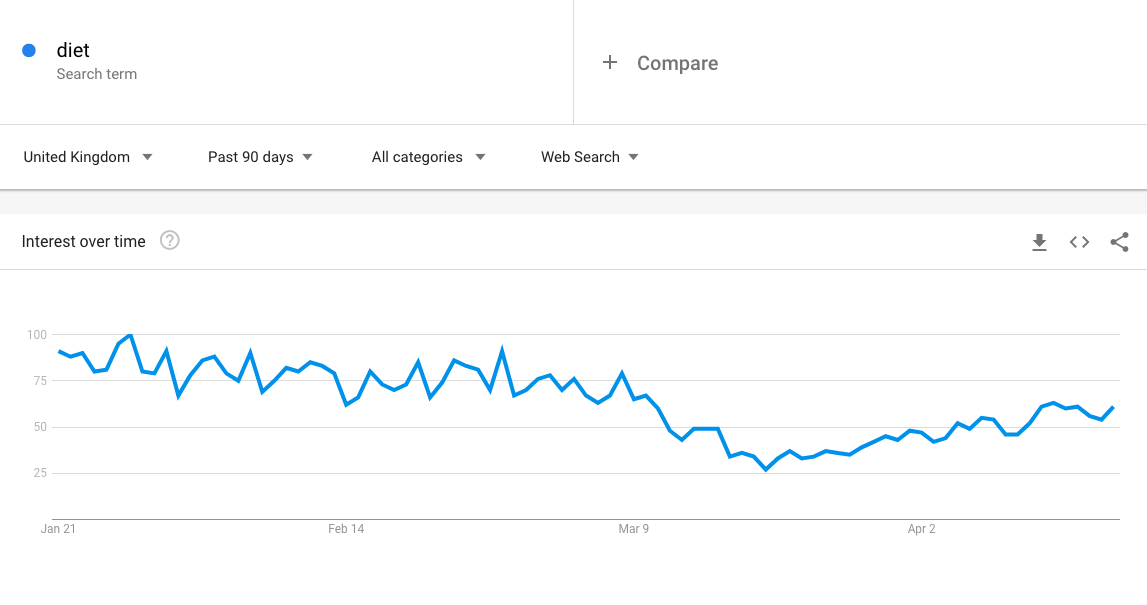 The pandemic may cause many to appraise their lives and retreat to traditional, simple, and less expensive pleasures such as one's home, nature, family, and friends, with many returning to old favourites like 'solitaire' and 'scrabble'.
Livestream has also become mainstream as people try to replicate social and community events virtually, with searches for, 'national theatre live', 'church service online' and 'pub quiz questions' all rising.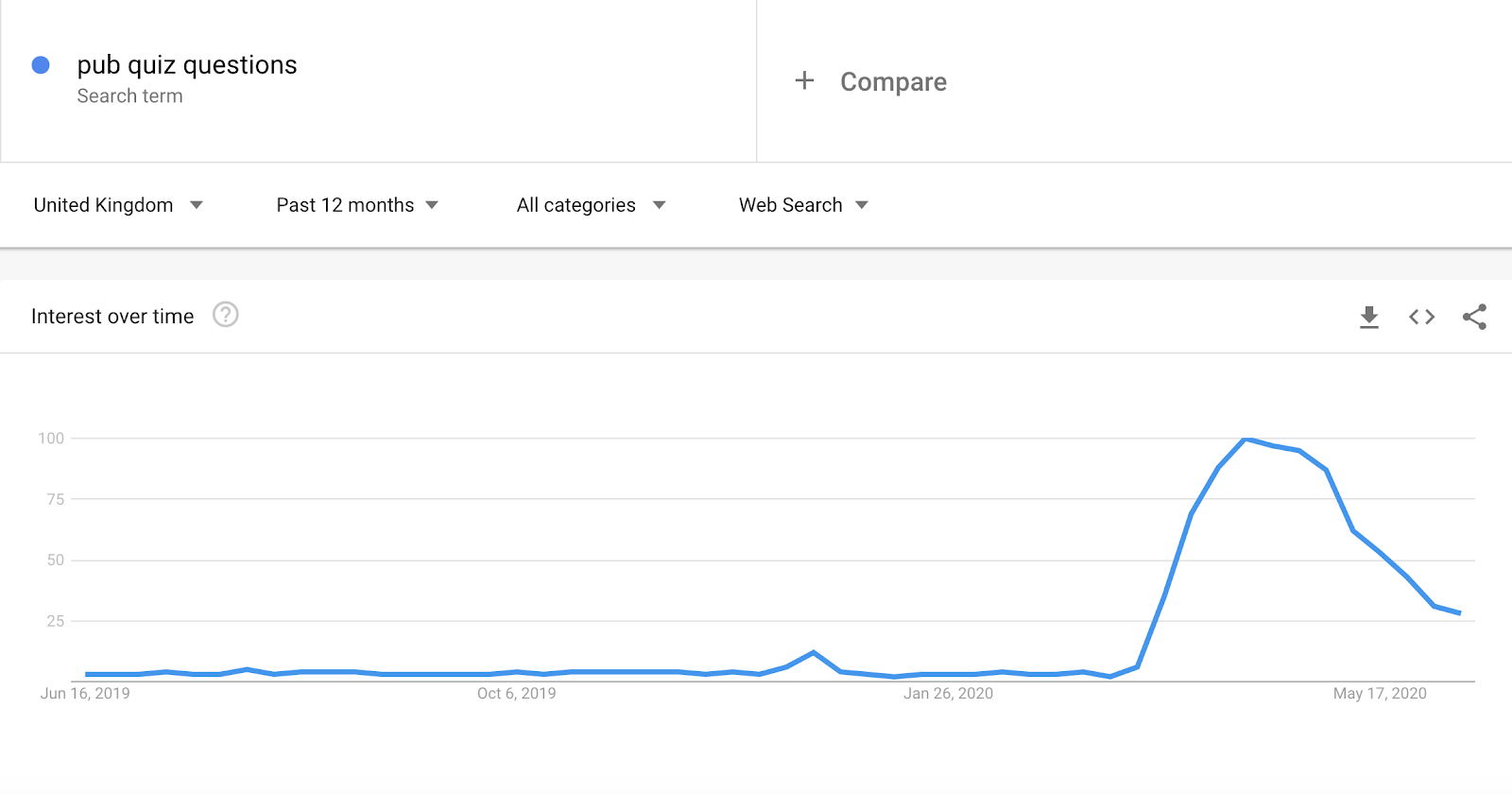 4. How people are feeling
Maintaining our exercise regimes has been a key focus for many of us. As lockdown began, we saw rising searches for 'yoga mats' and 'dumbbell sets' as people kitted out their homes. 'Joe wicks' captured the nation's affection with his daily PE classes, and people searched for more traditional outdoor activities such as running, walking, and cycling. Around early May, the nation seemed to gain confidence in their new running habits, with spikes in searches for 'mo farah's 5k' and 10k times, closely followed by (and quite possibly the cause of) a rise in searches for 'lower back pain', and 'knee pain'.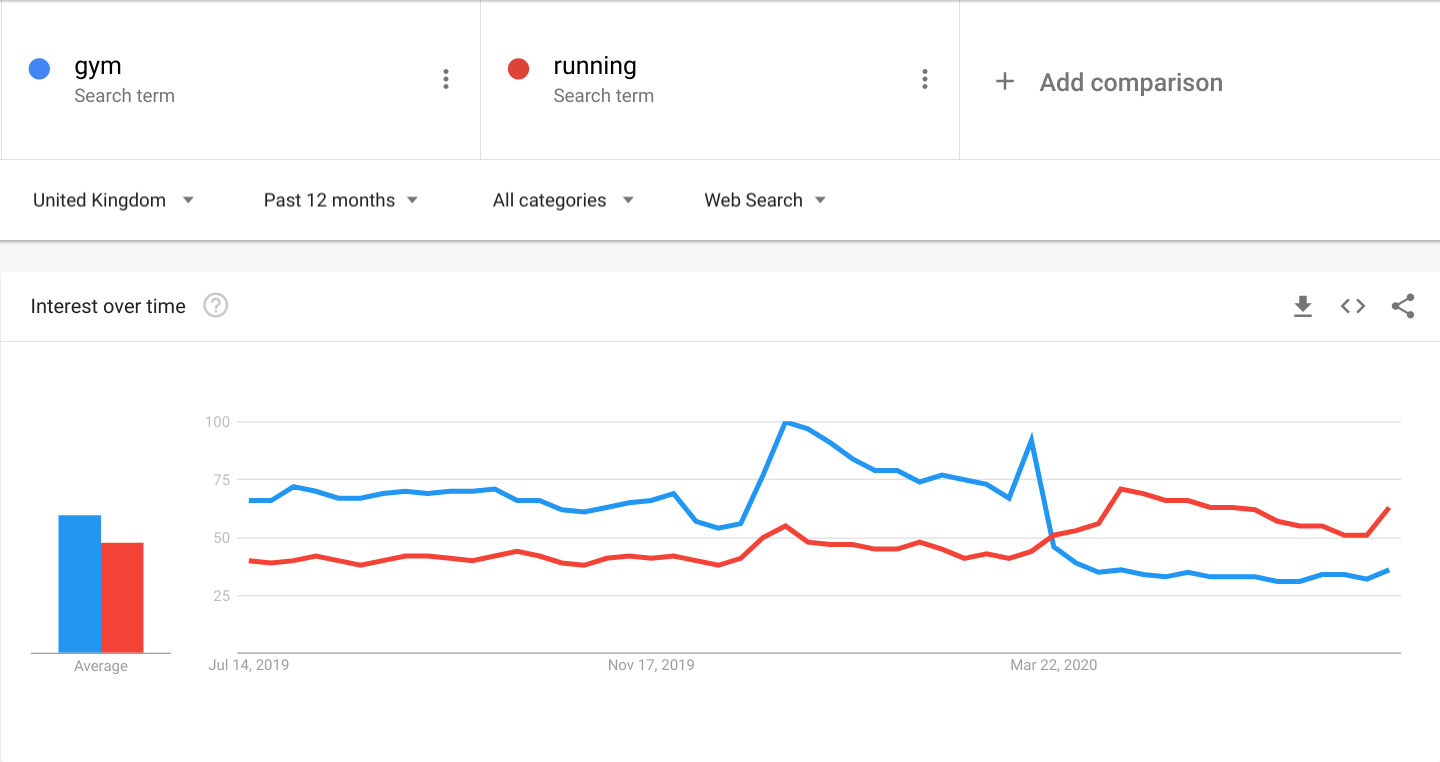 Towards the end of April, the lockdown was starting to take its toll – seeing a rise in searches for 'online mental health' and 'meditation for anxiety'. Yet, we have also seen the emergence of a stronger community spirit with spikes in searches for 'how to volunteer', 'how to donate', and 'how to make scrubs for the nhs'. Many people also have a newfound appreciation for their community closer to home, with searches like 'local farm shop near me' rising.
Across the U.K., people have cocooned in their homes, investing time in personal care rituals such as 'home spa kit', 'skincare routine'. We even saw a spike in 'pink hair dye' as the more emboldened among us felt safe enough to take some aesthetic risks.
5. How people are learning
Parents turned online to help educate and homeschool their kids, with searches for 'as a fraction', 'work out a percentage', and 'words beginning with' all spiking. As parents grappled with 'interior angles of a polygon', we have also seen consistent demand to know 'when will schools open'.
Plan, activate, and measure
As the world around us changes, we are working hard with customers and partners to navigate through this uncertainty by helping them plan, activate, and measure their media campaigns. Being able to adapt quickly is going to be a huge advantage; the faster you can respond to changing demand, experiment, and measure effectiveness, the more successful you can be. Below are some of the techniques, tools and resources that can help.
Plan:
Use Google's Trends data, a real-time window into consumer behaviour found on Google Trends, to help understand and anticipate consumer change. Rising Retail Categories helps you understand more about fast-rising retail categories, the locations where they're growing, and the queries associated with them.
Activate:
Capture volatile demand by maximising real-time automation and optimising shopping experiences. The role of machine learning and automation has never been more crucial for marketers to keep up with trends, predict demand, and understand how to reach and engage with evolving audiences. Additionally, e-commerce sites are the new primary stores, and must not only generate revenue, but also support, inform, and reassure customers along the way (with speed).
Measure:
With a more fragmented consumer journey and a wider range of available marketing channels, all of which existed before adding in the variability we are seeing today, it has never been harder to measure effectiveness. There are a number of techniques and tools that you can employ to ensure you are taking the right approach to understanding the answers to key questions, such as whether you are reaching your desired audience, building brand favourability, and driving the outcomes that are important to your business.
Finally, find everything you need to know about navigating uncertain times in our dedicated collection of resources.