In recent years, Black Friday has grown into one of the biggest shopping moments in the world — and is bigger than ever in MENA. The COVID-19 pandemic impacted the retail industry immediately, with a recent survey revealing that 73% of consumers reported that their shopping behaviour has changed since the outbreak with an increased likelihood to purchase more online.1 And, as a direct result of COVID-19, we are witnessing heightened search queries for online retail this year that will lead to a new baseline for Black Friday.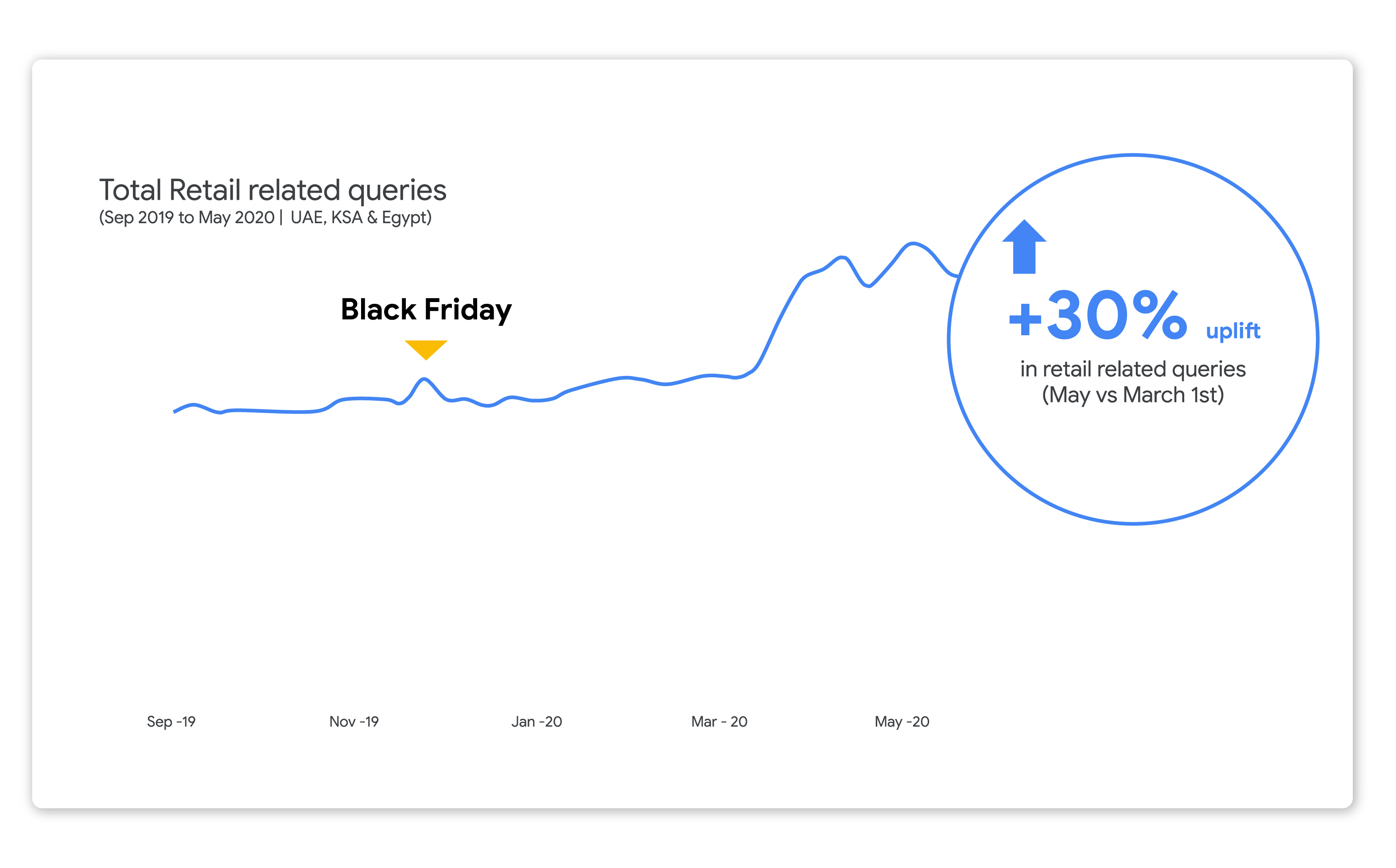 In addition to the online shift in behaviour, shoppers this year are more price-sensitive and discount oriented. Since the outbreak, we have witnessed a 35% year-on-year growth in search queries for coupons and rebates, including discounts.2 In the first installment of our Black Friday series, we explore insights related to consumer online shopping habits in a very unique year.
Black Friday is more than a single day
The biggest retail spike of the year actually spans beyond a single Friday. Last year, we showed that search queries for Black Friday begin as early as October — four weeks in advance of the day and trailing for weeks afterwards. This year, we have identified that consumer interest will spread across 10 weeks, showing strong anticipation for this retail moment.
A global 2019 survey showed that the MENA region has the highest percentage (86%) of people who wait for Black Friday to make a decision to buy or search for a product.
During this period, the shopper's path to purchase can be quite complex. Termed the "messy middle," a shopper's decision-making path is full of abundant information and unlimited choice online. For this reason, it is essential for brands to capture this broad spectrum of interaction and influence by maintaining a presence across the consumer's purchase journey, encompassing the entire 10-week Black Friday period.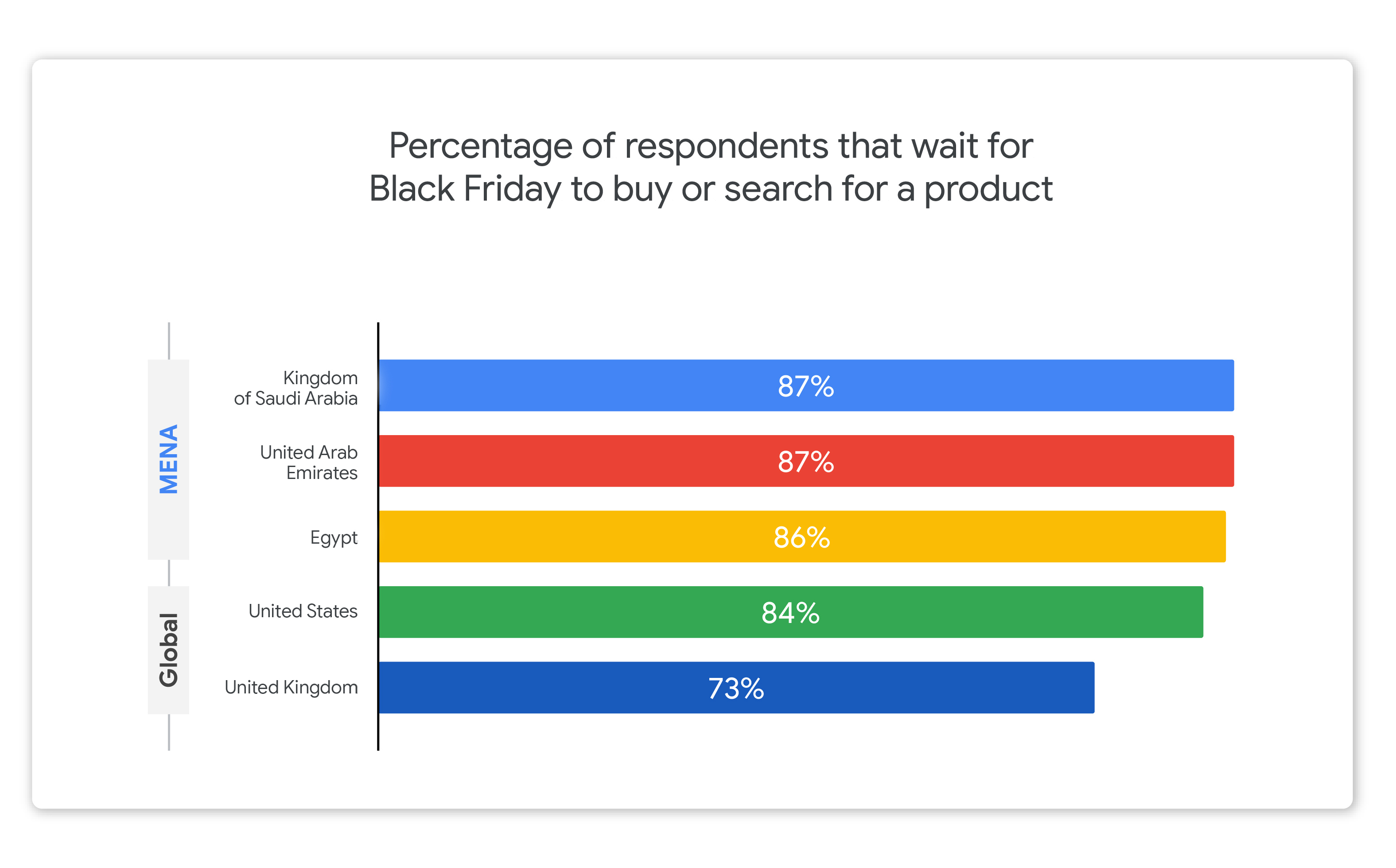 Winning customers across the 3 phases of Black Friday
Given that Black Friday was already established as the biggest annual retail spike in previous years, what can we expect this year? There are three major phases consumers experience during Black Friday:
The build-up
Black Friday research starts weeks before the actual day in November, beginning in early October as people start looking for deals. At this stage, they are not tied to a specific brand or product and are open for suggestions.
The craze
During the two weeks leading up to, and including, Black Friday, people begin to look for more specific products and brands.
The last call
Consumers continue to look for trailing deals two weeks after the actual day, hoping to take advantage of steeper Black Friday discounts and prepare for the upcoming holiday season.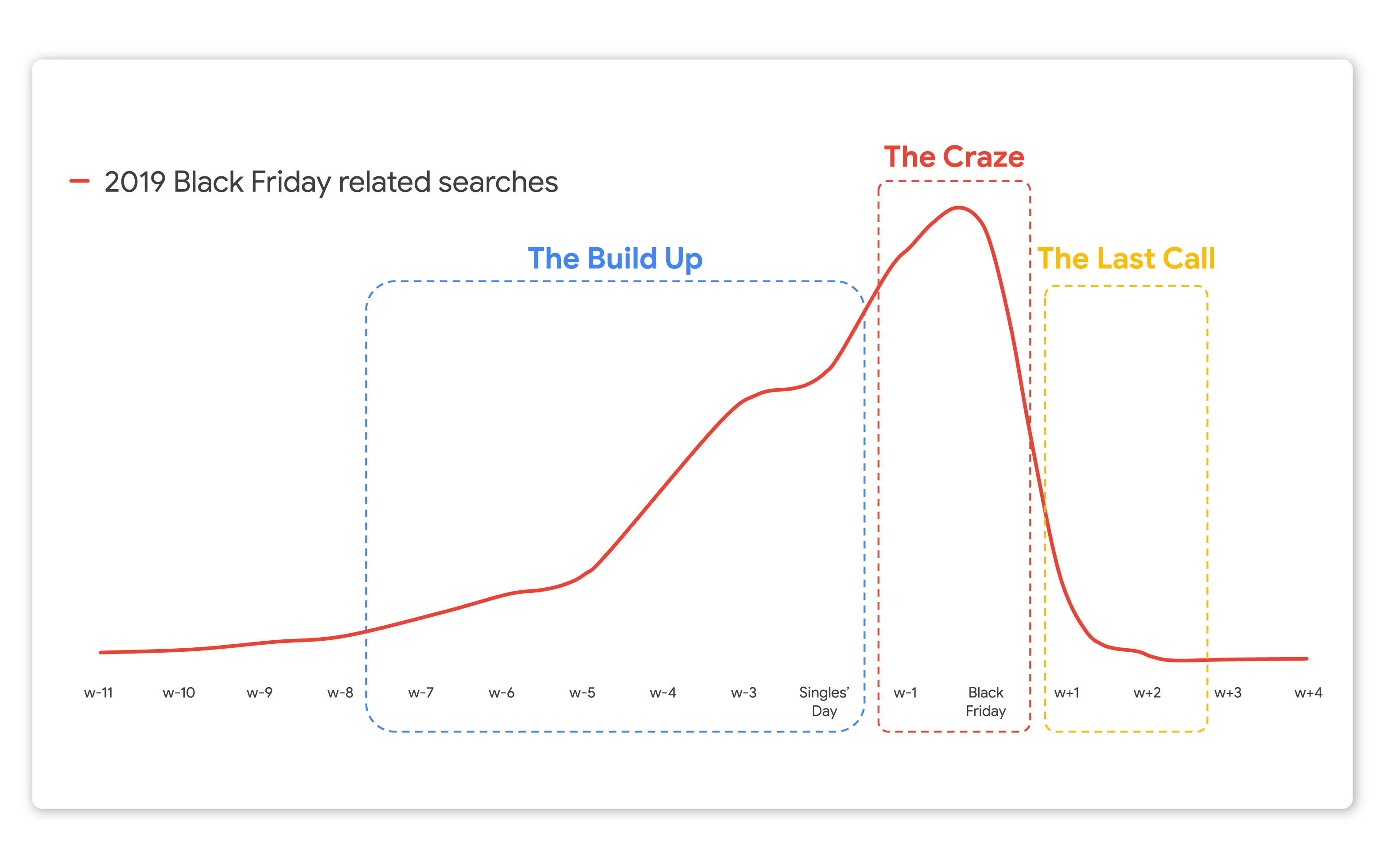 The build-up: The early phase
Weeks before the actual moment, search queries show consumers express curiosity about the Black Friday shopping moment, particularly related to when it occurs and when discounts begin. During this phase, shoppers in MENA are also preparing for Singles' day (November 11th), with search interest increasing at 36% year on year,4 making it an emerging moment to note. Overall, this is an intense research period where consumers are not tied to any specific products or brands yet, and they are actively looking for reviews.
Research: Search interest for specifications of technology products increases by 26%.
High ticket items: The top rising categories during this time fall into a higher price point, such as electronics and home and garden. Queries at this phase are more generic and less brand-focused.
Bulk purchases: At this stage, consumers start preparing their bulk purchases, mainly within food and groceries.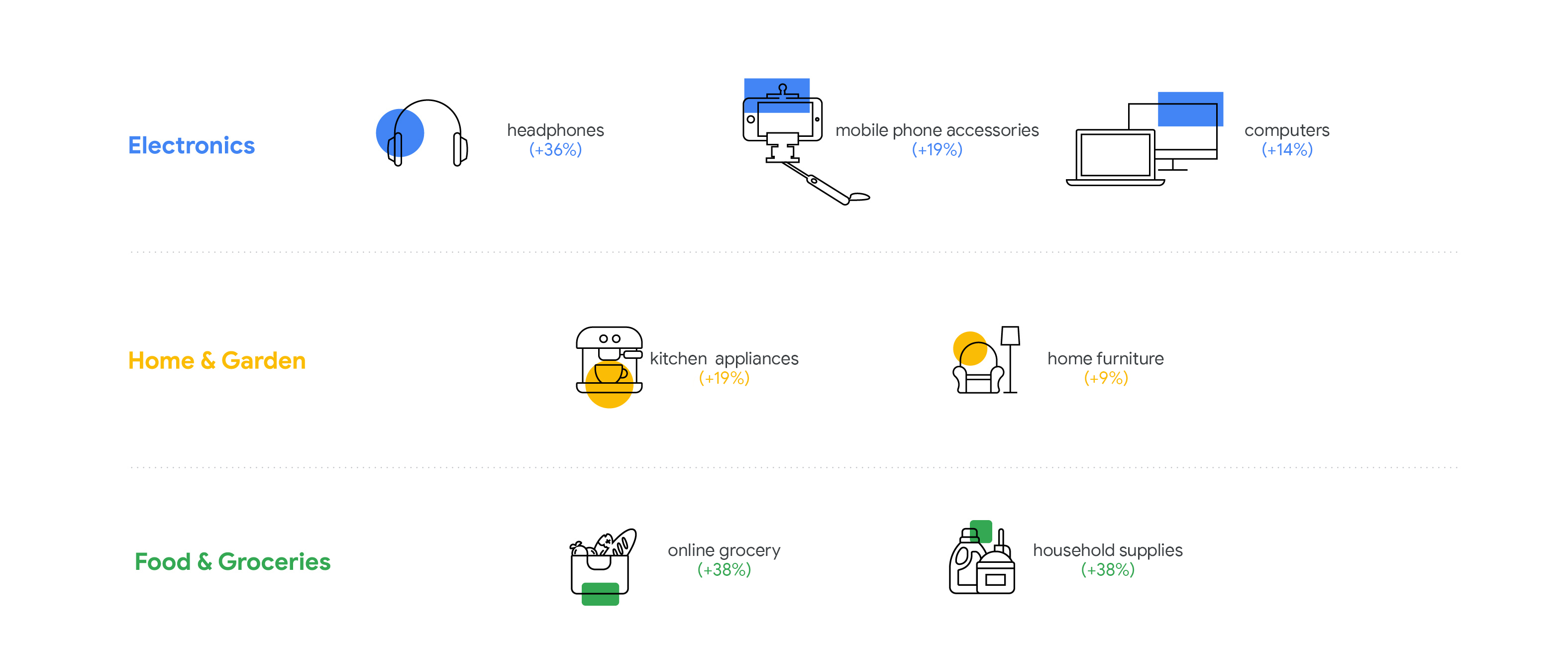 A key actionable takeaway for advertisers is to emphasise a smooth web and app experience for consumers who are actively researching and looking to buy products weeks ahead of time. Another important takeaway is to offer teasers and early discounts to maintain a presence early on that carries through the entire shopping moment.
The craze: Black Friday is here
After reading reviews and comparing product specifications, consumers will actively start searching for specific brands and products in the weeks before Black Friday. As such, interest shifts to purchases that require less research and more brand familiarity, with more specific reviews.
Ready to buy: There is a sharp rise in searches for retailers, mainly driven by coupons and rebates (44%).
Brand loyalty: 55% of Black Friday searches are around specific products and brands.
Reviews matter: People tend to search for specific product reviews (11%), particularly on YouTube.
During this phase, popular categories include electronics, beauty and personal care, and apparel.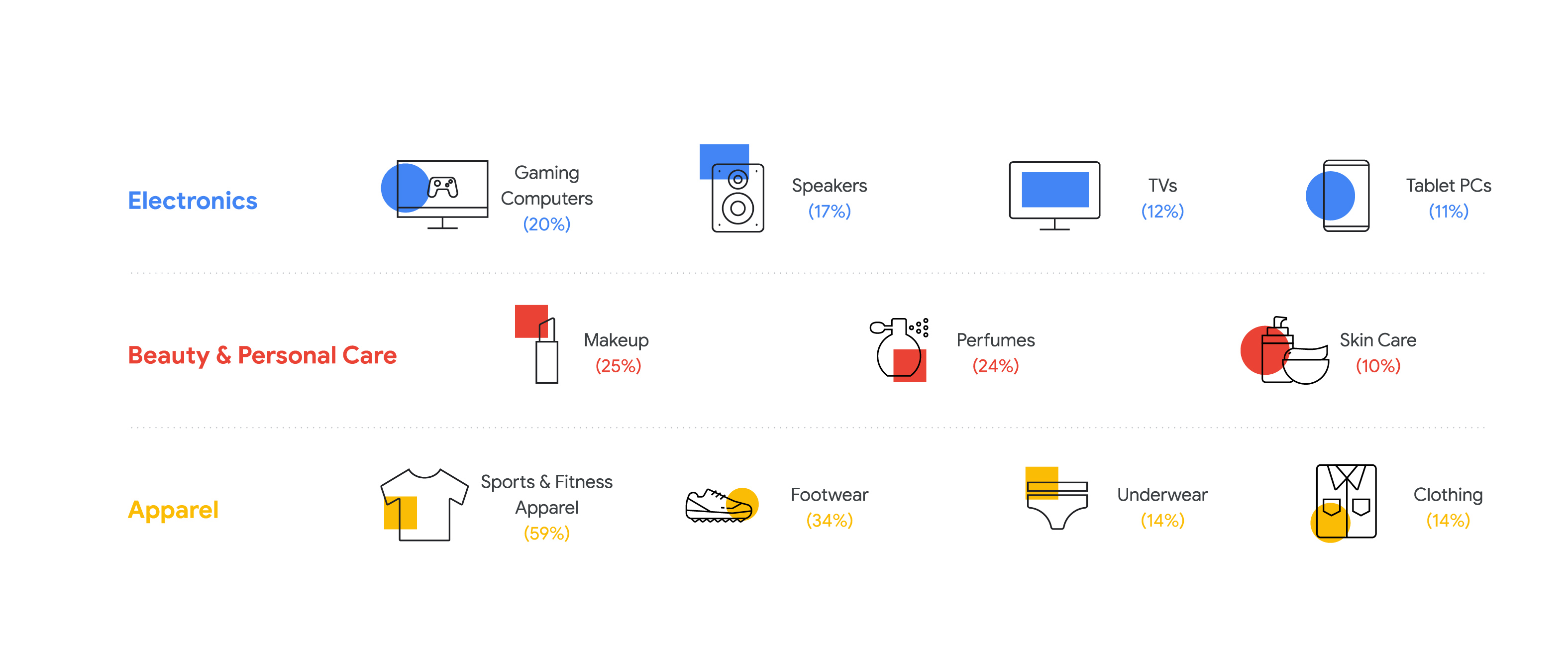 Given the more specific research at this stage, actionable takeaways for marketers include clear video communications, a seamless transactional experience for consumers, and strongly communicating the brands' offers and rebates.
The last call: The lead up to the gifting season
During the final stage, consumers continue to search for last-minute offers and deals two weeks after Black Friday. However, this includes a return to more generic search queries compared to the weeks prior.
Last-minute gifts: Searches are mainly geared towards gifts, such as toys and games. This is largely due to the fact that the 'last call' stage leads up to the holiday shopping season.
Cyber Monday: Search interest for Cyber Monday, a day of discounts that typically falls on the Monday after Black Friday, has grown 24% year on year in MENA.5 It is an opportunity to continue engaging with customers after Black Friday.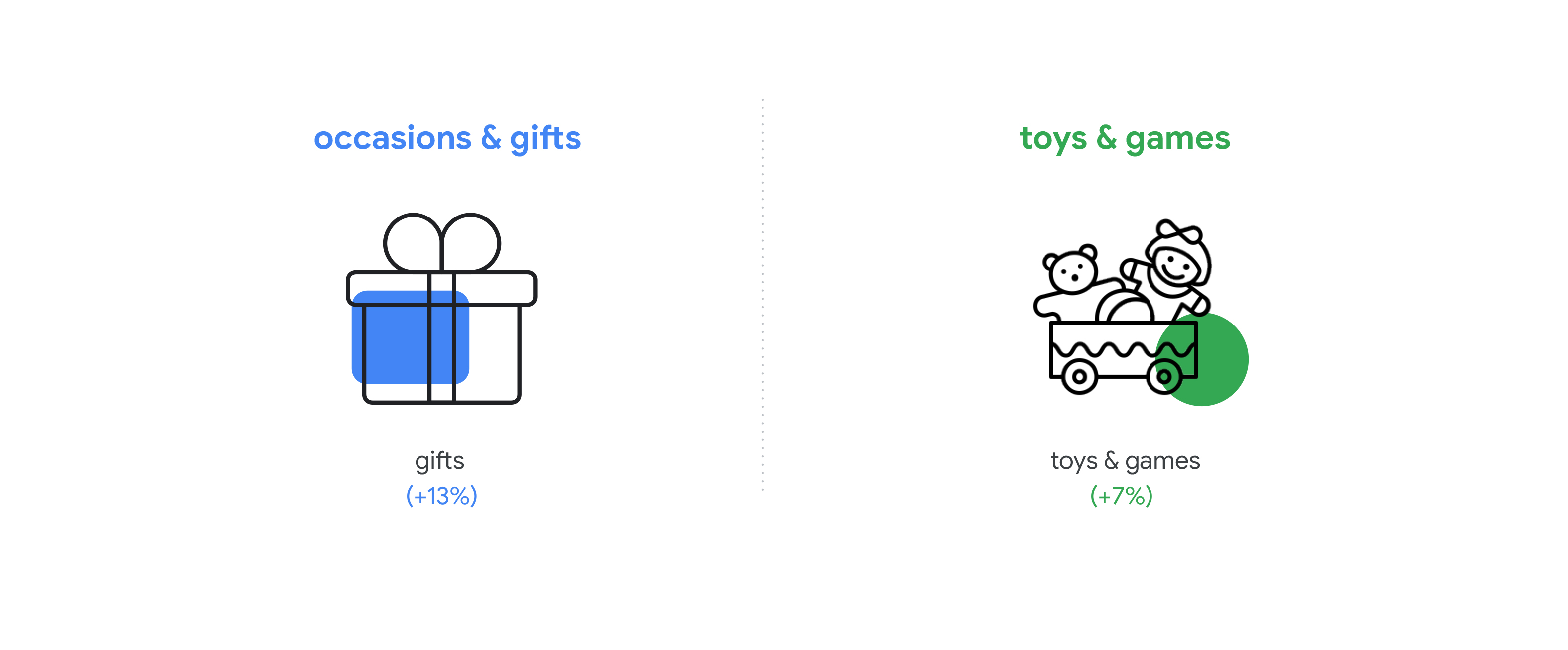 Actionable takeaways during the final stage include maintaining a presence for consumers after Black Friday and offering extended deals.
Prepare for the start of Black Friday season now
With the acceleration of digital adoption due to COVID-19 this year, the key is to provide consumers with a seamless online experience around the pivotal retail moment of Black Friday. This means maintaining a presence throughout the ten weeks of the three phases. Be prepared for new baselines for online retail and consumer expectations. Stay tuned for upcoming pieces on media, measurement and creative strategy to prepare a holistic approach to Black Friday 2020.