Are you an e-commerce entrepreneur looking to expand your area of operation? If so, your time has come. It's now easier than ever to enter foreign markets with your e-commerce brand. CEE markets are continuing to grow at an accelerated rate, two or even three times faster than Western European markets*, and many tools are in place to build a profitable e-commerce company.
According to the research by Ecommerce Europe,1 European e-commerce revenues grew 15% to €530 million in the last year while local markets in the CEE region reached up to 30-40 % growth, both above the market average.
Local consumers are aware of the possibilities as internet penetration also grows at a fast pace, reaching 86% in Central Europe2. As industries move into the e-commerce business, purchasing habits have seen significant growth, especially in areas of fashion, FMCG and electronics. There is huge potential ahead for the online retail market in many other industries.
László Szabó, Head of Growth at Growww Digital, a CEE-focused growth marketing agency, suggests it is a good idea to enter a developing market now in order to gradually build operation efforts, especially before larger international players enter as competition.
"It's not a question of whether there will be an online market for your specific industry, but rather when. There is an enormous growth potential for companies in CEE, but they must act in a timely manner," Szabó says.
Even though bigger markets are already in a more advanced stage in terms of e-commerce maturity, smaller players in CEE have a cutting-edge advantage. First off, the cheap labour force in local markets allows for exponential growth. Secondly, global e-commerce players might find it challenging to cover these smaller, fragmented countries from across the ocean, and so may not enter these places. Many international companies rely on a global approach that may not work when applied to local markets and creating local market penetration strategies can be cumbersome.
Another important aspect to consider is linguistic diversity. Since almost every country speaks a different language, global players have been slower to enter this region, creating a great opportunity for local operators. Eventually the global players will arrive, making now the time to use it to your advantage.
Ready infrastructure
What makes intensive growth a reality is a ready-to-use infrastructure. Google offers a series of tools, at no extra cost, to estimate market size and demand, obtain advertising benchmarks, translate your sites to local languages and predict market trends throughout the region. The vast majority of these tools are easy to use and accessible to everyone. Advertising tools like Google AdWords are constantly developing to suit the needs of advertisers, while logistics infrastructures are well established, too.
Willingness to invest
There are several international examples to look at from Growww Digital's practice.
Petissimo, a multi-country pet food webshop from Hungary, stepped into the international scene when they entered several foreign countries in the region. At the beginning of 2017, with the desire of entering new markets, Petissimo increased their paid channel marketing by more than 200% (2017 Q1 vs. 2016 Q1). Their efforts paid off as revenues grew 172%.3  They now have operations in four European countries.3
Electronic-star, based in Bratislava, is another international success story. A few years ago the two founders, Peter and Dominik, started out buying and selling electronic goods out of a rented red van. With a well-thought strategy and execution, they grew +80% continuously year by year. Today, Electronic-star plc. has more than 20 e-commerce shops in seven countries throughout Central and Eastern Europe4, with more than €16 million in revenue.
In 2017 Electronic-star increased their pay-per-click advertising spend by 89% while achieving a revenue growth of 71% Year-on-Year.5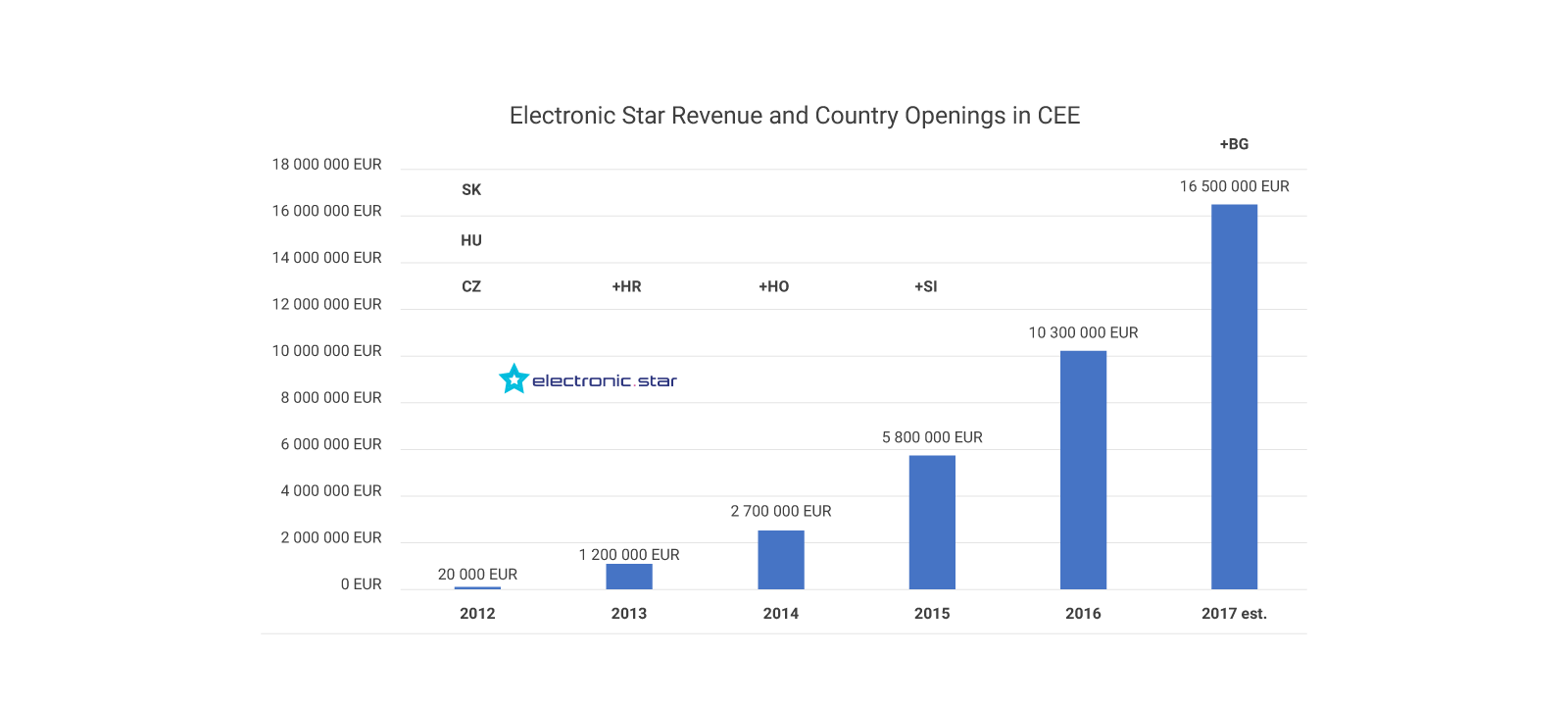 Those two case studies point out that with the right strategy, it is possible to reach higher growth than the industry average.
It is also essential to note that the strategy will not work without the willingness to make an investment. When a brand enters a foreign market, it starts from scratch. If there is little existing brand awareness and local knowledge, it's important to invest in performance marketing activities and build brand awareness.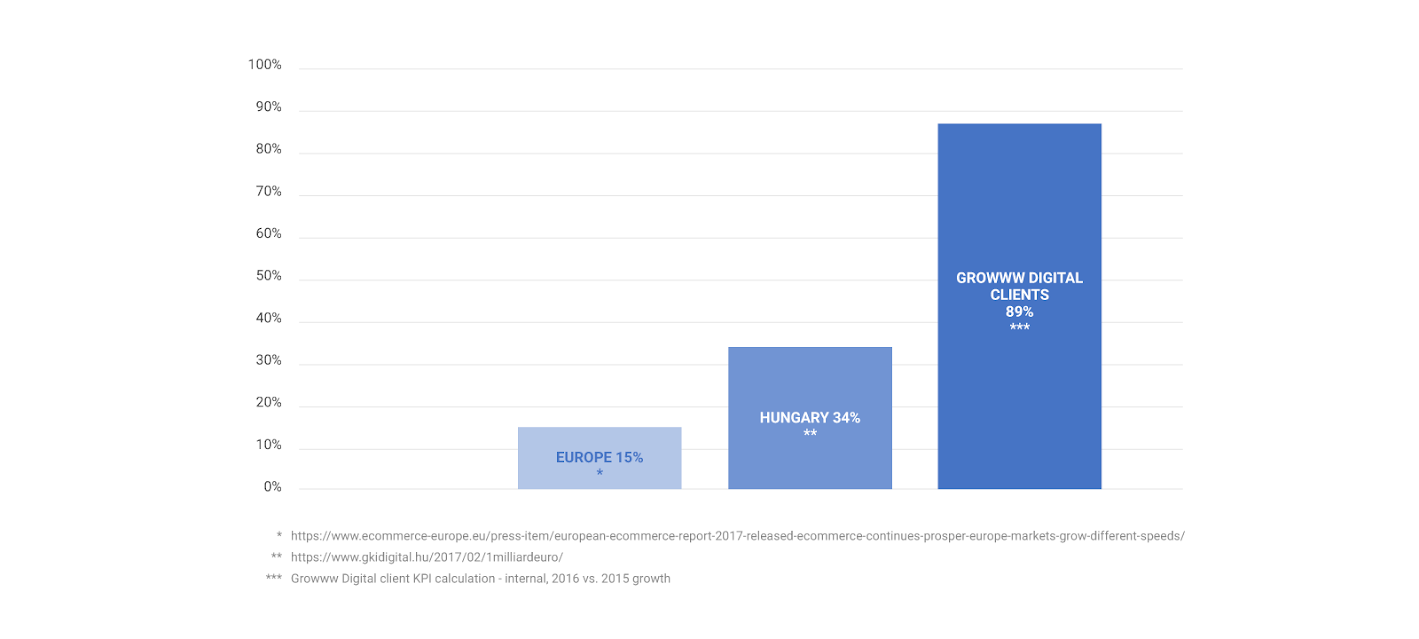 "Having dealt with several export projects, according to our experience, it takes 1-3 years after market entry to break-even. Always remember that you are playing the long game. Perceive your home country as your profit centre, financing your growth centres: the foreign operations," adds László Szabó.
Growww Digital is a digital marketing agency focused on Central and Eastern European projects with high growth potential. They speak 8 CEE languages on a native level that enables them to build multi-country success stories in the CEE region. Growww Digital has a proven track record of YoY client growth 88%.6