Traditionally, scale and personalisation have been opposite forces, presenting marketers with the difficult choice of broadcasting a broad message to the masses at the loss of personal relevance, or producing niche creative which appeals to smaller groups at the cost of scale and at the risk of being inefficient.
Over the last few years it seems most marketers' default approach has been to seek mass reach, which is little wonder given the multiple creative formats and more costly targeting which personalisation demands. Enter Northern Europe's market-leading chewing gum brand Stimorol, seeking to buck that trend with a digital-first campaign that dared to ask 'Is personalisation worth it, and can we make it work at scale?'
Their results went some way toward proving it's possible - here's how they did it.
1. Laying the groundwork meant homework
Mondelez's media planning agency Carat provided the work that underpinned the campaign, arriving at a brilliantly simple insight: in key moments where social confidence is needed - for example, kissing a new partner, speaking in public or attending a job interview - people were looking for specific advice and consuming content around these moments, positioning Stimorol as an essential part of gaining the confidence to do so.
By digging into Google and YouTube data showed high volumes of search queries for advice and answers around these key moments. The data rendered some interesting results. Take the theme of "hooking up". In Denmark for example, users used Google search for terms like "how to kiss" then turned to YouTube for more context with searches like "how to kiss a boy for the first time". Data also proved useful when decoding regional nuances - keeping to the topic of hooking up, look what Carat found among the 4 territories: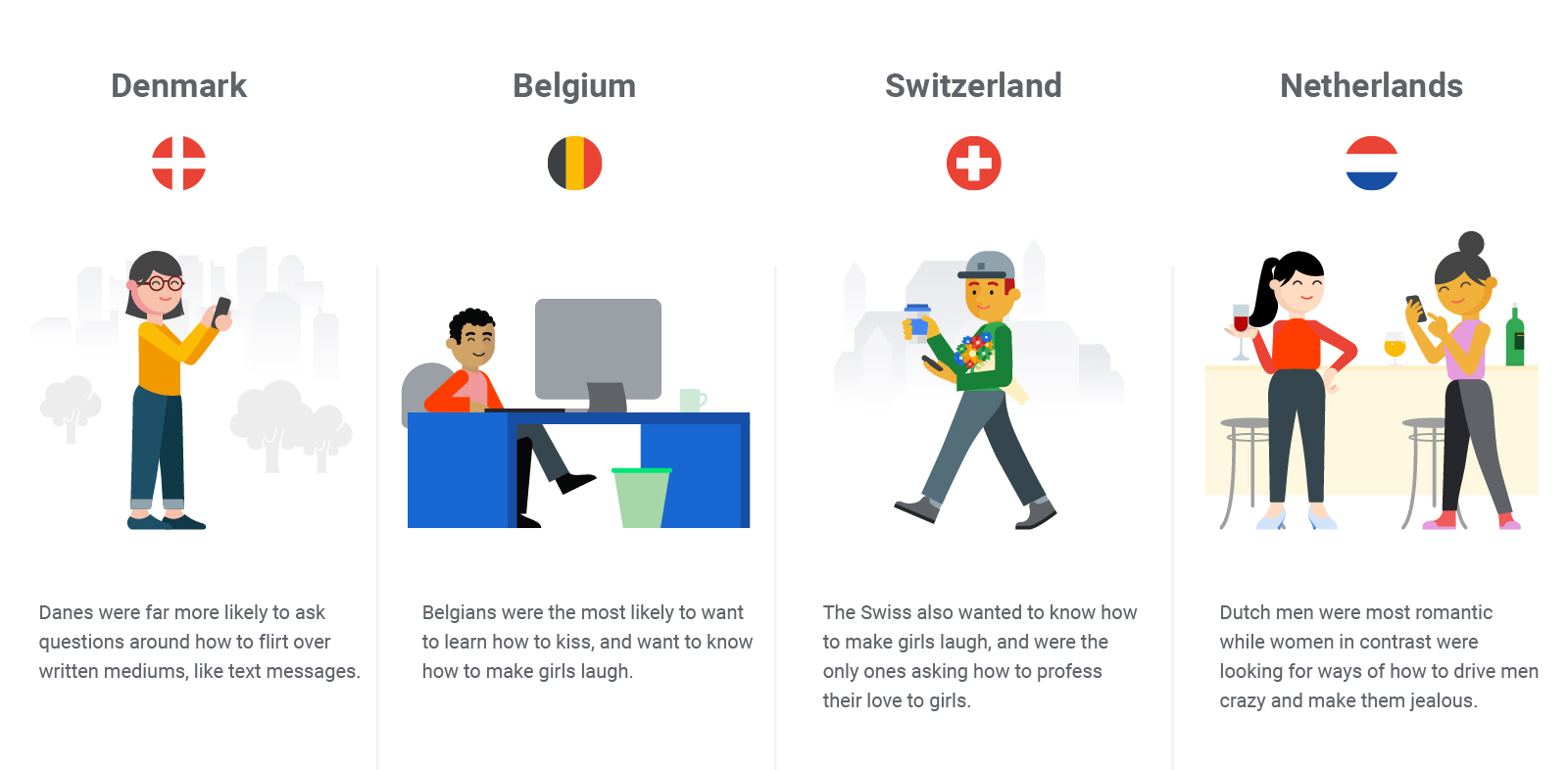 Carat then worked with Google to understand the scale of five key social confidence moments in terms of search query volume, while insights from YouTube helped illustrate what people were watching and learning about in relation to each, shaping Stimorol's audience targeting and creative approaches for the campaign.
2. Custom-made creative that worked
When it came time for Stimorol to tackle the creative a simple philosophy was adopted: it should be informed by insights gathered from the platform where the content will live. YouTube and Google search intent signals were harnessed to shape two streams of humorous, relatable content to build what marketing theorist Byron Sharp calls 'memory structures' - new ways to be remembered and feel relevant - for the chewing gum brand.
"We know people turn to search on Google and YouTube for advice," says Vanessa Harrer, Marketing Director Gum & Candy of Mondelez. "This includes looking up advice or tips on how to be more confident in critical moments, so it made sense to gain insights into the scale and nature of these moments. It made a good fit with the brand."
YouTube 06 second bumper ads were divided into three broad categories of Dating, Workplace and Social Media which became snappy, customised 'tips' for each social confidence situation - for example, giving pointers on kissing, public speaking and job interviews.
Meanwhile TrueView ads were an opportunity to tell longer stories around those moments which were most in-demand by users - including dating, job interviews and even funerals
3. Targeting that went beyond stereotypes
Not only did the Stimorol team use intent signals — actions people take online that give us clues as to their interests and needs — to inform insights for their creative, these same signals could also be leveraged to better target their audience. This meant going beyond the broad categories of demographics to speak to consumers in specific moments, with custom messages.
Reaching Stimorol's core 18-34 audience at the right moment was a huge challenge, says Alex Jacques, Client Director, Carat: "Identifying the best moments to target the core Stimorol audience was our key challenge. We mined YouTube data to gain a better understanding of our audience's behaviour, and this analysis allowed us to develop relevant targeting and messaging strategies that we knew were closely aligned with their behaviour and would resonate strongly with them"  
Not only can the intent signals from Google be used to inform brand creative, they also drive two sophisticated but easy to use targeting tools, which allow brands to go beyond traditional demographic targeting to more relevant audiences.
Using Google Affinity Audiences allowed Stimorol to reach people most likely to be searching for advice around the social confidence moments they wished to target - for example, when it came to their 'kissing' moment, they targeted audiences interested in "Dating services" or people looking for "how to kiss" content on the web. Custom Affinity audiences took this one step further to reach exactly the right audience at scale. Finding consumers in the dating moment used custom interests based on searches around "dating sites", "first date" and "what to do on a first date".
"Affinity profiling was used to further refine targeting on the platform, which then allowed us to deliver contextually relevant messaging against our desired audiences. Specifically, we implemented several specific sets of Topics & Affinities as well as Custom Audiences on the platform"
- Patrick Gorman, Account Manager, Carat
By combining Advanced Audience targeting with custom creative from insights gleaned from the platform the content lived saw a best-in-class uplift in AdRecall across both 06: Bumper Ads and TrueView for Stimorol.
Key takeaways for marketers
• Match your message to the moment
Stimorol used intent signals to deliver content at the right moment for their consumers, delivering it through a mix of formats to build awareness and stay top of mind. The campaign used TrueView to tell longer stories while bumpers were short "tips" videos, tailored to the 'moment' a user was researching.
• Personalise your creative
Campaigns drive the most engagement when viewers see creative that feels personally relevant. Stimorol bucked the trend of thinking personalisation couldn't scale. They leaned into insights gathered from the platform where the content lived to deliver bespoke creative that stayed effective due to smart targeting.
• Move your focus from Demographics to intent targeting
Creating helpful advertising means anticipating your consumers' needs, but that requires knowing what they're in the market for. Stimorol looked into their consumers affinities to understand the actions people were taking online and used them as clues to what their interests were