Binita Jhina is the media manager for Mondelēz Sub-Saharan Africa and works on some of the region's largest snacking brands, including Cadbury. Alongside Ciaràn Whitaker, the FMCG industry lead for Google South Africa, they give a rundown of how they developed South Africa's first true personalisation at scale campaign.
Generosity is the cornerstone of Cadbury's brand positioning, and supporting that positioning is an ongoing focus. In line with this, the team at Cadbury's parent company, Mondelēz, came up with the idea of promoting this value through a toy donation drive for orphans living in South Africa. This, in turn, would support a corporate social investment (CSI) cause Cadbury had adopted in 2019: giving orphaned children the gift of childhood.
The challenge the team faced was to cut through the digital communications clutter and field a highly relatable call to action. Mondelēz had previously tried a personalised approach based on demographics alone, but that all-important 'heartstring moment' was missing. It needed a way of delivering a truly personalised message, but to a large number of people at once.
Find your audience's passions and talk to them from that place
Based on market research, the team identified three core groups of customers: moms, Gen Zs, and people who routinely support charitable causes. Using Google's Audience Insights tool, they were able to determine detailed information on what each group is passionate about, from family to pop music, fitness to blogging, football to gaming, and more.
The collaborative process between Mondelēz, Google, media agency Starcom, and creative agency Ogilvy involved analysing multiple data sets and took three months to complete. This delivered the information needed to reach these audiences in a way they hadn't been reached before.
Short, personalised messaging scaled to many audiences
With the audience types determined and passion points, such as rap and hip hop, 30-minute meals, and sustainable living, matched against them, it was time to put all the ingredients together to reach audiences on a human level.
Using YouTube's Director Mix, the team developed a suite of 75 six-second bumper ads, speaking to each of the 15 passion points. Each customer-centric ad was sequenced to a follow up bumper ad which amplified the promise that every bar of Cadbury Dairy Milk sold would contribute towards toys for orphans.
Each video communicated one clear message in a short video format, making it both accessible and relatable.
The campaign exceeded Cadbury's wildest expectations, reaching 8 million people and generating 69 million impressions. This translated into a best-in-class lift in ad recall, brand favourability, and purchase intent when compared to other Brand Lift Studies within the FMCG sector in South Africa: evidence that personalisation at scale is effective.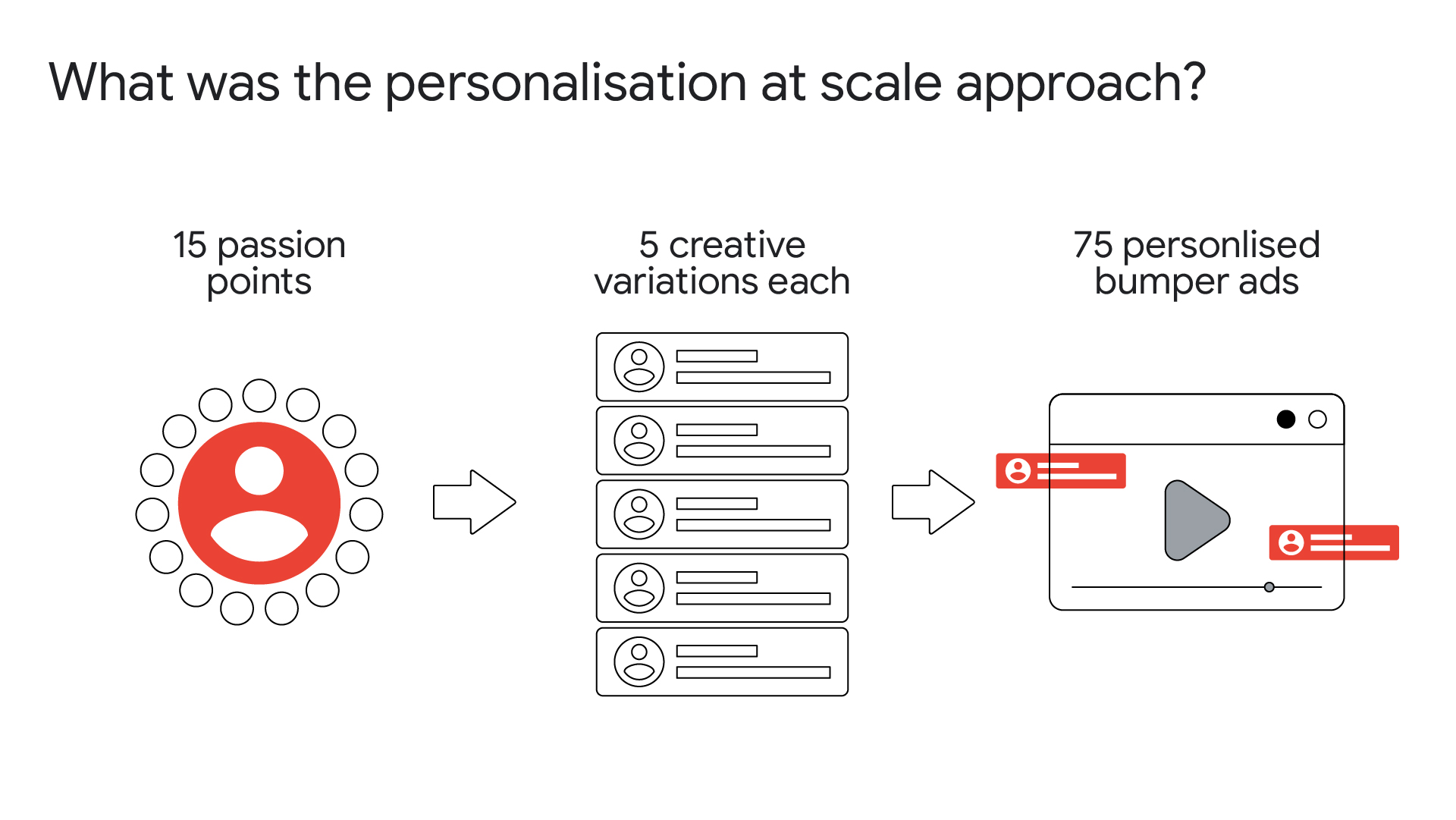 The key components of personalisation at scale
Move beyond stereotypes
The goal of every marketer is firstly to understand their audiences and, secondly, to ensure that the messaging resonates and results in conversion. Traditional means of identifying audiences based on demographics lack empathy and the human touch, especially in the digital age, as it risks treating them like monolithic groups. Demographics fall short because they assume interest based on unreliable identifiers. Passion points enable marketers to deliver a customised message that speaks to an intimate interest.
Communicate one message, quickly and clearly
The space between brand messaging and the final conversion is characterised by a messy middle in the online purchase journey. Consumers are expected to respond to more signals than ever so it's critical to ensure that your message is clear, offers a call-to-action, and is concise. Short form video is a great way to tick these boxes and communicate one, clear message. Ask yourself: What is the one message I want to communicate? What do I want the consumer to do about it? What's the most efficient way for me to say this?
Automate your scaling efforts
Scaling a campaign to reach millions of people manually is a very difficult and expensive task for any team. Once you've done the work of understanding your audiences and their unique passions, automate the respective personalised messages with tools like YouTube Director Mix. Start with one base video template anchored in your brand identity. Then, build from this template to personalise messages for each passion point. This ensures consistency across the full spectrum of your consumer base while personalising for each person.
Taking personalisation at scale further
Using personalisation at scale, Cadbury achieved its strategic objective of re-entrenching the value of generosity with its customers. This, in turn, enabled the marketing team to achieve the tactical objectives of raising awareness of its new packaging, increasing sales of Cadbury Dairy Milk, and donating educational toys, books, and games to orphans living in South Africa.
The success of the campaign has made personalisation at scale a core marketing objective for the Cadbury brand going forward. Identifying and reaching intended audiences in an intimate way based on their passion points can't be achieved using demographics alone. Future campaigns will make extensive use of personalisation at scale to reach individual consumers with simple, heartfelt messages that speak directly to them and prompt action.