As Google's Head of Agencies, Kerri Prissman works with South Africa's largest agencies every day. She has years of experience helping agencies digitally transform, both their own organisations as well as those of their clients.
Brands have had to find new ways to respond to increased consumer demand due to the pandemic. And they're seeking more diversified services from strategic partners to do this.
I see agencies across the industry upskilling and restructuring to ensure that their clients are ready for the consumer of the future. We spoke to two leading agencies in South Africa about how they are redefining the client-agency relationship for a digital future.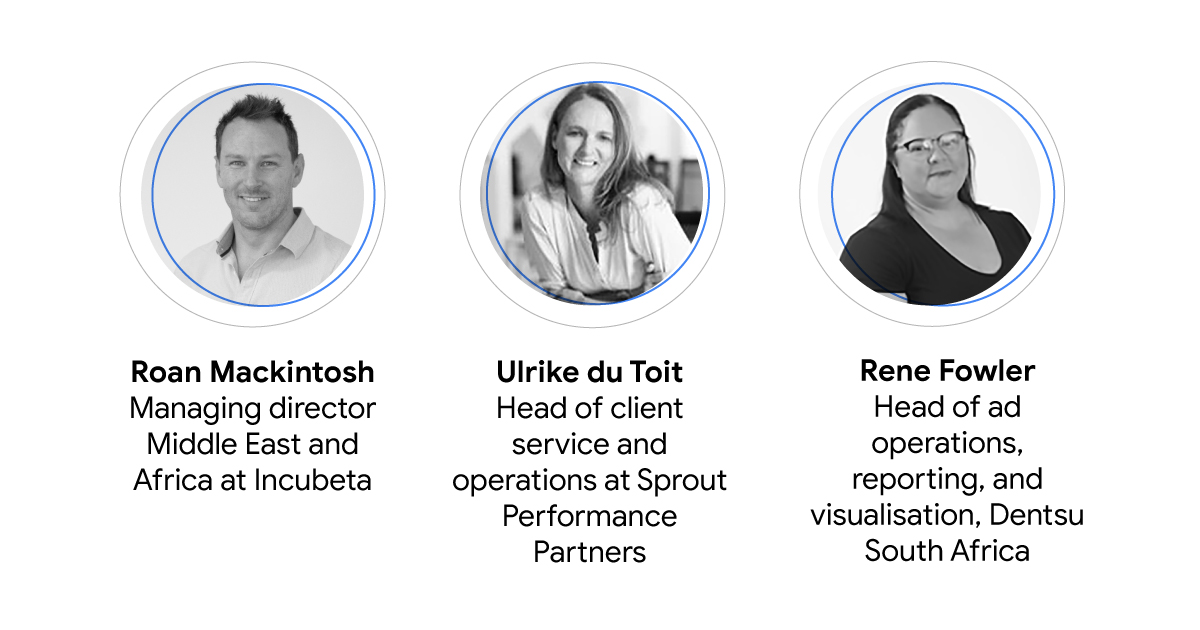 New consumer expectations call for digital acceleration
The increase in consumer demand has meant that some brands have had to bring digital rollout and expansion plans forward. When consumer demand experiences such a major shift, agency partners can help accelerate digitisation by taking on the complexity of ad technology. Specifically, they can execute these solutions on behalf of clients in an agile way with a test-and-learn approach.
A good example of this is how Incubeta helped a leading automotive brand in South Africa pivot its marketing strategy at the height of the pandemic. During hard lockdown, the car buying process moved almost entirely online. It was an opportunity for car brands to connect with auto shoppers in a different way, and be present and helpful in all key stages of the already complex purchase process.
While the process had changed, the unhampered demand from at-home consumers meant that test drives needed to become virtual, and a greater focus was given to the digital content that supports the car buyer's consumer journey.
Agencies are stepping outside of their media management scope to guide clients on how new technologies can be integrated into their campaigns
This required a shift from a product-focused approach to a user-centric one based on the key micro-moments of a user's decision journey. To do this, the team at Incubeta helped the client revise their attribution modelling and reporting workflow, which helped them identify which user journeys were bringing new leads and which were supporting these conversions. Next, they focused on enriching and improving the customer experience. They captured additional first-party data on location and credit affordability scores, which helped them ensure relevance and personalisation of the content.
They used shopping feed management tool Feedonomics and automated ads to help them manage the volume of new data, which helped them achieve greater reach and engagement across the campaign. The automotive brand was able to focus on optimisations within the live campaign, which yielded much better return on ad spend, as their focus was no longer on campaign execution and chasing creative elements.
"We had to step outside of our media management scope to better understand and guide the client on how new technologies could be integrated into their campaigns," says Roan Mackintosh, managing director Middle East and Africa at Incubeta. "The team is thrilled with how this newly-unlocked campaigning capability will impact the effectiveness of next year's strategy. It's been so successful, we are scaling this approach to a few of our other enterprise clients too."
Brands of the future require flexible service offerings
In some cases, the increased consumer demand has meant that agencies have been compelled to expand their offerings. For media buying agencies, like Sprout Performance Partners, the stretch has been made to move into a more consultative space, helping to build and solve for more complex projects where data, ad tech, and media buying converge.
Where clients' needs were previously centred around media buying, the pandemic demanded the need for a full service digital marketing transformation (DMT) offering. Clients were after more than presence — they were after agility and scale. Sprout realised they needed to change their own agency business structure in order to truly service their clients in this new marketing landscape.
This involved the formation of a new consulting arm within the agency to work alongside the media buying team. The consulting team built out new services mapped against DMT projects.
Brands need the flexibility of scaling ad tech solutions where sudden needs may arise, allowing them to focus on the DMT journey at a comfortable pace
"This means the team identifies and creates tech solutions that are embedded in the DMT journey but can also be used standalone," says Ulrike du Toit, head of client service and operations at Sprout. "It's a modular system that enables advertisers and agencies to test a more tech and data-driven approach for certain aspects of their media, which can be integrated into their existing infrastructure."
The onset of the pandemic has meant that brands need the flexibility of scaling ad tech solutions where sudden needs may arise, while allowing them to focus on their digital transformation journey at a comfortable pace.
Dynamic creatives is one such example. The Sprout consultancy team works in partnership with digital media and creative agencies to create dozens of variations of the same ad for multiple audiences on behalf of the client.
Analysing changing consumer sentiment with custom data solutions
Superior consumer understanding results in better and quicker decision-making, which is very necessary in a post-pandemic world with high consumer demand. This kind of understanding relies on the successful automation of all these consumer signals in real time.
"The automation of marketing activities has empowered marketers to operate in agile ways," says Rene Fowler, head of ad operations, reporting, and visualisation at Dentsu South Africa. "They can automate and streamline many aspects of their day-to-day marketing activities and connect with their customers at every stage of the funnel."
Absa Bank needed just this kind of agility during the hard lockdown in South Africa last year, when consumer sentiment towards certain topics was very different from what it was prior to lockdown. The team at Absa wanted to stay on top of new trends, topics, and search intent that may impact the business.
Absa and their agency Dentsu Data Labs worked together to build an integrated real-time insights platform to help Absa contextualise the rapid changes in consumer sentiment through analysing various data sources.
Agencies can automate many aspects of day-to-day marketing activities and connect brands with their customers at every stage of the funnel
The data sources included social listening tools, natural language processing, and image recognition technology to give them a view of trends across a variety of platforms.
"The custom-built tool helped us pivot quickly when consumer demand was in flux during lockdown," says Philip Cohen, general manager: digital marketing at Absa Group. "We use the tool to gauge the zeitgeist of South Africa at any one point in time. For example, if South Africans are talking about debt we can use the information to write relevant blogs or social media posts. Our communications team is also able to use the information to make their communications more relevant."
Looking ahead
The success of digital marketing relies on a brand's ability to find and engage customers, wherever they are, and to provide them with a seamless experience.
This is easier said than done, but with a joint focus, agencies and clients can work together to achieve the best results. For both, a great first step is to take a digital maturity assessment to give your team a clear idea of where to begin and co-create a roadmap with partners.
Never before have strong partnerships been as critical as they are today in achieving digital maturity. At the heart of this relationship lies the notion of shared value, where clients and agencies are able to define and measure the impact of this partnership. The most successful digital campaigns of the future will be defined by the strength of the client-agency partnership.