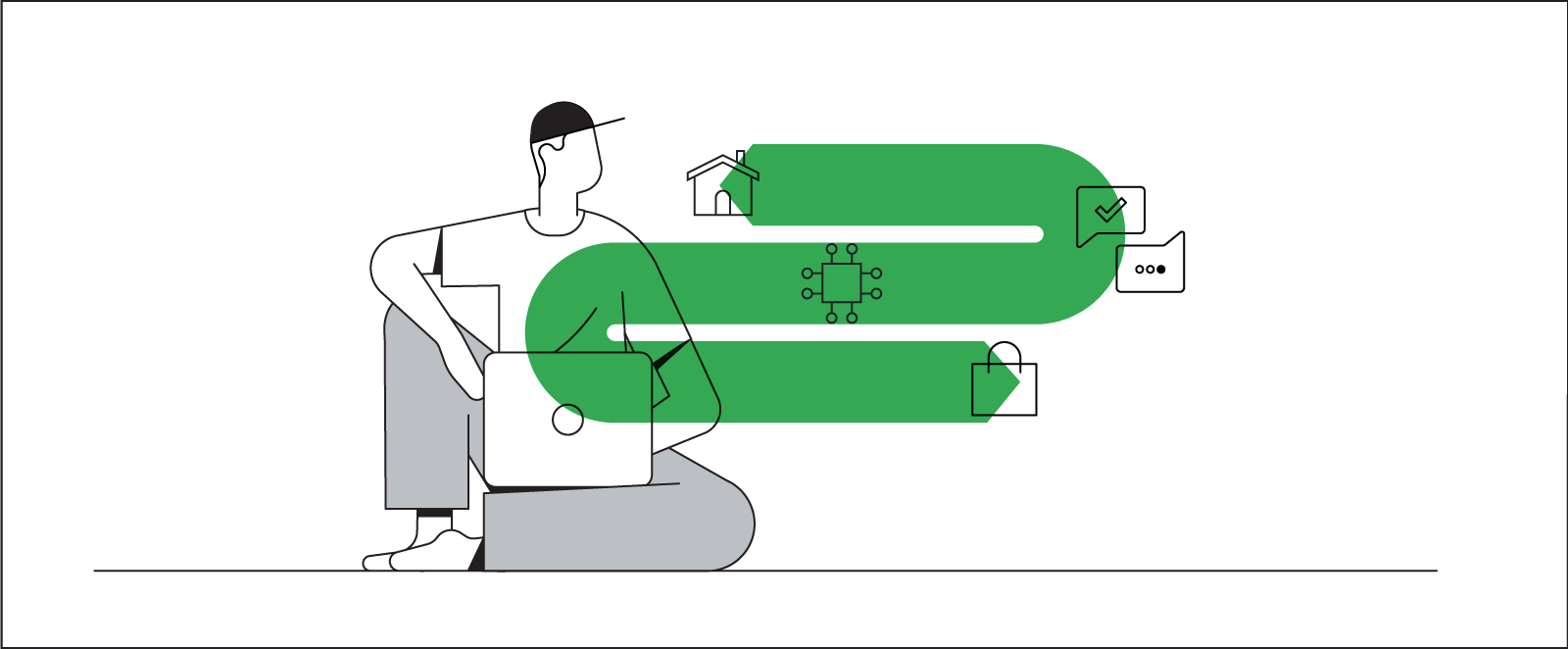 To say the last 12 months have been challenging is an understatement. But as pragmatic optimists energised by ideas of "what's next," we're drawn to the silver linings from the last year. As ravaging and upending as the pandemic has been, it has also illuminated consumer shifts that are already transforming the future of marketing.
The primary catalyst for these shifts has been our at-home experience. It has redefined how we work, shop, and live. It has impacted the way we express ourselves and the way we consume everything from content to products. As people adapted to these shifts, so did businesses. Brands had to get creative and find new, more meaningful ways to connect with consumers. And that's exciting. We see four trends that are enriching the B2C and B2B relationship, and evolving products and consumer experiences for the better.

People will expect even more helpful, relevant shopping experiences
The acceleration in digital adoption, especially e-commerce, is one of the most obvious and relatable trends driven by the pandemic. Necessity spurred new users and use cases, and it's only natural that habits will stick around in areas where we've been introduced to superior experiences for getting what we need.
Though e-commerce acceleration has been profound (in the U.S., growth was equivalent to 10 years in 3 months), the extent of shopping transformation will be much broader. Think about all the things that straddle "the online world" and "the real world," whether it's contactless payments, curbside pickup (for which, last spring, we saw searches grow globally by 3000% year over year1), or AR-enabled experiences like envisioning the dresser in your room or the lipstick with your skin type. Our extended time constrained at home has opened our eyes to the very real value of this new hybrid space. Some observers are referring to it as phygital retail — the blurring of the lines between physical retail and digital retail.
The acceleration in digital adoption, especially e-commerce, is one of the most obvious and relatable trends driven by the pandemic.
Introducing more consumers to the benefits of such experiences is altering their behaviours and, more importantly, their expectations. In turn, more businesses and brands will stop defining digital narrowly as another "channel" for selling things, but instead as an enabler of transformative, user-first experiences that boost loyalty.
Take Western Union, for example. The pandemic's economic stressors created a situation where more people suddenly needed to send money to family and friends around the world, many of whom rarely use financial services. With many of its retail locations temporarily closing due to health restrictions, the company needed to continue to show up for customers.
To help, Western Union began offering an option for telephone money transfer. And on its website, it added new support and wayfinding tools to ensure customers could quickly and easily access information. The team also innovated to make their services more inclusive for customers by creating new ways to send funds digitally and offering real-time digital account payouts.
So whether you're a financial institution, grocery store, quick-serve restaurant — or yes, an online-only retailer — the circumstances of the past year have offered a valuable nudge to reimagine digital possibilities and commit to the ever-rising bar for how to be helpful to people.
Consumers will be both locally minded and collectively conscious
Given travel restrictions, shelter-in-place mandates, and physical distancing guidelines, we've been jolted into a heightened awareness of the value of our local communities. At Google, we see this reflected in a surge of searches related to "near me," which reached an all-time high globally over the past year.2 In turn, we've naturally demonstrated invigorated interest in ensuring our communities continue to thrive. Last summer, searches for "support local businesses" grew globally by over 20,000% year over year.3

But this doesn't mean we're burrowing in and closing off from the world. We're also seeking more connection to the collective. Exceptions will always be true, but the pandemic and other shared experiences of the past year — such as the ongoing movement for racial equity — have reinforced that our own actions play a pivotal role in the big picture. Various behaviours may be more locally directed, but our thinking has an elevated consciousness of our interrelatedness. How can we not be encouraged to learn that, in 2020, the world searched "how to help" more than ever, or that search interest for "racial justice" peaked worldwide?4
Consumers will arise from this more connected to their communities and more mindful of playing a role in the community of humankind more broadly. This means brands will be compelled to relate on a deeper level with these consumers who — both in the physical and mental sense — are more present and seeking connection. That might translate, for example, to a reimagined role for "brand communities" or new brand and product experiences that enable consumers to "pay it forward" for others. Similarly, the rise of virtual communities is likely here to stay, giving brands opportunities to better reach their segments at a micro level. The benefits of a platform like YouTube, for instance, offers the ability to find and connect with smaller audiences for greater engagement.
Brand value will converge with personal values to drive spending decisions
Another indication of the pandemic's impact on people's connectivity is our departure from life on autopilot. For many of us, our extended time in isolation has led to an immersion into our deeper psyches and a range of awakenings about our lives. We've been forced to revisit the fundamentals of happiness, family, and health. For many people, there's a "shedding" of sorts that's taking place as we try to take on the attributes of our best selves. An example manifestation: Searches containing "minimalist" have more than doubled in the past year.5

And it's not just deep reflection on our values that's shaking us. For so many, it's an economic necessity too. These altered mindsets will continue to color our purchase decisions and brand perceptions. Mindless buying is neither practical nor personally fulfilling, as we shift toward decisions that reinforce who we want to be — and who we can be financially. In other words, the notions of "value" and "values" will continue to converge, independent of a product's price point. Whether someone is choosing to buy an expensive electric car to do her part for the environment or directing her $5 to a Black-owned coffee shop, consumers will more actively shop their values. Brands will increasingly enable it, going beyond talking about their brand values to embedding those values as differentiating "features" of their products and services.
Marketers' own at-home experiences will lead to next-level empathy in creative
Last but not least, we can expect the products, services, and creative that consumers experience to change because the people developing them have changed. Why? Because we stopped "going to work" and began "bringing work into our lives."
Over the past year the idea of bringing one's whole self to work has shifted from an abstract ideal to a reality that is now broadly felt and experienced. Thanks to videoconferencing, we've seen (and heard) everyone, including leaders and executives, in their natural habitat — kids popping in, partners sneezing, dogs barking. With remote and hybrid work models expected to continue, we can't turn back time on the fact that we know our teammates on a level that's much deeper, vulnerable, and human.
The consequence is that we've entered a new dimension of professional-plus-personal empathy and respect. As businesspeople, and marketers specifically, this should only cascade to a deeper appreciation of the full depth of what our consumers think, need, and feel. By embracing our shared experiences and the beautiful complexity of human beings, we will unlock powerful new ideas, deeply resonant creative, and ultimately less transactional relationships with our consumers.
We can't turn back time on the fact that we know our teammates on a level that's much deeper, vulnerable, and human.
While we can't fully predict it, we have the power to shape the future we want. As we think about the consumer products and experiences that were born out of previous historical moments, we can't help but think we have a similar chance to define "what's next." A renaissance is at hand; let's seize the positive momentum.