COVID-19 supercharged the need for digital transformation; it's top of mind for every brand in the path toward recovery. But what does digital transformation really entail?
Marketers endeavor to be more agile, build digital-first marketing strategies, and drive actionable change. And they're looking to their agency partners to help them navigate the path forward.
In this audio series, hear from 12 agency thought leaders who have paired up to discuss key areas of digital transformation; why they're essential to drive recovery; and how they're innovating to overcome barriers and be future-ready — for their clients' businesses and their own.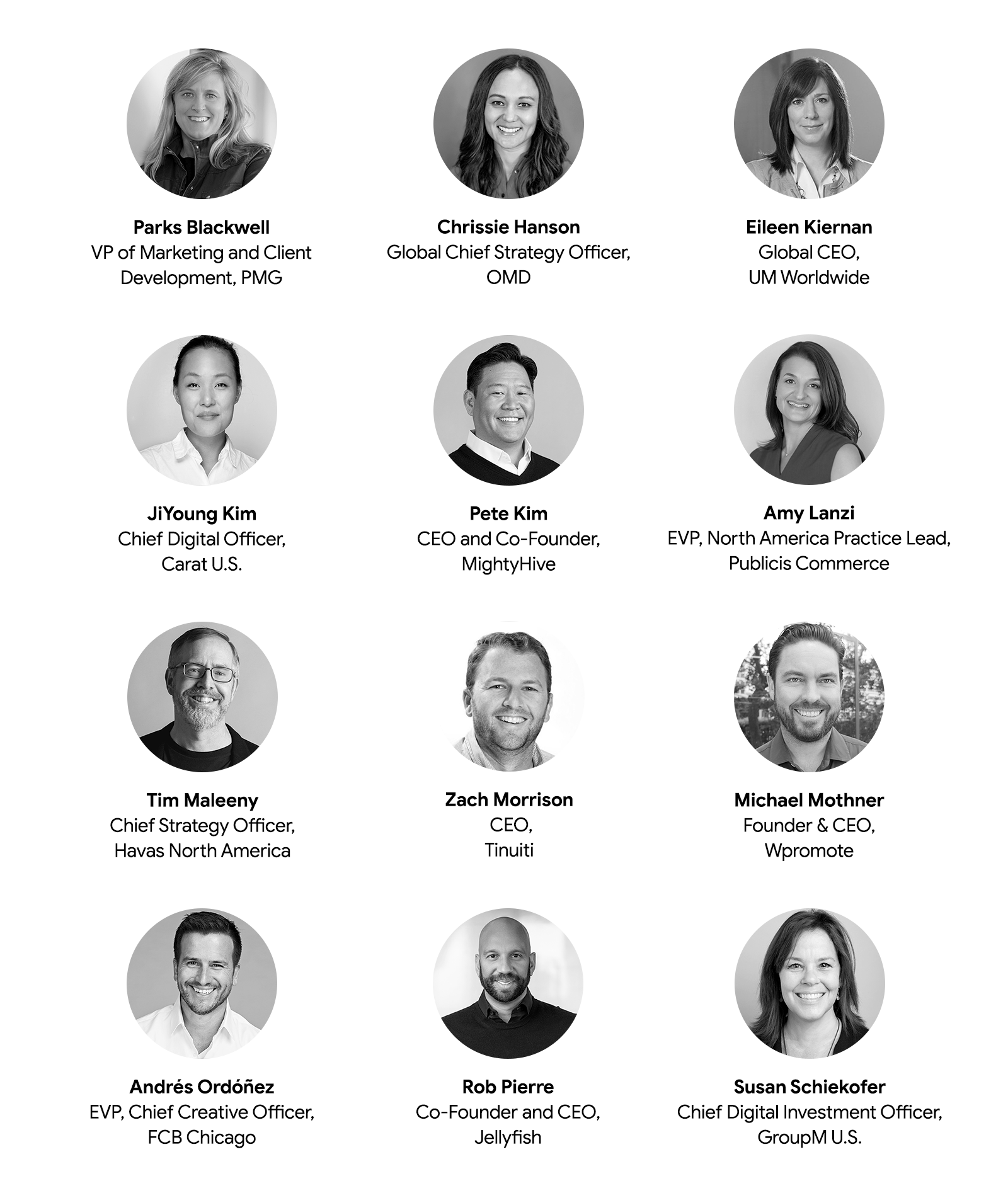 Leading with Customer Insights

"The assumptions that you brought into 2020 may not be the right data."
Chrissie Hanson, Global Chief Strategy Officer at OMD
Michael Mothner, Founder & CEO at Wpromote
With consumer needs constantly evolving in a complex, dynamic market, insights help marketers understand what's relevant to their customers. And that's often different from what brands think.
Chrissie Hanson and Michael Mothner discuss how the idea of leading with customer insights has shifted. Learn about the new systems and processes they're adopting to ascertain the right data, uncover insights, and inform business decisions in real time.
Amy Lanzi, EVP, North America Practice Lead, Publicis Commerce
Pete Kim, CEO and Co-Founder, MightyHive
Now more than ever, a robust measurement strategy is essential to maximise the effectiveness of your marketing.
Amy Lanzi and Pete Kim explain why you need a comprehensive and agile measurement plan to keep up with the dynamic consumer. They discuss the importance of having access to the correct data sets, tools, and platforms, and share what solutions they've implemented to identify incremental outcomes for their clients.
Accelerating with Automation

"Automation is not an IT function. It's a business imperative."
Rob Pierre, Co-Founder and CEO, Jellyfish
Eileen Kiernan, Global CEO, UM Worldwide
Today's marketers are challenged with disparate data across multiple platforms, as well as increased demands to achieve operational efficiency while reducing costs.
Eileen Kiernan and Rob Pierre discuss how automation can cut down operational tasks, improve agility, and optimise media and creative to drive results. They examine the legacy misconceptions the industry has about automation, and why machine learning is essential to agencies and clients to accelerate growth.

Winning the Customer Journey

"Your owned, first-party customer data is really the most valuable tool you have in your toolbox."
Parks Blackwell, VP of Marketing and Client Development, PMG
Tim Maleeny, Chief Strategy Officer, Havas North America
With consumers moving online across all categories, it's essential to reimagine the customer journey.
Tim Maleeny and Parks Blackwell dive into the importance of harnessing first-party data to map out a cohesive customer journey and optimise the consumer experience. Hear how they're using data to drive consumer trust and loyalty for brands.
Building a Digital First Culture

"Digital first is the only means of survival at this point in time for a business."
Zach Morrison, CEO at Tinuiti
Susan Schiekofer, Chief Digital Investment Officer, GroupM U.S.
Prioritising digital-first capabilities is essential to driving digital transformation and future-proofing your business.
Zach Morrison and Susan Schiekofer share the importance of a digital-first culture and how they approach upskilling across teams and clients to build one. As you prepare for what's next, learn how bringing the right decision-makers together early can help breed understanding of digital capabilities and enable testing of new business opportunities.

Transforming Through Video

"The beauty of video nowadays is how personalised the content can be."
JiYoung Kim, Chief Digital Officer at Carat U.S.
Andrés Ordóñez, EVP, Chief Creative Officer, FCB Chicago
As consumers continue to migrate to video, there's greater opportunity to deliver targeted, personalised experiences that capture attention.
JiYoung Kim and Andrés Ordóñez discuss the power of video and storytelling to drive results. Hear their tips for optimising creative and the consumer experience to maximise engagement and effectiveness.