We continue with the series of articles, where we examine in detail the five driving factors of digital marketing transformation, with Reach, a very important factor for marketing campaigns to reach the right audience.
In digital marketing it's very important to get your brand's messages to the right audience. Planning what proportion of your customers and potential customers through your marketing investment or what proportion of the inventory that you would like to be found, through your ads that you will reach, will not only enable you to manage your investments right but also it will enable you to maximize your reach. Structuring your media investments right will bring you the maximum benefit in the advertising platforms such as Google Ads or Google Marketing Platform that you use.We can address the subject of Reach, which is related to this, in three main areas:
1. Combine your media planning and buying in one location for all platforms
Combining planning and buying across all media platforms and media channels in one location will both allow you to gain a holistic view of your marketing strategy and provide you with maximum benefit in terms of ad frequency (frequency), ad reach, and ad viewability, by using cross-platform interactions.
For example, a company that manages planing and buying of different media channels separately for each media, may not be able to gain all possible benefits in terms of time, work force and efficiency of advertising investment as it will have to deal with processes of this different media channels separately. On the other hand, a company with a consolidated planing and buying process in place, can reach its target audience during all stages of their journeys by utilizing the advanced targeting techniques in a controlled way, regardless of the variety of device and inventory.
When Direct / Booked Buying campaigns and Auction campaigns are purchased and managed on separate platforms, generally a joint frequency management and single reach measurement may not be possible to be performed and this can lead to time loss, inefficiency in workflow, and budget waste.This two different buying methods can be jointly managed under the Demand Side Platforms (DSP) that have programmatic purchasing ability. Display & Video 360 is one example of platforms for this. A business that implements this can accurately measure key advertising metrics such as frequency, reach, and viewability and shape subsequent digital marketing efforts according to these metrics.
According to Media Consolidation research that Google conducted with Nielsen, businesses that carry out programmatic buying in a consolidated way achieve 11% increase in business efficiency compared to businesses who do this separately, on multiple channels and platforms.Therefore, it can be stated that these businesses reach 11% more individual users with the same budget.
Programmatic Guaranteed vs. traditional booking methods: 57% of publishers and 29% of agencies save time: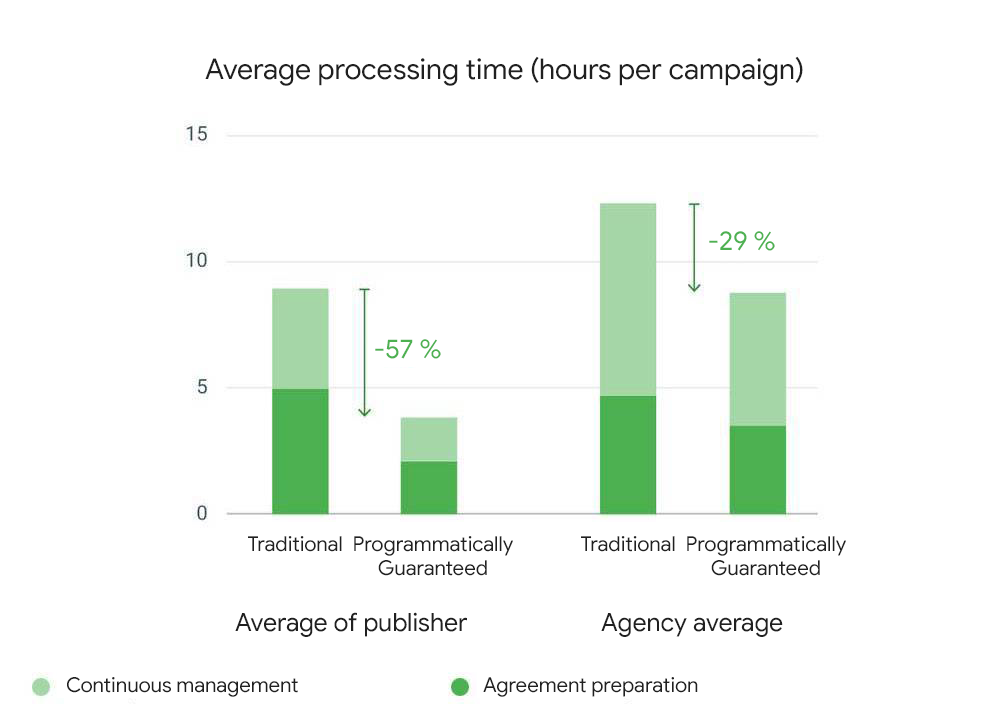 2. Use all marketing channels effectively
In order to maximize the reach and appearance of your digital marketing ads, have a presence in all marketing channels, devices, ad types, and ad inventories that are relevant for your brand, throughout all stages of the customer journey.
For example, a business that makes its display and video ads only for targeting computers, places ads only for brand searches that are placed at the bottom of the buying journey stages and also focuses on the non-internet, traditional media channels, may encounter various issues in reaching its potential customers and experience difficulty in reaching its business targets. On the other hand, a business that makes its display and video ads for targeting both computers and mobile devices, as well as to cover other possible devices such as tablets and smart TVs, places ads for possible separate searches in all different stages which are identified at the bottom, mid and top levels of the buying journey and focuses on using all marketing channels effectively and conducts this according to a calculated schedule, can reach to all its potential customers and reach its business targets.
Try and be present in all marketing channels, devices, ad types and ad inventories in every step of the customer journey.
Advertisers can increase their reach by using the ad type named Dynamic Search Ads on Google Ads platform. Advertisers can easily eliminate shortages in their keyword based campaigns and increase their site traffic and sales by covering many additional related searches. In order to attract more visits from people to their stores, businesses with physical stores can also leverage local campaigns and increase their reach on Google Search, the Google Display Network, Google Maps, and YouTube.
Whereas in the area of Programmatic Display ads, Native Ads is one of the ad formats that enhances and differentiates media strategy is recently being utilized widely. This new ad format allows businesses to increase their advertising performance both in terms of being compatible with page content and publishers' experience and providing users with a positive content consumption experience.
3. Ensure quality control in media buying
Ensuring the systems that would deliver maximum transparency are used in all media buying and media channels and being able to deliver quality control with the right tools for your ad placements can allow you to increase your reach in the right way.
For example, we can say that an advertiser who does not check which inventories ads are displayed in and who only uses the standard futures of ad platforms in this respect, has room to develop in the media quality control area. On the other hand, we can say that businesses who interact with publishers about transparency and actively monitor what type of sites their ads are displayed on and what type of contents and which formats their ads are displayed in, are performing advanced level media quality control. As an advanced technique, the use of programmatic DSPs and the Pre-Bid Filtering (Geo-location filtering, brand suitability) future by third-party companies, who are specialized in this field can be given as an example. Also, businesses that use these techniques can obtain detailed reports in regards to which categories and to what extent according to the details in their plans their adverts were published following the publication of their ads.
We can say that a business that optimizes its ad buying according to all advanced techniques specified and carries out quality control in all advertising channels with the most advanced methods, can increase its reach in a controlled and efficient way.