Orange Romania wanted to change consumer perception and reach new customers. Using data and segmentation they developed an audience targeting strategy with custom messaging to drive more than 50K new leads.
About Orange
Leading telecom company
Launched in Romania in 1997
Goals
Brand awareness: change consumer perceptions
Drive leads for new services
Approach
Analysed data for consumer insights
Precision targeting with market segmentation
Custom campaigns and messaging for each segment
Results
50K leads in 9 months, twice the original forecast
650K clicks from search
3.84M Views
Online marketing has shifted from mass communication and the law of averages, to segmented and personalised messaging. Messages that are relevant to consumers and delivered at the right time, in the right place. This shift to customer-centric marketing is rooted in one of advertising's oldest and most important lessons — know your audience.
Consumers no longer settle for brands that talk to them — they demand that brands talk with them. And the brands that can make the leap to custom communication are seeing the largest growth and return on investment.
The digital era has empowered marketers by putting them closer to consumer intent with Big Data and hyper-segmentation. Using data, Orange Romania were able to unlock intent and develop a strategy with segmented audience targeting.
With over 20 years in the local market and more than 10 million customers, Orange Romania is a leading Romanian mobile telecom. Traditionally a mobile operator and retailer, in 2017 they launched "Orange Love" — providing consumers with a range of connected services, including mobile, TV and Internet.
They needed to change consumer perceptions by driving home the message that they were now much more than a mobile operator and retailer. Alongside brand awareness, Orange wanted to deliver new leads for the campaign.
This meant delivering relevant and tailored messages for a broad spectrum of consumers. They first needed to understand the value and needs of different consumer segments so that they could reach and engage with them effectively.
Hyper-segmentation: delivering relevant messages at the right time
Orange put all their data points to work by analysing the online behaviour of potential and current customers. Target audiences were then broken down into three main consumer segments; competitors' clients; current clients; and visitors to the Orange website.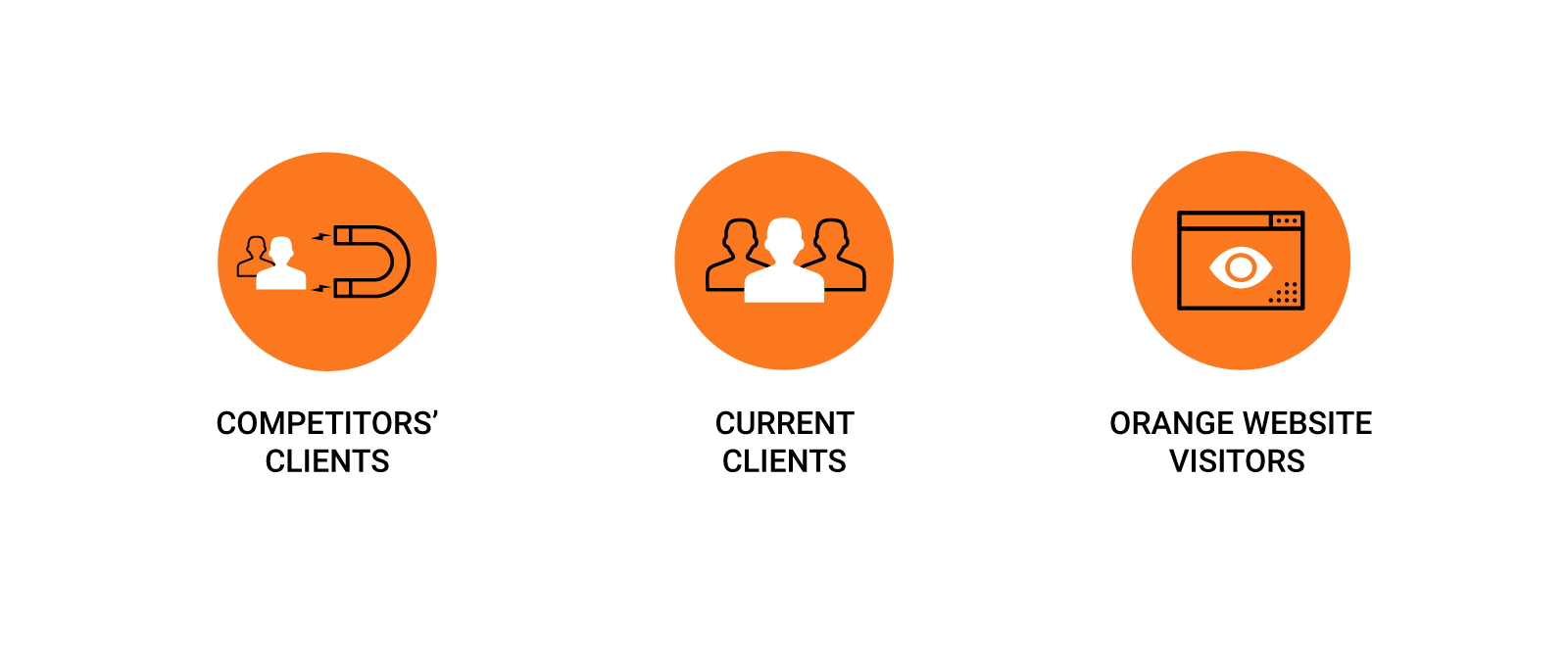 Using Google Analytics, Orange were able to pinpoint traffic accessing the Orange website from other service providers. This allowed the team to get closer to their competitors' customers. Current clients were targeted using proprietary databases and the types of current coverage that they had. Website visitors, who showed an interest in Orange, were targeted using remarketing lists from Search on YouTube and Google Display Network.
The right place at the right time
The primary consumer segments were further segmented into a range of campaign channels so Orange could reach consumers at the right place, at the right time.
A range of customised deliverables were created for each channel — video testimonials, video ads, bumper ads, search ads, Call-only ads, sitelinks, call extension, callouts, image ads, responsive ads, Gmail ads.
As a clear-cut indicator of intent, search was central to segmentation. The Orange team gathered all Search queries related to TV, Internet providers and mobile. Consumers searching for these Keywords and visiting the Orange website were considered high value leads and were targeted with relevant messaging on remarketing lists. Bids were increased so the targets would eventually return to the site and convert.
Mobile-first thinking was also applied to Search. The team setup a dedicated Orange Love phone number that was used in Call-only ads to provide an alternative fast-track for potential customer who were ready to talk with a company rep about the new services.   
Potential clients, whose intent wasn't as clear, were targeted with branding campaigns on YouTube and Google Display Network. Audiences, Keywords and Placements were used for targeting methods.
Remarketing was used to create brand awareness and target potential customers whose behaviour had indicated intent. The team identified potential consumers that had abandoned the conversion funnel on their website at various stages. These customers were re-engaged on GDN with custom messaging for each stage of funnel abandonment.
Orange Romania customers were targeted using Gmail ads and emails that were segmented and served up depending on the customer's current plan and likely interest in the Orange Love campaign.
YouTube was also central for brand awareness and driving leads with remarketing. Customer-centric videos were created for in-stream, discovery and bumper ads. The first video gave consumers an overview of Orange Love's spectrum of services and all of its benefits.
The second version contained footage from TV channels included in the package. Several versions of the second video was produced and the content was adapted according to the segment — sports fans were shown sports content, film buffs were shown movies and parents were shown kids' TV.
The results
Customer segmentation and technology helped the Orange team to take a customer-first approach to marketing. And their efforts paid off. The campaign drove almost 50,000 leads within just 9 months — twice the original forecast.
The biggest winner was Search ads. Only 10% of the entire budget was allocated to Search, but it managed to generate 62% of all online leads — 21% when we take into account both offline (telesales) and online channels. Search ads delivered 650K clicks with a conversion rate of 1.52%.  
The YouTube campaigns generated 3,849,402 views and a view uplift rate of 71%. Telesales from the online Call-only ads had a 4% conversion rate on lead and a 7% conversion rate on acquisition.
Being customer-centric means putting all your data points to work. Analysing consumer intent based on the data, delivering relevant messaging and choosing the right platform to reach them.