All over the world, people are searching online for sustainability topics like never before. From how to reduce food waste to where to find second-hand clothes, interest in sustainable options is on the rise.
According to Ipsos, more than three in four people say businesses have a responsibility to reduce their contribution to climate change by lowering carbon emissions. We at Google continue to take steps, along with the rest of the industry, to ensure progress toward a sustainable future. To help the organisation live up to its values, our marketing teams have been exploring new strategies for creating positive change with sustainability goals in mind.
For help identifying and scaling the most effective sustainability actions and strategies in marketing, a working group of Google marketers partnered with Drawdown Labs, a program of Project Drawdown that specialises in scaling private sector climate solutions. With their guidance, the team designed a framework for building a culture of sustainability and reducing carbon across our daily marketing operations. Our partnership culminated in the sustainability marketing playbook we're now open-sourcing in hopes of accelerating change across the industry and encouraging others to share their own best practices.
"To meet the climate crisis at scale, every job must be a climate job, and marketing is no exception," said Ted Otte, senior manager at Drawdown Labs. "We were excited to partner with Google on a research-backed playbook to help marketers create stories, campaigns, and experiences that normalise and inspire sustainable behaviours and lifestyles."
The insights: Learning about sustainability trends
"Sustainability" can mean many things to different people, so it's important to understand how culture can play a role in shaping perspectives. Our working group itself represented many different countries, and they brought their awareness of regional nuances to the playbook project.
Marketers regularly use insights tools to inform messaging, and sustainability messaging is no exception. Audience insights tools such as Insights Finder or Market Finder can be useful for connecting with consumers. With Google Trends, the working group was able to learn about global cultural shifts that are still emerging, as well as the ones that have endured over time.
The magic: Influencing culture through creative choices
According to Project Drawdown, one of a marketer's greatest superpowers is the ability to influence culture. Great storytelling has the power to move people to action in ways big and small. Knowing that social norms change faster when the associated behaviours are more visible, the team considered ways to shift culture through creative portrayals of eco-conscious lifestyle choices and behaviours.
To model this best practice in the playbook, the team reviewed the asset library used across Google Ads Marketing for examples of creative that showcased environmentally conscious behaviours, normalising a culture of sustainability.
Project Drawdown helped the team identify the behavioural changes that have been proven to have the most significant impact on carbon reduction, such as avoiding air travel when possible. They also recommended that marketers focus on genuine user needs instead of creating narratives that could encourage excessive consumption and waste.
Sustainability messaging tips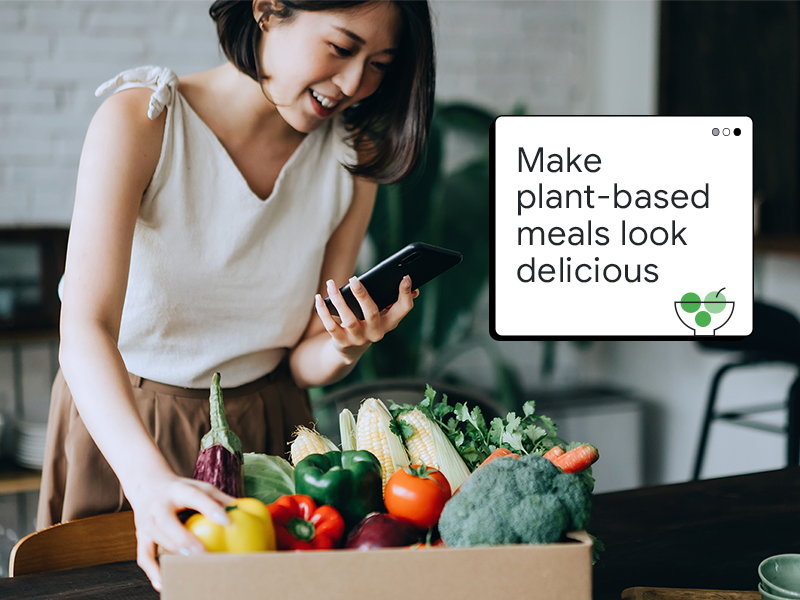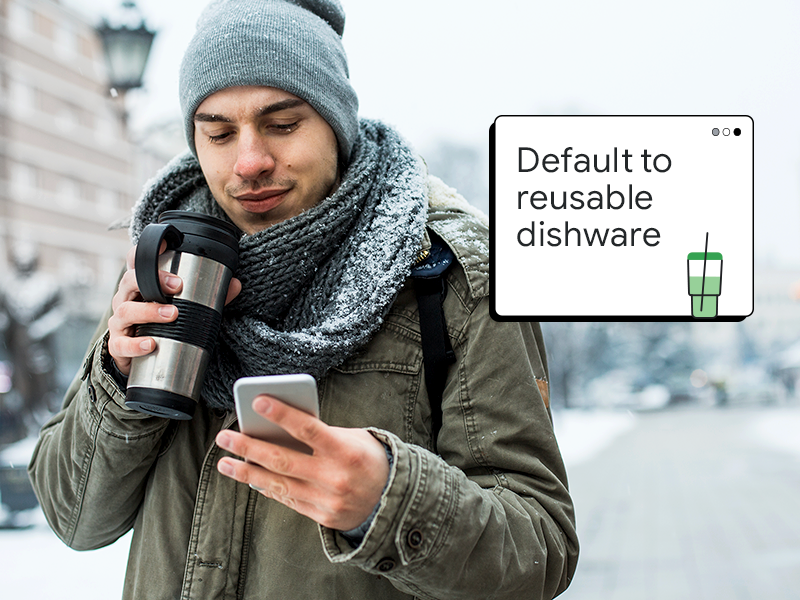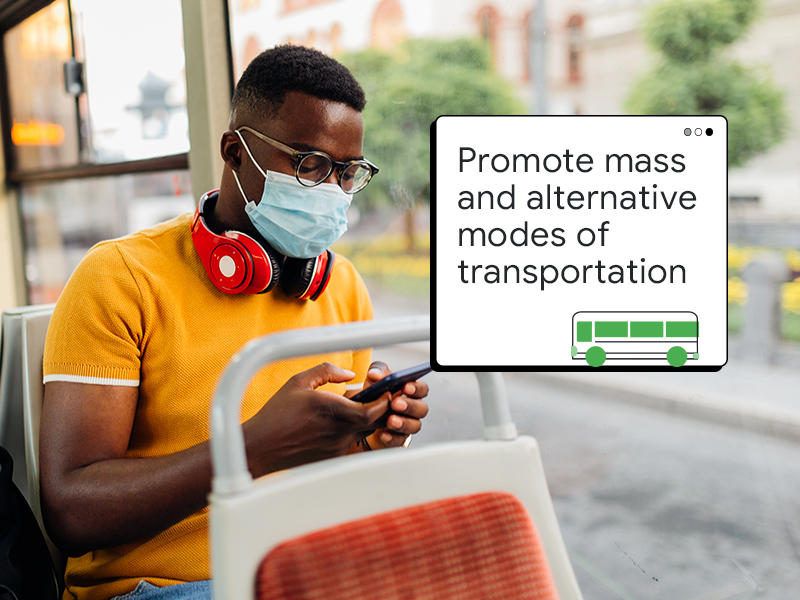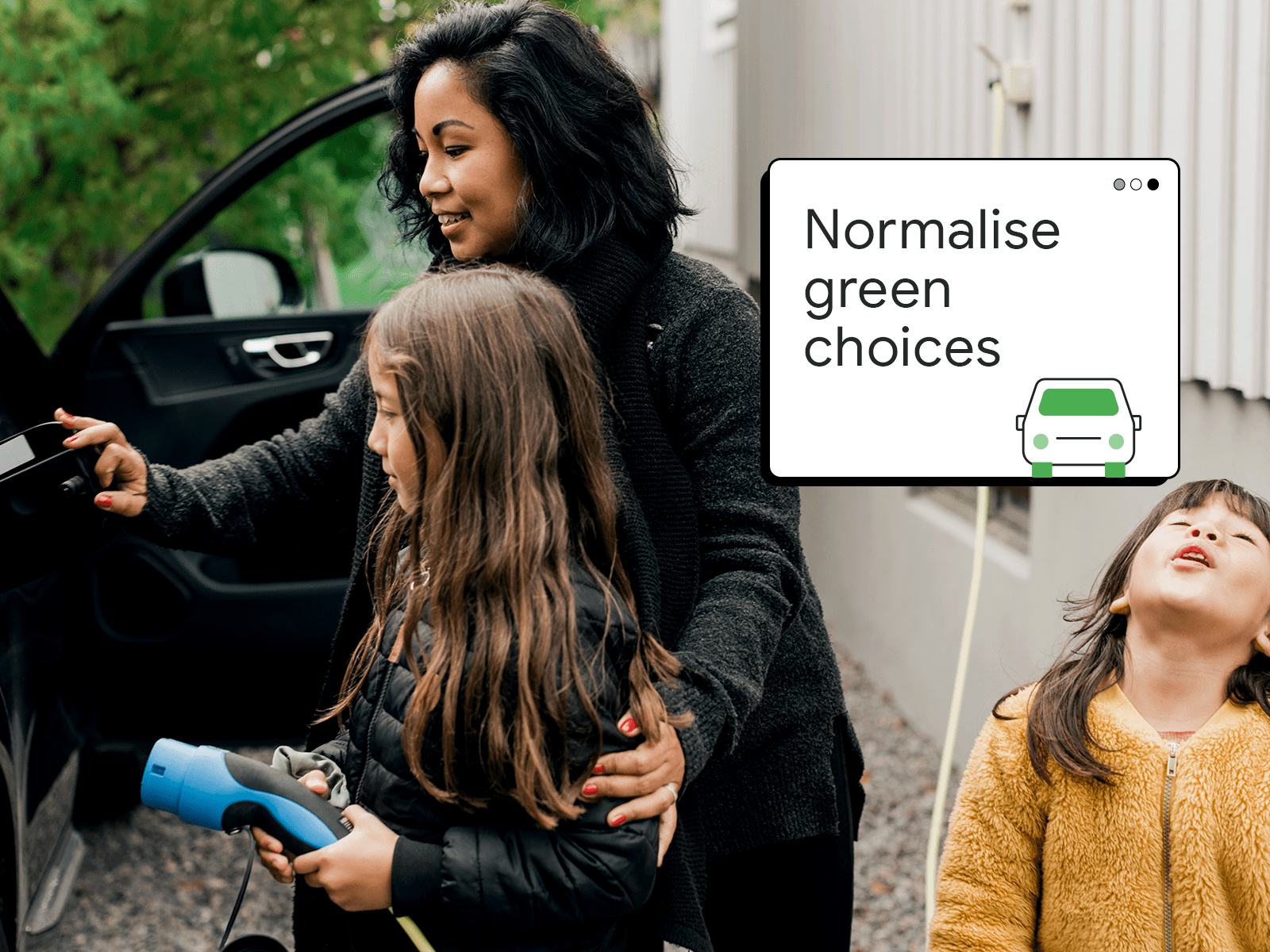 To effectively reflect and promote emerging eco-conscious behaviours, it is important to start having these conversations with creative teams from the outset. Talking about sustainability and aligning on ways to promote it help to embed those values throughout the ideation phase, the team found. Google marketers are now encouraged to think about how their creative concepts align with Google's sustainability goals through questions written into our marketing brief template.
As Project Drawdown pointed out, another way to "walk the walk" and avoid greenwashing is to reduce carbon across marketing operations. That's an ambitious task. But they, along with our team, found effective ways to start moving the needle.
The fundamentals: Reducing carbon emissions across marketing operations
Influencing partners and the public when it comes to sustainability is only half the journey. The day-to-day logistics of reducing carbon across marketing operations are just as important, but how best to apply these practices to creative production and media buying remains an open question.

One way to ensure that marketing campaigns are made sustainably is to limit travel. Teams can shoot on location, as Uber did, instead of flying talent and crews to multiple destinations. The brand's marketing team recognised that to tell their sustainability story externally, they would need to make production choices internally as well, focusing on principles from Ad Net Zero to ensure lower carbon impact.
"I was actually surprised [by] how relatively easy the entire process was, and how the results were large in comparison to the effort," said Charles-Antoine de Leiris, an EMEA-based Ads product marketing manager, of a recent Google Ads campaign that aligned with the recommendations. "We included the ambition to reduce CO2 emissions from content shooting in the brief for the agency as a non-negotiable element of the production, alongside our usual diversity, equity and inclusion (DEI) commitment — but we also engaged the creative agency as a partner in the process, supporting them in finding imaginative solutions."
Creative assets in hand, teams can go on to focus on reducing carbon in their media strategy.
"Through the playbook, we aimed to encourage our marketers to be aware that the media channel mix and weightings we select can make a significant difference to our carbon footprint," said Katharine Sheppey, senior media operations manager at Google's Media Lab, who co-led the playbook development.
"There is still a lot to understand in this space," Sheppey added, "but right now, multiple bodies within the ads industry, including Google, are collaborating on carbon calculators that measure the environmental impact of delivering a paid media campaign. So as well as just creative production, [industry professionals are] also considering the impact of the trafficking, posting, and even audience consumption of ads across multiple channels and platforms." We are actively collaborating with these industry bodies with the aim of establishing shared standards that advertisers can adopt globally.
We believe it's up to all of us to continue to share our approaches to advance sustainable practices in advertising and beyond.
Our team found that editing agency briefs to encourage sustainable options is a great way to identify ways to lessen the carbon impact of production and media planning. To enable Google marketers to make informed decisions about selecting agency partners based on their sustainability expertise, we now systematically inquire about their certifications and encourage consultation with organisations like AdGreen.
One immediate effect of distributing the playbook across teams internally was an enthusiastic turnout to the first of several Google Marketing sustainability training sessions. Throughout these interactive sessions, we encourage attendees to share knowledge learned from vastly different experiences at work, presenting small groups with hypothetical, function-specific scenarios to test their sustainable decision-making.
Given how important this topic is — not just to our industry, but to society at large — we believe it's up to all of us to continue to share our approaches, to learn from one another, and to collaborate across the marketing ecosystem to advance sustainable practices in advertising and beyond. We're all at different places on this journey, but one step forward in the work we do today can lead to change for good tomorrow. We look forward to the progress we will make working with marketers across our teams and the wider industry, sharing knowledge and creating impact together at every step along the way.