Whether it's pressing the 'reset' button or discovering new cultures, travel can be a restorative and inspiring experience. But for many LGBTQ+ travellers, it comes with underlying stresses.
Both during the planning stage and on the trip itself, they can feel forced to hide their authentic selves. Traditional booking touchpoints such as the research phase or checking in at the chosen accommodation — which should be part of the fun — become a source of anxiety.
Amon Versteeg, senior director of business marketing at Booking.com, knows from personal experience what this is like. So he worked closely with his team to introduce the Travel Proud Programme, which helps to make travel a safer, more enjoyable experience for the LGBTQ+ community.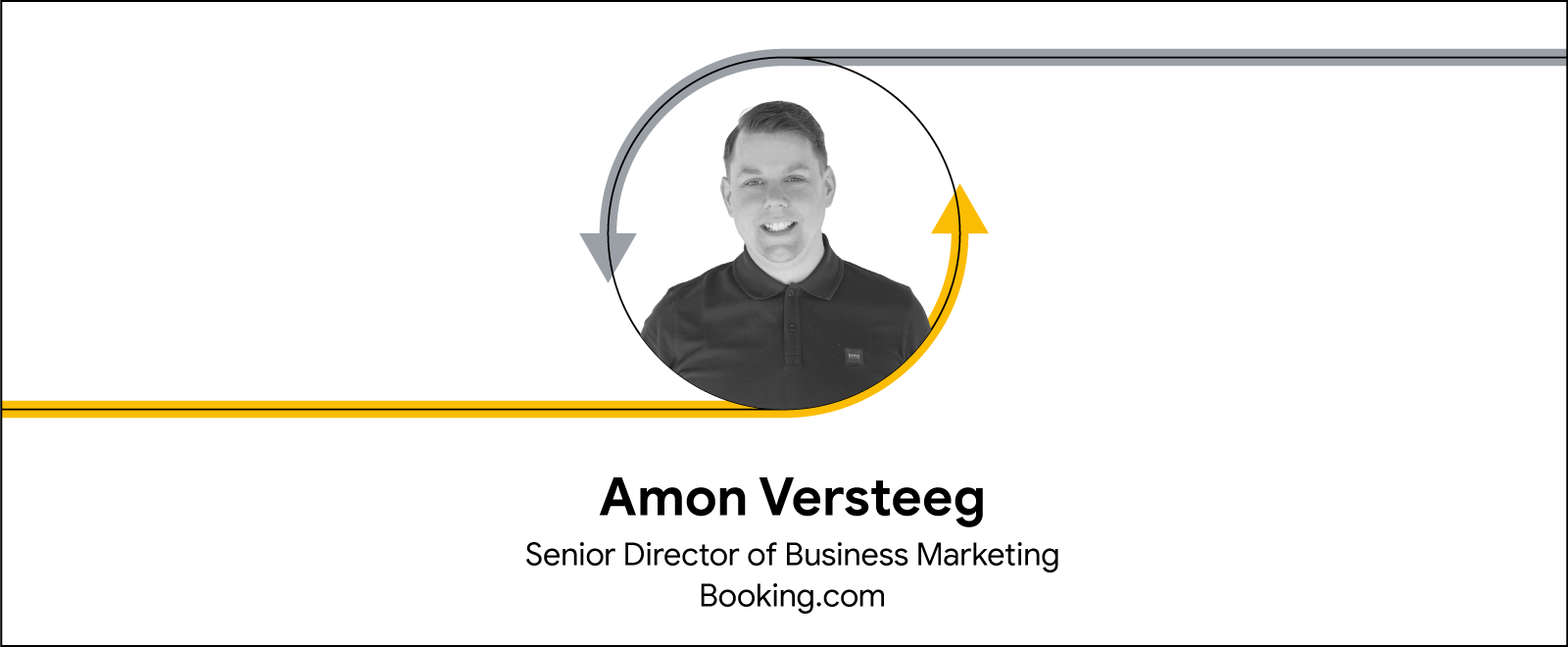 Why LGBTQ+ travel can require a 'detective mindset'
With hospitality defined as 'the friendly and generous reception and entertainment of guests, visitors, or strangers', feeling welcome is an intrinsic part of the customer experience. And when it comes to creating inclusive hospitality, Booking.com's mantra is 'you can't truly experience the world if you only show up as half of yourself'.
This underscores what prompted Travel Proud to be born — ​​a training and certification initiative for the hospitality industry to ensure the LGBTQ+ community can travel safely and experience the full joy of travel, no matter who they love or how they identify.
"The LGBTQ+ community is not accustomed to being 100% themselves. Over time and over history, we've learned to suppress a part of who we are," Versteeg explains.
This means that LGBTQ+ people tend to travel with what Versteeg describes as a 'detective mindset'; constantly searching for clues on whether they will truly be welcome at their chosen destination, even if it is advertised as inclusive tourism.
A survey conducted by Booking.com revealed that more than half of LGBTQ+ travellers have had a less than welcoming travel experience.
Versteeg's 'aha' moment came when he was planning a safari with friends and they found an incredible ecotourism site. He checked an LGBTQ+ inclusive lodging directory, found the lodge on there, and excitedly told his friends.
"My friend didn't understand why this was important, so I explained I didn't want to get to the middle of the safari and find out there would be an issue with my husband and I. My friend then said we'd just have to tell them we were brothers if that happened."
"That's when I realised that it's not innate to everyone to think about this. It still grounds me."
An opportunity to show what welcoming looks like
To better understand the needs of LGBTQ+ travellers, Booking.com conducted a survey to gauge the community's lived experiences. It revealed that more than half of LGBTQ+ travellers have had a less than welcoming travel experience.
This includes situations that are not necessarily intentional, but can make people feel unwelcome or stressed while on holiday. For example, 20% of those surveyed had staff assume they would need separate rooms or beds when checking in as a couple, while one in five have felt the need to change their behaviour — and 16% to change their appearance — to avoid judgement or awkward interactions with accommodation staff or owners.
A word that repeatedly came up throughout the journey – from research through to check-in at accommodation – was 'caution'.
Versteeg's team also identified keywords and feelings from each travel touchpoint. For example, researching where to stay, the actual process of booking (e.g. does the property booking page use gendered or binary terms only), the arrival at the property and their experience during their stay.
The results were striking. "A word that repeatedly came up throughout the journey – from research through to check-in at accommodation – was 'caution'. And it soon became clear that 'safe' means 'good'. And at the end of the journey the emotion is 'relief'," says Versteeg.
"For example, when someone in our trans community is checking into accommodation and they provide identification with a gender different to how they're presenting, this is a huge moment," Versteeg explains. "It's an opportunity for companies to really show what welcoming looks like. Whether it's avoiding gendered pronouns or knowing that it's ok to ask what your guest prefers. That can have a huge impact."
Travel Proud seeks to address this issue. Property owners who host on Booking.com receive coaching from Hospitable Me, who specialise in diversity and inclusion training for the hospitality industry. This guides them on how they can make their venue more inclusive and welcoming to LGBTQ+ travellers, as well as providing tools to grow awareness and understanding. In turn, they will be featured as an inclusive destination on the Booking.com site.
Helping the LGBTQ+ community to Travel Proud
As well as the number of venues that signed up to the programme (10,000 and counting), Versteeg notes how he was pleasantly surprised at the diversity of the properties that are now listed through Travel Proud, from small one-off rural destinations to major venues: "In a short time we already surpassed 10,000 properties achieving the Proud Certified standard in our key focus markets."
Travel Proud is a key part of Booking.com's work to deliver more authentic experiences to travellers. For LGBTQ+ travellers specifically, Versteeg states the need to challenge the meaning of what good travel means. "Ultimately, a good experience should be more than a safe experience. When we hold a mirror up, we ask 'Have we done this for everyone?'."
For other companies wishing to make similar strides, Versteeg advises starting small: "Focus on understanding what would make a difference in your organisation, and then turn it into many small steps. See it as a continuous journey rather than a destination."