Matthieu Pellerin is the founder and head of Google's Growth Lab. His team is responsible for activating Google's crisis response, as well as supporting growth across Google's consumer apps, devices, and business solutions. The team runs more than 1,000 campaigns per quarter. Here he shares how he's thinking about growth in response to the coronavirus outbreak.
My team's mandate is, at the most basic level, to grow Google's brand and business. Growth is part of our DNA and even our name: Growth Lab. But as the world grapples with a global pandemic, growth is not necessarily top of mind for anyone. Our raison d'être continues to be driving responsible and sustainable growth, but we're now operating under a new mantra of "organisational agility."
Over the last four weeks, Growth Lab has played an important role in Google's global response to the unfolding coronavirus pandemic. We've had to rapidly change focus, reprioritise, and remain resilient. I know many of you are grappling with the same challenges, and it has not been easy. But the more agile we can be, the better we can address our users' needs and deliver helpful information and experiences. I certainly don't have all the answers, but I wanted to share three changes we've made as a team that embody this new mantra. I hope they're helpful to businesses also trying to respond quickly to uncertainty while operating 24/7.
Prioritise your marketing content ruthlessly and often
As the scale and severity of the pandemic became clear, we realised that we had to revise our 2020 marketing plans and shift priorities and resources. We went through a "stop, start, continue" exercise: Stop any marketing activity that wasn't mission critical; start any COVID-19 related work; and continue any crucial work as normal.
Our messaging needs to adapt accordingly and reflect the pandemic's impact in a certain setting.
Now we're only planning in one-week windows. We readjust these plans regularly and continue to switch resources as needed. Our key product priorities are shifting at lightning speed. While people's need for Google Maps is down, for example, usage of Google Classroom has grown. Our marketing messaging needs to adapt accordingly and reflect the pandemic's impact in a certain setting. The same is true of how we're approaching different markets, with prioritisation roughly following the spread of COVID-19. Often we've had to jump from Plan A to Plan B, before switching and launching Plan C — all in the space of an hour.
Adapt business communications and program management
We quickly realised that our normal business communication processes, though very effective in normal circumstances, needed to be adapted. Our systems surrounding approvals, deployments, and launches simply weren't built for this level of strain and pace.
Given how rapidly the situation is evolving, experiments done two weeks ago are likely no longer accurate or meaningful.
For instance, while we're normally big proponents of testing (not guessing!), we've significantly reduced the number of campaign experiments we're running. We typically see 2.5X more impact from campaigns that started with an experiment versus those that didn't.1 But given how rapidly the situation is evolving, experiments done two weeks ago are likely no longer accurate or meaningful. Instead, I'm trusting and empowering the team to take responsibility and get critical messages out to as many people as possible, as quickly as possible.
Given that shift, alignment with business communications is crucial. We're overcommunicating, being overly transparent, and checking in with an even broader network of stakeholders than normal. We've built a centralised platform of shared learnings, insights, and best practices that everyone in the company can access. For key projects, virtual teams now meet daily. And we've consolidated over 20 trackers to coordinate our global teams to a single source of truth.
Shift campaigns rapidly to mirror users' ever-evolving needs
As the situation continues to evolve, we, like many of you, are striving to find ways to be helpful during the coronavirus pandemic. We know that brands have a role to play. But now is not the time for self-promotion or upselling. Our guiding light in all this is to ensure we're addressing the needs of our users. And we've shifted our campaigns accordingly.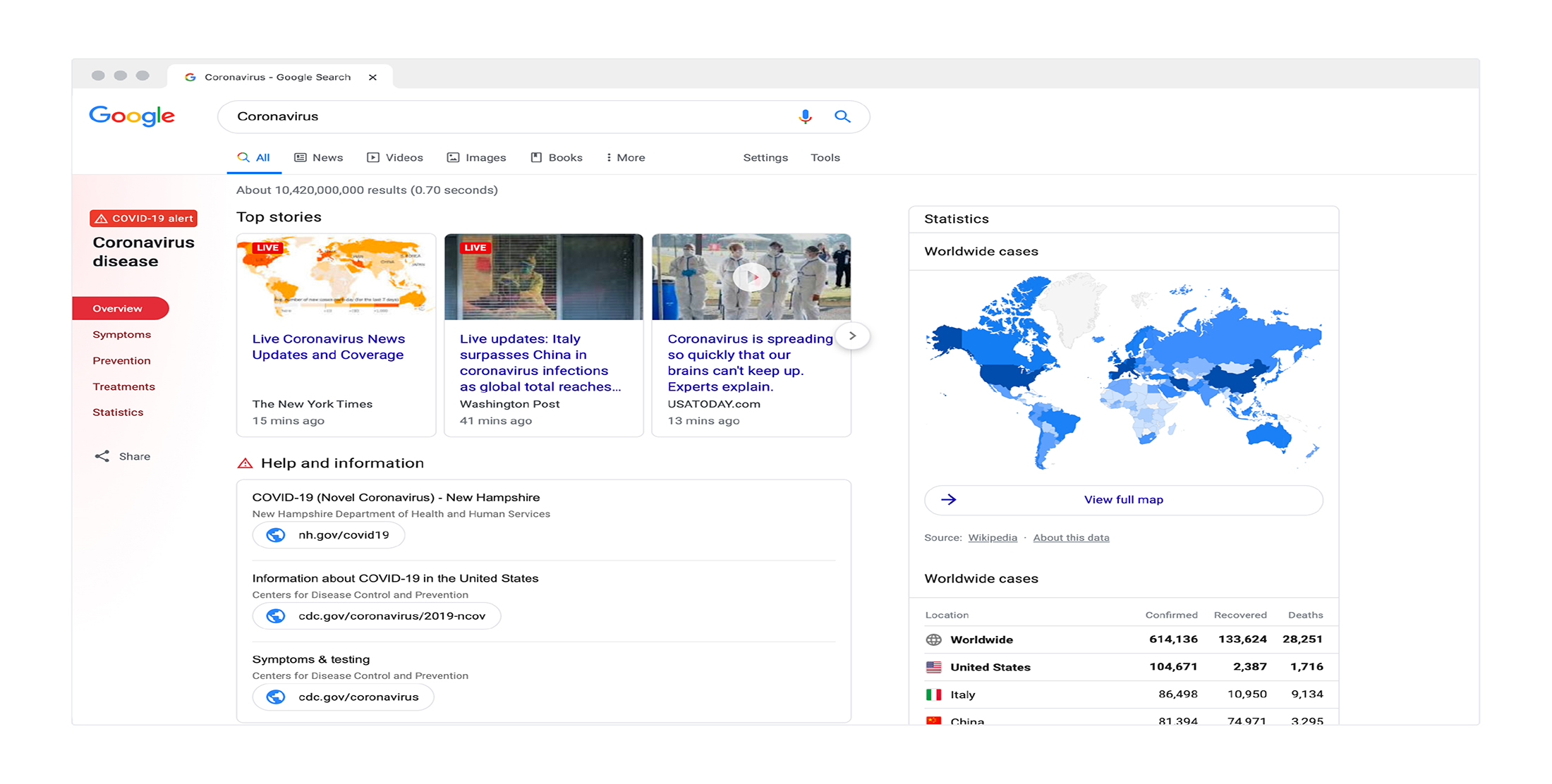 First, we're helping people stay informed. For 21 years, Google's mission has been to organise the world's information and make it universally accessible and useful. Right now, this means helping people find the useful, authoritative information they need to stay healthy. So far, we've launched the "Do The Five" public service announcement in partnership with the World Health Organization and local public health institutes on the Google homepage in 50 countries and counting, while surfacing the COVID-19 Search result page as well as the latest news coverage in the Google News daily briefing emails.
We're also helping people find the resources they need. Whether you're an employee working remotely for the first time, an educator trying to teach from home, or a parent with children at home, Google has resources available. We've optimised this content to ensure users can find it in search and are surfacing these free resources on the Google homepage.
This is a challenging time for all of us. Embracing organisational agility and changing the way businesses communicate hasn't been easy, but few things worth doing are. My hope is that the pivots we're making now — and the way they're allowing us to better support our users, communities, partners, and customers — will help us to weather this pandemic and emerge stronger in the future. Yes, in the short term, much of what we're doing may not immediately impact the bottom line. But the foundation we're shoring up and building upon will ensure we continue to drive responsible and sustainable growth in the long run.