Digital media agency Merkle is on the front lines of the shifting online privacy landscape. Merkle's Patrick Hounsell offers tips on how to be a responsible — and more effective — digital marketer.
In the last few months, I spent time catching up with colleagues, clients, and partners about the things that are top of mind for them in digital marketing. One word kept coming up — privacy.
But it's not just marketers who've expressed an interest in privacy. On the heels of the General Data Protection Regulation (GDPR) in Europe, a number of U.S. state legislatures are considering new privacy laws. And calls for a federal law grow with each passing day.
Technology platforms are taking their own approach to privacy. Both the Safari and Firefox web browsers have introduced new restrictions on third-party cookies, which impact ads personalization and conversion tracking.
Real-world impact
As a digital media agency, Merkle has seen firsthand how the actions of regulators and technology companies are affecting our clients and the rest of the digital ads ecosystem.
For example, once we segmented the campaign data for one of our retail clients by browser, we estimate that they would have lost the ability to track half of their online conversions had we not switched to a sitewide first-party tag before the changes to Safari and Firefox restricted third-party cookies.
Our publishing partners are also concerned about the changes happening to the ads ecosystem. While they recognize it's important to obtain consent before collecting and using people's data, they worry that, in an ever-evolving regulatory landscape, they'll miss something and face both reputational and financial consequences. On top of this, browser changes to limit third-party cookies have cut into ad revenue for publishers. Advertisers generally pay less for impressions that can't be personalized with the help of third-party cookies, so the value of ads on publishers' websites declines, putting pressure on their profitability.
Be wary of workarounds
Certain ad tech providers are reacting to the cookie restrictions on browsers by employing alternative approaches to personalize ads and measure conversions. Our teams have had the chance to evaluate some of these proposed workarounds. Take fingerprinting, which combines information about someone's browser or device (everything from IP address, screen resolution, and installed fonts) to track an individual user without consent. We don't feel that brands should be associated with this kind of tactic, since it doesn't respect people's right to know what data is being collected about them. Imagine the potential reputational damage for a brand if it were exposed for using this technique.
A smart approach
We can do a better job of creating an ecosystem that works for everyone. Users should be able to access free, ad-supported content in full faith that their online privacy will be respected. Publishers should get fair compensation for their work. And marketers should be able to connect with people who are interested in what they have to offer.
To balance data-driven marketing and privacy, digital marketers everywhere need to: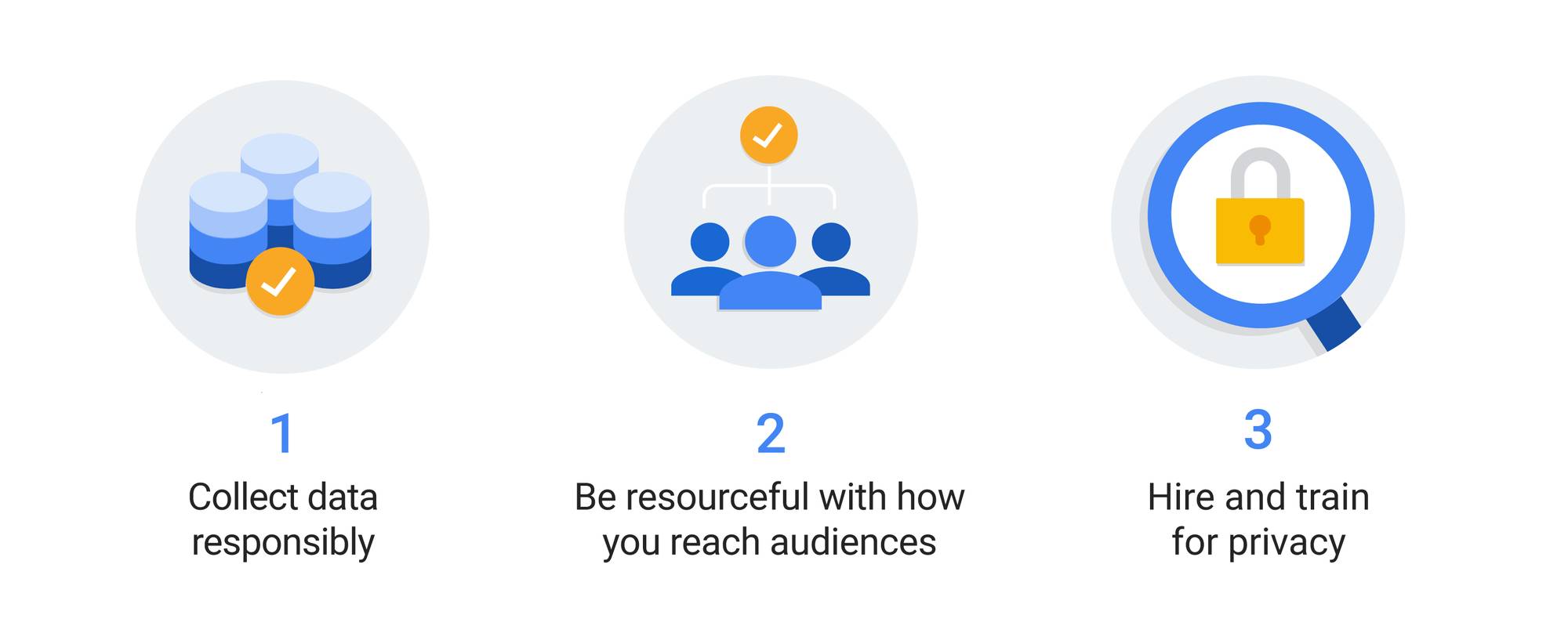 As an important step toward building a more sustainable ads ecosystem, digital marketers everywhere need to take up the mantle. They need to:
Collect data responsibly. Move to a first-party measurement system if you haven't already. Ask for consent directly from your users to collect and use their data, and avoid any solutions that aren't compatible with people's expectations for privacy.
Be resourceful with how you reach audiences. Place ads with publishers who've built a consent-driven, first-party relationship with their users. And if audience signals are restricted because of cookie limitations, use the context of the ad to tailor your message instead.
Hire and train for privacy. Build a team or partner with agencies who are well-versed in regulatory requirements and have experience with responsible marketing approaches, like first-party data collection and cloud-based measurement. Train your teams to be thoughtful about their analyses and recognize when to segment reporting by browser and operating system to draw conclusions about your marketing.
To get this right, privacy can't just be the responsibility of one executive or department. Take the example of another one of our clients, a media company that knew it needed to make some big decisions fast when it came to managing its customer data. The company formed a committee of cross-functional executives who met regularly to evaluate privacy-related topics, such as policy updates, consent experiences, and data security. This vastly improved the speed and rigor by which the company addresses these challenges. We have to support a strong approach to privacy together — which requires everyone having a role to play in making change happen.