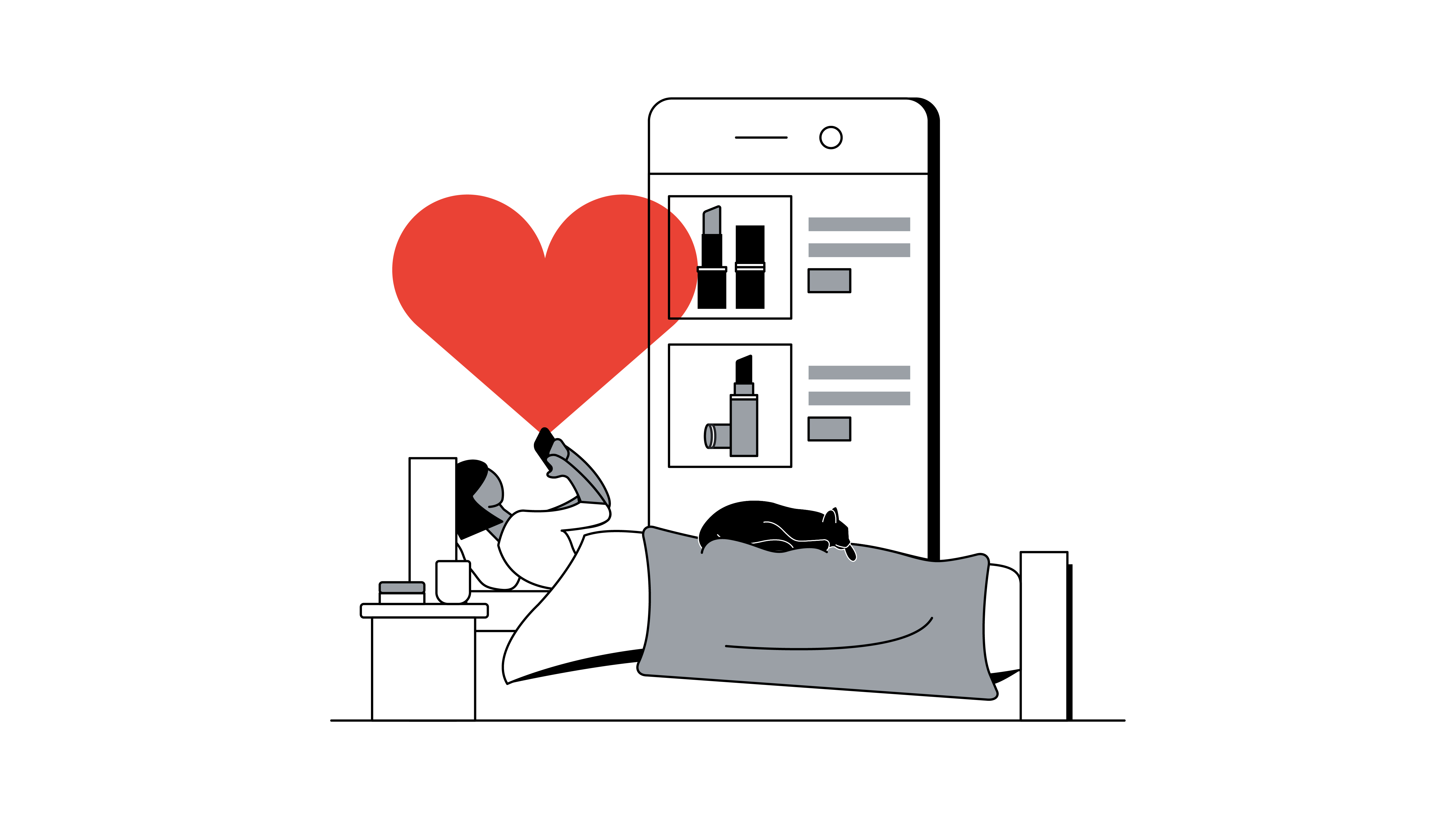 The best mobile apps are like a love interest or romantic partner. They capture your attention and keep you interested. It's a strange comparison, but it rings true.
At Google, we're constantly examining our relationship with technology, including apps. We love delving into research to understand what makes apps so intrinsically attractive to shoppers. We recently enlisted a team of researchers and behavioural economists to take a closer look at mobile apps. We wanted to understand what makes people enjoy snuggling up with their favourite apps. And we wanted to learn how retailers can design apps that win over hearts and minds. Here's what we found:
The physical intimacy of apps: Snuggling on the sofa

Rob Collier: "There's an intimacy involved when you use an app. You can snuggle up with your favourite retailer on the sofa, with products mere inches from your nose. With apps, we are more physically engaged and, therefore, have a better experience and form stronger associations.
"On desktop, you are further back and most likely sat at your desk. It's functional, and that emotional closeness is lost. At a desk, everything feels like work. For these reasons, apps have become the best vehicle for shopping. It's a comfortable experience. People are more willing to spend on an app too. A recent survey we conducted with Google showed shoppers spend 31% more, on average, when they use a brand's app and website, compared to those who only use the brand's website.1
"Apps can also make your brand more physically available; it's literally in your pocket. It's not just that you think of a particular retailer more often because you have the app, you actually stop thinking about other competitors.
"If a person sees an app as vital, they also feel an increased level of loyalty towards the brand, and Net Promoter Score (NPS) takes a significant jump, indicating people are likely to recommend the app to their friends and family.2 But it's not so easy to get users this committed. Having a similar competitor app is one of the top reasons for disengaging — nearly half of those who disengaged said they have another app that serves a similar purpose."3
At your fingertips: Swiping brings a sense of closeness

Nick Southgate: "Apps allow us to do things in a more natural way that is closer to the human experience. Swiping is a better experience than tapping or clicking because it replicates the physical experience of putting clothes in a pile to try on, or moving money from one place to another. If you want something to go away on your screen, you make it go away with a swipe. We enjoy throwing things to one side. It gives us a sense of satisfaction. Conversely, when you swipe something into a cart, it's like you've sorted out the shape of the world.
"Interacting with an app is something that you do rather than perform. People often intrinsically know how to use an app, but we don't always know how to use something on a desktop. Using a web browser on a computer is like a technical skill.
"Touch devices and apps have been successful because swiping reintroduces a sense of space and presence. With apps, we are more physically engaged and, therefore, have a better experience and form more coherent memories and stronger associations.
"In behavioural terms, you have two choices with anything you design: You can try to make people more like the device. Or you can make the device more like people. On a computer, people have to shape their behaviour to the machine, but a smartphone works intuitively."
Dating and relationships: Getting customers to commit to your app

Sara Ruiz Ware: "Selecting and committing to an app is a bit like dating. When you try out an app for the first time, it's like a first date. The brand has to put on a good outfit, throw on some cologne, and woo the customer. This comes from advertising and a good campaign, and also comes from an excellent user experience.
"Not every app download leads to a happy customer relationship. People often download apps, try them, and then delete them. Sometimes, it's not a good user experience or the brand simply doesn't deliver the products a person is looking for.
"You can also find brands sending email after email in the wake of a download or purchase. After a few weeks of these emails, a person will think, 'I'm done.' It's similar to going on a decent first date, but then you don't want the person contacting you all the time.
"Smart brands have to strike a balance with their apps: understand the user enough to give them what they need, but don't overwhelm them. The best retail apps offer a great user experience, a strong selection of products, and then continuously adapt to serve their customer's needs. They make transactions easy, which builds trust. Over time, they can start predicting what a customer wants before they even know it. Then — boom — a customer can find themselves in a committed app relationship."
Considerations to get your customers to commit
Remember it's a fine line between being helpful and overwhelming. Don't push your customers away by over-communicating.
Advanced features can help your customers feel closer to your brand: customer service chat, user reviews in app, order tracking, and the ability to create wish lists or tag favourite items — all of these features make for happy, returning customers.
Update your app regularly with new features, offers, and improved security, and communicate these updates to users. It demonstrates that your brand cares about serving them, and it encourages customers to come back.
With so many apps competing for space in the hearts and minds of consumers, marketers should continuously challenge themselves to think, 'what next?' Then look to address those fundamental consumer needs in smarter, slicker ways.