We're living in the era of mobile action. People expect to be able to search, browse and purchase using their devices, but too many mobile experiences still lag behind. Learn how to boost revenue by placing customers' needs at the centre of your mobile strategy.
Mobile devices have become personal assistants that over 3 billion of us can access at any time. The mobile revolution has brought with it a sea change in consumer behaviour. People no longer use their smartphones to simply access information — they use their devices for action. From ordering a pizza to researching and buying their next big online purchase, people expect things to happen when they're on the move.
In this mobile-first world — where more than half of web traffic comes from mobile1 — businesses either respond to customer needs and adapt strategies or get left behind. Brands that are capturing mobile conversions understand that people interact with mobile differently and a carbon copy of a desktop site isn't the solution. To succeed online businesses have to put customers at the heart of their mobile strategy.
The mobile need for speed
A seamless mobile experience requires a good Internet connection. Most mobile sites are tested in controlled environments that don't live up to real world poor connections, outside of built-up urban areas. For example, in Poland — where 40% of the population lives in rural areas — 4G availability is 72.8% and its average mobile download speed is 20.17 mbps. In Belarus average downloads come in at 14.02 mbps and there's 67.9% 4G availability2.
Slow mobile sites are frustrating and people that struggle will leave. 53% of mobile users will abandon a site that takes three seconds to load3. On average, it takes 15 seconds for a mobile site to load — that's 12 seconds too long4. A deep neural network was used to measure the impact of speed on abandon rates and revealed that bounce rates increase by 123% as load time goes from one second to 105.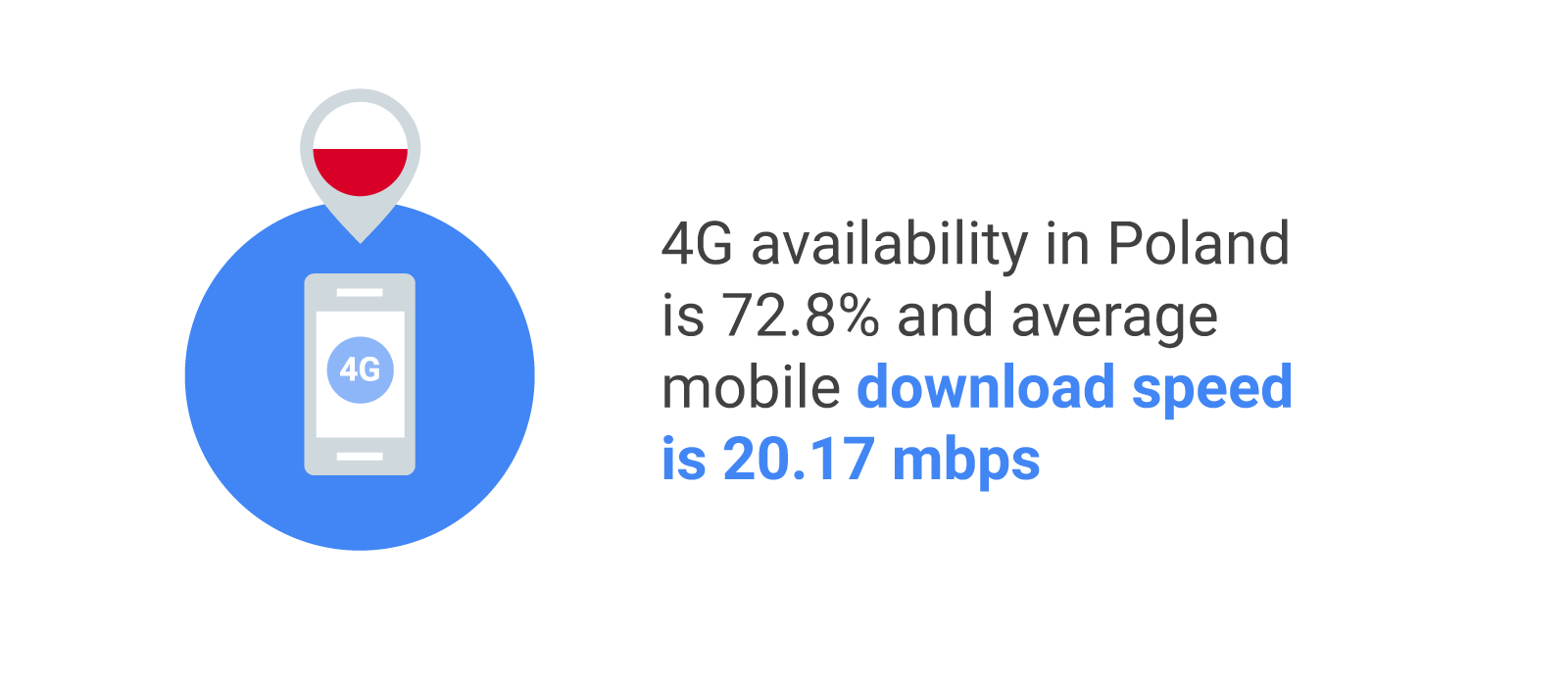 And abandon rates have a real impact on the bottom line — 62% of people are less likely to buy from a brand if they have a poor mobile experience6.
While marketers tend to focus on a campaign's creative aspects, the technical functionality of landing pages is all too often neglected. The reality is that people prefer an average looking mobile site that works, than a mobile site that looks pretty but is bloated and slow.
Improving load times
Less is more, especially when it comes to mobile. By simply reducing the amount and size of images, businesses can boost mobile load times.
Gather the team of designers and developers to carry out an audit of your site's images. First, ask whether all of the images are absolutely necessary. By prioritising and removing unnecessary images you can drastically reduce your mobile's load times.
Now it's time to think about format. Image format can help reduce size and by using WebP you can reduce JPEG compression by 30% for photographic images. Use JPEG for photos with no transparency, PNG for transparent backgrounds and SVG for icons and shapes.
Once you have removed any unnecessary images and chosen an appropriate format, it's time to compress. Compression can have the largest impact on load times and can be automated by running a script.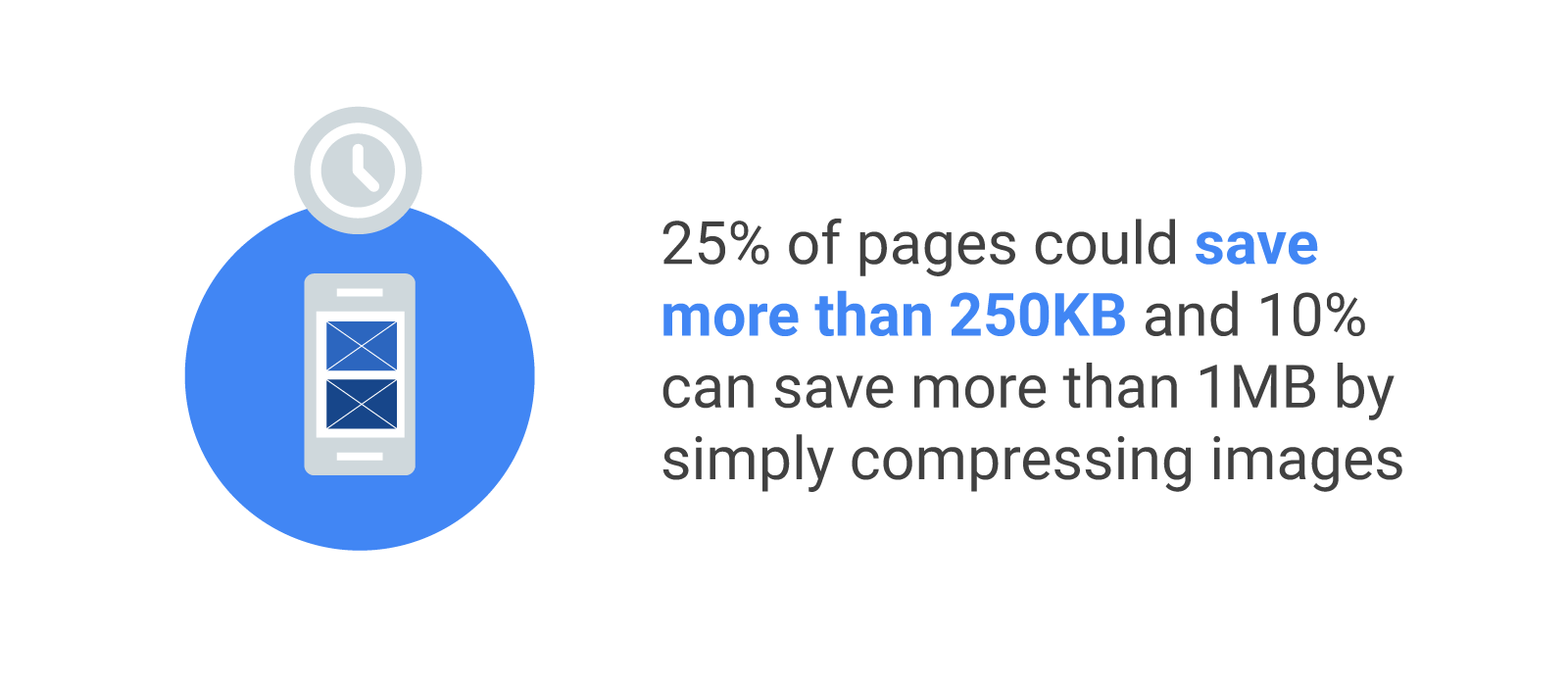 Push your developers further by asking them to use loading techniques that serve different versions of the same image based on the visitor's device and quality of their Internet connection. Lazy loading will also prioritise the loading of above the fold images so visitors will immediately see the image at the top of the page, while below the fold are loaded when needed. Render blocking elements, like scripts, stylesheets, and HTML imports can severely slow down the page load time.
One innovative solution is to use AMP. These ready-made and optimised mobile solutions are open source and have average load speeds of under one second. AMPs are served from Google cache which means there are always served from the nearest geographical location. The technology comes with easily customisable components that look beautiful and ensure mobile sites load quickly.
See how your mobile site is doing with Test My Site and use Page Speed Insights to find out what's holding you back and how to overcome any issues.  
Put people at the heart of the strategy
Empathy goes a long way in marketing and mobile is no exception. Meet customer expectations on mobile by putting yourself in their shoes.
In a world where people are using mobile for action, designers and developers need to build mobile-first sites. Check how easy it is to navigate and find pages or products on your mobile site and if large amounts of text and calls to action are appropriate for smaller screens.
People use their smartphones on the go which means poor connections and small screens can impact experience. Make sure that your team is constantly testing the mobile site beyond the confines of a controlled environment and experiencing it for themselves. Use Device Mode when building or testing new mobile features, this tool makes it easier to see how changes will look in the real world and across mobile devices.
Use Google Analytics to discover your most popular pages and improve these first. Then run A/B with Google Optimize to see what works best.
When people are ready to make a purchase on mobile they want a fast and frictionless payment process. 69% of people will abandon a site if there are too many steps involved in the purchase process and brands can increase conversions by over 35% with simpler and smoother solutions7.
On mobile people don't have the time or patience to fill in forms and payment details. Google Autocomplete Address Form automatically fills out customer details and Google Pay allows customers to remain logged in and pay with just a few clicks.
Mobile-first experiences
A mobile site shouldn't be an afterthought or a copy of the desktop version. The power of Progressive Web Apps (PWA) delivers the engagement of native apps to mobile site experiences.
PWAs can function even with poor connections which means that users will be able to access, search and shop without interruption. You can implement engaging, attractive app-like features like push notifications, add to Homescreen and Full Screen Mode, providing users a native app experience. PWAs have the added benefit of being published in Google Play store as a Trusted Web Activity.
The need for mobile-first thinking is clear. Modern customers expect a fast and seamless experience. Start today by working across teams to ensure that mobile speed and UX is a priority for your business. Marketing teams should be measuring mobile performance and optimise accordingly, while designers and developers need to work closer together to build better solutions.