Companies can't afford to take a vacation when it comes to delivering great customer experiences. David Baekholm, senior VP of growth marketing at HomeAway, shares what his brand learned not to do in order to drive growth.
We operate in a crowded, competitive market, where most companies are vying for a similar audience. HomeAway is a vacation rental company owned by the Expedia Group with more than two million property listings across 190 countries. When thinking about how we could stand out, we saw an opportunity to compete on the ways people experience travel.
Given technology's constant influence on consumer behaviour, and people's reliance on smartphones and search to find what they need, we decided to create personalised customer experiences for today's shopper based on individual intent. These experiences would be customised, relevant and seamless.
On paper, this sounds easy. But it wasn't. We had a lot of foundational problems we needed to fix first. For example, our mobile experience wasn't optimised, and many of our campaigns weren't profitable, even though they were budgeted for. In short, we weren't at a great starting place. 
We decided to approach the problem backwards. We looked at what wasn't working to determine what would. This approach taught us a lot – and delivered strong results. Here are three customer experience strategies we learned the hard way that helped us drive growth.
1. Don't start out trying to define success
Success is subjective. It means different things to different people, and my team struggled to come to a consensus. What's less subjective is failure – that was something we could all agree on. So the first thing we did was think about what our customers definitely don't want from digital experiences. They don't want irrelevant landing pages. Or annoying ads. Or a cumbersome checkout process.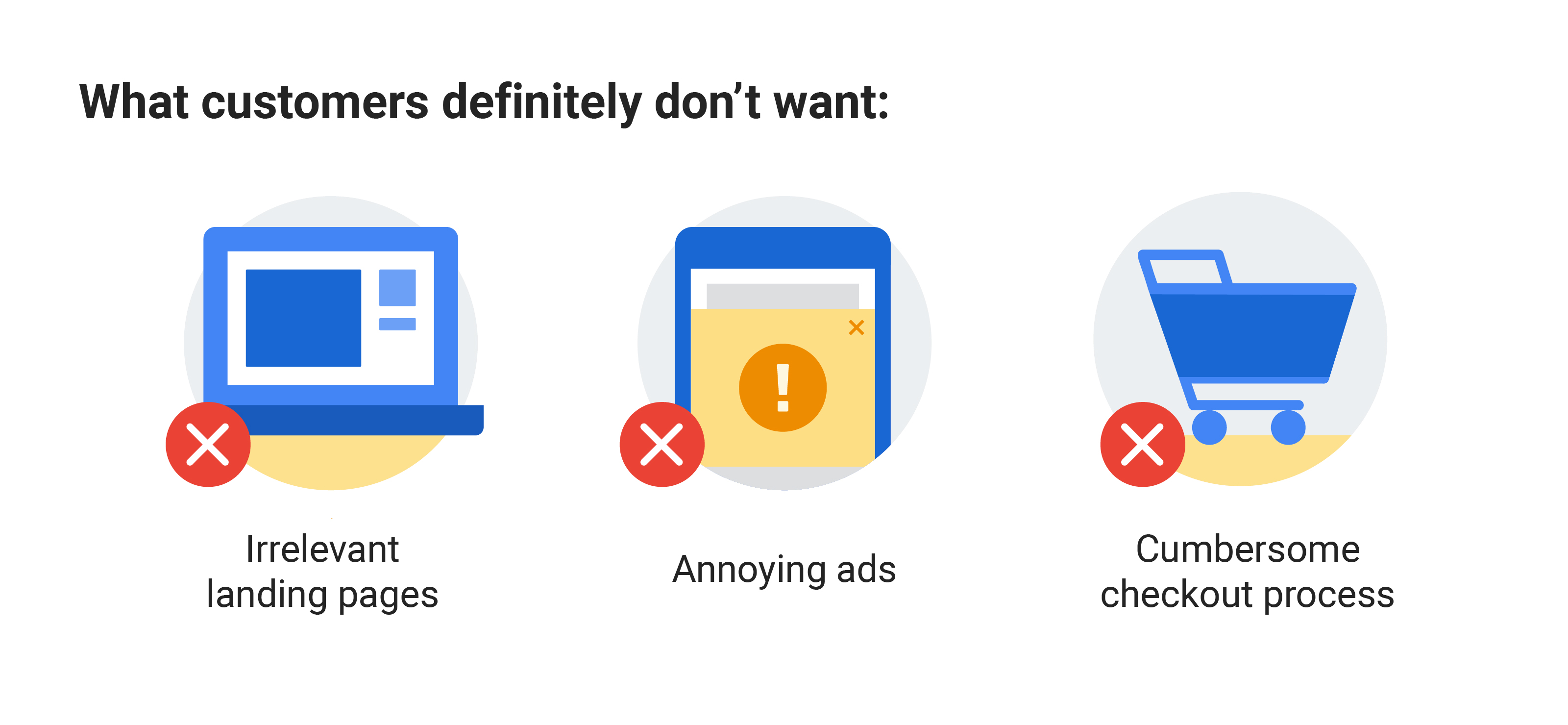 To ensure that every interaction with our customers was exceptional, we needed to understand consumer intent and act on it in real time. Only then could we be consistently useful and relevant, and create value for our customers.
We knew that customers hated landing pages that took forever to load, so we  improved our page load times to less than one second. We also increased the relevance of landing pages to be more specific by destination and property type. Because we know if you're keen for a beach holiday you don't want advice about neighbourhoods in Nebraska. Finally, we implemented Google SmartLock, which takes the hassle out of having to log in each time you visit the site.
2. Don't rely on media metrics
We don't waste our time measuring visits, cost per clicks or average positions. These numbers alone don't help us grow. Instead, we measure our success via Tracked Performance and True Performance.

Tracked Performance is a basic attribution set that lets us see when someone comes to the site and converts. It's what finance teams typically care about. True Performance helps us factor in things like customer lifetime value (CLV), search performance and app downloads. It enables us to make long-term strategic decisions about what's working well from a marketing perspective.
True Performance helps us identify valuable customer interactions, and then optimise media, assets and messaging against those. For example, if we know people who book via our app have higher CLV, then we can use this insight to fuel our marketing campaigns and reach people who are more likely to download the app. This doesn't always mean conversion, of course, but when someone has downloaded the app, we have the opportunity to nurture them.
The most significant benefit of True Performance is that it doesn't measure last-click attribution. Prior to introducing this metric, we were misattributing a significant amount of our clicks. Now, we're heading toward data-driven attribution, which helps us understand the intent, interactions and signals that are driving long-term growth.
3. Don't hoard your data
To make the best decisions about and for your customers you need to know what they're doing today – not three months ago. Thanks to technology, it's now possible to have dynamic conversations with customers in real time. By identifying customer behaviour signals (through your website, app or other channels) you can start to get a clear understanding of what kind of behaviours correlate with likeliness to convert, either now or in the future. This information should drive your bidding decisions and creative strategy.
At HomeAway, all our segmentation is now based on real-time behaviours. If someone comes to our site, for example, we can say, "That person behaves exactly like someone who is going to convert in two weeks' time." We then know what types of content and messaging might be useful for this person so we can keep them engaged until they're ready to buy.
To do this, we're leaning into automation and machine learning. It would be impossible to segment and reach our audiences effectively without this technology.
We've not only become better at finding the right customers, we're now also really good at not spending money on the wrong customers.
One thing automation has helped us get right is who sees our ads. We've not only become better at finding the right customers, we're now also really good at not spending money on the wrong customers.
How our personalised customer experience strategy paid off
Our goal was to redefine our marketing strategy so we could be smarter about understanding and reaching high-value customers. We knew that getting this right would ultimately impact our bottom line and drive business growth. And we're happy with the outcome. In 2017, our gross bookings grew by 46% year over year and revenue grew by 115% year over year. After those results, I think we all deserve a holiday.