Google Trends shows an ever growing number of Czechs are using mobile devices to search for financial services and products — revealing opportunities for the industry to reach more online customers with quality mobile experiences.
We use our phones for everything, from ordering pizza to booking flights, or even researching important financial decisions. We're no longer witnessing the shift to mobile — we're living it. In this mobile-first world we use moments that matter — standing in line at the supermarket or during the commute home — to shop and research bigger decisions.
The latest Search data from Google Trends in the Czech Republic confirms this mobile behavioural shift for the financial industry and underpins the value of providing consumers with seamless mobile experiences.
The latest Search data from Google Trends in the Czech Republic confirms the behavioural shift to mobile in the financial industry
"Our data shows the importance of the online and mobile search for financial products. 34% of selected banking-related products and services in the Czech Republic came from smartphones in 2017," says Marie Krátká, Agency Business Manager, Google.
Financial services were traditionally considered offline. Consumer uncertainties surrounding mobile technology and online privacy, meant that people opted to go to physical locations for advice, services and products. But things have changed.
Advances in mobile technology have contributed to cultural and behavioural shifts that have propelled mobile searches for financial services and products. And mobile is playing an increasingly important role in the Czech Republic. It's the one device that showed Year on Year growth for the financial sector in all 4 quarters with 27% in Q1, 22% in Q2, 27% in Q3, and 17% in Q4.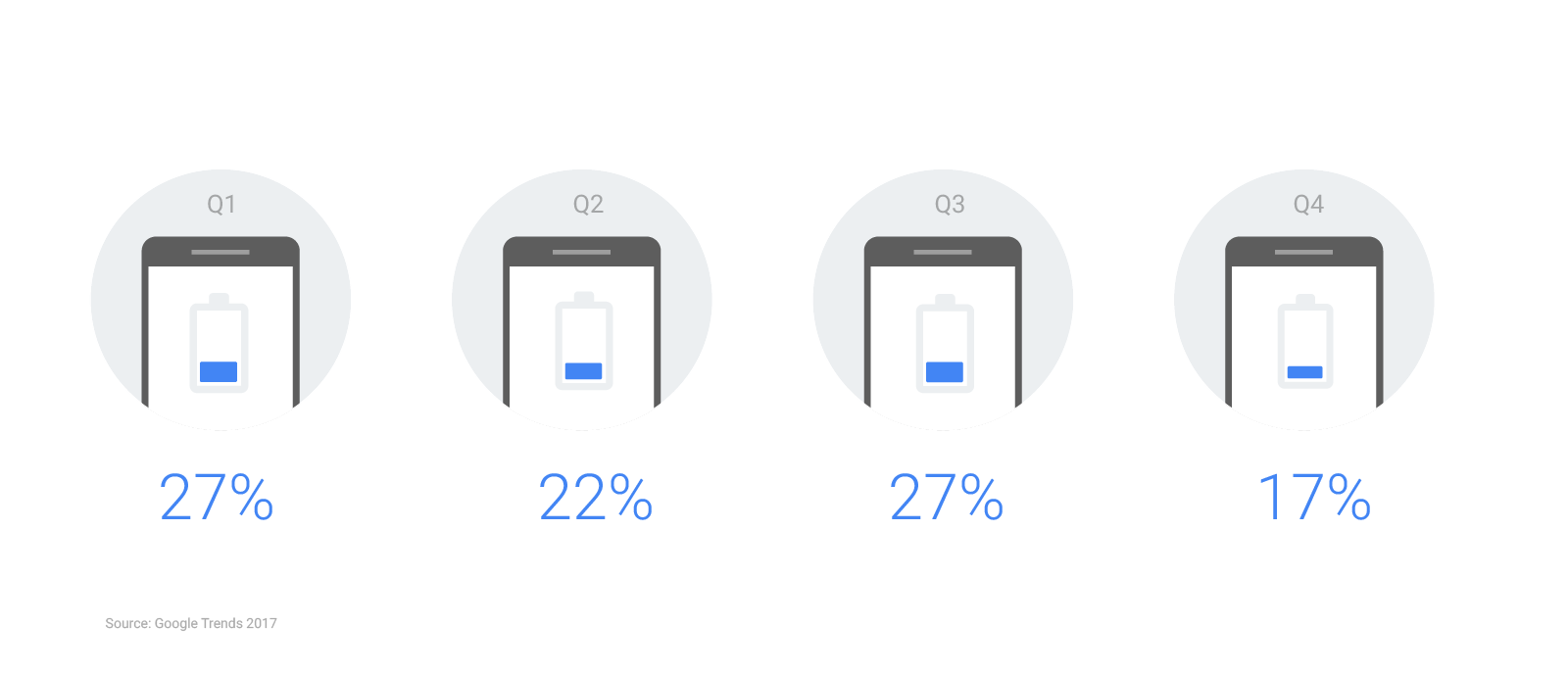 "Online banking", "credit cards", and "unsecured credit and lending" made up the majority of online searches for the financial sector in the Czech Republic during 2017.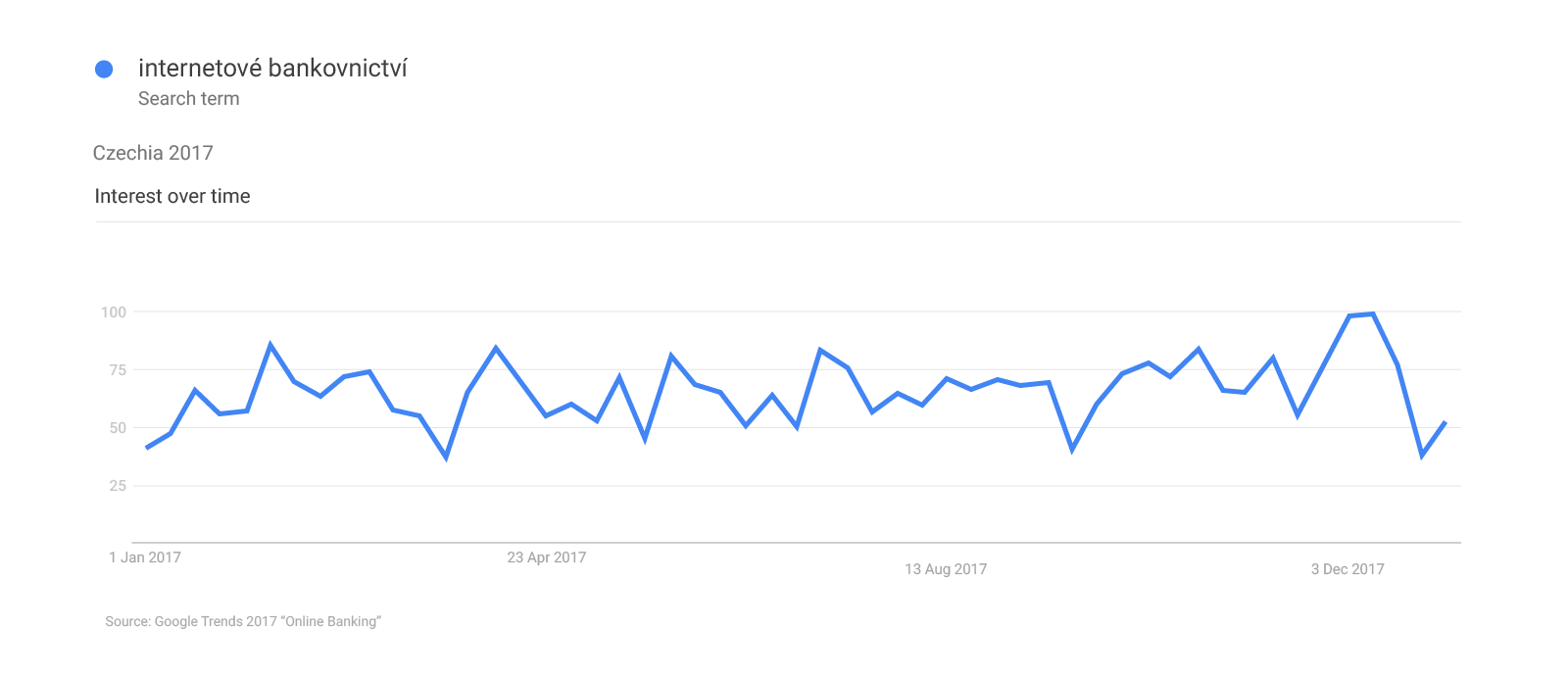 September and October saw the overall peaks of the year. Other significant searches included "home loans" and "mortgages", "savings accounts", "personal lending and borrowing", and "auto financing" — suggesting an upturn of interest in consumer lending.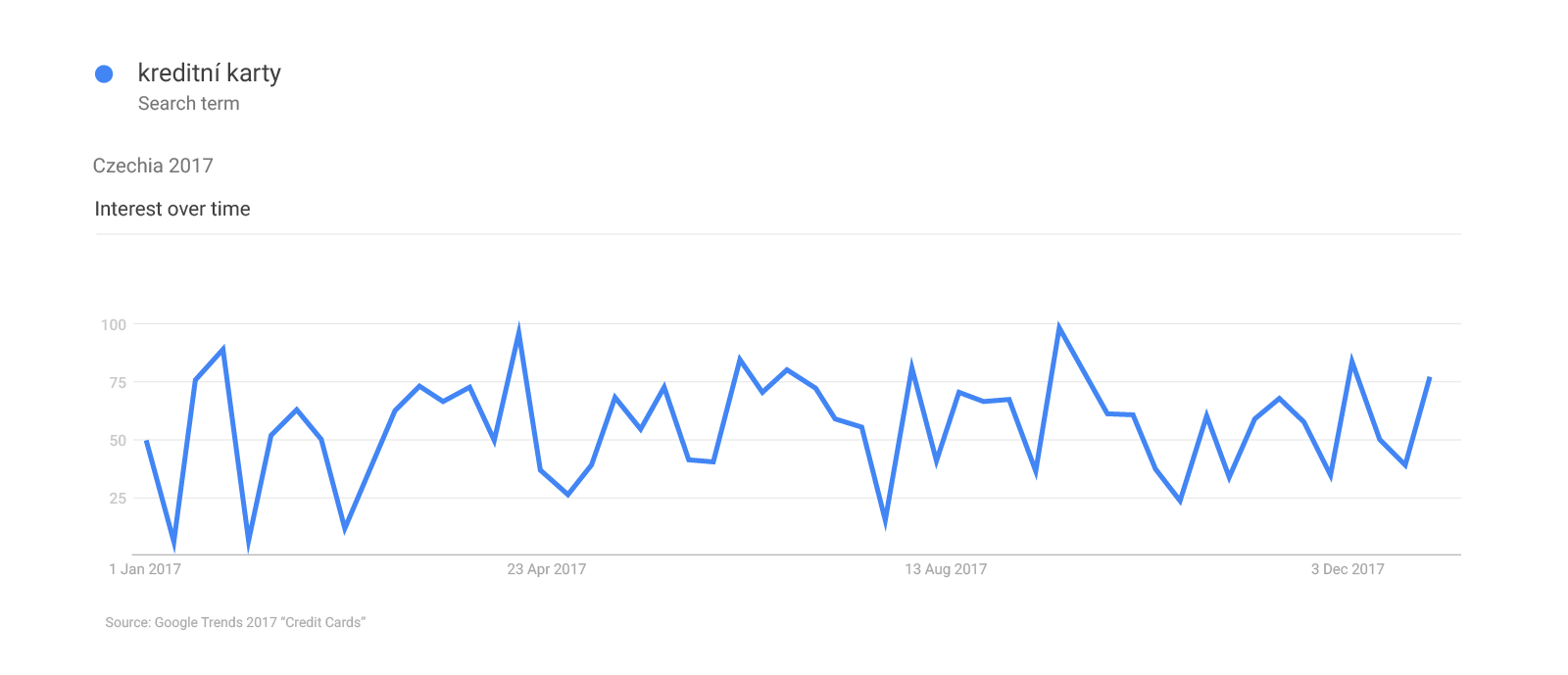 "When it comes to the separate categories, we can see that almost half of the searches (49%) were related to loans, 41% of the searches were related to personal loans, and 38% of the searches were related to mobile banking and came from a mobile device," says Krátká.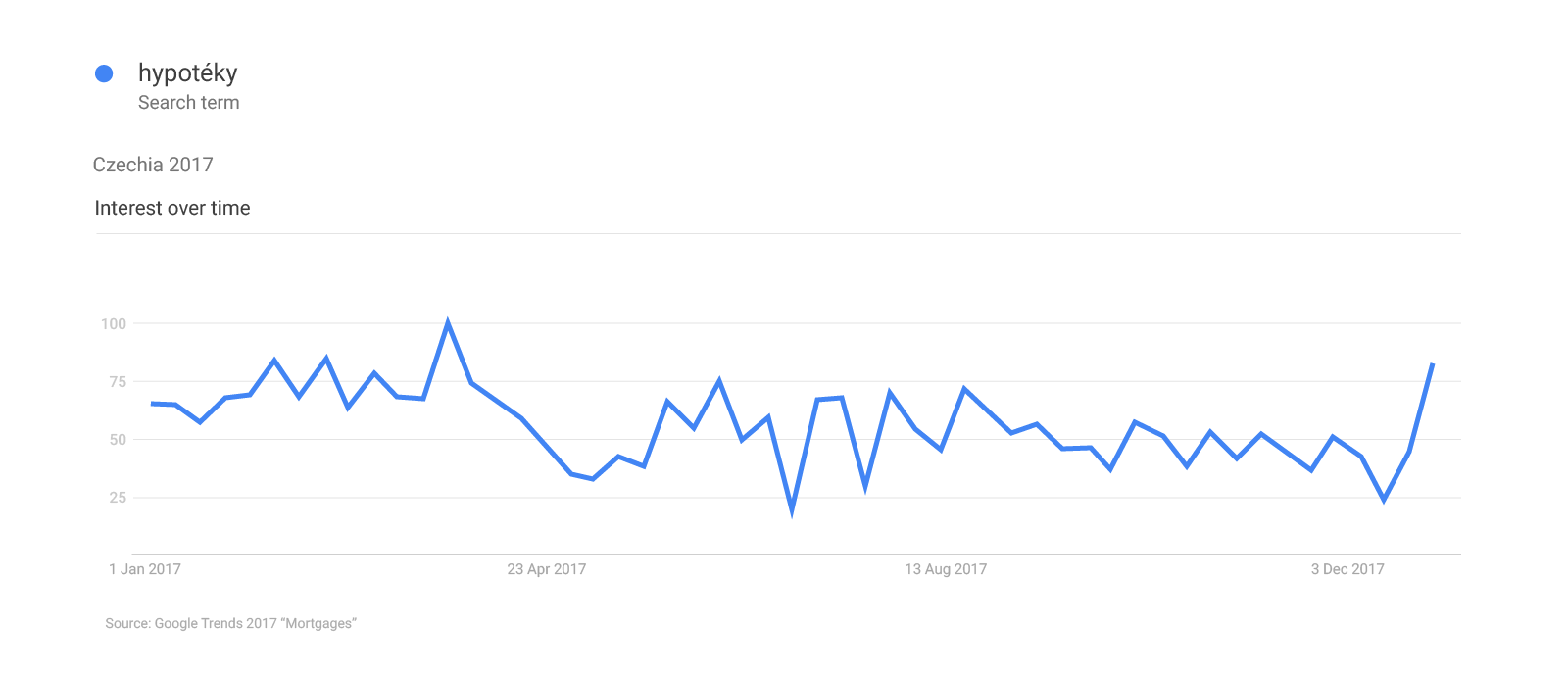 A study by Komerční banka, a major Czech bank, backs up Google Trend findings that the Czech Republic has gone mobile-first.
According to Jan Vichr, Komerční banka's distribution channels and director of direct marketing: "Today, nine out of ten contacts between us and the clients happen in the online environment and mobile is the most dynamically growing mean. The annual increase in the number of clients was 44%, and more importantly, the volume of payments rose by 65%".
Komerční banka have made moves to harness the power of mobile in the Czech Republic's financial industry.
Mobile is being used to make decisions and marketers need to be where and when it matters most
"Mobile banking is one of the strategic channels… we want to be among the market leaders in this field, therefore our bank was one of the first to integrate the Google Pay in our mobile app, the first in Europe to allow Android Shortcuts on the platform, and the first one in the Czech Republic to allow sign-in, payment authorisations, and contract signatures using biometrics," says Vichr.
Pavel Jareš, manager of direct banking at MONETA Money Bank, agrees, emphasising that mobile banking has become the new battleground for financial institutions fighting for consumer attention in the Czech Republic.
"Our data also confirms that more and more people want to use mobile banking. Therefore, in line with our strategic ambition to become a digital leader in the Czech banking market, we continue to develop our mobile banking application 'Smart Bank', which enables our clients to open and immediately use the fee-free current account Tom, to apply for individual and entrepreneurial loans, and to pay using Google Pay, which we have offered to our clients as the first large bank in the Czech Republic," says Jareš.
People expect seamless online mobile experiences. They expect them to be helpful and fast — whether they are shopping for a clothes line or a credit line. Mobile is being used to make decisions and marketers need to be where and when it matters most.
But not all banks in the banks in the Czech Republic are keeping up with consumer expectations
"Recent research shows that 53% of visits are abandoned if a mobile site takes 3 seconds or more to load. Actually, every second user expects a page to load in less than 2 seconds, and 46% of people say that waiting for pages to load is what they dislike the most when browsing the web on mobile devices," Krátká explains.
But not all banks in the Czech Republic are keeping up with consumer expectations. Using TestMySite, Krátká and her team tested 32 Czech financial websites and the results revealed a huge gap between consumer expectations and the industry's current mobile experience.
"97% of them (financial sector sites) still take too long to load on mobile and that fact affects the behaviour of their potential customers," says Marie Krátká.
The latest Google Trend data reveals a wealth of opportunity for the financial services industry at a time when the industry faces mounting competition and challenges from cryptocurrency.
Free tools like TestMySite report load times and suggests optimisations that can help the financial sector cater for multi-screen consumers in a mobile-first world.