Law firm Slater and Gordon requires a consistent flow of fresh, qualified leads. Their website plays a leading role in this, so making sure it's visible to users at the right time and provides a great experience for potential customers is vital. Mobile use of the site grew by 33% in the last three years, with over 50% of visits now coming from mobile devices. Spotting a chance to gain a competitive edge, the firm's digital team and their digital agency, Jellyfish, made a shift to prioritise mobile to improve site speed and user experience.
Thanks to a 40% faster page load time, Slater and Gordon's mobile conversions grow by 2.8X.
About Slater and Gordon
National consumer law firm
Offices throughout England, Scotland, and Wales
Headquarters in Manchester, UK
Goals
Acquire new customers
Better serve existing customers
Gain competitive edge
Approach
Shifted web development, user experience and conversion rate optimisation efforts to mobile
Optimised critical render paths, improved image load, and removed redundant site code
Results
286% increase in conversion rate on mobile compared to 186% on desktop
40% decrease in page load times
Week on week, two second drop in page load time increased relative conversion rate by 10%
Slater and Gordon's website is the primary recruitment tool for new customers coming into the business, and it's also used by existing customers to find information and get updates on their cases. An intuitive user interface, fast page speeds and a strong cross-device experience play a huge part in this, and can be the difference between a prospect choosing Slater and Gordon, or choosing one of their competitors.
For a number of years, Slater and Gordon has partnered with Jellyfish to service an ongoing website development and maintenance programme. Jellyfish suggested an increased focus on mobile, pointing out its growing importance to the business across all stages of the marketing funnel, from awareness to consideration to conversion and retention.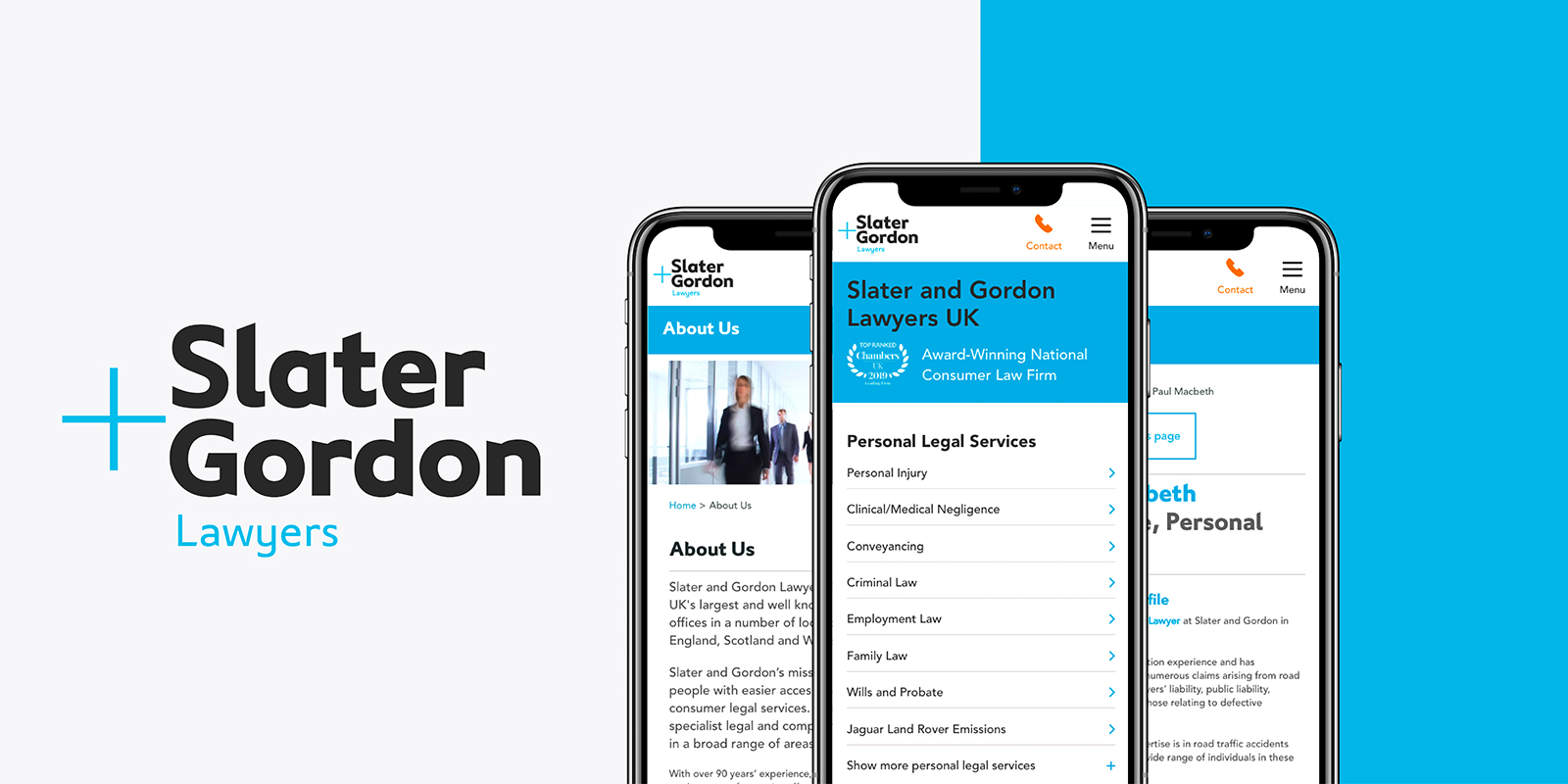 Convinced of the need to enhance the mobile offering, Slater and Gordon allocated resources to include additional time from Jellyfish's development, SEO, and project management specialists, as well as more hours per month from the firm's own in-house digital team. This enabled mobile optimisation roadmaps to be executed more aggressively.
The teams heavily weighted web development, user experience, and conversion rate optimisation efforts towards improving the mobile proposition. They also weighted marketing budgets towards accommodating mobile users, for example by upweighting paid media ads targeted towards mobile prospects. Results at the end of a five-month test period proved the success of the new approach. Over the period, mobile converted more than desktop, mobile conversions increased by 2.8-fold (286%), and the mobile conversion rate improvement was 53% better than that of desktop (which increased by 185%)
"Through optimising critical render paths and removing redundant code, we were able to deliver faster load times, improve user experience, and achieve significant uplift to mobile conversion rates. For brands across many business verticals and sectors, such results will translate to more customers, more revenue, and greater ROI on media budgets."
– Nick Fettiplace, Head of Earned Media, Jellyfish