Vodafone use Universal App Campaigns to drive downloads of their MyVodafone app, in an effort to improve customer experience and reduce customer service call volumes.
Approach
Used Google Universal App Campaigns as part of the wider search strategy, also utilising the Google Display Network and YouTube activity
Goals
Increase MyVodafone app penetration amongst existing customers
Improve customer experience by driving more customers through to the app, for immediate answers and help with customer service related enquiries
Results
UAC drives 19% of overall MyVodafone app downloads (across all marketing channels), surpassing original target by 373%
Cost per install is -45% lower than the original benchmark
42% lower call volumes per month through customer service related searches, saving 84k calls a year and 11,200 hours of call time
In a telecoms industry characterised by the availability of 4G across the UK and ever-widening choice in handsets and tariffs, Vodafone understand as well as anyone that customer service is a crucial differentiator, from the next competitor. "We're in a world where businesses can no longer afford to solely focus all efforts on selling products, but an equal emphasis needs to be placed on service for its customers" says Christopher Pearce, Vodafone's Search & Affiliate Lead, summing up the brand's desire to excel in one of the most demanding aspects of the mobile business. With smartphone penetration among Vodafone's customer base crossing 70% in 2016, the brand began to explore how best to reflect this shift in user behaviour by providing access to customer service instantly through the MyVodafone app. "As a result of this development we re-launched our MyVodafone app in early 2016, putting our app front and centre, ensuring we're always keeping customers at the heart of everything we do" explains Christopher, "the app gives our customers an immediate touchpoint to address account and billing issues, allowing a more self-serve approach to customer service."
Prior to the relaunch of the MyVodafone app, customer service was provided primarily through traditional channels of call centre support, online FAQs and in-store iwth a tech advisor. In order to enhance the accessibility of these support services, Vodafone's media agency, MEC UK, had been running Google AdWords campaigns against common support queries for some time. "As part of our search strategy, we were bidding on Vodafone customer service related search terms," explains Rebecca Fletcher, Account Manager for Vodafone at MEC UK. "Call extensions were being served alongside our tailored customer service copy, with the intention of driving users through to the site or the customer service helpline."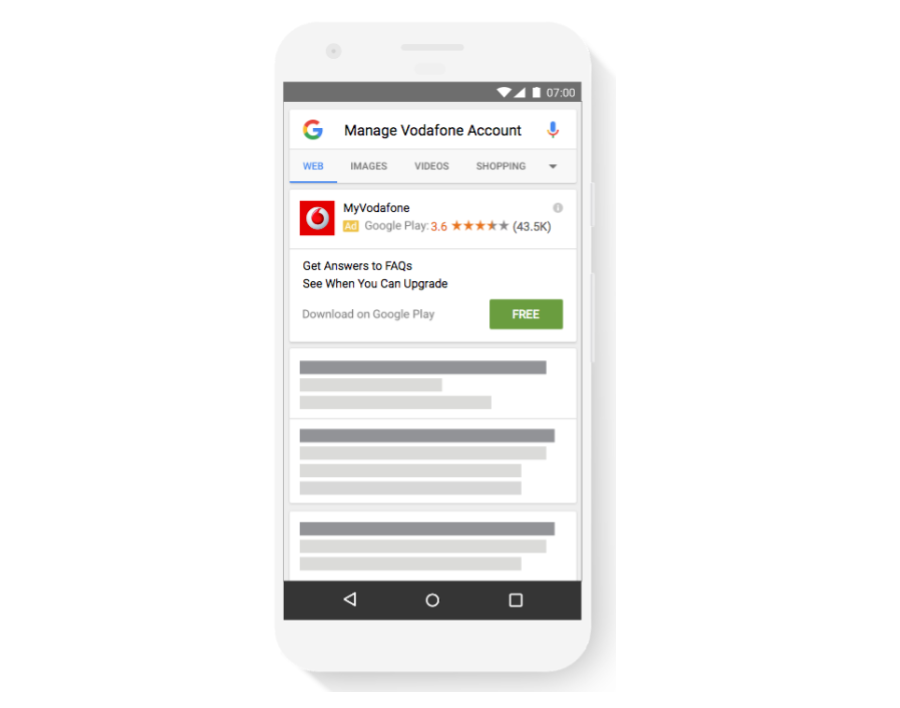 With over twenty thousand support calls a month coming from these search campaigns, Vodafone asked MEC to explore the possibility of directing some of those queries to the MyVodafone app. Google's Universal App Campaigns provide a simple way for advertisers to promote their app across a number of Google properties. This campaign type streamlines the whole business, making it easy to promote your Android or iOS apps across Google's top properties including Search, Play, YouTube and the Google Display Network.
"We looked to Universal App Campaigns as a means of raising awareness of the app and to encourage users to download it before turning to more traditional customer support methods," says Rebecca Fletcher. "Our main goal was to drive users to download the MyVodafone app, but when we saw calls from customer service related searches beginning to tumble month on month, we knew we had achieved something much more far-reaching than just boosting download numbers."
Vodafone set a target of increasing penetration of the MyVodafone app across their customer base by 24% before the end of the financial year. 4% of this target was to be driven by the Universal App Campaign. The campaign has already risen to driving 19% of overall app downloads (across all marketing channels), therefore surpassing this target by 373% in an 8 month period. Not only is the campaign on track to deliver its target, but cost per install is -45% lower than the original benchmark. As a result of increased downloads of the app, -42% fewer calls are being driven by Vodafone customer service related searches each month compared to an equivalent period before the start of the campaign. This works out as saving a whopping 84k calls a year and 11,200 hours of call time (based on the 8 minute average call length)!
"Implementation could not have been simpler; all that was required was a daily budget, a few lines of text and a target cost per install (CPI). The Google system then optimised activity towards this target CPI finding the most relevant users for the MyVodafone app. We also had additional support from Google App specialists throughout the whole process, which made setting up the campaign as smooth as possible. App promotion is definitely an option we are trying to encourage other brands to consider within MEC."