The term 'new normal' has become an instant cliche, but it's become a cliche because it's true. For many, a digital first strategy has changed from being high-ish on the to-do list to becoming top priority. In Africa, a continent that has mostly leapfrogged desktop computing, mobile is where the focus and investment is being placed.
New data shows a marked interest in app downloads in Kenya, Nigeria, and South Africa from March to July this year when lockdown restrictions were tightest. The research highlights that each of these countries has seen a roughly 30% increase in app downloads (Kenya 31%, Nigeria 32%, and South Africa 31%) compared to the five-month period between October 2019 and February 2020.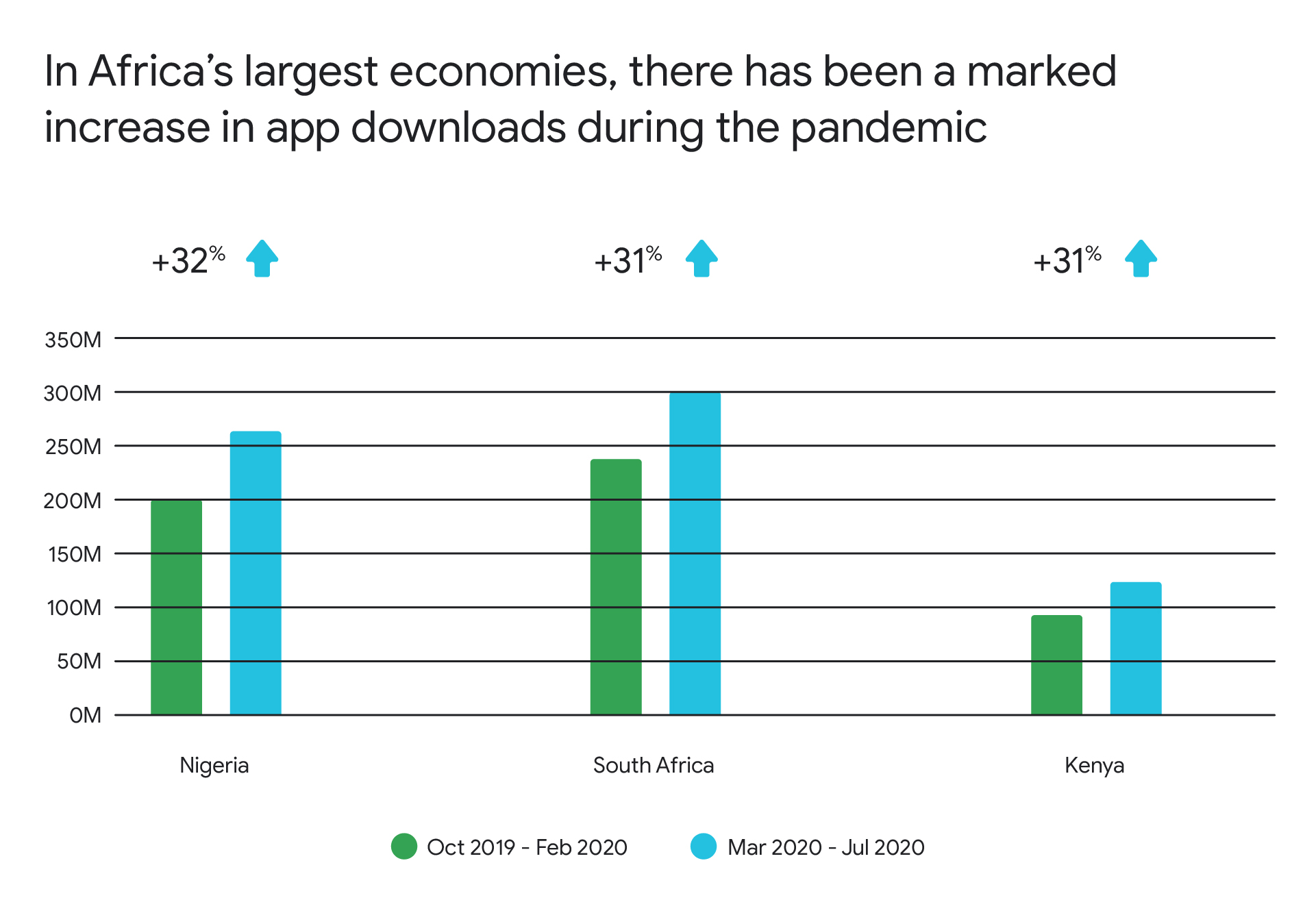 These increases aren't limited to any particular category of applications. However notable rises have been seen in categories including business (150%), news and magazines (66%), and health and fitness (63%).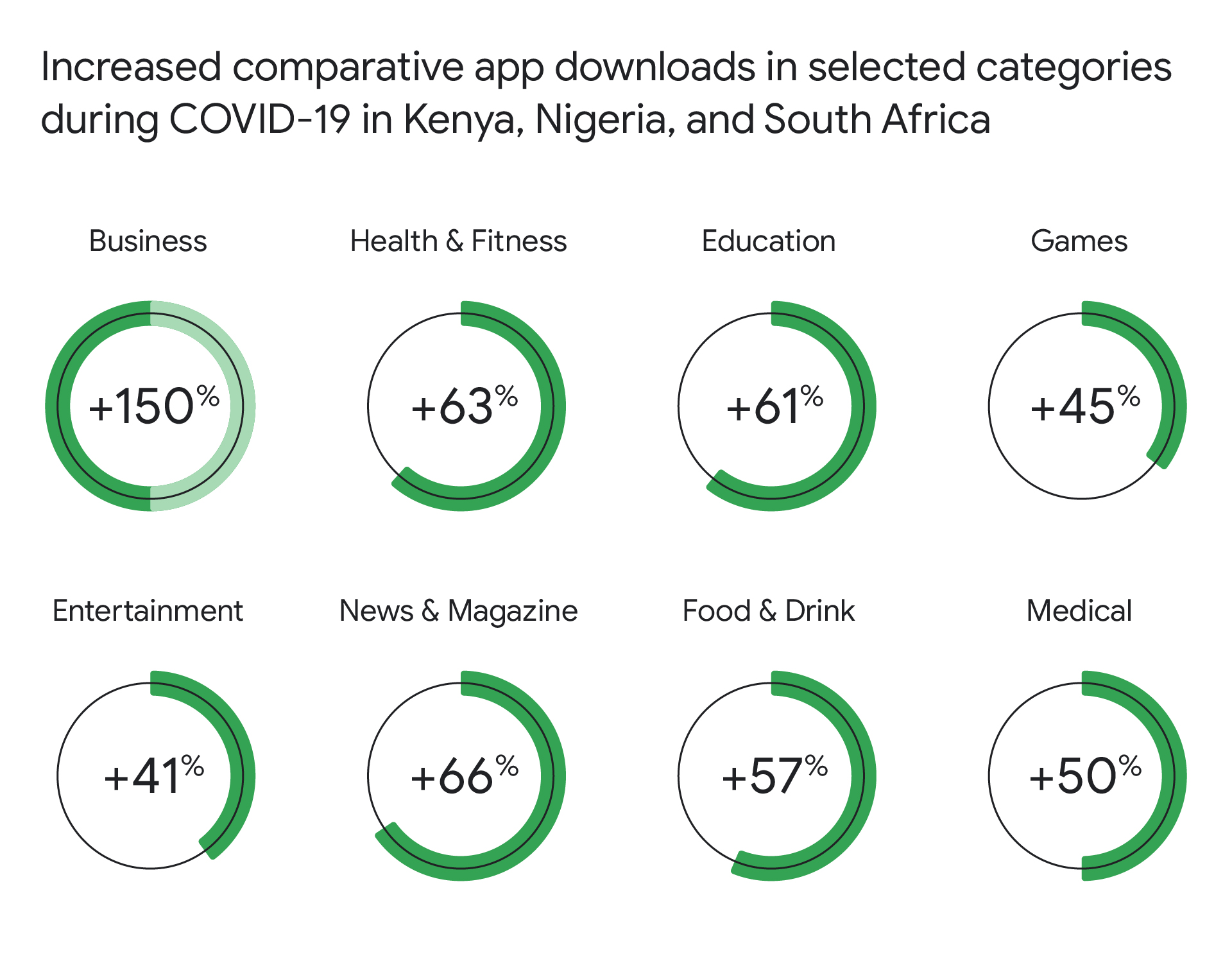 Digital marketing transformation is currently front-of-mind for business leaders, and the pandemic has created a climate where every digital touchpoint, especially mobile, needs to be maximised. This means that marketing your app has become even more important. Africa's marketers have recognised this, and are taking action.
We have seen significant attendance by marketers at Google's Africa app events, such as the Digital Africa Apps, The State of Finance App Marketing in Africa, and Supercharge Your App in Africa. Additionally, more companies have started their own app campaigns, and we have found that there is greater demand for information that helps marketers make sense of the technical implementation of digital campaigns.
Set up your web and app properties with the intention of identifying cross-channel opportunities
The confluence of consumer demand and interest from marketers is driving the industry to compete for the best app campaigns. Luckily, this is not a pursuit that is unattainable. Launching an A+ app campaign requires two things: firstly, a willingness to experiment and learn, and secondly, a long term focus that prioritises customer lifetime value.
In working with marketers, we have identified four key pillars that can set your app campaign up for success.
Pillar 1: Integrate KPIs across marketing teams
A challenge we've seen a few times is when teams are given separate KPIs for acquisition and re-engagement. True app marketing success can only be achieved when KPIs are integrated with shared objectives.
For example, many companies set a KPI for "acquiring new clients" for the new business marketing team and a separate KPI for "re-engaging existing clients" for the existing business marketing team. A more useful approach would be to make the KPI for both teams "the number of clients we interacted with this month".
Pillar 2: Measure across channels
In the early stages, it may be tempting to go with the easy route of treating your web customers and your app customers the same. The better thing to do is to set up your web and app properties with the intention of identifying cross-channel opportunities, backed by data-driven attribution.
This requires tracking web customers and app customers separately, and seeing where the stats for the two groups intersect to allow for cross-selling. For instance, if an FMCG retailer finds that a subset of its web customers are buying pet food, and a subset of its app customers are buying pet food, it might be time to promote to the web customers how easy it is to organise pet food delivery via the app.
Pillar 3: Developers and marketing are one team
The development team working separately to the marketing team results in a missed opportunity. Teams like these usually see developers building in feature parity with the mobile web across Android and iOS. The more successful solution is to separate app and web products, and then co-develop app and product roadmaps in partnership with the marketing team.
Focus on delivering a dynamic message that can be tailored to each individual user's experience
Some banks, for instance, no longer have separate office space for their app developer teams and their app marketing teams. Instead, developers and marketers are part of one team and share ideas daily. App developers give feedback on the direction their banking products should take, and marketers suggest how the app should function to deliver the overall product experience.
Pillar 4: Design creative assets for a dynamic user experience
It may be tempting to produce standard creative assets for all ad formats and only optimise for top performing assets but this is neither efficient nor effective. Instead, focus on delivering a dynamic message that can be tailored to each individual user's experience.
A simple way to do this is to follow established best practices for creatives. We have found that marketers who execute a strategy for a group of adverts, with themed creative assets, and then localise languages and styles for export markets, have the best results. They also create HTML5 assets to increase engagement rates and conversion rates, and add images for theme-based ad groups. Having all of these assets available allows the system to serve the most appropriate ad content for each user.
Resources to help turn strategy into reality
We realise that aligning KPIs, measuring across channels, getting your team to work together as one, and developing creative assets for all your platforms can seem like a huge challenge. That's why we've developed resources that can help every team member as your brand takes this journey.
Within these resources you'll find a refresher on how app campaigns work, info to help when the client relationship leads want to understand more about how deep links can improve engagement with your app, when your account manager is keen to manage multiple campaigns, or if your developers need analytics, databases, messaging, and crash reporting so you can move quickly, and focus on your users.