The rise in online shopping and research means consumers can quickly find what they are looking for, from wherever they are. The flipside to this is the rising expectations and demand for a faster, better web.
Quick to land, quicker to leave
According to the study commissioned by Google and conducted by 55 and Deloitte, 70% of mobile shoppers will abandon the buying process if it seems too difficult ⁠— a decision made in just a few seconds. But a little goes a long way: as stated in the same research an improvement in the mobile loading speed of just 100 milliseconds can increase the number of conversions by up to 8%.
27% of Polish websites already achieved good values of Core Web Vitals metrics.
This makes it even more important to determine how to measure user satisfaction. That's why Google launched the Web Vital Initiative. The tool helps brands measure and report mobile web performance using quality metrics that are essential to ensure users have a first-class mobile experience. There are three metrics in particular that can make or break a brand's user experience.
User experience made measurable: 3 Core Web Vitals
The three Core Web Vitals represent a specific and important aspect of the way users interact with the mobile websites. They help to better understand and assess the quality of mobile user experience — without having to be a performance expert.
1. Measuring loading time
Largest Contentful Paint (LCP) measures how fast the main element — typically an image or video — of a page loads. This should take no longer than 2.5 seconds.
2. Measuring interaction
First Input Delay (FID) measures the time from when a user first interacts with your page (when they clicked a link, tapped on a button, etc.) to the time when the browser responds to that interaction. Up to 0.1 seconds is tolerable for users.
3. Measuring visual stability
Cumulative Layout Shift (CLS) shows how often users experience unexpected layout shifts. For example, it can be a real nuisance when buttons or links move just at the moment you want to click on them. To provide a good user experience, CLS score should remain below 0.1.
Learn from the best: Polish companies in the Core Web Vitals Hall of Fame
While 27% of Polish websites provide a good mobile user experience according to the Core Web Vitals metrics, there is room for improvement. Three-quarters of Polish websites can be optimised better for mobile users.
The Core Web Vitals Hall of Fame, compiled by Google with Interactive Advertising Bureau Europe (IAB Europe) and Mobile Marketing Association Europe (MMA Europe), shows the e-commerce and finance companies that provide the best-in-class mobile user experience.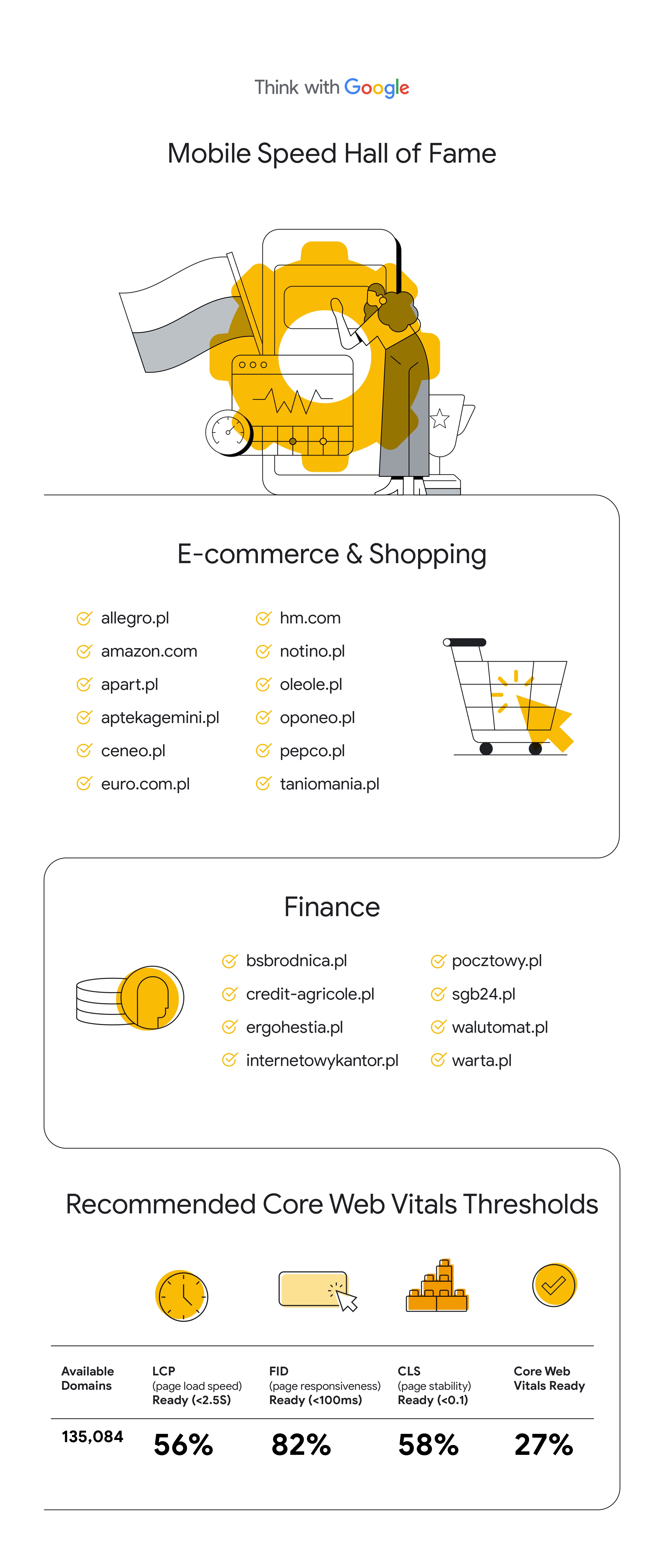 So how have these brands managed to tick all the mobile experience boxes? Polish online ecommerce platform Allegro has made a focus on UX a part of their company culture. "Working on the speed of Allegro websites is a continuous process," says Tomasz Gospodarczyk, web performance team lead at Allegro. "Every day we try to find new ways to improve the experience of our users, especially those visiting us on mobile devices. The culture of web performance is something we've been striving for from the beginning."
Meeting their users' needs is also a priority for Ceneo, an online shopping marketplace. "Being a part of the list gives us great satisfaction and confirms the rightness of our efforts. This is the result of working on many technical and business metrics of the website, including the optimisation of Core Web Vitals," says Pawel Kowalski, IT Director.
A flawless user experience translates into a smooth purchase decision. "We're constantly working to improve the speed and availability of our website, as well as the layout and proper distribution of individual elements," states Milan Ježek, CTO at Notino. "Customers and their experience is our top priority."
When it comes to user-experience, marketing and technology are pulling in the same direction
For a long time website usability was considered a developer-only issue, but more and more marketers are making it their own.
Behind this lies a simple insight: a suboptimal web page devalues every cent that goes into its advertising — leading users to abandon the page and will result in fewer conversions. A close relationship between marketing and web development when implementing the Core Web Vitals helps the entire company.
For a long time website usability was considered a developer-only issue, but more and more marketers are making it their own.
"IAB Europe is proud to partner with our member company Google to evangelize the need for faster digital experiences. Quantifying the user experience through the Core Web Vitals is a great example of how companies in EMEA can obtain great insights to help build a better web for customers and drive success for their businesses," says Helen Mussard, chief marketing officer at IAB Europe.
How to start optimising your mobile user experience
Methodology
Hall of Fame: Using data from SimilarWeb (December 2020, Mobile Web Traffic), the 50 most-visited mobile websites in each of the selected industries in Poland were identified and evaluated on mobile using the Chrome User Experience Report (CrUX) (as of December 2020) for Poland based on a 4G Internet connection. CrUX maps anonymized and aggregated user experiences of Chrome users of popular domains. The "Core Web Vitals Hall of Fame'' uses three user-centric metrics Largest Contentful Paint, First Input Delay, and Cumulative Layout Shift. Websites that perform well in the 75th percentile in all 3 metrics at the time measured are named in the Hall of Fame.
In the chart, the websites are sorted alphabetically. It should be noted that comparisons with other datasets, metrics or tools, such as Lighthouse or TestMySite, will yield different results due to different test environments, time periods or test setups.
Country Statistics: CrUX data (as of December 2020) based on 3G & 4G internet connection/mobile was used to analyse Core Web Vitals at the country level.