Arend de Ruiter leads search advertising at Bol, the biggest ecommerce platform in the Netherlands, where he is responsible for driving the retailer's paid marketing efficiency.
Bol's slogan is "de winkel van ons allemaal", which roughly translates to "the store for and by everyone." People who leave reviews, retailers who sell with us, and everybody else who contributes to Bol are a part of the company.
In turn, the slogan also reflects our mission to be the one-stop shopping destination for every Dutch and Belgian consumer, whether they're a student looking for last-minute back-to-school supplies or a first-time home owner searching for new household appliances.
However, challenges lay ahead.
Rising inflation and energy costs in the Netherlands means people are spending less and the market has begun to slow. After a period of growth in online sales, the latter started to drop, namely due to inflation.
We needed a digital marketing solution that could help us reach existing and new customers in an automated and efficient way.
The online purchasing journey has become increasingly long and complex, with an ever-growing ecosystem of touchpoints. And this doesn't just create challenges for consumers, but for retailers too. We advertise around 36 million products and have billions of site visits every year — it has become impossible for a specialist to manage all these different shopping journeys.
It has also become more difficult to connect with the right user at the right moment, especially with the deprecation of third-party cookies.
We needed a digital marketing solution that could help us reach existing and new customers with the right products in an automated and more efficient way. That way we could continue to be the one destination for Dutch and Belgian consumers' online shopping needs.
Taking customer reach to the max
I love efficiency. If it makes my life easier, and frees me up to do other things, then I'm all for it. For example, I jumped for joy when I could have my groceries delivered via an app. So, naturally, I was seeking an efficient solution for Bol's digital marketing challenge too.
Before AI tools, we were relying more on manpower to reach our customers, but we were beginning to find it increasingly difficult to stitch multiple platforms and devices to one another. We could not extend our reach across all customer journey touchpoints in an efficient and relevant way.
So when Performance Max launched in the Netherlands in early 2022, we were excited to try it out. The aim of the AI tool is to reach people with one campaign type across multiple channels, including Search, YouTube, Display, Discover, Gmail, and Maps. We believed that the increased reach, in combination with the power of Smart Bidding, would provide us with more revenue but for the same investment.
We began our testing by selecting 10 product categories to promote. We did a split test using the A/B experiment feature — 50% of traffic in the test campaigns going through Performance Max, and 50% using standard Shopping, our regular advertising platform.
We felt confident that we could apply Performance Max to our entire product catalogue if we saw good results.
However, we did not see instant success. We noticed that the Performance Max arms of the experiments were underperforming in regards to revenue, traffic, and return on ad spend (ROAS) when compared to the control group.
We took a step back and investigated why our initial experiment didn't meet expectations. After all, experiments aren't always successful the first time around – that's the whole point. We discovered that the time between Performance Max launching and starting the test – just four weeks – was not long enough for the tool to get up to speed.
Learning from that, we trialled it for a second time, while also looking to mitigate any financial risks. We subsequently looked to change various parameters.
Firstly, we limited the test to five product categories instead of 10. The five we selected – pets, DIY, tools, mobile, and fashion – are representative of the whole Bol brand. And we felt confident that we could apply Performance Max to our entire product catalogue if we saw good results from this subset.
Our marketers can now focus more on strategy, such as audience targeting, and creative direction.
Secondly, we adopted an incremental, conservative test approach. We'd begin new experiments with 90% of traffic using standard Shopping, and 10% of traffic using Performance Max. If this worked, we'd progress to 70/30, then 50/50, before a full implementation.
It was during these incremental tests that positive results began to emerge. The tool had had more time to ramp up. Thus, we saw an increase in revenue and ROAS, both of which began performing better than the control group. In other words, we were starting to see more revenue for less investment.
Utilising AI tools: Bigger reach, better revenue, and renewed focus
The results were incredibly positive. Despite the competitive online landscape, our display ads reached more people. Traffic to the Bol website rose by 9.5%. This is because we were now utilising all advertising possibilities across Google's platforms, hitting digital touchpoints we previously couldn't reach.
We also saw a 9% increase in revenue. For a company that generates over €5.5 billion of revenue annually, these results translate to hundreds of millions of additional funds.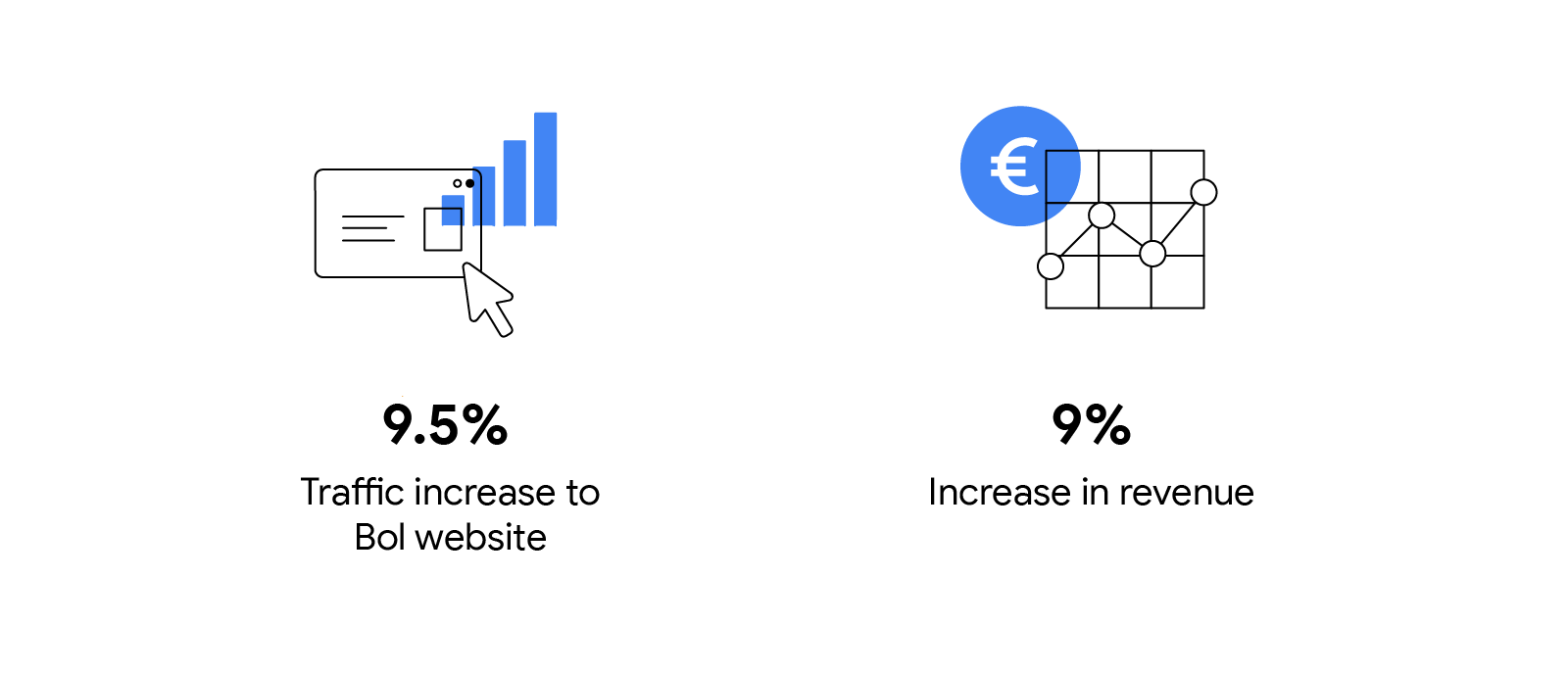 And Performance Max didn't only help us reach people in a complex online landscape, it also helped us remove some of the manual campaign work. And our marketers can now focus more on strategy, such as audience targeting, and creative direction. For example, we have created video assets for each product category.
We are also working on implementing Customer Match, where we will define our highest and lowest value customers, using learnings from our previous testing approach in order to trial it effectively.
All of this means we have more time and capacity to be the "store for and by everyone".