As consumer expectations grow for more personalized, relevant, and assistive experiences, organizations are struggling to meet these ever-increasing demands. Automation has become an invaluable tool to address this issue.
Within the realms of digital marketing, media agencies are nevertheless still hesitant to fully embrace automation due to several reasons, one of which is the resistance from employees who worry about the potential negative effects it may have on their jobs. From a campaign management perspective, they're also concerned about not being able to control their ad serving when they move away from manual bidding and static creatives.
Merkle MENA was one of the first media agencies in the region to challenge the status quo and fully embrace automation and machine learning in their media buying, demonstrating this on their very first client in the region, Tajawal. Being a data driven and technology enabled performance marketing agency at the core, the move towards a more forward-looking approach was foreseeable.
Vimal Badiani, Vice President of Performance Media at Merkle MENA, explains that: "With the amount of data generated within Paid Search, leveraging automation to aid account management and drive insights should be embraced, not feared. We saw automation as an opportunity to add more value to not only our clients but also our team." And they took this opportunity by implementing a lot of technology-forward changes to their digital advertising.
In terms of smart bidding, they were able to move all their top advertisers from manual/enhanced CPC to tCPA after successfully testing using Draft and Experiment (Google Ads A/B testing feature).
Smart Creatives
With Smart Creatives, Merkle was constantly testing new formats especially on Google Search with Responsive Search Ads and Dynamic Search Ads.
Google Ads scripts
They made use of Google Ads scripts; snippets of JavaScript code that allow better control on campaigns and streamline many day to day tasks and drudgery. One example of that is a script that would allow them to get automatically notified when there were less than 3 ads in an ad group or a sudden rise in CPC week on week.
Their automation adoption score, calculated based on how much of their total Google Ads spend is flowing through automated solutions, sky rocketed from 14% to 52%.
Results
The results have been impressive since. The agency's client base grew by 108% from 2018 to 2019. Merkle MENA were also able to achieve significant improvements on an account level. With one client, they saw a 33% drop in CPA whilst conversion volume remained stable. In another case, they were able to reach a 44% increase in conversions while decreasing CPA by 36%.
With the increase in the number of accounts serviced, Merkle MENA, one in over 43 offices worldwide, saw the need to recruit more employees. In fact, their workforce grew by 183% in just one year. Merkle's case proves that, despite the common belief that automation leads to worker displacement, it can on the contrary be leveraged as an opportunity for emancipation and increase in productivity. This is apparent by the 57% decrease in employees' time spent on manual tasks between January and September 2019.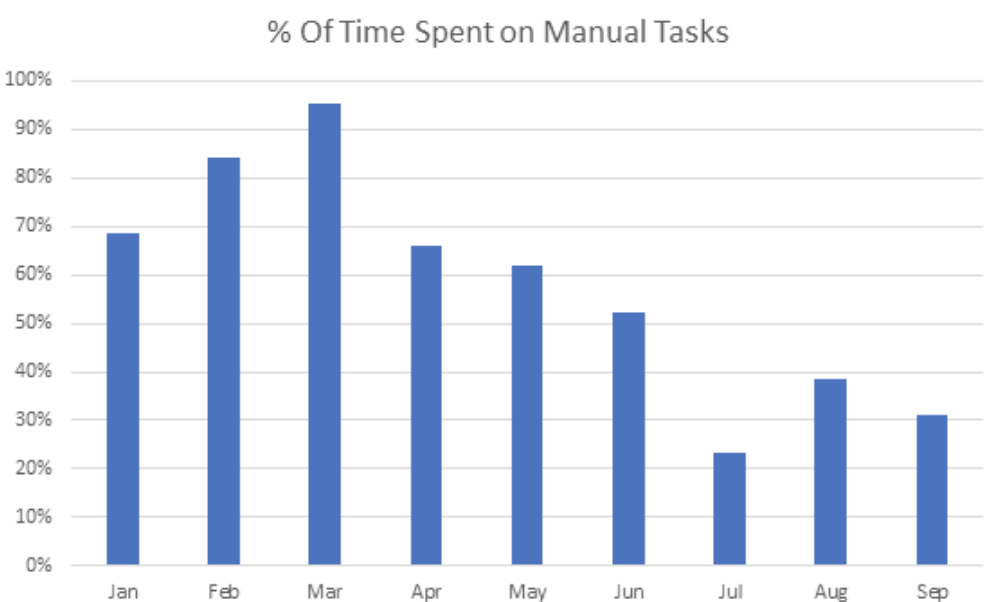 Manual tasks include: optimization, buildwork and data exports. Automated solutions for bidding and reporting were put in place in April. In July, inventory management and bid strategies were incorporated which significantly reduced time spent on manually optimizing accounts.
Key learnings
Automation can lead to better business results, and Merkle MENA is a case in point. Organizations that move away from old-fashioned retrospectives are able to transition roles from manual and mundane tasks like bidding and ad creation to more strategic ones such as data analysis and optimizations. This would lead to higher performance; increasing client retention, revenue generated and the chances of getting referred. Ultimately, the organization would need more employees to service their growing client base.