Graham Wilkinson, Global Head of Product at Reprise, offers his advice on how to get started with machine learning. Wilkinson is taking the initiative to integrate machine learning into all of Reprise's tools. Here are his insights and best practices for marketers from the agency perspective.
Machine learning (ML) is everywhere in today's marketing technology landscape, and there is no shortage of opportunity to test ML-powered tools and technology.
Machine learning, put simply, allows computers to learn and adapt without being explicitly programmed to do so.
The question many marketers have when it comes to ML is, where do I get started? It can seem intimidating, overwhelming and feel inaccessible. But it's not the case.
Marketers today have to consider endless signals, from audiences to behaviour, devices, location… the list goes on. In the complex system we operate in, it's hard to compete with the ability of ML to solve problems.
But it's important for your ML approach to be focused. I'm a strong believer that for marketers to fully trust ML and, as a result, to widely adopt it and harness its full potential, it must be broken down into manageable pieces.
Here are some of my ML best practices to set you up for success: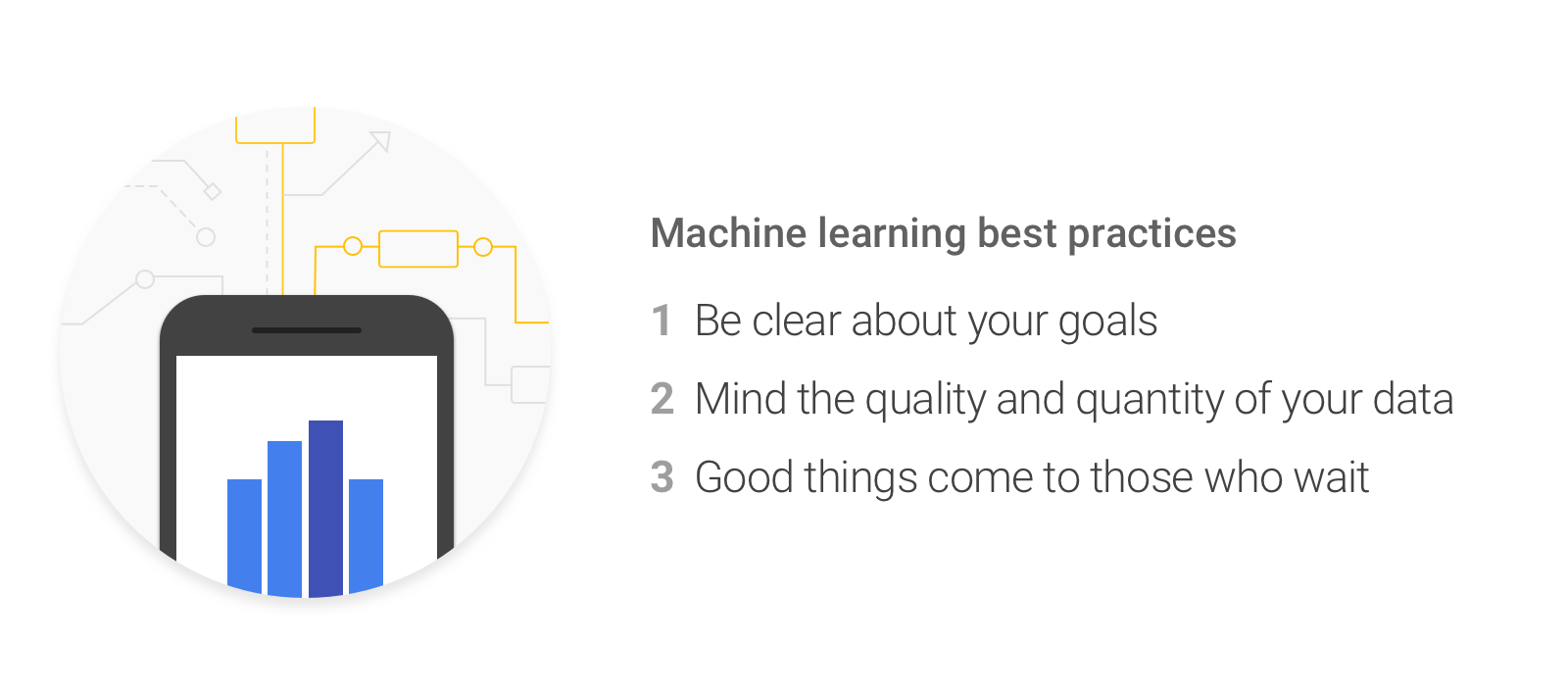 1. Be clear about your goals
Whether building your own ML model or setting up Smart Bidding in Google Ads, you must be clear about the problem you are trying to solve. Are you looking to generate more conversions? Pay less for conversions? Boost revenue? This will naturally dictate the ML solution you use.
2. Mind the quality and quantity of your data
ML requires data to learn from, and it will underperform if there is not enough of it, or if the data is poor or non-specific. It's a good idea to ensure you're incorporating non-biased data, and challenging the perceptions or perspectives you may be placing on the data you're working with.
3. Good things come to those who wait
ML needs time to learn. Smart Bidding, for example, requires a learning period to ramp up, which will vary based on the volumes of data and the model you're using. Resist the urge to make changes too frequently – every time you make them, it will take some time for models to adjust, as they learn constantly. Be patient.
My colleagues Lasse Clarke Storgaard, managing director of Reprise in the Nordics, and Stijn Fien, managing director of Reprise Netherlands, have seen success with ML by adopting these guiding principles across the board.
"Applying Google's AI solutions on our clients' campaigns has allowed us to deliver outstanding results, across our teams in the Nordic markets," Storgaard says. "Solutions like automated bidding, both towards online  and omnichannel KPIs, really help us scale our efforts and work more efficient, while driving better performance."
"In a constantly changing digital ecosystem we need tooling and capabilities we can rely on. Machine Learning brings online marketing a lot of potential," Fien reveals. "The first ML applications in online marketing have proven to be a success; that's why we continue to integrate ML into our daily activities."
Where you can apply machine learning
There aren't many platforms that can compete with the level of accessibility, control and scalability provided in the ML-powered features of Google Ads. They also allow marketers to test ML across a breadth of marketing areas within the same platform, making them applicable to specialists and generalists alike.
To help achieve your most important business goals, there are several solutions I'd recommend to make ML work for you.
When it comes to return on ad spend, I would suggest looking at the automated bidding strategies available on the search network through the lens of the consumer journey. For example: Target Outranking Share to generate awareness; Enhanced Cost Per Click and Maximize Conversion for acquisition.
For creative testing, I'd recommend looking into Responsive Search Ads, a new ad format currently in beta. It allows for multiple headlines and descriptions to be displayed and tested on consumers. Google's ML will then test the permutations for you and serve optimal combinations for the consumer.
For your online to offline goals, check out Local Campaigns in Google Ads, which aims to let marketers take advantage of the growing number of "near me" searches being conducted. These campaigns are optimized towards driving store visits, using the Maximize Conversion bid strategy and leveraging ML to serve combinations of creative to the right audience.
"With a deeper understanding of ML and these best practices for getting started, you can harness success for your business."
As a marketer, I can't stress enough the impact that ML has made on our industry. That's because it has started to move our big conversations away from diagnostic metrics, like CPCs and CTRs, and into the realm of true measures of business success. With a deeper understanding of ML and these best practices for getting started, you can harness that success for your business.