Joana Gomes is Nordic media director at L'Oréal, the world's largest beauty company.
L'Oréal is an established beauty house founded over 100 years ago, but that doesn't mean we're set in our ways. In fact, we're a highly innovative, agile, and data-driven company, and the way we make media decisions is no exception.
Through our data we discovered that we didn't know enough about how different video formats drove efficiency across our Nordics region. We needed to understand what worked and for what purpose, to make informed decisions about our media mix. This meant measuring the effectiveness of each touchpoint. And that's where marketing mix modelling (MMM) came in.
For those not familiar with MMM, it's a technique that evaluates the contribution of marketing channels and return-on-investment of media investments to inform and optimise future spend. It can provide answers to questions like:
What drove my sales?
What was my return-on-investment (ROI)?
How do I optimise my marketing spend?
By answering these questions, MMMs enable us to measure and improve the impact of our media and marketing efforts. But I'm not going to go into the technical details of how MMMs work. I'm going to focus on what we learned, because that's where things get interesting…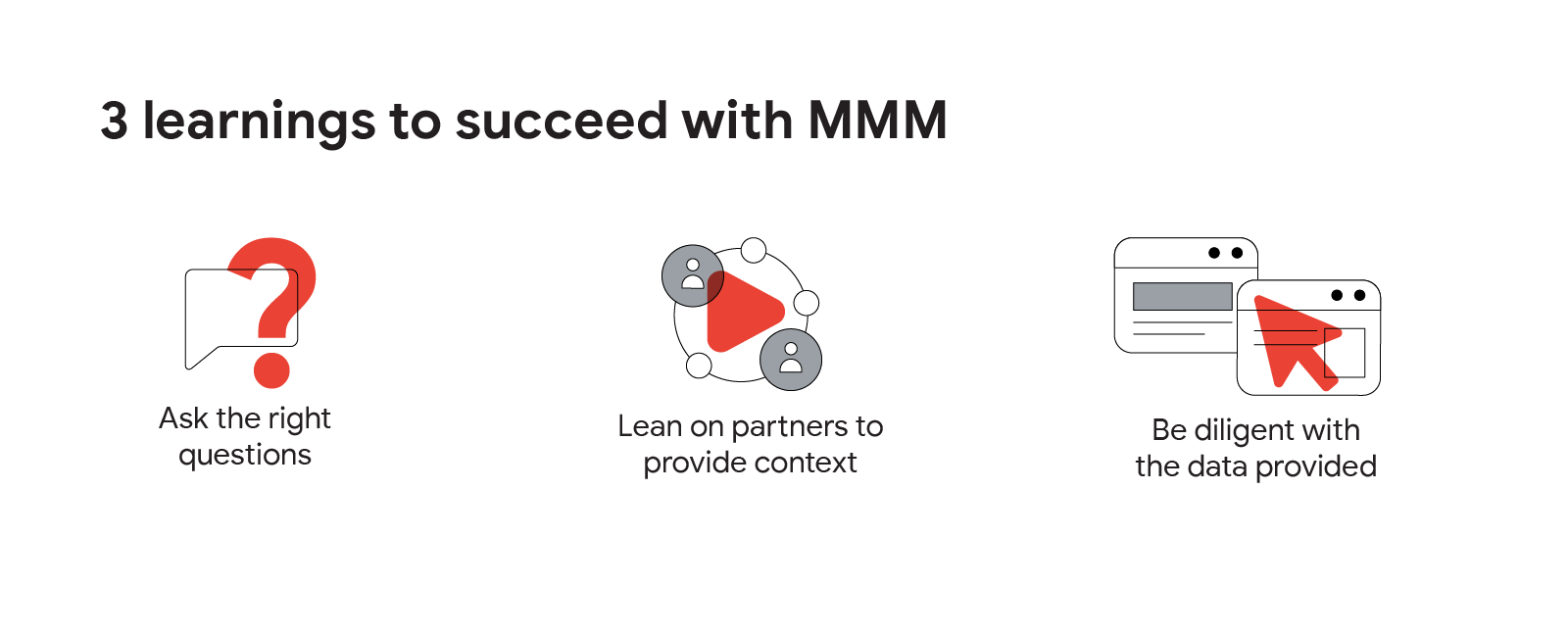 Market insights that are not made up
The Nordics is the European region where we have the highest focus on digital channels. The learnings we get from pilots in these markets can potentially be used to inform decisions elsewhere.
That's why we decided to conduct four marketing mix models in those markets with our partners: Google and our media agency in GroupM. For these specific MMMs we focused on L'Oréal Paris makeup and skincare.
We took into consideration the differences in the market and media consumption across Denmark and Sweden, as well as differences in consumer behaviour, price sensitivity, and seasonality. These can significantly impact the effectiveness of media strategies, and you need to make sure to account for them in the modelling process.
For a successful MMM, know what you want answered from the models and understand what you will use the insights for.
For example, we found that purchase patterns differed between Sweden and Denmark due to different seasonality, like holidays and retail events.
An important aspect of running MMMs is the quality and granularity of the data feeding the models. If the data is flawed, the results will be flawed. So it is crucial to be diligent about the data you are using. After that, we had to ensure we were asking the right questions.
This is imperative for a successful MMM. Know what you want answered from the models and understand what you will use the data for.
For us the right question was: What video formats and optimisations work best for which purposes?
Magic mirror on the wall, what video format had the best results of all?
Our team collected extensive data from our Nordic digital and offline channels to help us answer these questions. This data included not only campaign details, like video formats and duration, but also targeting and device information.
From there, a deeper dive looked specifically at video ad formats. While all formats can deliver ROI, the cost and effectiveness of the impressions won't be the same.
Our MMM studies confirmed that in our Nordics region, 6-second bumper ads had a higher ROI than longer-form formats.
Once we had our results, we wanted to put the learnings into action.
It would have been easy for us to look at the results and make the decision there and then to focus solely on bumpers. However, we confirmed our belief that the success was due to the ads being supplemented with other formats — and each playing a different role in the funnel.
Longer format videos gave us a chance to communicate more in depth messages to our audience. Whilst by delivering reach at an efficient cost, bumpers were more profitable than other formats in this campaign.
Although we would not use only one ad format in our media mix, as we discovered bumpers performed so well for us it gave us confidence in our YouTube investment strategy.
Gather results, rinse, and repeat
Marketing mix modelling is designed to measure return on investment. However, it cannot explain how creative, targeting, reach, frequency, or other elements influence the ROI — and what could be improved for even stronger performance in the future.
We now know we need to think differently about our YouTube audiences to achieve high quality reach.
So we leaned on our partners at Google to provide further insights and recommend tactical changes that could be applied to future online video campaigns.
One of the biggest contextual insights taught us that we needed to go beyond demographics and look into the interests of our Nordic YouTube audiences. By doing this we learned that overlaying interest-based targeting with age+gender reduces cost efficiency, which in turn may reduce ROI. However, combining several interest groups might improve ROI, due to increased relevancy. We need to cast a wide, but relevant, net to reach the right audience.
And we're taking a closer look at our YouTube creatives to make sure they adhere even closer with the best practices and that when we do reach the right consumer, they are exposed to the right message.
Another insight for us was that connected TV delivered stronger results than ordinary screens, with a 30%-50% higher ROI. So now we're thinking about the best ways to use connected TV for delivering video ads, and how to test this in future MMMs.
Having gained valuable insights from the L'Oréal Paris brand in Sweden and Denmark, we are expanding our MMM efforts to more brands and markets.
Every new model gives us an opportunity to answer new questions and support more precise media decisions — ultimately allowing us to reach the right customers with the right message, cost-efficiently.