About Orange Poland
Founded in 1991
Leading telecommunications provider in Poland
Headquarters in Warsaw
About Witbee
Performance marketing and analytics agency
Provides support for Google Analytics 360 and campaign optimisation using Cloud solutions
Headquarters in Warsaw
Goals
Streamline online and offline data and analytics
Increase sales
Optimise campaign results
Approach
Produce in-depth reports integrating online and offline data with Google Analytics 360 and BigQuery
Develop a new campaign strategy that incorporates analytical insights
Implement enhanced e-commerce to analyse shopping paths and promotions
Results
86% increase in leads
33% reduction in spend
With nearly three decades in the telecommunications industry, Orange Poland recognised the importance of developing a strong analytical culture among its teams so it could enhance customer experience.
Orange enlisted the help of WitBee — a digital performance agency with a strong data focus. The teams worked together, analysing the company's use and configuration of Google Analytics.
An extensive audit was carried out to pinpoint areas for improvement and provide a benchmark on a variety of KPIs. With problems and challenges identified, a strategic plan was developed, including a richer DataLayer, an Enhanced Ecommerce module, and a migration to Google Tag Manager. GTM reduces the team's reliance on developers by making it easier for them to track and measure KPIs.
"The journey to effective digital marketing starts with data, followed by a continuous test and learn approach. However, to make this change sustainable, a data-driven decision making process is required."
— Adam Skręt, Digital & Performance Director, Orange Polska
Orange employees also participated in a range of workshops to improve their working knowledge of Google Analytics, Google Tag Manager, and Google Optimize.
Activation
The first phase of the plan was deployed across the organisation's website, tapping into the capabilities of the rich DataLayer, which allowed for complex configuration of the work environment in Tag Manager while minimising the adverse effects of a rapidly changing IT infrastructure and workload.
Following this, transaction and media data in Google Analytics had to be linked with the order and lead statuses. As a solution, Google Analytics 360 and BigQuery Export were combined with Orange's internal systems to track all key data in one place. The ability to visualise all shopping paths inside Orange's website, enriched with offline data, was a direct result of the integration.

The comprehensive database played a fundamental role in the development of future analytical reports. Once the data and goals — both B2B and B2C — had been properly segmented within Google Analytics, dedicated reports and dashboards for individual departments within the organisation were created.
Orange was then able to analyse individual purchasing processes, respond to anomalies, and effectively detect potential technical errors. Traffic sources, especially those from Google Ads, could also be reviewed to analyse shopping paths in the context of search queries and offline transaction data.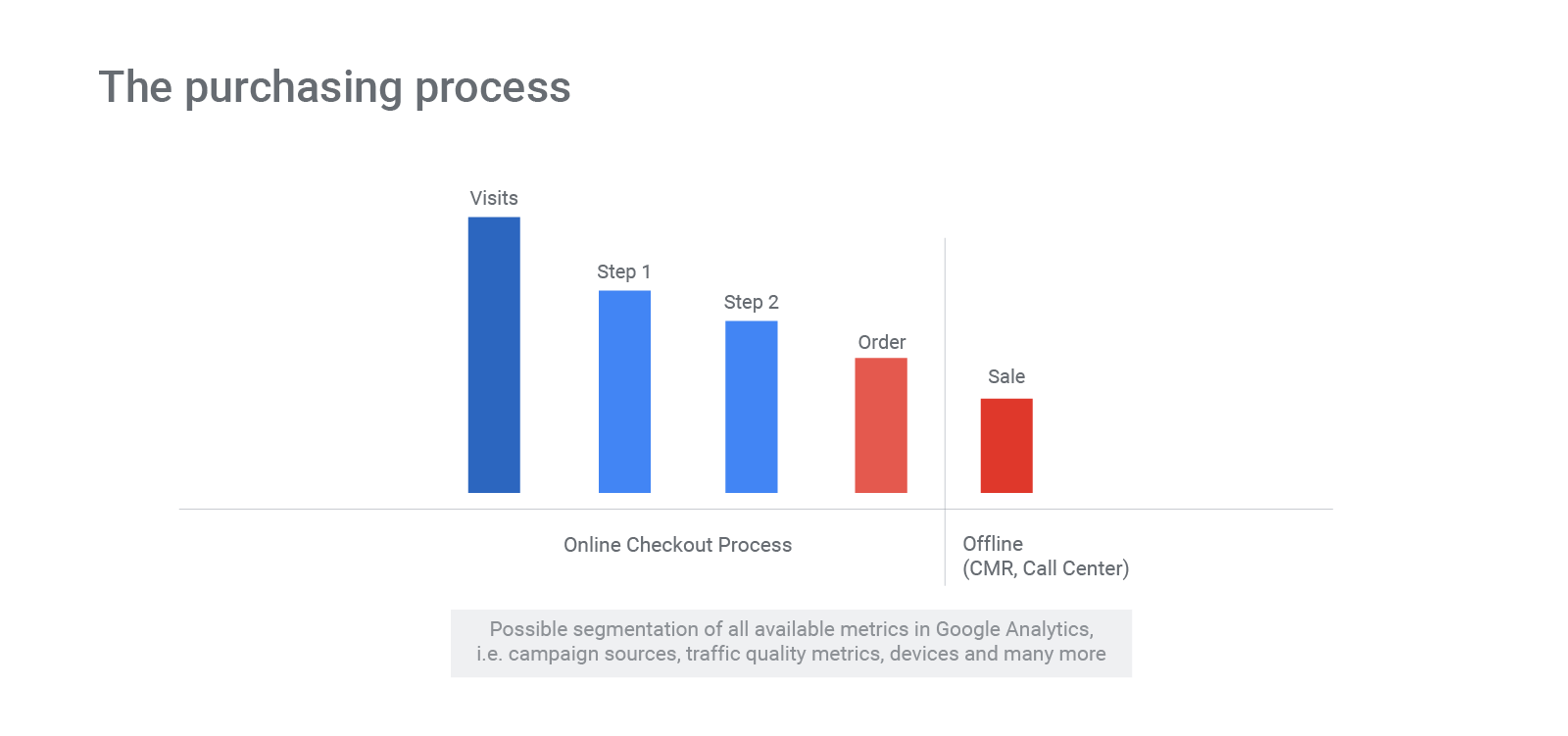 The team assessed the effectiveness of promotions delivered by marketing automation tools. And by using the Enhanced Ecommerce tools in conjunction with BigQuery, the organisation carried out a deep analysis of online marketing in the consumer journey, allowing it to modify and optimise the strategy as necessary.
Results: the power of data
After unlocking the potential within its own analytics, Orange harnessed existing information and streamlined its strategy to drive results and increase sales.
In June 2018 the new campaign structure was launched, in the second half of the year the number of leads increased by 86% while the budget for acquisition was reduced by 33%. Effectiveness increased as the team continued to optimise the campaign in 2019, with 75% more leads and 41% less budget compared to January 2018.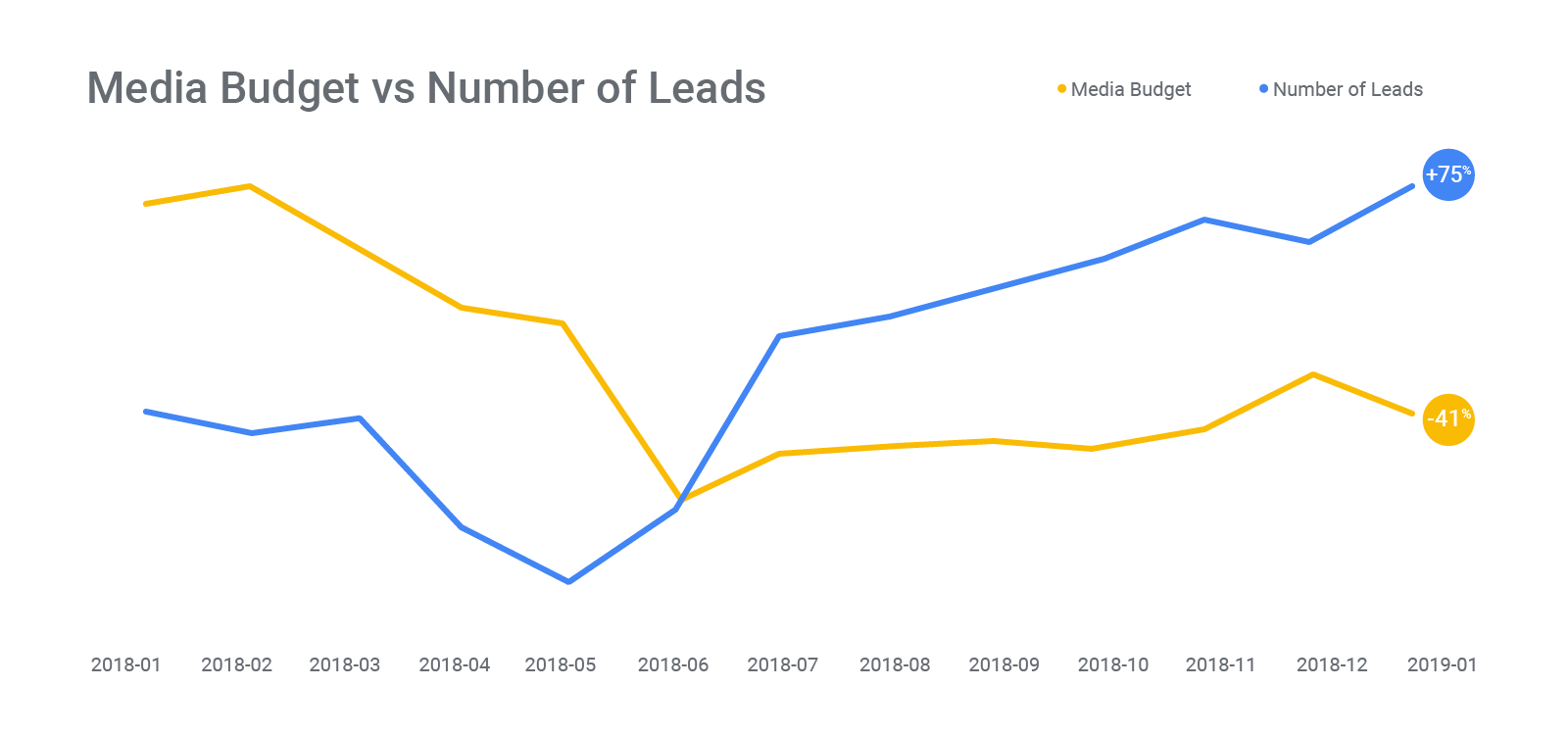 Moreover, the company noticed a significant increase in the number of orders made directly through the e-commerce section on its website.
Beyond the quantitative data, Orange used Google tools to successfully implement a culture of analytics among its teams. Moving forward, the brand plans to further maximise its digital sales campaigns, implement Firebase technology in its mobile apps, use machine learning modules to automate media optimisation processes, and more.
"We aim at increasing digital spending efficiency through personalisation in order to reach customers in their preferred channel with relevant offers at the most relevant times. Facts over opinions is our approach at Orange Polska."
— Artur Stankiewicz, B2C Marketing and Digital Director, Orange Polska
The Orange team that worked on this project includes: Artur Stankiewicz, Adam Skręt, Maciej Kuźma, Rafał Piszczatowski, Adam Brzostek, Małgorzata Stankowska, Magdalena Trzcińska, Artur Skowron