Beauty-related search queries are on the rise. The latest study from Google CEE reveals the trends in the beauty industry, providing valuable insights to help marketers shape brand strategy and reach Polish shoppers in the moments that matter.
Every search query holds a potential insight into consumer behaviour and intent. Year on Year beauty-related search queries in Poland have grown by 5% on Google Search and 10% on YouTube1. That's a lot of data for beauty brands to analyse and determine trends that can be used to get them closer to their audiences.
Our latest report dives into the top beauty-related Google and YouTube searches in Poland to help marketers in the country better understand audience behaviour and make consumer-driven decisions by determining the question on everybody's mind — "what's trending?".  
More so than other industries, the beauty industry is shaped by consumer trends. By focusing on macro trends that stand the test of time — as opposed to trends that peak and drop in an instant — beauty marketers are better equipped to identify opportunities, shape brand strategy and improve beauty shopping experiences.
Google Search trends
Beauty searchers are seasonal. While beauty-related queries on Google Search throughout the year have increased by more than 5% YoY, searches in the run up to the Holiday Season experienced 25% growth YoY2.

The growth is driven by both branded and generic queries — and branded queries tend to be more seasonal with shoppers looking for specific brands for gifting.
General cosmetic brands and retailers account for 33% of all beauty-related queries3. These searches are typically made by purchase-intent consumers who know what they are after and are ready to make a decision.

"Hair removal" accounted for only 1.2% of total beauty-related queries, but interest grew 6.3% YoY4. This trend reflects the steadily rising global interest in laser hair removal products.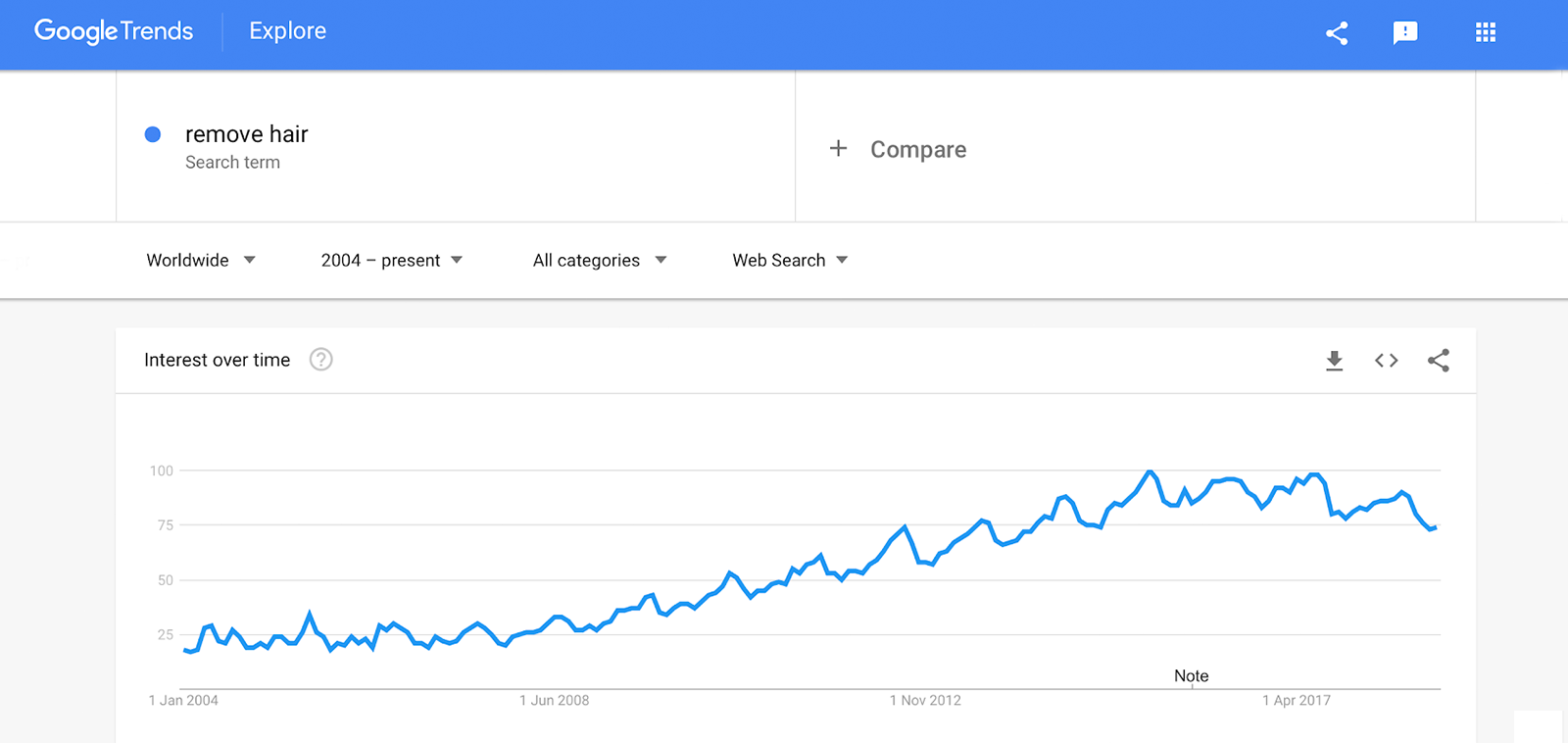 Other notable rising search terms in the category include "perfumes/fragrances" with a 11.1% share of all search queries and 13.4% YoY growth5. Search queries for "Cosmetic procedures" have increased by a staggering 57.8% YoY — including queries for botox, microdermabrasion, cavitation peeling, cosmetics saloons, solariums, and carboxytherapy.
Searches for brands and retailers peak at Easter and the Holiday season, when consumers are searching for gifts. Marketers should adapt their strategies to account for these seasonal trends and reach consumers with more relevant messaging.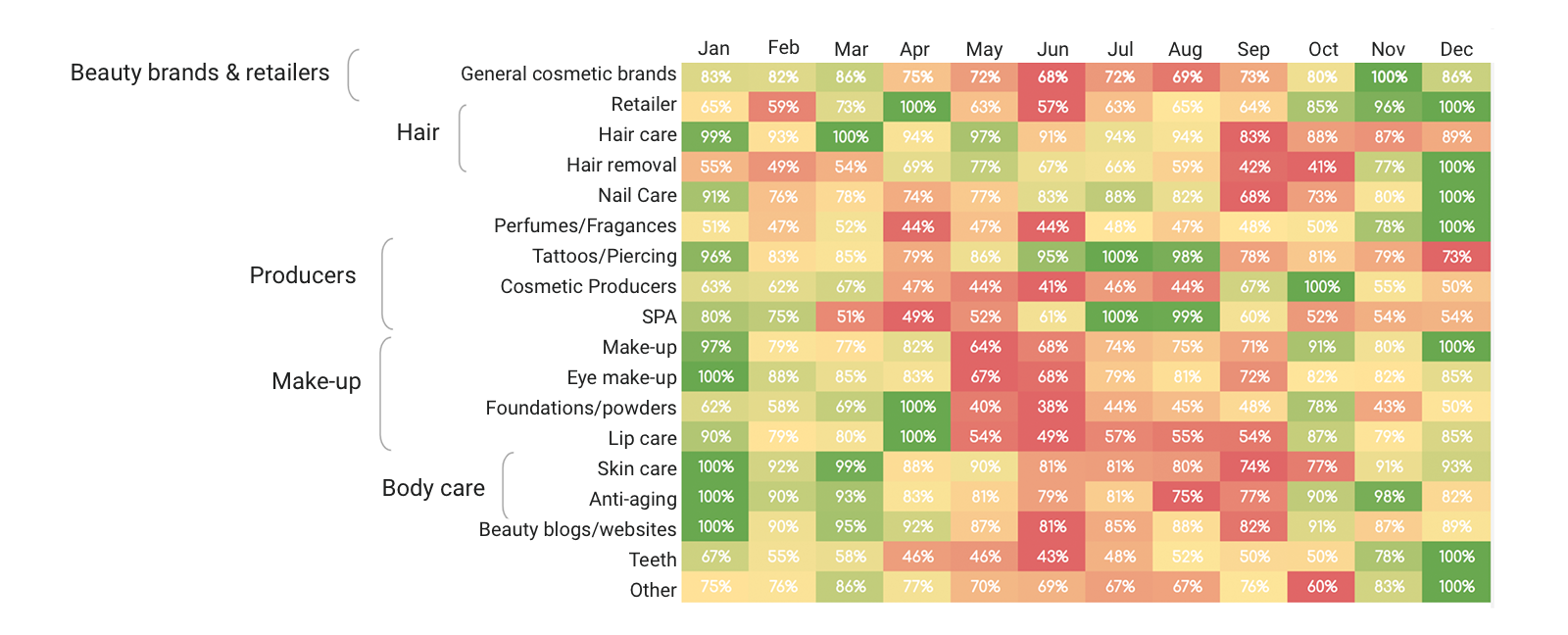 YouTube search trends
YouTube beauty searches experienced a total YoY growth of 10%, with seasonal surges in the run up to Easter and the Holiday season — 21% and 22%, respectively6. With a 27% share and 12% YoY growth, makeup is the largest searched for term on the platform. Makeup is closely followed by searches for hair with a 26% of all searches and a 11% YoY growth7.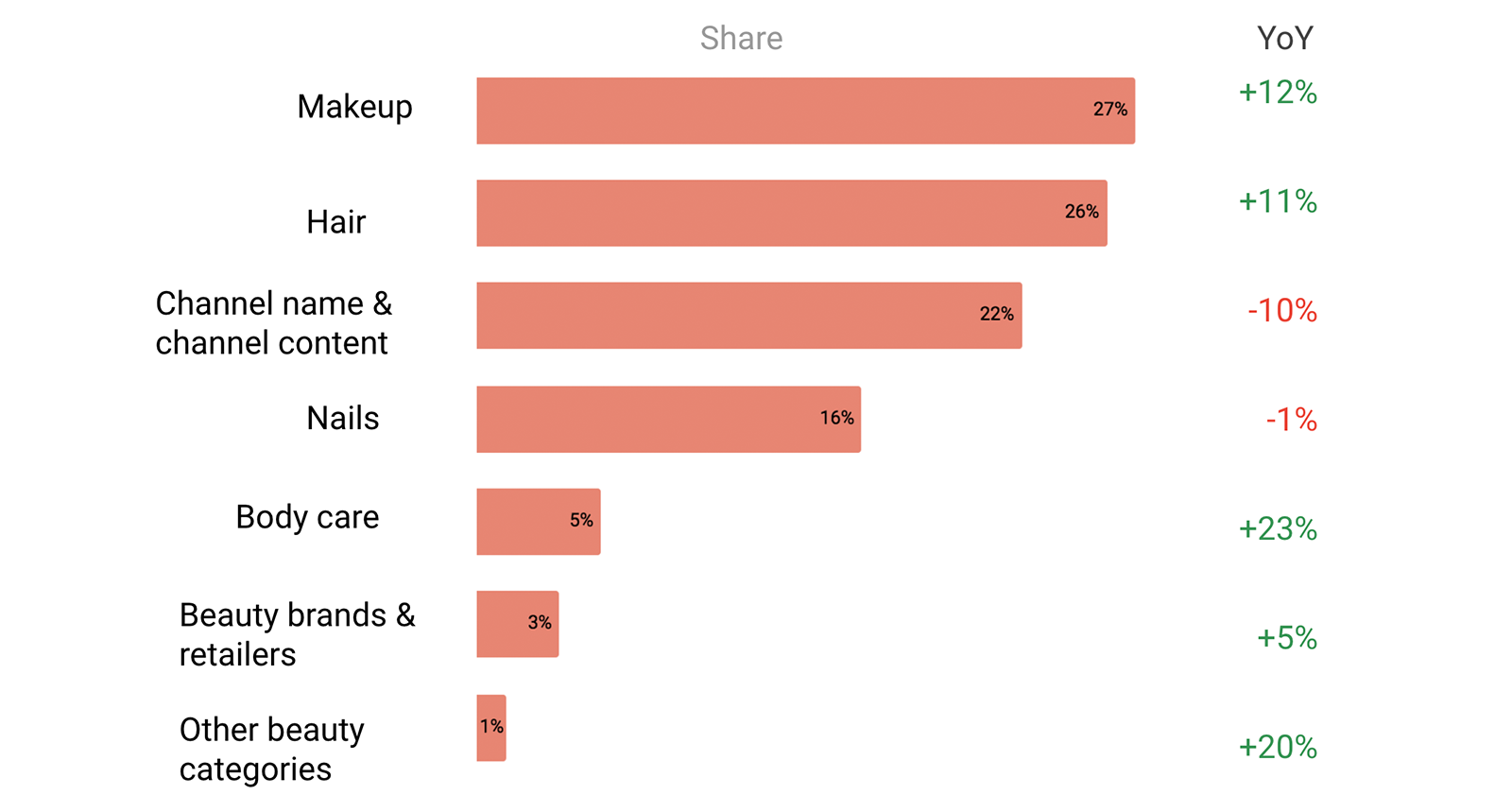 In stark contrast to Google Search, queries for brands and retailers account for only 3% of total searches on YouTube8. Viewers on YouTube search for how-to tutorials, while they use Google Search for more purchase-intent searches when they are looking for a specific beauty product. Understanding how consumers use these distinct channels can allow marketers to get closer to them.
Deep dive: Makeup
In the makeup category, the fastest growing subcategory is "general makeup" with a 12% YoY growth, followed by eye makeup with 5%, and foundations/powders with 6%9. Searches for eye makeup have three main peaks throughout the year — Easter, October and the Holiday season. Putting this data into context, during the Easter period people are looking for new springtime looks, while in October they are searching for halloween makeup tutorials, and gifting in the run up to the Holiday season.

Branded makeup queries on Google Search account for 55% of the category, while on YouTube searches are overwhelmingly generic10.

Halloween makeup, contouring and how to glue on fake lashes are some of the top trending searches on YouTube. And there is considerable overlap between Google Search and YouTube queries —  for example, searches for wedding makeup and false eyelashes — but consumer intent changes depending on the channel.

Makeup takeaways: Create content that grabs consumer attention throughout the year, adapting messaging to seasonal search trends. Adapt your advertising strategy for specific channels. Consider targeting users based on the types of videos they watch, list product features based on consumer queries and tailor your keywords.
Deep dive: Hair care
Hair care has a 26% share of all beauty-related YouTube searches and 16% on Google Search. 90% of Google Search queries and 97% of YouTube queries are generic11.

Top queries include topics concerning hair growth and strength, as well as making hair lighter. Since the vast majority of queries are generic, there is considerable crossover between the two channels.

Branded products have dropped 13% YoY and shoppers typically search for hair grooming products peaking in the run up to the Holiday season and hair lightening products during the summer months12.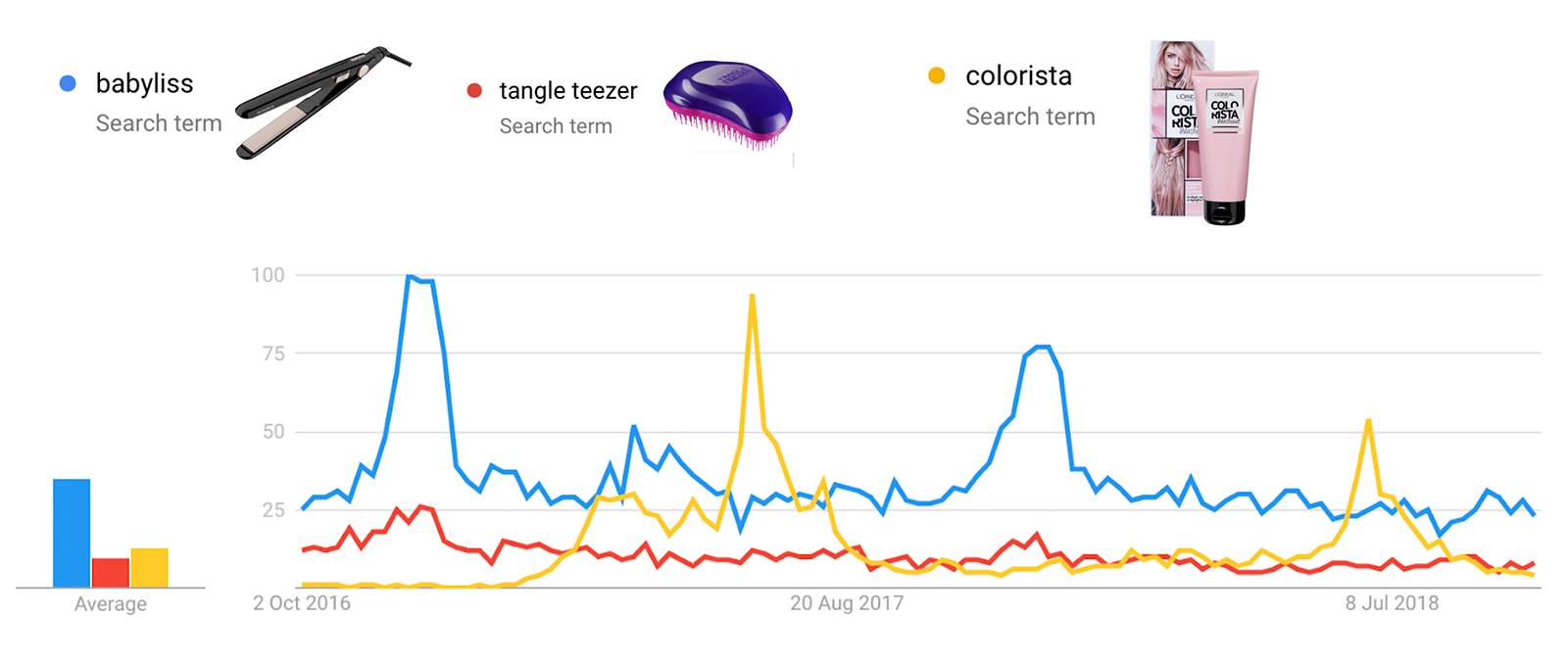 Hair care takeaways: Searches are generic, which means there's a lot of opportunity for challenger brands. Be helpful by creating content that answers the questions that Polish consumers are looking for. Create content that will gain traction in Google Search results, consider partnering with a local hair and beauty YouTuber, produce branded video content, and run campaigns related to the videos that your audience are interested in.
Deep dive: Skin care
Skin care queries have a 6% share of beauty-related queries on Google Search and 5% on YouTube13. On Google Search, the majority of shoppers are looking for brands and products, while on YouTube viewers are searching generic terms.

Polish consumers are looking for solutions, including cellulite, blackhead, and acne treatment. These top skin concerns provide insight into why users are then turning to face masks, cleansing and cellulite treatment. These may provide opportunities for brands to emphasise product benefits depending on the skin condition.

Skin care takeaways: On YouTube, viewers are searching for DIY treatments and solutions to a range of skin concerns. Brands should also delve into the ingredients that consumers are interested in. It's very likely that products already contain these ingredients, it's the marketers' job to highlight them in messaging so that shoppers make the association with their brand and product.
Polish shoppers are keen searches, they use both Google Search and YouTube to research beauty-related topics and make informed purchase decisions. Understanding consumer intent allows marketers to shape messaging, create helpful and informative content and associate their products with the trends people are searching for.