I'm the proud dad of three boys. My oldest is a huge gamer, so every year for his birthday my wife and I buy him the latest and greatest game. And we always buy it online from the same company.
This year was no exception. After extensive research, we bought him the game he wanted. When I got to the online checkout, I was disappointed that none of my historical information was used to make the process faster. Annoying, but not a deal breaker. But the next day, I received an online ad for the game, and get this: the ad offered me a discount even though I had just purchased it for full price.
As you can imagine, I was pretty frustrated. As a marketer, this made me think: Here's a brand that misstepped because they didn't have a unified view of who I was. Because they hadn't used real-time customer data or historical insights about my shopping behaviour, they missed a huge opportunity to develop a relationship with me.
Our most important job as marketers is to know our customers and build relationships with them. And if you don't unify your customer data, you can't do that. Here are three steps you can take to unify your data, grow your business and keep your customers from going to the competition.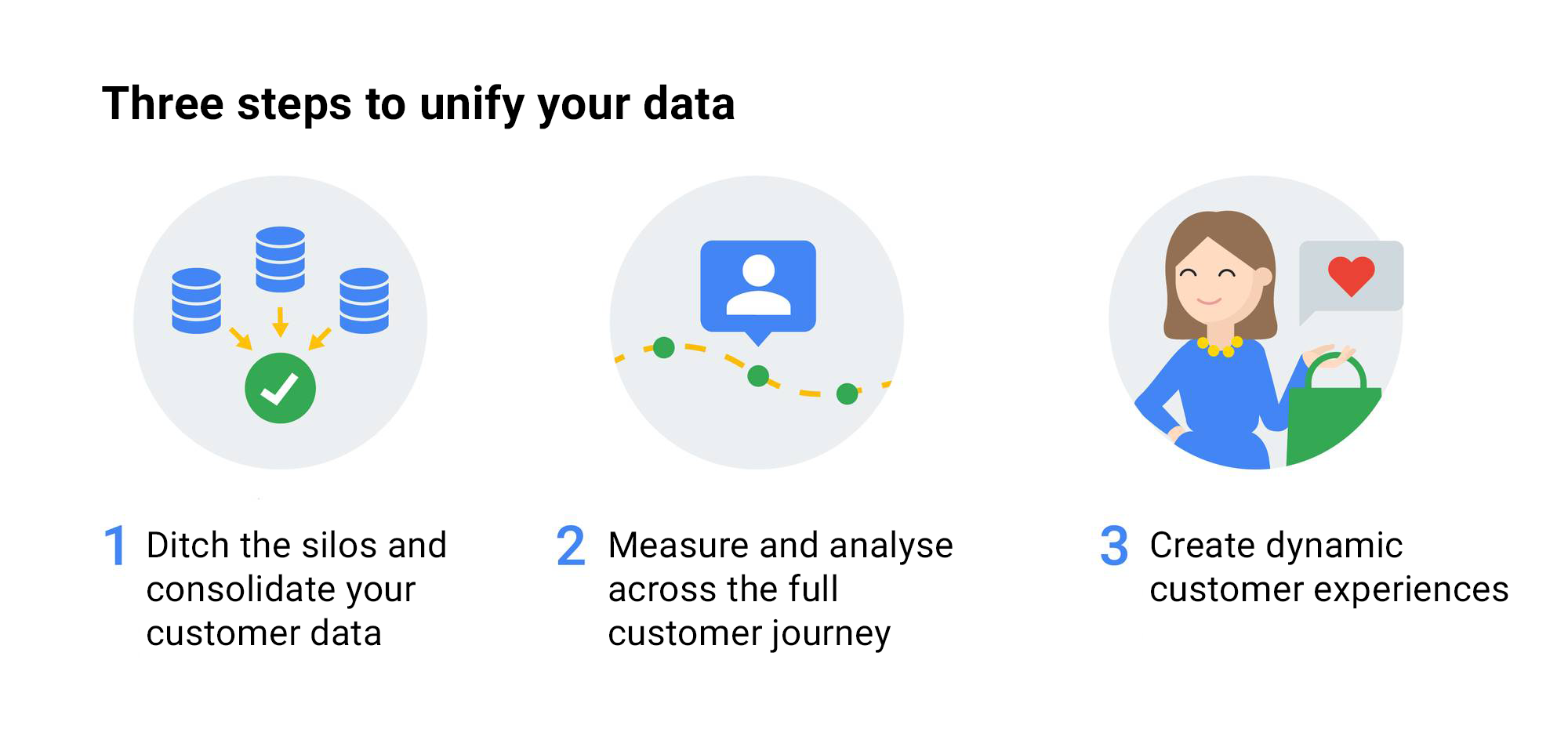 Step 1: Ditch the silos and consolidate your customer data
To succeed in today's challenging and competitive environment, marketers must break down the silos across departments, teams and channels to consolidate data and see a unified view of the customer. By bringing data together, businesses are better able to understand and respond to their customer needs – and that leads to growth.
But bringing all this information together can be challenging. So approach it as an iterative process. You can start small, by connecting your web and app analytics and your customer relationship management technology. Then think about all the other ways people engage with your business – email campaigns, billing systems, loyalty programmes. Next, look into relevant external data, such as the strong audience signals you can get from search intent or videos viewed. Gather all this data into one place – like Google Cloud – and you're in a powerful position to find rich and valuable insights about your customers.
Interactive software company Electronic Arts Inc. (EA) has done this with great success. They've unified their teams around customer insights to be as close to their players as possible and respond to their changing needs in real time. At EA, marketing, publishing and analytics all report to the same leader and work from a single source of truth: customer insights. Because of this, player engagement is higher than ever, and conversion to new-release games has increased significantly.
At Electronic Arts Inc., marketing, publishing and analytics all report to the same leader and work from a single source of truth: customer insights.
Step 2: Measure and analyse across the full customer journey
Once data is structured around the customer, the next step is to measure and analyse across the full journey. That's the beauty of having a data strategy – you can accurately measure marketing's impact on the business, not just your campaigns. And it gives all teams the same business-critical metrics to work towards.
When it comes to choosing an analytics solution for your business, there are two things to keep in mind. First, you need a tool that allows you to analyse various customer journeys, channels, content and campaigns.
With a means of attributing success to specific marketing touch points, your marketing will be more effective.
Second, you need attribution modelling to see how media works together, and which channels have the most impact. With a means of attributing success to specific marketing touch points, your marketing will be more effective. Plus, you'll be able to see which audiences are most valuable, and which creative works best with them.
Consider how Hertz has put this into action. They use insights from measurement to inform their corporate business strategies, from pricing to media mix. The brand uses data-driven attribution plus Google Analytics 360 to see the full customer journey so they can understand the value of certain customer segments. They then rely on automation and audience targeting to achieve revenue goals from those customers. Applying this approach has helped Hertz increase reservations by 10%.
Step 3: Create dynamic customer experiences
Finally, look to connect insights to your platforms so you can create and deliver dynamic consumer experiences. Using customer insights, you can build rich audience segments. Working with new technologies like machine learning provides the opportunity to create personalised experiences for these segments.
This media strategy allows you to use intelligence at every step of the customer journey. With this kind of advanced process, you can reach customers across new placements and media touch points.
Stay a step ahead of the competition
Unfortunately, what happened to me when I was buying the game for my son happens to people all the time. That's because so many brands still have their data siloed. They're not able to gain rich customer insights, measure across the journey or create engaging experiences. Not only are they losing customers, they're also wasting marketing expenditure and falling short of business goals.
But it doesn't have to be like this. Taking steps towards data unification will help you apply customer insights across your business. Having a unified view of your customer will allow you to reach them with useful experiences, and ultimately be the champion for true long-term business growth.