Buying or selling property is one of the biggest commercial transactions a person will undertake in their lifetime and there are a number of complicated stages throughout the process; this can be a daunting experience for many, especially for the first time buyer. Consumers are eager for help with the complex processes, and businesses who can provide advice throughout the journey have an opportunity to forge strong relationships with potential consumers.
Many first time buyers continue to struggle to get on the property ladder, however, with the increase in schemes available to help the first time buyer we have started to see an increase again in the volume of searches taking place in relation to first time home buying. In 2015 we saw a growth of 25% compared to 20141, this is in contrast to the previous year where a decline of more than 40% was recorded. And 2016 is already off to a strong start with searches up 12% in the first few weeks of the year.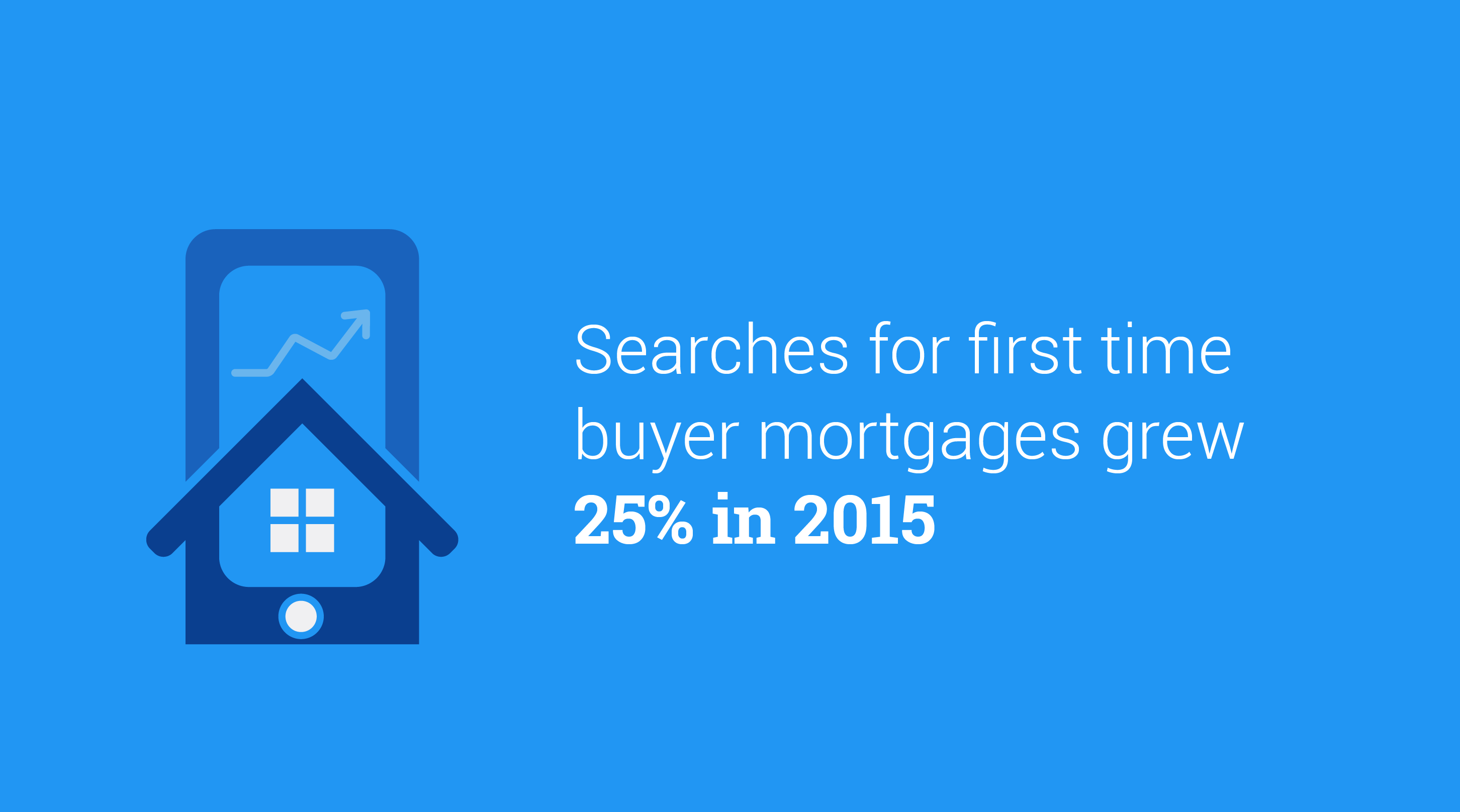 Those in the property buying mindset are increasingly going online to find solutions. January sees a peak in searches around mortgages and property sites as people begin their journey. Q1 is the key quarter for searches, with many people going online to seek advice and ask questions related to mortgages, with the top two questions being "how much mortgage can i get" and "how much can I borrow mortgage2".
The first quarter is also a key time for consumers looking to learn more about topics such as stamp duty, house valuation and property prices. This period is a time where banks have the opportunity to be present throughout the journey alongside other relevant service providers. Whilst it is true that the first few months of the year are a key time for property and mortgage searches, it is important to understand that there is constant demand throughout the year and actually very little seasonality. Therefore there is an opportunity for mortgage providers and other property related services to be present all through the year.
Businesses should note that 75%3 of all mortgage searches are generic with no brand references. Most people are unsure as to the brand that they want to use when they are researching, therefore providing an opportunity for mortgage providers to bring their brand top of mind.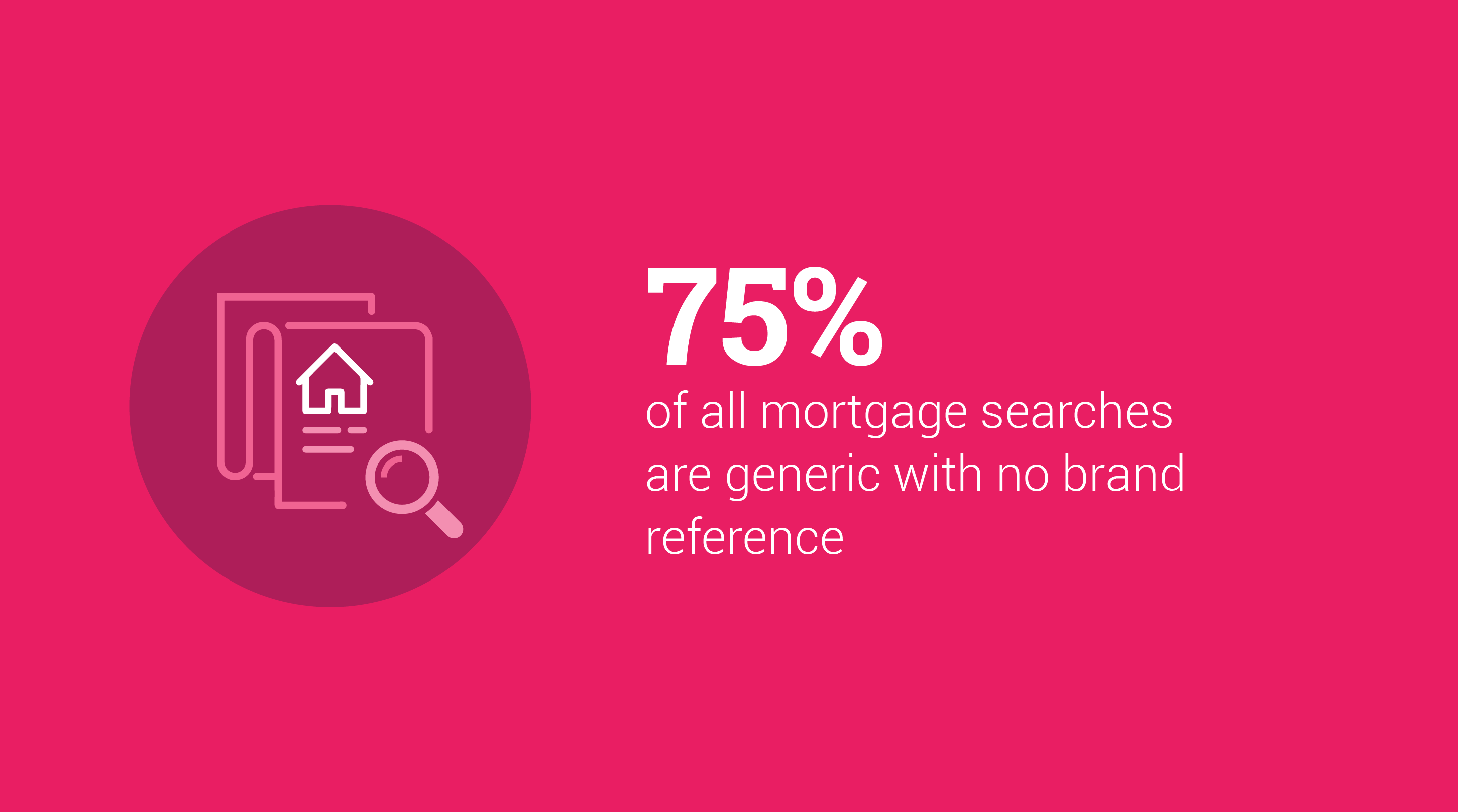 Understanding when and where house buyers are searching is a key component to helping with budget allocation and creative messaging. 34%4 of UK searches for mortgages actually take place in London, so creating specific messaging tailored for this lucrative market and ensuring that there is sufficient budget to capture the demand should be beneficial.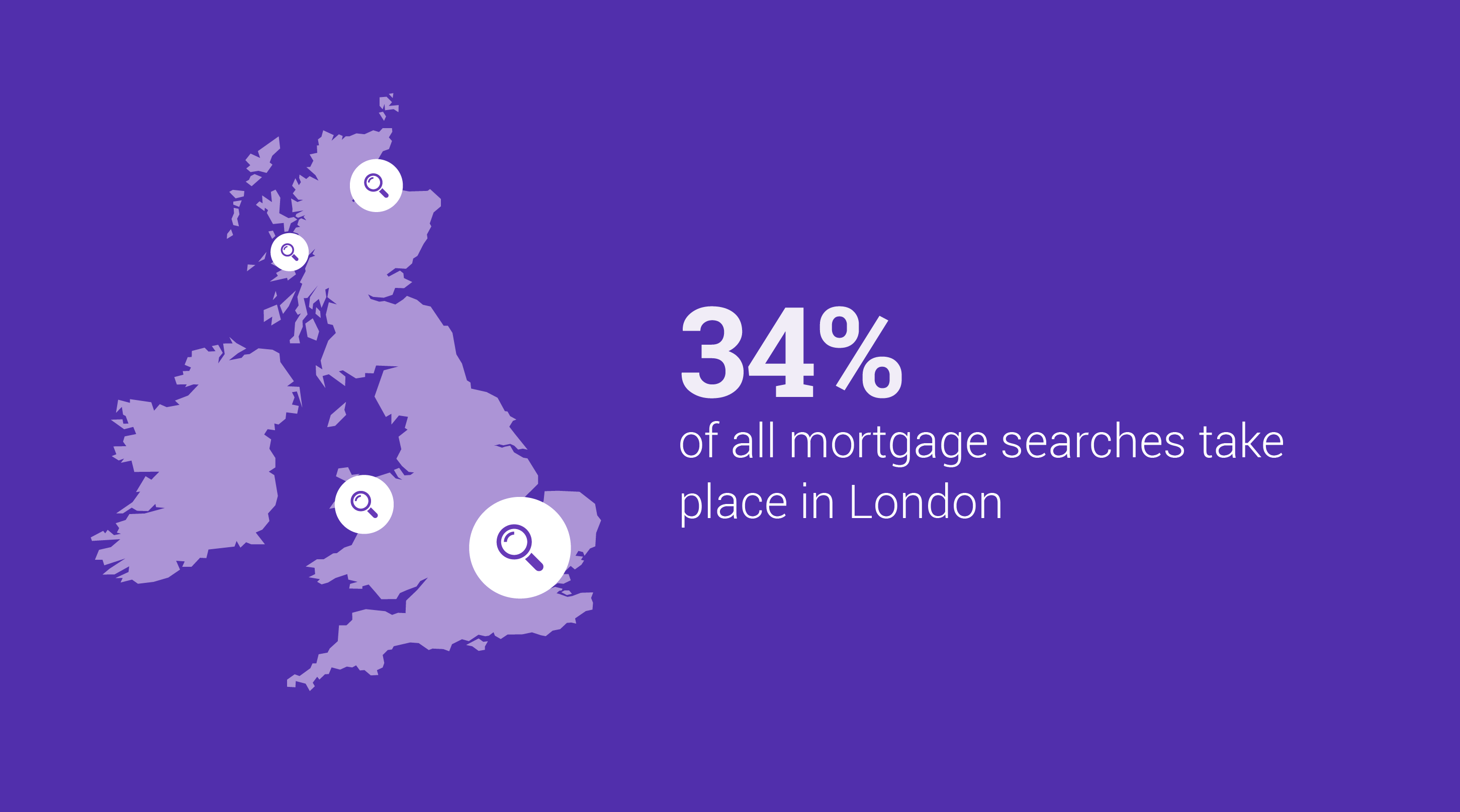 Knowing which devices consumers are using and when they are using them will be invaluable for targeting and preparing the right content. The take-up of smartphones means mobile is increasing in importance with 39% of mortgage searches coming from mobiles – rising to 46% for first time buyers5. At weekends more mortgage searches take place on mobile than on computer, so it is vital that businesses think about their advertising creative across devices and whether their mobile website is correctly formatted.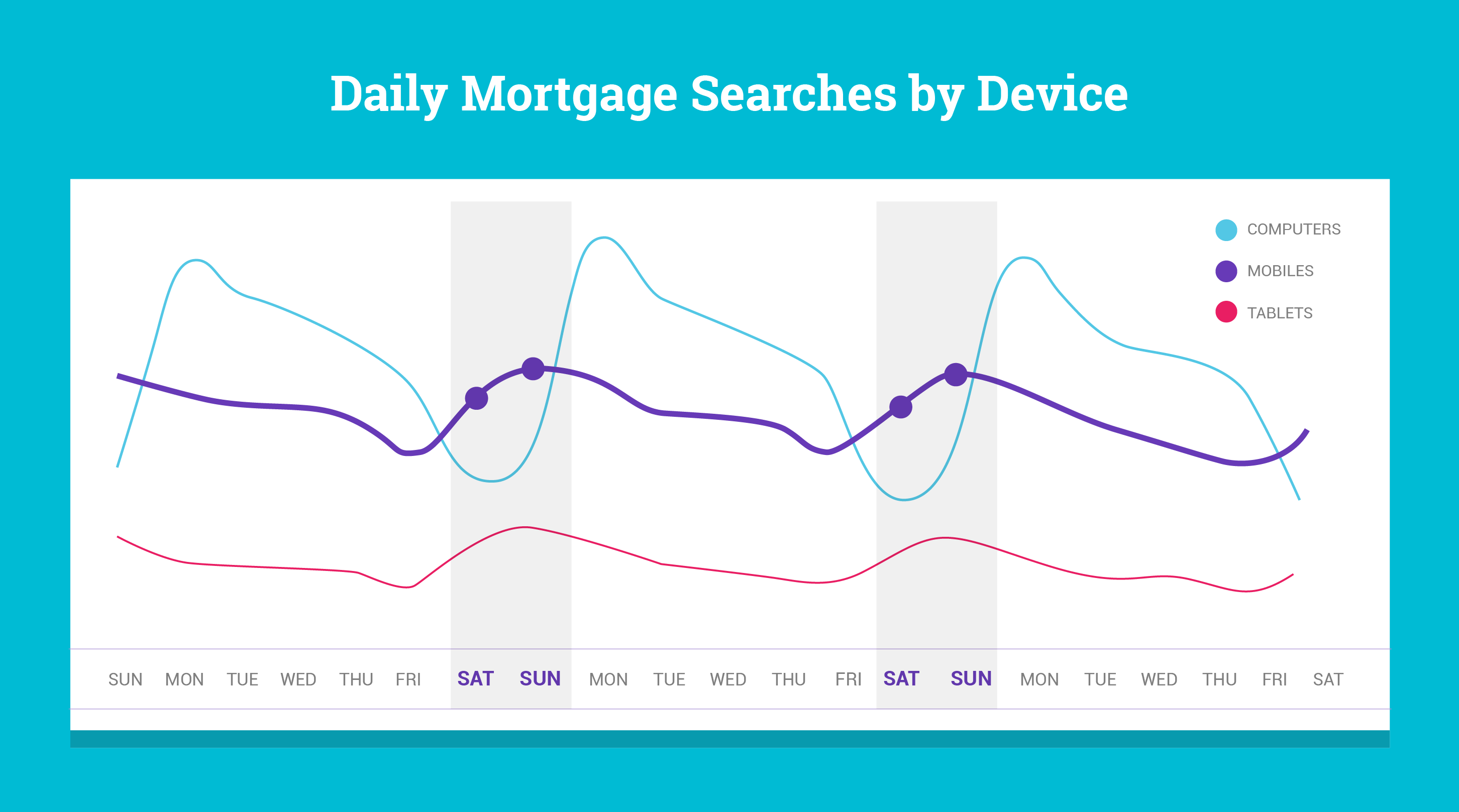 Consumers in the property buying mindset are increasingly looking to online video for tips, advice and inspiration, whether this is to help understand the mortgage process or the steps to buying a home or just to get creative ideas for when they purchase their new home. 80% of the viewing of property and real estate content on YouTube is carried out by men, and 34% of their viewing on this topic is on mobile.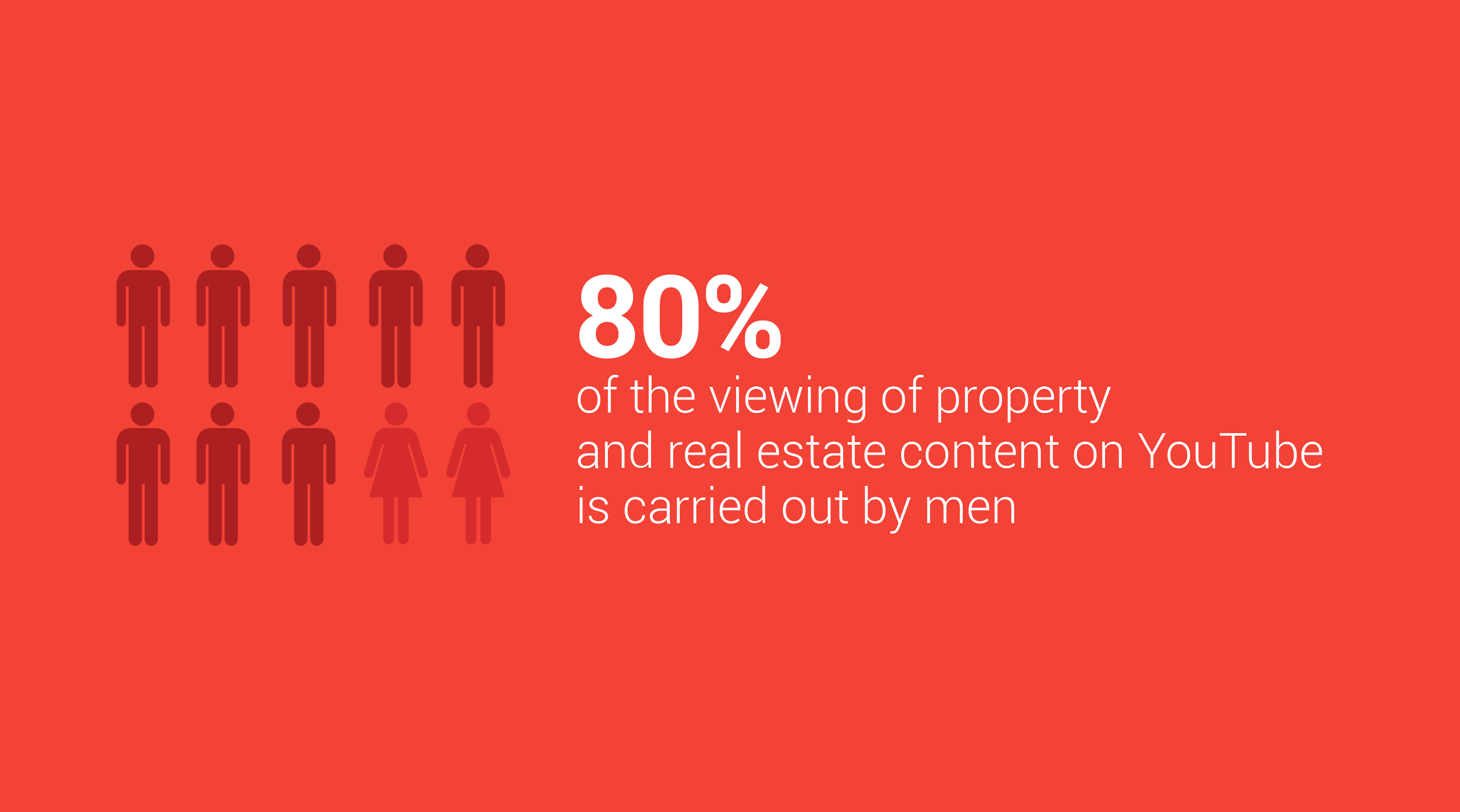 Businesses that consider the entire consumer property buying process will be better positioned to be relevant to consumers throughout the journey. Ensuring that they are present in the moments that matter with the right content will help businesses position themselves as being useful and help build a positive connection during this complex process.
Tips For Being Business Ready
Search data shows that people are turning to Google for advice when preparing for house buying or selling, so the right message at the right time can start a conversation.
While most mortgage and property search activity takes place in Q1, there is constant demand throughout the year, with 2m mortgage searches still taking place in November and December; It is important to be present all year round.
Mobile is a key research device and businesses need to have a mobile formatted website.
Video is a popular way for home buyers to consume content, especially when it comes to explaining processes.