With consumers around the world shopping online on an unprecedented scale, it's never been more important for retailers to be in the right place, at the right time. But the sheer amount of choice and information available to shoppers has increasingly turned the path-to-purchase into a web of touchpoints and decision-making.
While standing out in this "messy middle" of the purchase journey is no easy feat, it is crucial for brands if they want to successfully guide their customers to the 'Buy' button. To help marketers in the Nordics and Benelux, Google and behavioural science experts, The Behavioural Architects, undertook new research to untangle and understand online consumer journeys in Sweden, Denmark, and the Netherlands. This built upon our earlier large-scale shopping research 'Decoding Decisions'. Conducted in the U.K., this initial experiment simulated 310,000 purchase scenarios across 31 product categories with real in-market consumers.
The research centres on six cognitive biases that have outsized influence on consumer buying behaviour and purchasing decisions. In testing how each bias could be used to shift or disrupt brand preferences, it identifies them as powerful tools for winning and defending consumer preference.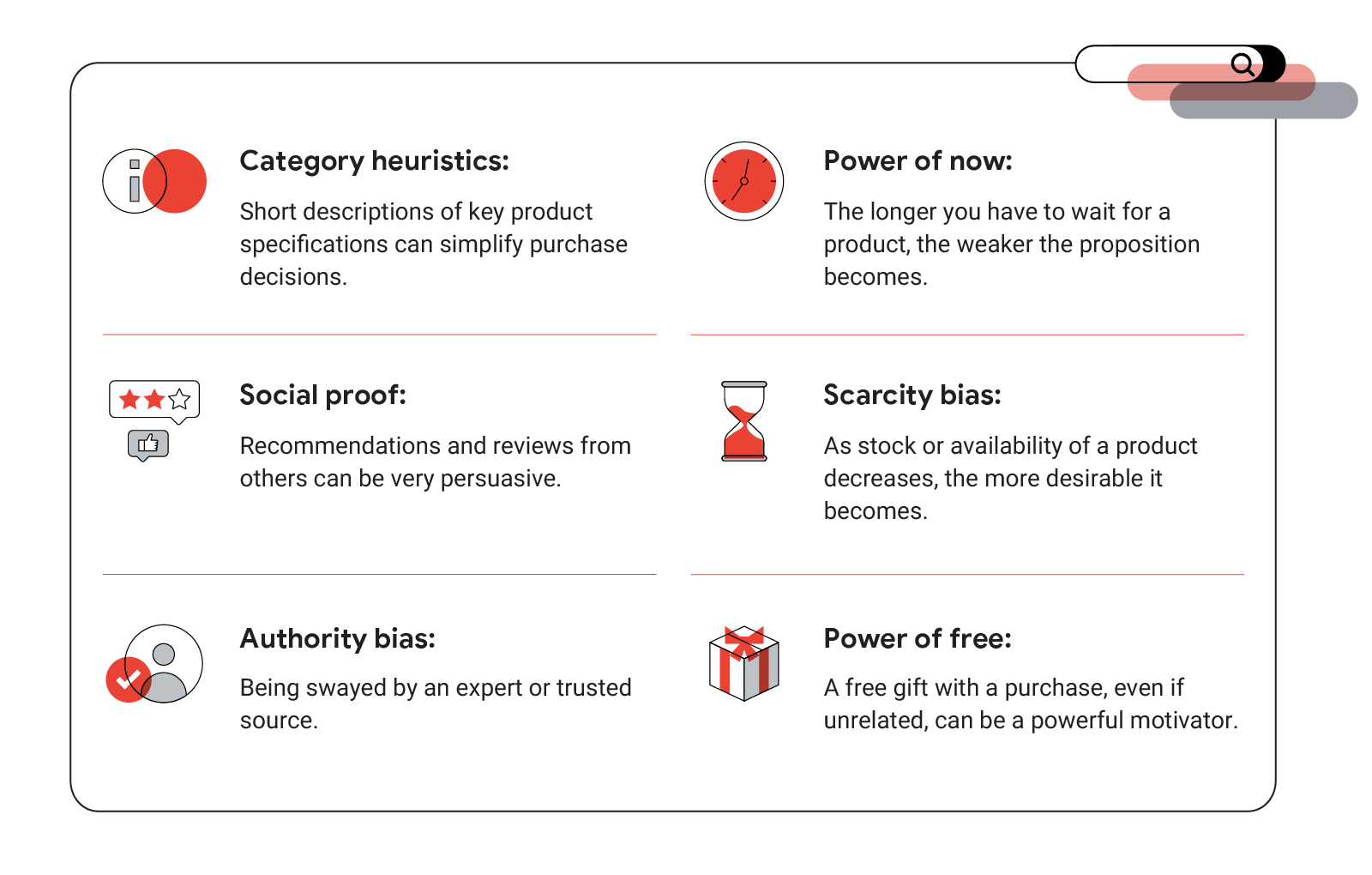 As part of our study in the Nordics and Benelux, we simulated 50,000 purchase scenarios across five product categories. The outcome mostly confirmed that online shoppers in Denmark, Sweden, and the Netherlands operate similarly to those in the U.K.
While shoppers might initially select their first choice brand when buying something, they can easily end up going for their second choice brand if it simply shows up at the right time. Crucially, the research shows that brands can significantly influence decision-making by using the six behavioural biases. However, there are some differences between countries that local marketers should pay attention to.
Scandinavians are slightly more committed to their favourite brands
In the U.K., "supercharging" a second choice brand by providing information to trigger the most effective biases is often enough to take away significant market share from the first choice brand, but this is not necessarily the case in Sweden and Denmark.
The main reason for this is that Scandinavians tend to be more committed to their favourite brands, needing slightly more convincing before moving away from them. While they do value behavioural biases — particularly social proof and heuristics — second choice brands have a harder time taking away market share, as do brands that are new or less familiar to the consumer.

Research across 5 product categories in Denmark, Sweden, and the Netherlands (dark colours), and an additional 26 in the U.K. (light colours), shows the percentage of consumers who are willing to buy a 2nd choice brand, or even a fictional brand, when presented with convincing supercharged information. The U.K. data can be used by local marketers to compare impact trends between categories.
The Dutch value all 6 cognitive biases, not just 2
Looking at the individual impact each of the behavioural biases has on consumer purchasing decisions, we can see that most countries value social proof and heuristics the most. However, in the Netherlands, shoppers find all biases important. Here, consumers are as influenced by scarcity, authority, the power of now, and the power of free — each of which are seen as less important in other markets — as they are by social proof and heuristics.
For Dutch retailers, this means that all six biases will need to be supercharged to effectively win new or retain existing customers.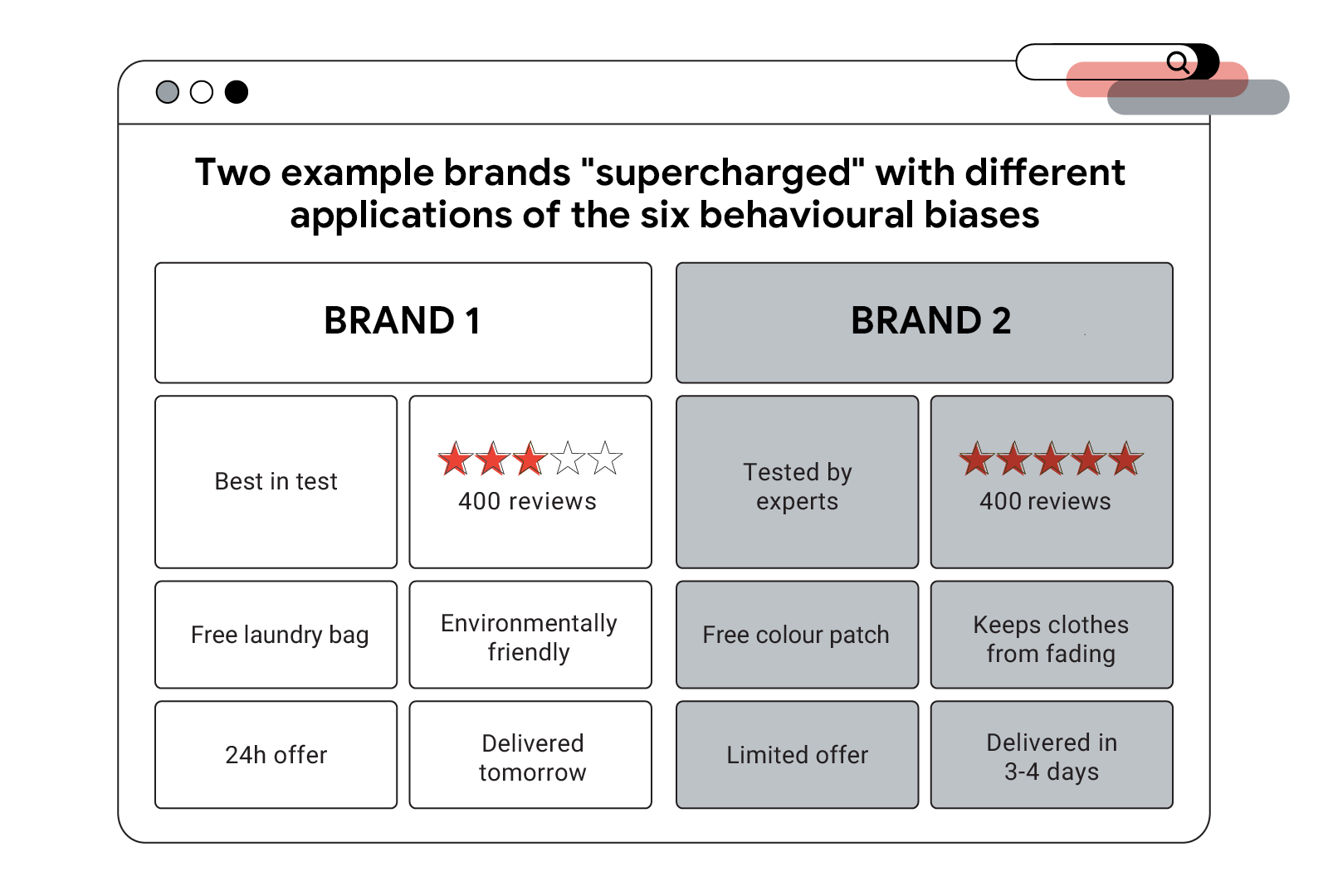 How marketers in the Nordics and Benelux can succeed in the messy middle
The path-to-purchase will continue to be complex. But this research shows that businesses have more opportunities than ever to offer consumers the reassurance and information they need to navigate online purchasing decisions.
And whether you're based in the U.K., Nordics or Benelux, the approach is the same:
Ensure brand presence so your product or service is strategically front of mind while your customers explore.
Employ behavioural science principles intelligently and responsibly to make your proposition compelling as consumers evaluate their options.
Close the gap between trigger and purchase so your existing and potential customers spend less time exposed to competitor brands.
Download the full report with local insights for each country below for a complete understanding of the messy middle, crucial behavioural science principles, and recommendations for how brands can apply them.
Want to get more insights on the behaviour of Danish, Dutch, and Swedish consumers? Register to watch our 20-minute "Transform to be ready" bonus episode for Denmark, the Netherlands, and Sweden.