We've taken the standout activities and lightbulb moments from our in-person Labs and translated them into bite-sized experiences on Google's Skillshop Modules can fill knowledge gaps when you most need it, or can be part of a more strategic approach to tackling organisational issues.
Overview:
Our Digital Transformation E-learning supports you to innovate, compete and have a fruitful career in the digital age by upskilling and empowering you with tools, frameworks and strategic knowledge.  
The content is interactive and bite-sized, using relevant scenarios and creative storytelling – so learning is manageable, effective and entertaining.
The Digital Transformation E-learning is hosted on Google's Skillshop, which provides quick education to anyone looking to learn more about making the most of online ads.

How it works:
There are 3 types of transformation content, each of which can be completed in under 2 hours:
Digital-first brands and customer-centric marketing
Becoming mobile-first
Programmatic transformation
You're in control of your own learning and can choose which modules you want to complete and in what order.
Modules take between 5 and 15 minutes to finish, so you can dip in and out based on how much time you have.  
It's all fully optimised for mobile (of course!) so you can squeeze digital learning into your day, even if you're on the move.
When you get to the end of a module, you earn a certificate so you can proudly celebrate your new skills!
What it looks like:
You can choose the right modules to complete based on your current needs.
Modules can fill knowledge gaps when you most need it, or can be part of a more strategic approach to tackling organisational issues
Each of the modules is practical so you can start using the learnings straightaway
And to top it all off, the E-learning is fun, using stories and real life examples to bring the information to life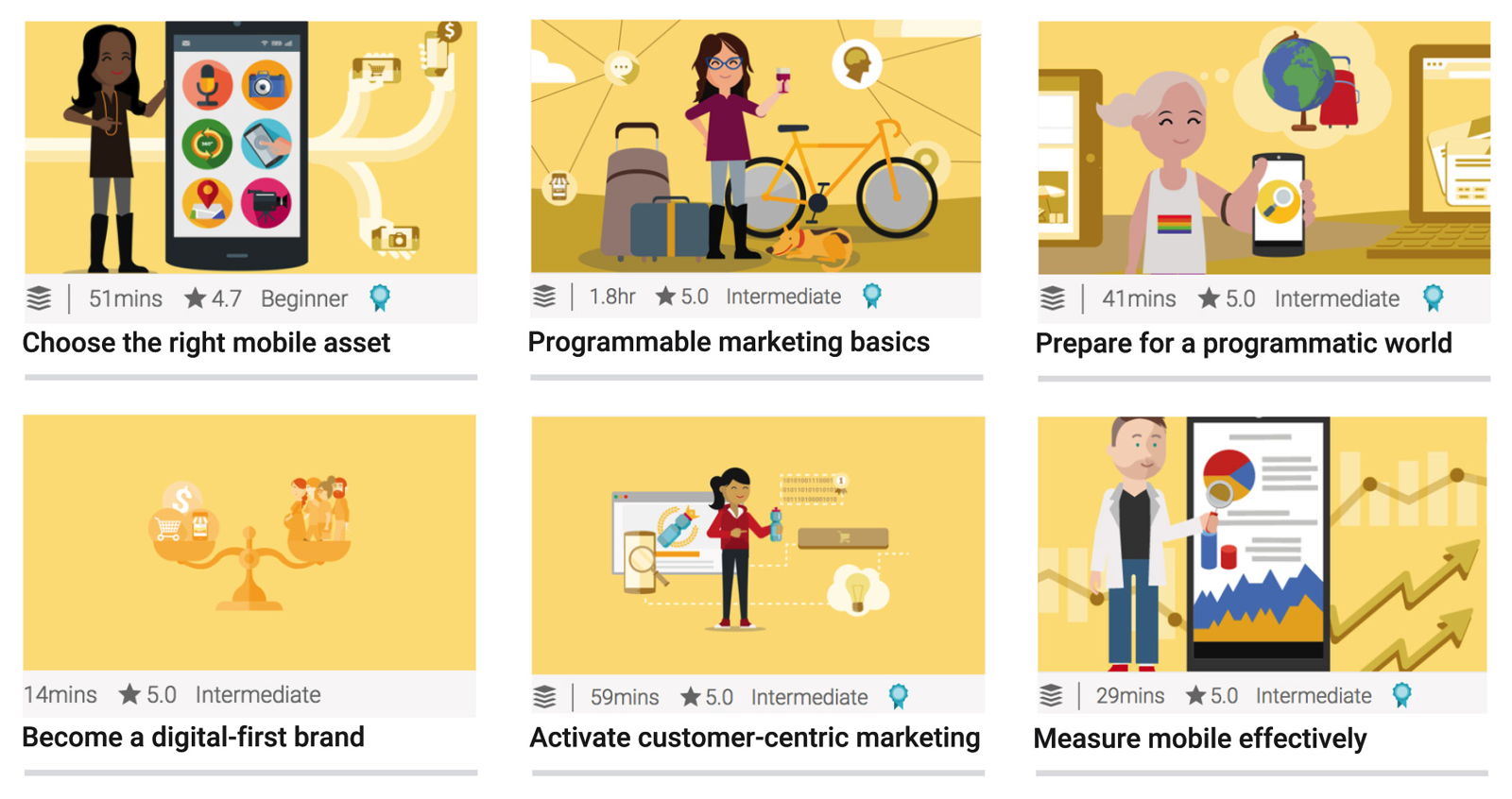 Who it's for
The E-learning is pitch at beginner-to- intermediate level, and is right for you if you're:
A general marketer, strategist or executive looking to build your digital understanding
A digital specialist wanting to become a general marketer or strategist
Working in a creative agency
"The power of e-learning can help land complex new digital concepts faster, and shorten the turnaround between theory and business application."
- Marni Wedin, Online & Blended Learning Innovation Lead, Google Digital Academy
Need to know the latest thinking on programmatic, fast?
Set aside 2 hours to complete "Programmable marketing basics" to reset your marketing and advertising approach for success today.
Concerned about your mobile measurement strategy?
Skip to "Measure mobile effectively" and shore up on how to "Choose the right metrics."
Want to know how to get started putting customers first?
Check out "Activate customer-centric marketing."
How to get started