The importance of online shopping is growing. Shopping now takes place everywhere, day and night, across devices. With the future of ecommerce relying increasingly on goods being showcased wherever and whenever consumers are shopping, retailers need to be present in a multitude of online channels.
New ways to use Shopping ads and acquire customers
Shopping ads on Google have become an important part of retailers' online marketing strategy. They allow you to reach the shoppers who matter most – the ones looking for what you offer, whether they're at home, on the go, or in store. Shopping ads show users an image of your product, plus a title, price, store name, and more. Google only charges advertisers when a user clicks on an ad and visits your website.
In Europe1, you can now place your Shopping ads via different Comparison Shopping Services (CSSs)2. There are many CSS in Europe, including Shopping ads. You need to work with at least one CSS to place Shopping ads; you can also work with several at the same time. CSSs offer different areas of expertise, services, and charging models. Some specialize in specific categories (like apparel, for example). Some manage feeds and campaigns for you, while others provide tools for you to manage your product data and bidding strategies yourself. Some charge a fee per click, while with others you pay a commission only when an ad has led to a sale.
Combining the strengths of several CSSs can increase the overall performance of your Shopping ads. Thousands of retailers in Europe are already working with several CSSs to find out what combination works best for them.
But what exactly is a CSS?
CSSs work with online retailers to showcase their product offers on the CSS's website. They offer various features to consumers, allowing them to search for and compare products offered by a range of shops.
Most CSSs also advertise their partners' products on other channels to generate leads for them. Shopping ads on Google's general search results pages is one channel CSSs manage on behalf of their customers. Some CSSs generate leads for you across a multitude of channels, while others offer programs dedicated to specific channels, including Shopping ads.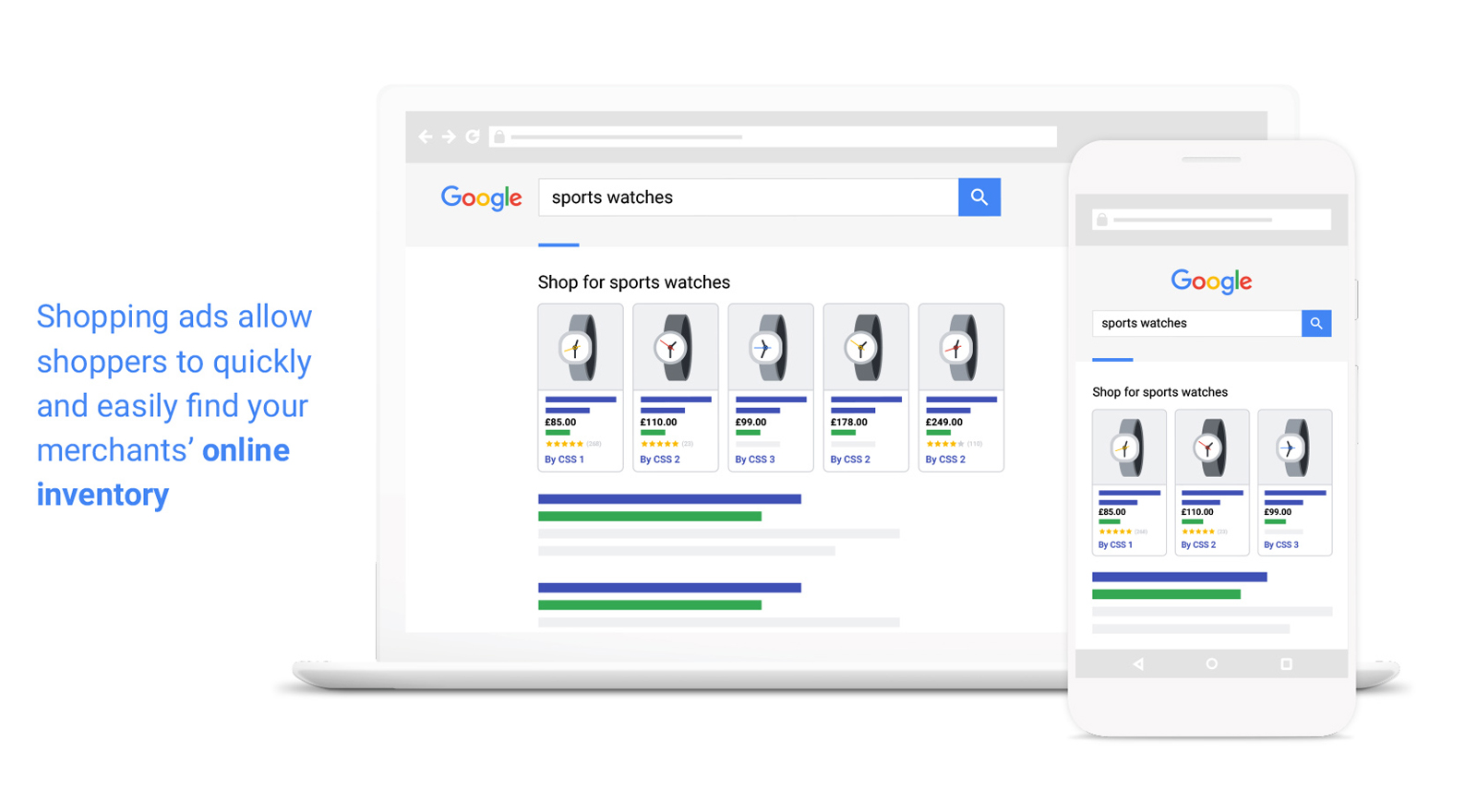 Will I end up paying more if my ads are being placed by different CSSs?
The fact that a merchant works with multiple CSSs won't lead to Google charging higher CPCs.
How much an advertiser pays for an ad is based on the next best bid placed by a competitor. So if a CSS places a winning bid in the auction for one of your offers, Google calculates the cost of the click based on the next best bid for a competing merchant. Google ignores bids for any offers that also come from you. This means that whether one, three, seven, or even more different CSSs bid for you in the Shopping ad auction, the CPCs paid in the auction do not increase.
Google charges this CPC to the CSS who placed the winning bid on your behalf. Note that how the CSS ultimately invoices you for the click depends on the agreement you have with them. Some add a margin for their services, some charge fixed CPCs by category, and others charge commissions only if the click actually results in a sale. You can choose the CSSs that offer a model that is right for you.
Combining different models may allow you to benefit from different types of CSS expertise. One may have superior targeting strategies and thereby ensure higher conversion rates. Another may excel in helping you acquire new customers.
Successes achieved by working with different CSSs
Thousands of retailers have started working with multiple CSSs to place Shopping ads on Google. They benefit from campaigns that are tailored specifically to certain geographies, categories, or customer segments. And they rely on CSSs' expertise in enhancing product data and optimizing bidding strategies, both of which are key to driving high ROI traffic.
Recent success stories:
A short test was so successful for a large German merchant that they switched well over 50% of their overall Shopping ad spend to a new CSS.
Another large German merchant achieved 200% more clicks with a 15% reduction in CPCs by working with a different CSS.
One of the largest merchants in Europe in terms of Shopping ad spend now runs over a quarter of its spend through several new CSSs they started partnering with recently to place Shopping ads.
How to get started
Would you like to increase the performance of your Shopping ads? Looking for a CSS to work with? You can find certified CSSs on Google's Comparison Shopping Partner portal. There are dozens to choose from. You may of course also work with other CSSs offering access to Shopping ads even if they are not certified partners.
All CSSs have access to the same ad slots and features on Google's general search results pages. No slots are reserved for any CSS, meaning you can work with whichever CSSs suit your needs the best and you can shift spend and traffic between them without any cap on the number of impressions any CSS can achieve.
If you are not yet using Shopping ads to acquire qualified leads, CSSs may help you with the initial setup and take care of the details for you, without the need for you to become an expert in feed and campaign management yourself.