With an average 30% year on year growth, Rail Ninja was keen to continue to grow by making travel easier for its customers and expanding market share. The brand explored a range of analytical tools to give them the insights they needed to better understand local customers, drive impressions and boost conversions.
About Rail Ninja
Worldwide rail ticket provider
Founded in 2016
Headquarters in Vilnius, Lithuania and Valletta, Malta
Goals:
Expand to new markets
Launch new products
Move from European focus to being a worldwide player
Approach:
Explore potential new markets using Market Finder
Use new products to improve efficiency
Results:
ROI increased by 39%
Increased total clicks 49%
Share of non-European bookings increased from 27% to 40%
Expanded in 10 markets
Like many of its customers, Rail Ninja is constantly looking for ways to "grow" abroad. And when the online rail ticket platform made the decision to scale to non-European and non-English-speaking markets — in addition to launching new products — it wanted to find country specific insights for better business decision making.
Consumer expectations and preferences vary from market to market. And the best way to make better decisions is to find insights from local data. Brands that understand this stand a better chance of reaching and converting more potential conversions.
Rail Ninja began to analyse the new countries with Market Finder, to give them a deep dive into the markets they were interested in. The company also used Google Trends, Consumer Barometer and Google Analytics to see what potential customers where interested in and how they searched online. Rail Ninja also translated their campaigns on Google Ads to overcome one of the more obvious challenges to breaking into new markets — language.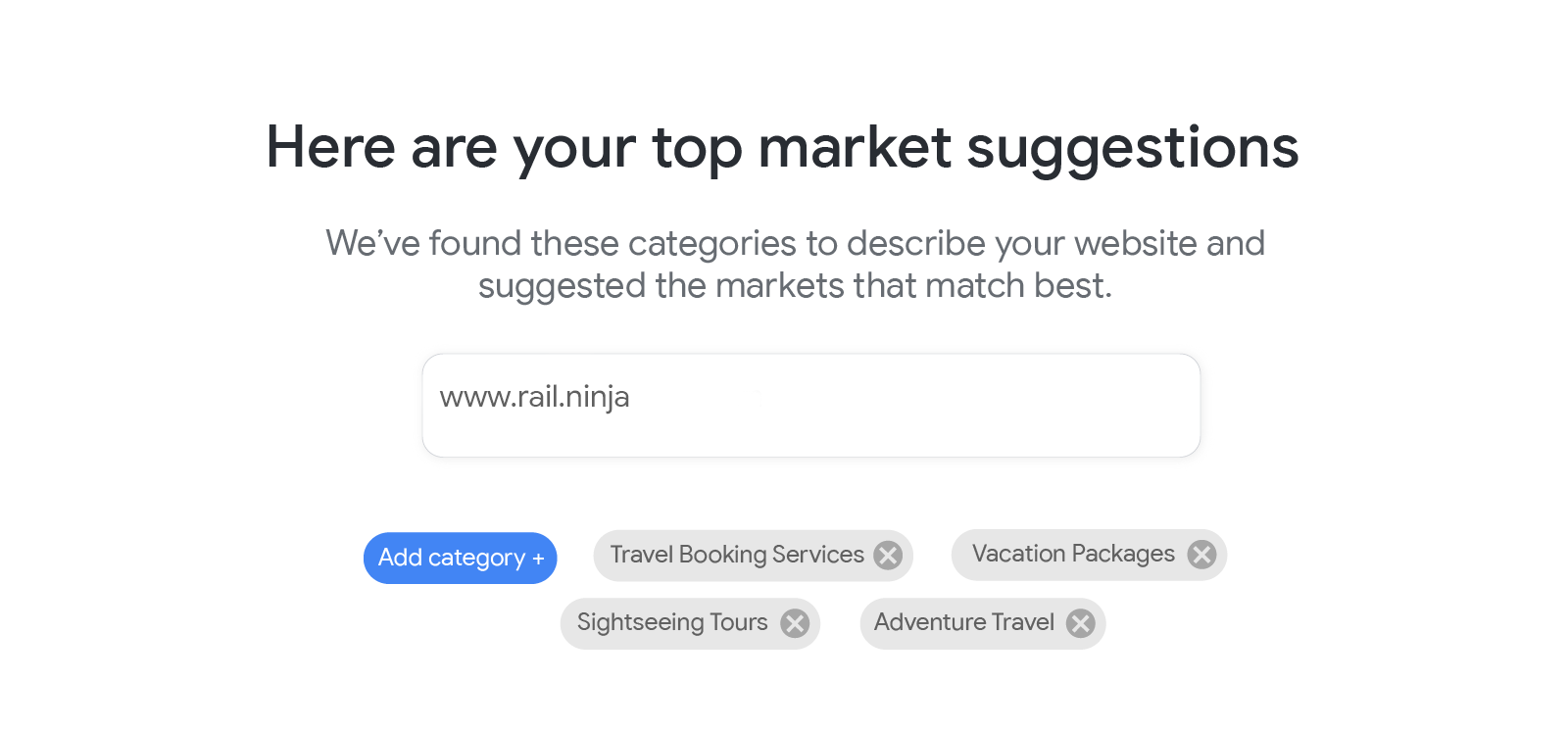 The brand experience was improved by first understanding the needs of local customers and then making changes to payment methods and mobile checkouts based on these findings. And it worked. "When it comes to new product launches, analytical data and search trend reports helped us to prioritise our options better and make bigger bets backed by solid insights, which saved us a lot of time on trial and error process", says Igor Tenyuta, CMO at Rail Ninja.
The brand expanded in 10 markets as a result — five of them in the non-European countries of Canada, Argentina, India, China and South Korea. Non-European bookings increased from 27% to 40%.
In just six months it garnered 754% more impressions, 172% more clicks and 85% more conversions. "The fact that in less than half a year we've managed to establish a dominant presence for one of the products speaks for itself," says Igor.
Improvements didn't end there. The brand was able to deploy new campaigns twice as fast — a result, Igor says, of the "convenient format of translated files and straightforward task placement".