With the majority of the world spending more time at home, it's no surprise the demand for online language learning services has boomed. From June to August 2020, searches for "online learning" grew globally by over 400% and searches for "homeschooling" by over 200% compared to the same period in the year before. And demand still remains higher than pre-pandemic figures.
Preply, a Ukranian online language learning platform, set out to capture that demand by expanding internationally into one of the strongest and fastest growing platform markets: Latin America.
Rise in searches for online learning

Understanding where the demand is
Throughout the pandemic, we've seen consumer behaviours and trends spring up in markets and then quickly fall. To stay ahead, businesses must stay on top of — and adapt to — these shifts early and often.
One way to do that is by taking a page from Preply's book. The team used insights from Google Trends to determine demand.
Initially, the company's campaign coverage in Latin America was very limited. However as the demand for online language services boosted due to the pandemic, Preply decided to dedicate larger efforts to expand its presence there.
"Latin America is one of the fastest growing markets for online language learning, so when we noticed the uptick in demand we knew we had to jump on the opportunity to reach a wider audience," says Gonzalo Doria, search engine marketing specialist at Preply.
They started with Latin America's largest Spanish-speaking market: Mexico. By verifying search volume with Google Ads Keyword Planner, Preply removed any risk involved when exploring new markets as it allowed them to match trends to specific volumes of keywords. Their research showed that in the Latin American market the best performing keywords were those related to English learning and English-language related classes. Equipped with this information, the teams could better tailor their ads to be more relevant.
Creating a simpler and smarter Search structure
Once they established the market and identified English classes as their key focus area, the Preply team wanted to test out a new, simpler approach to its ad structure. Previously, their ad structure was complex with many groups of keywords which needed to match exactly. To simplify, they adopted the new Hagakure method in Google Ads to optimise their campaign.
The Japanese term Hagakure means "in the shadow of leaves" or "hidden leaves". In the world of Search, Hagakure is a relatively new approach that uses a simplified campaign structure to optimise it with the help of machine learning algorithms. Its automated nature is guided by Smart Bidding and dynamic search ads. The algorithms can obtain more data on which keywords are performing best by combining them into a keyword group to get better results.
Preply's previous search ads used complex groups of keywords to reach the right audiences. Thanks to the new Hagakure structure the number of campaigns and ad groups was drastically reduced.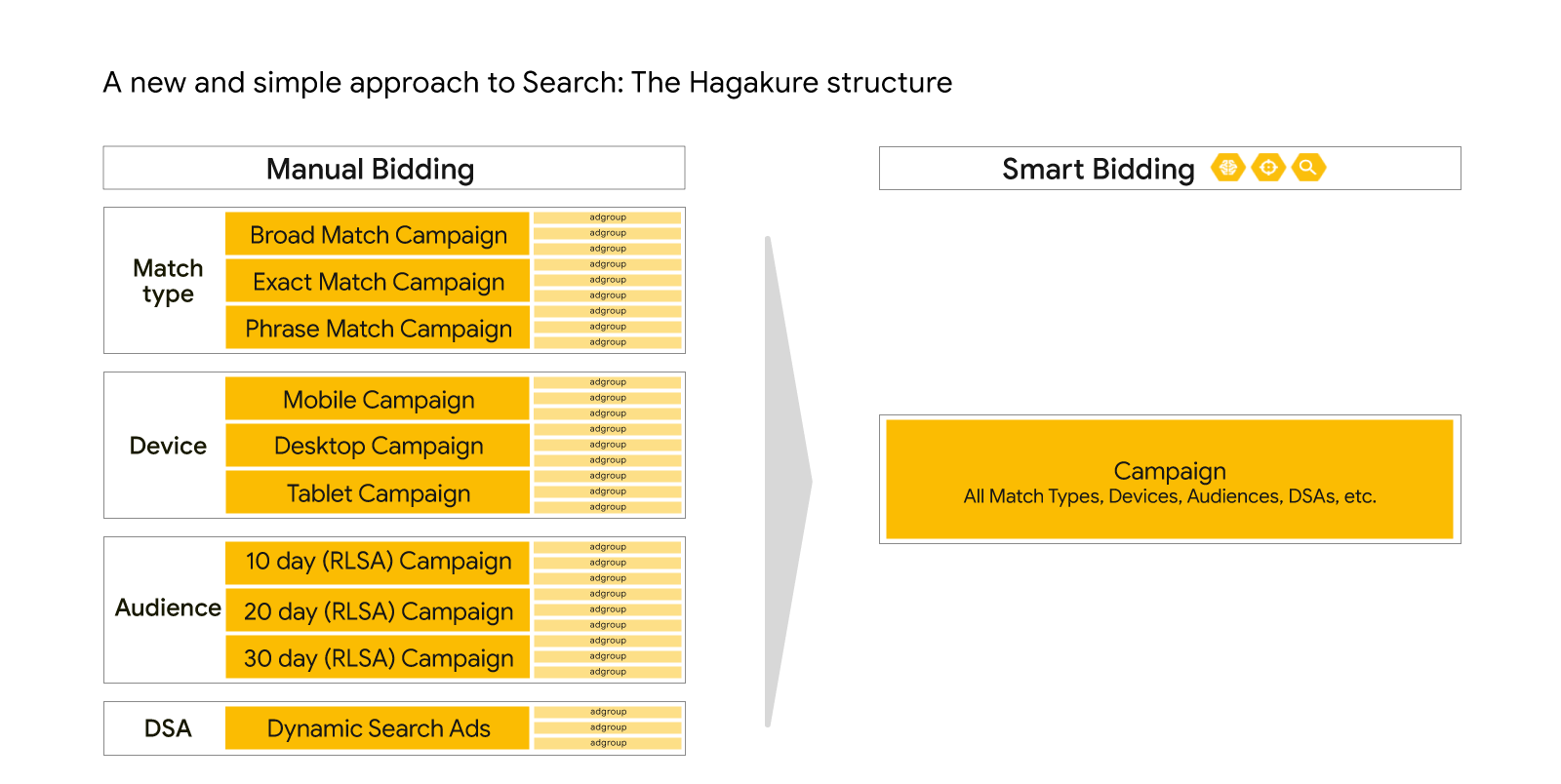 For Preply, the new layout was easier to manage and report on. It cut out the exhaustive list of keywords, improved optimisation times, and saw machine learning do all the heavy lifting.
"The Hagakure ad structure is great to leverage the full potential of smart bidding and make day-to-day account management easier," explains Doria. "It allowed us to quickly create tailored ads for millions of native Spanish speakers and rapidly start acquiring new students that were eager to learn new languages."
The campaigns showed incredible results. In Mexico they saw an increase of 80% in conversions. There was also a nearly 40% decrease in cost-per-conversion. The metrics also provided valuable insight into how to scale this approach and expand further in Latin America.
The Hagakure ad structure is great to leverage the full potential of smart bidding and make day-to-day account management easier
Because of the successful approach in Mexico with the Hagakure ad structure, the team is using this simplified method on their existing campaigns ⁠too — and they will continue to use this as they expand into other Latin American countries. Although this time they'll incorporate exact match keywords to their plans so they can pair ads with specific intent to further ensure they're getting in front of the right people. They've already started to use this method to expand into Chile, Panama, Ecuador, and Puerto Rico.
Marketer takeaways
Tap into consumer trends to stay on top of changing behaviours and to identify increased demand — even if this is in a new market.
Optimise your campaigns for each goal, such as overseas expansion. Automation and machine learning capabilities can help drive greater efficiency.
Use a combination of keyword matching options ⁠— like broad match and exact match ⁠— to ensure your ads are getting in front of the right people.