With creative thinking and a disruptive AdWords campaign, Samsung and Starcom Mediavest Group generate buzz and increase click-through rate by 1,314%.
Goals
Generate excitement around launch of new flagship mobile phone
Underline the worth of a top-of-the-range handset
Approach
Created disruptive search campaign on AdWords
Bid on terms relating to rival handset
Bid on terms relating to inventors and innovation
Results
Increased impression share by 85%
Improved Samsung's click-through rate by 1,314%
More than 25 articles published online in over ten countries
The GS6 disruptive PPC campaign added a layer of creativity to our existing search activity and far exceeded all expectations. It was a great way to demonstrate that search can be both extremely functional to drive business results, yet can also be creative to drive the brand.
-Georgina Leverett, Media Manager, Samsung UK
As the UK phone market becomes increasingly cluttered with more new phones released each year, grabbing people's attention and interest is becoming increasingly difficult. This means the rewards for creating a campaign people talk about and share are huge because people trust and engage with it far more than traditional advertising, and word of mouth recommendations are one of the main drivers of phone brand chosen.
The Galaxy S6 was Samsung's biggest phone launch of the year. Starcom Mediavest was tasked by Samsung to find a way to make people sit up and take interest again.
Past campaigns had shown them that getting people talking about a new phone at launch is essential to long term success - they had a limited window to cut through the phone launch fatigue, drive buzz and most importantly real interest in the phone, with clicks to Samsung.com being the key KPI.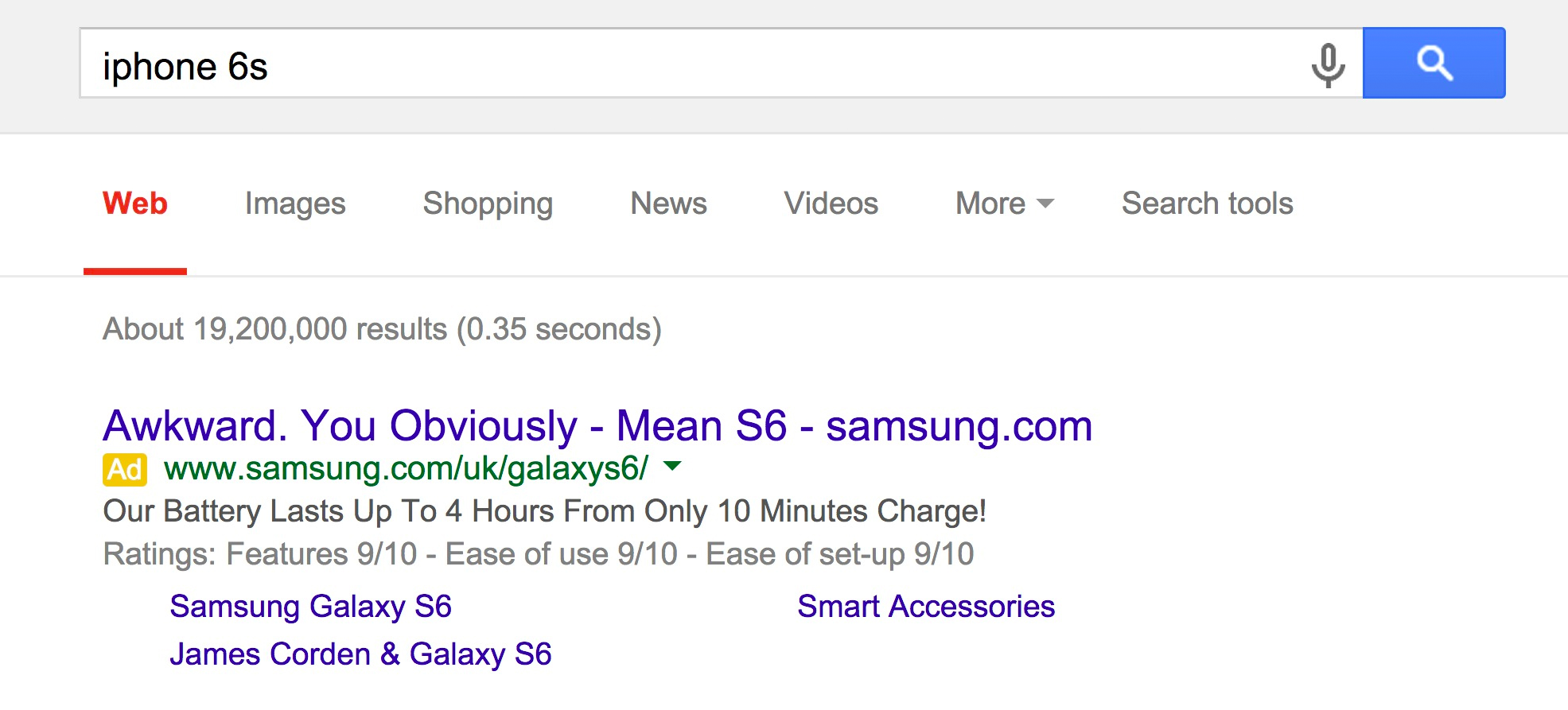 Meeting the challenge through outside-of-the-box thinking
Starcom Mediavest responded by creating a disruptive AdWords campaign: rather than serving users with ads or listings for the product they had searched for and therefore were expecting to see, the plan was to interrupt search journeys with quirky and playful messaging, driving awareness of the Galaxy S6 launch and generating buzz.
The approach was to bid creatively, both on terms relating to the Galaxy S6's rival handset _ the iPhone 6S _ and on search queries relating to the innovation of the phone.
Although Apple was yet to release its latest iteration of the iPhone range, research demonstrated that many users were already searching for "óiPhone 6S', presenting a unique opportunity to capitalise on a huge wealth of search volume in a usually costly market, in which there was currently no competition.
The rumoured name of the latest iPhone was "ó6S', which paralleled with the "óS6' version of the Galaxy. SMV Group seized upon the chance to have fun with the ensuing confusion, displaying cheeky messaging to consumers searching for the iPhone 6s. Surely in searching for the "ó6S' they had made a mistake and meant the "óGalaxy S6'?
In a hard sell space saturated with brands telling customers to come to their site and buy their product, Starcom Mediavest offered some light hearted relief, by playfully referencing the well-known competition between Samsung and Apple.
The approach also involved bidding on search queries relating to innovation _ the names of inventors, artists and scientists, as well as quirky innovation keywords. By bidding on groundbreaking inventors, the campaign could drive association of the Galaxy S6 as a groundbreaking phone and Samsung as a leader in the field of tech. Playful messaging associated the ads with the person or term the consumers was searching for. For example, when users were looking for "óLeonardo da Vinci' they would be served a message relating to the artistry of the phone.
Word spreads worldwide as the campaign goes viral
Only two weeks after the phone launched and the campaign commenced, the campaign was featured on Reddit and posted on The Lad Bible. As a result, it went viral and produced staggering earned results _ for example the story gained 2.7 million views on Reddit, 82,000 page views on CNET and 26,000 page views on The Independent. More than 25 articles were published online in over ten countries, and on Google news the story appeared on the first page for users searching for "óiPhone 6S'.
Overall searches for "iPhone 6S" went up by 1,300% between the 28th and 29th April, and the campaign drove an impressive impression share of 55% _ up by 85%. In addition, cost per click on iPhone 6S terms dropped by 79%, and importantly the buzz around the campaign also drove interest in the phone as evidenced by a 14 fold increase in our paid search click-through rate. The positive impact has far outlived just the initial couple of days after the ads were picked up, with click-through rates being driven three times higher and costs per click half of what they were prior to the campaign going viral.
The results just go to prove that an innovative approach can deliver truly groundbreaking results. Having seen that Samsung customers are responsive to a playful interaction with the brand, the agency will continue these tactics in upcoming search campaigns to further engage customers on the platform.
"The Samsung Galaxy S6 is a trailblazing smartphone that breaks all the rules," affirms Lindsay Rowntree, UK Paid Search Director for Precision Marketing at SMV Group. "We wanted to develop a paid search campaign that reflected the disruptive impact this phone would have on the market and we definitely achieved that. It really proves that search can go beyond simply harvesting the awareness driven by other channels; that it can actually be the creator of brand awareness in its own right. It is great to be able to work with a forward-thinking brand like Samsung, as they were very receptive to our daring ideas. The success of this campaign and the fact that it shows how PPC can capture the public's imagination has inspired everyone at SMG Search to approach search more creatively."