In recent years, we've seen shopping habits transform on YouTube year-round but especially in the holiday season – and data suggests that this effect will grow stronger still. Find out how gifters and giftees are using YouTube throughout the holiday season and how advertisers can leverage this trend.
1. YouTube is a source of inspiration for holiday shopping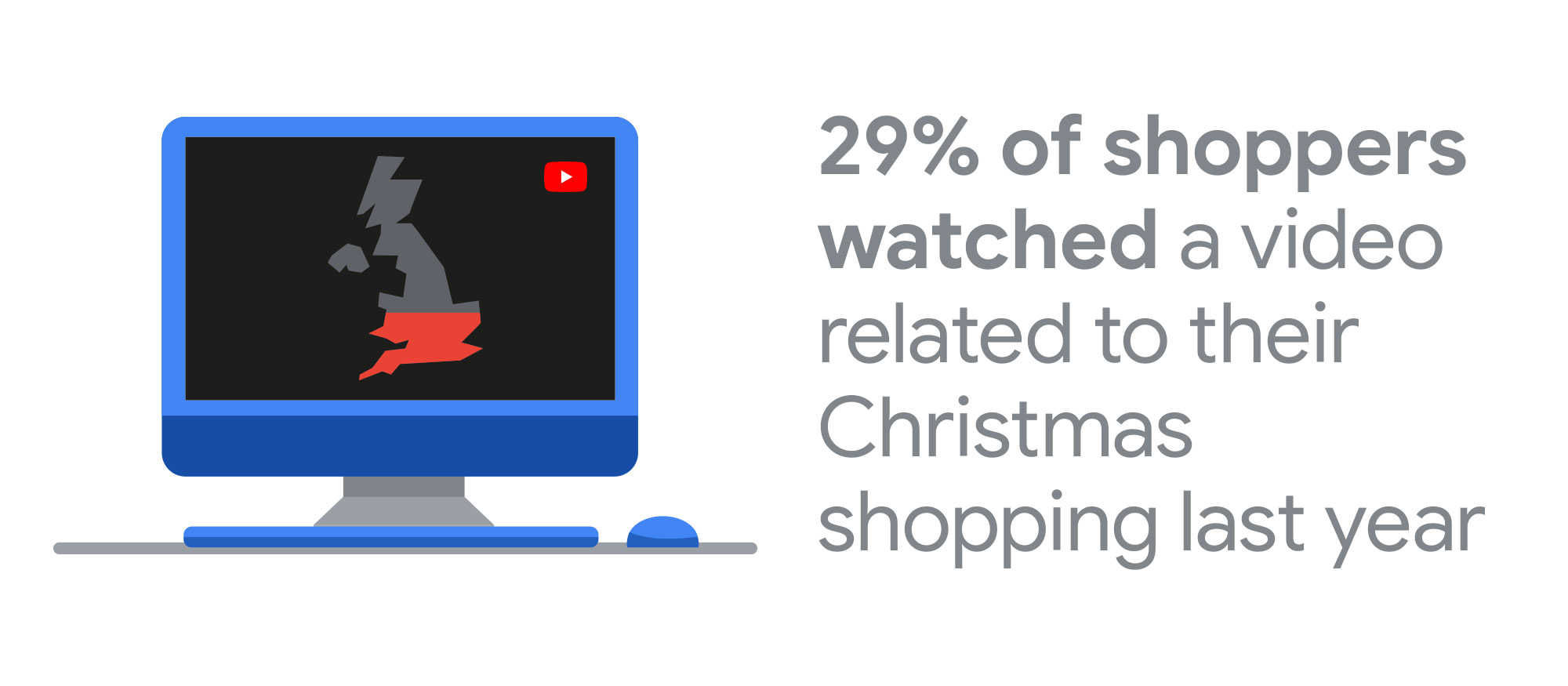 Video helps inform shopping over Christmas. In fact, 29% of shoppers watched a video related to their Christmas shopping last year.1 Among these shoppers, YouTube is a key resource; 88% of those that watched video turned to YouTube at some point in the season,2 and 12% of shoppers watched YouTube videos while in-store during Christmas shopping.3
The most commonly viewed content themes around Christmas shopping are Clothing & Footwear (29%), Home Electronics (24%), Toys & Games (21%) and Food & Groceries (20%).4
Take a look at our leaderboard of the most popular ads on YouTube in December 2018 to better understand what sort of content has the power to grab shoppers' attention around Christmas.
2. It brings people the power of personal recommendation
Users are increasingly looking to personal recommendations from trusted sources to help with their purchase decisions,5 with younger audiences in particular using YouTube to find some festive inspiration. Millennials and Gen Zers are over twice as likely to have watched online video relating to their Christmas shopping as older generations (Gen Z 46%, millennials 45%, Gen X 28% and baby boomers 12%, respectively).6
Millennials and Gen Zers look to videos from retailers and brands, YouTube creators, how-to, tips and hacks experts, unboxers, shopping haulers, holiday fashion advisors and celebrities/public figures for information on their potential Christmas purchases.7
Read our guide to partnering with YouTube creators for ideas on creating content that entertains and informs.
3. It helps giftees get the most out of their presents
More shoppers watch online videos related to their shopping after Christmas than at any other time during the holiday shopping season.8 The top content types watched in this period are reviews, product demos and how-tos, and tips and hacks videos, suggesting that this behaviour comes from people wanting to learn about how to use their new presents.9
You can support this 'long-tail' behaviour with post-Christmas campaigns around relevant Search terms and by creating content that informs and answers common queries.
As the way consumers think about gift-giving changes, helping them find help and answers quickly, at every stage of the purchase funnel, is key. Stay acquainted with the new ways YouTube offers to connect, and you'll help everyone enjoy a better holiday season.