PepsiCo UK wanted to re-stage the Quaker brand in the UK. To make it happen, PepsiCo partnered with their creative agency AMV BBDO, media agency OMD and programmatic creative specialist agency Adylic to build a digital-first campaign using personalisation at scale. Incorporating consumer insights into every step of the marketing campaign development process helped PepsiCo UK create winning video content that produced best-in-class brand lift results and a sales lift of 4.25%, which was twice that of the generic approach.
About PepsiCo UK
Leading food and beverages company
Brands include Walkers, Pepsi Max, Tropicana, and Quaker
Goals
Re-stage Quaker brand in the UK
Grow brand metrics
Drive lift in offline sales
Approach
Produced made-for-YouTube creatives based on search trends and industry insights
Defined Quaker's target nutrition segments on YouTube
Dynamically served bumper and TrueView ads over eight-week period
Ran head-to-head test comparing customised data-driven campaign against TV-led demographic approach
Results
Personalised data-driven campaign outperformed generic campaigns by 2X, delivering 4.25% sales lift in brick and mortar grocery stores
Achieved best-in-class lift in both upper and lower funnel brand metrics
PepsiCo UK started by looking at Quaker's global brand segmentation profiles: achievers (people who are health conscious with healthy eating and exercise habits) and strivers (healthy wannabes who try to find shortcuts in nutrition to live a healthier lifestyle). The team mapped each of these profiles to segments in YouTube's audiences, leveraging affinity, in-market, life events, consumer patterns, and topic targeting to get the message across to the right people.
Analysing the search trends among their target audiences enabled PepsiCo UK to identify the most relevant customer needs for the Quaker creatives to address. These details helped inform the work of the creative agency during the video production stage, as they developed the ideal base creatives to suit each segment. They then used additional Google data to figure out how to dynamically vary text overlays to maximise the relevance of their message to each consumer who would see the ad.
Next the team built a media strategy that matched each granular YouTube audience segment with the most relevant creative asset using Dynamic Creative Optimisation. In YouTube campaign settings, PepsiCo UK also set up dayparting to serve people the most relevant ad at just the right point of the day. The campaign, which included bite-sized bumper ads and longer TrueView ads, ran for a period of eight weeks.
As an important part of the project, PepsiCo UK ran a head-to-head test to measure how the new, digital-first approach performed against non-dynamic creatives with  demographic-based targeting. The test revealed that the personalised data-driven campaign achieved best-in-class lifts in both upper and lower funnel brand metrics. What's more, the campaign's targeted copy delivered twice the performance of generic approach, producing a 4.25% sales lift in brick and mortar retailers, as measured in a Nielsen Matched Panel Analysis.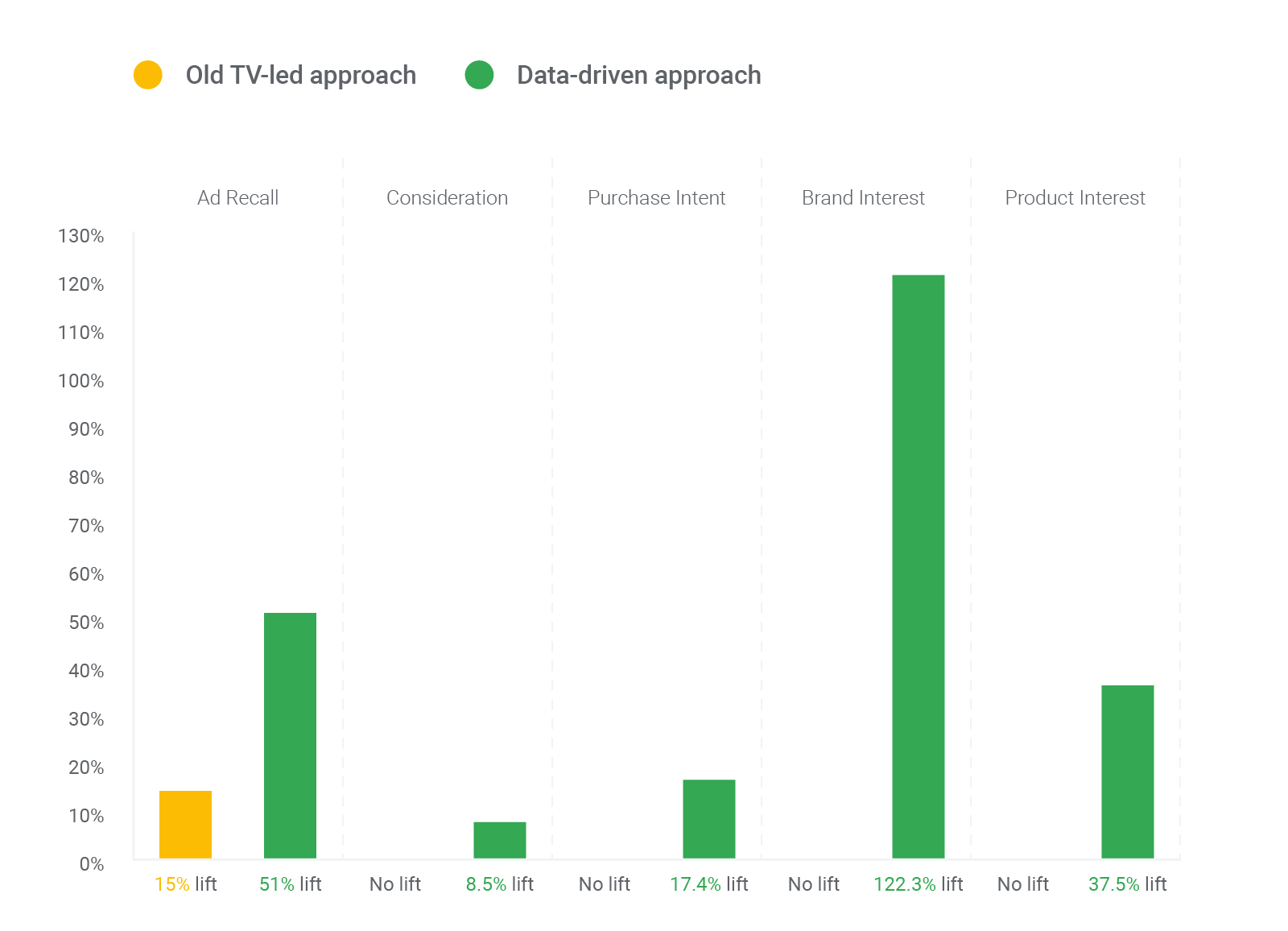 The strong results of the data-driven approach are providing actionable insights that can be used to drive media and creative effectiveness among other PepsiCo brands in markets around the world. As advice to other businesses, PepsiCo offers three key learnings from their successful YouTube campaign for Quaker.
Use Google search and YouTube behaviours to develop data-driven creatives that touch on the topics your consumers care about the most.
You can benefit from data-led audience segmentation and settings available on YouTube to reach your most important audiences with relevant messaging at the right time.
Match your audience segments with the most relevant creatives to drive personalisation at scale and deliver best-in-class brand results.